Hello friends and welcome to Week 7 of the One Room Challenge and the final reveal of my Modern Farmhouse bathroom! Today is the day that designers and bloggers have been working on and documenting for the last six weeks. Transforming spaces, designing, demoing, styling. For some of us It's been 6 weeks of excitement, breakdowns, sore backs and questions as to why the heck we agreed to do it! Lol. Well today is the day we share the culmination of everything we've been working towards. You can follow along with my previous weeks to see the process here:
Week 1 | Week 2| Week 3 | Week 4 | Week 5| Week 6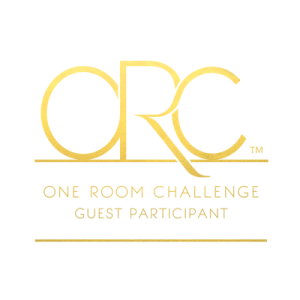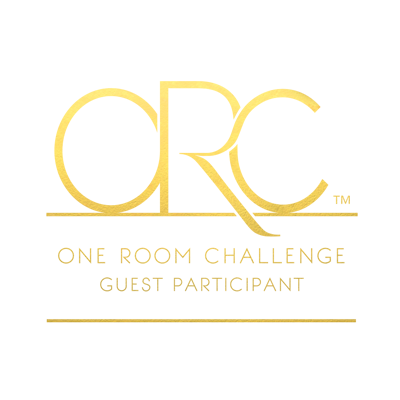 One Room Challenge Modern Farmhouse Bathroom The Reveal
I decided to do the main bathroom on the second floor. It's small and is basically used as a guest bathroom for my daughter and son in law when they come to visit. I had recently painted it white in the hopes of making it a little brighter but nothing could brighten the black tiles that covered the tub and shower enclosure. I thought it would be the perfect candidate for a reno/makeover.
So let's see what we started with!
The Before: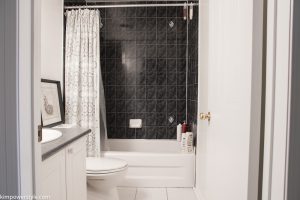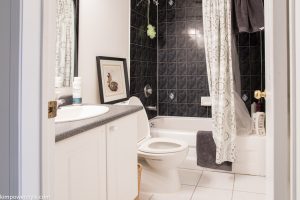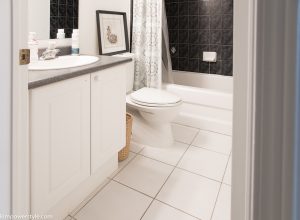 You can see that black tile I was talking about!
The Final Reveal!
The After: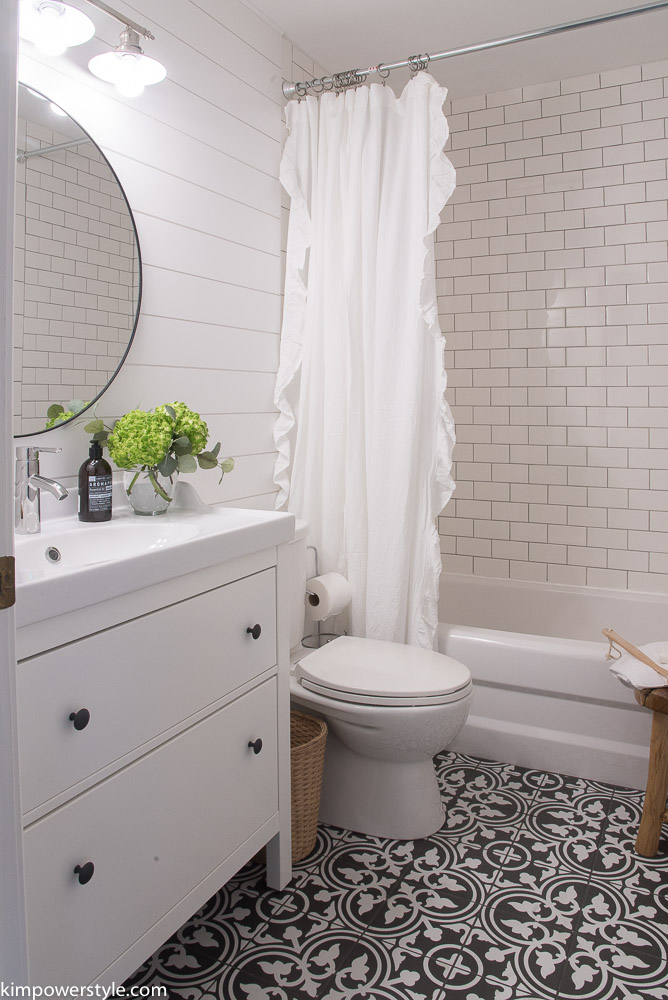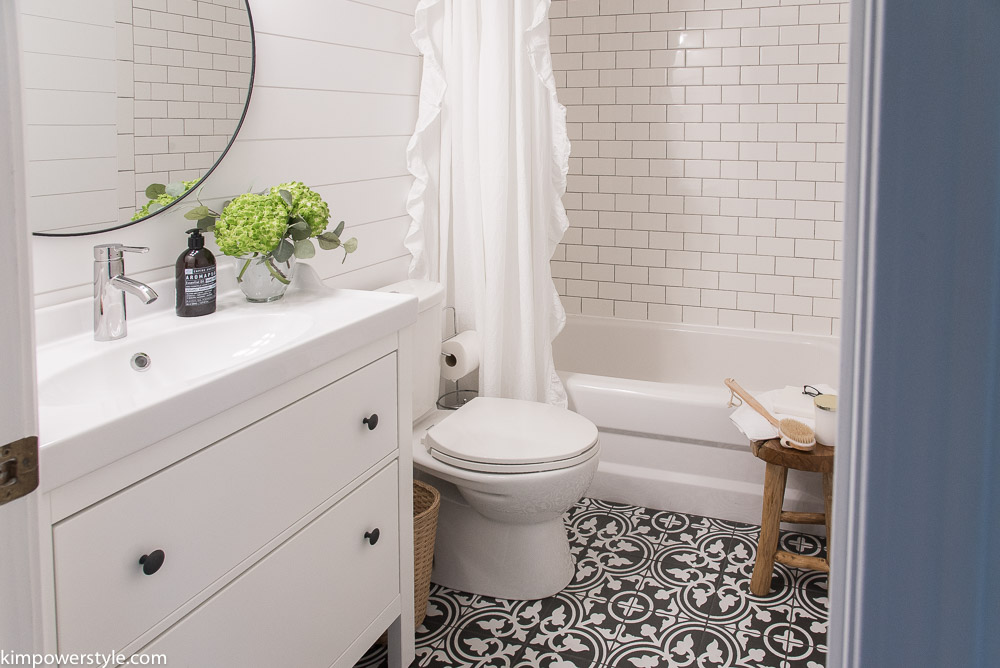 I basically threw everything that I love into one small room! Shiplap, white subway tiles, cement tiles, wood, linen, what's not to love?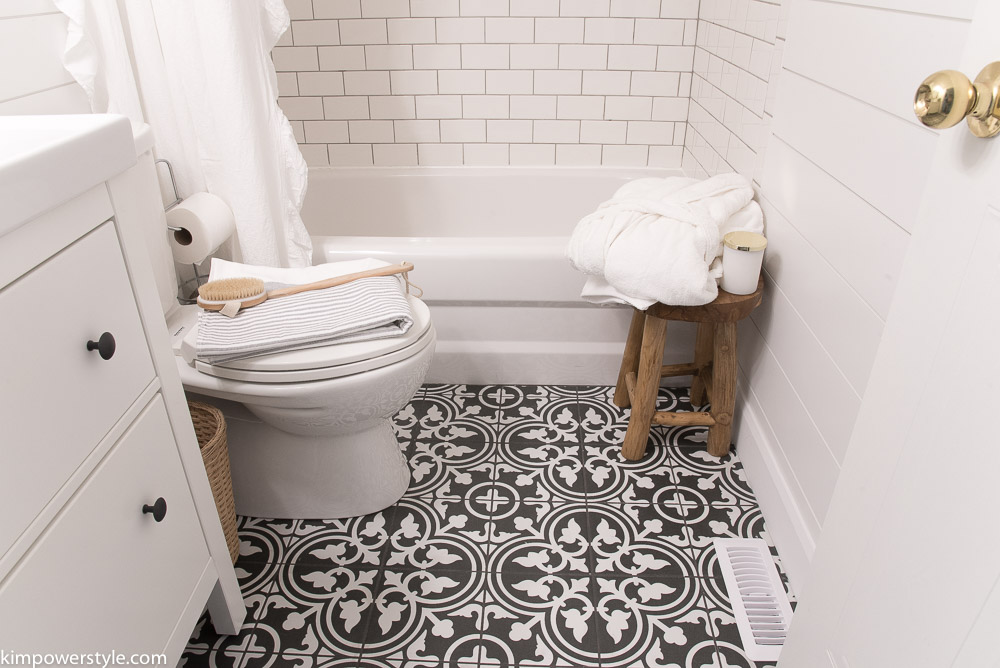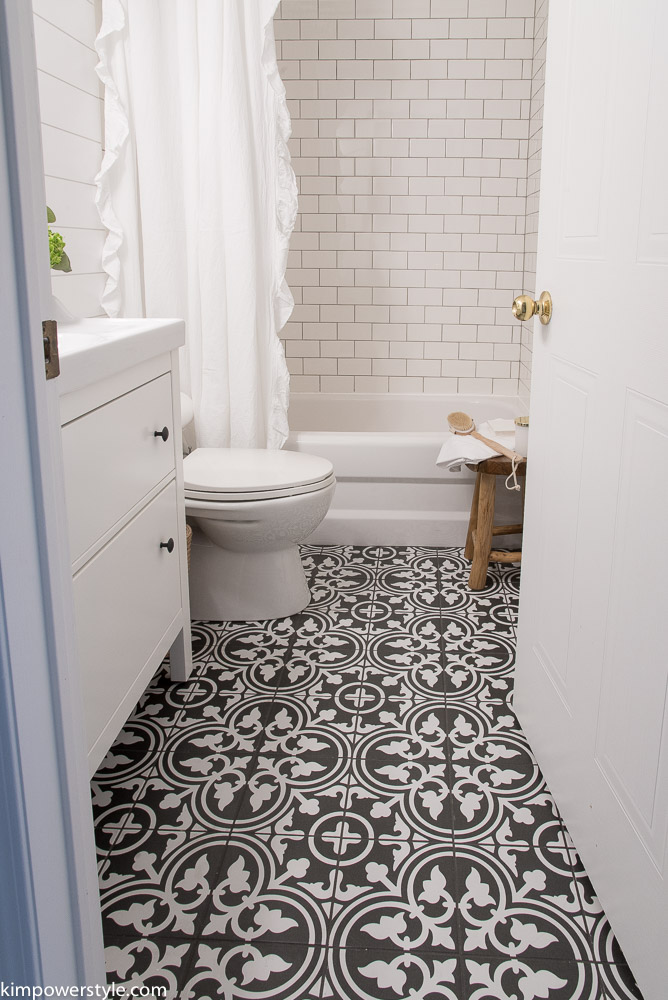 This black and white floor tile is the star of the show and I absolutely love it! The tile was definitely worth the splurge and using it in a smaller space made it more affordable. It may be on trend now but I didn't mind making a trendy statement in a little space. I also used white subway tile, It's simple, classic and you can never go wrong with that!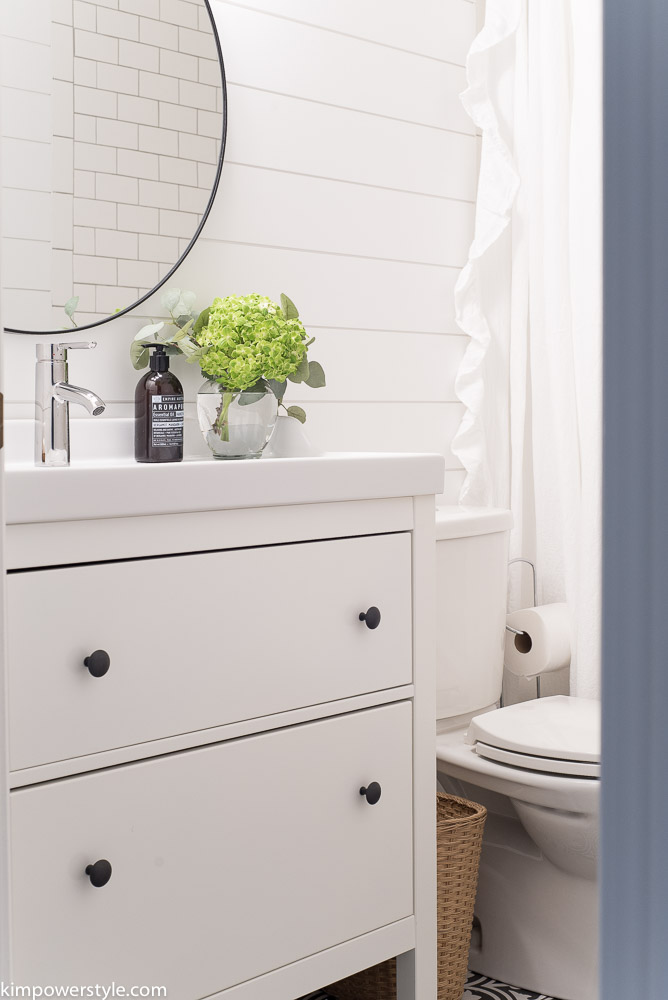 The Metrie Shiplap was one of the easiest projects we did in this bathroom and next to the floor tile, is my favourite thing! It's Metrie's Complete shiplap and comes pre-primed and pre-painted in  "Polar White"  a gorgeous clean, crisp white. I can't tell you how beautiful this shiplap looks in person. It's has a beautiful and uniform finish and looks like it was professionally installed. I want this all over my home now! You can see how we installed it here.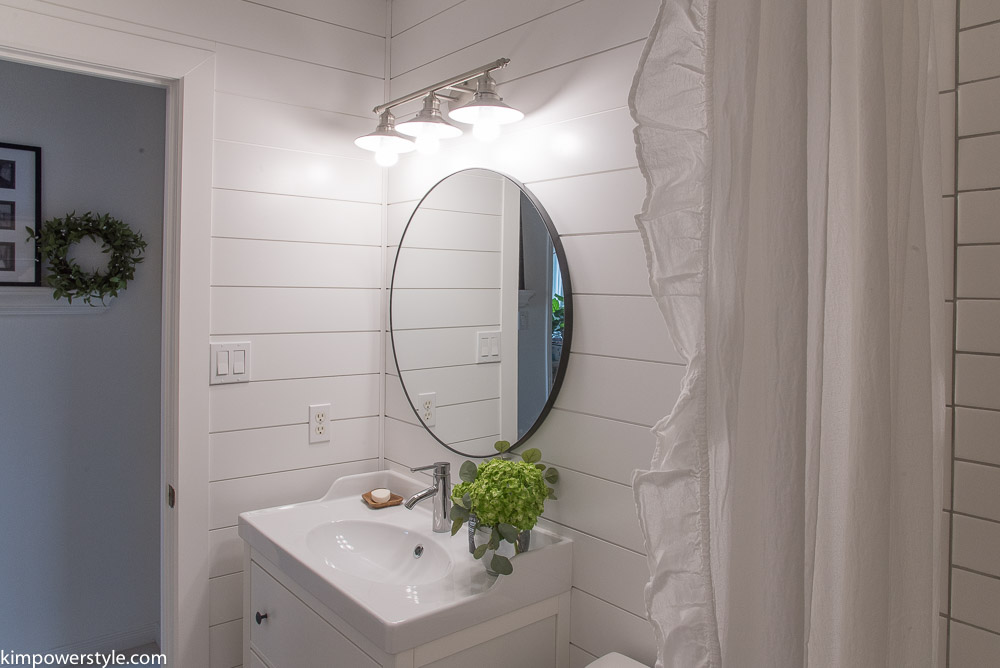 I changed up the original lighting I had chosen in my vision board. I realized that we didn't have the room to have the sconces I had planned on. The lighting I installed is part of  the Home Decorators Collection lighting from the Home Depot and is perfect for the space.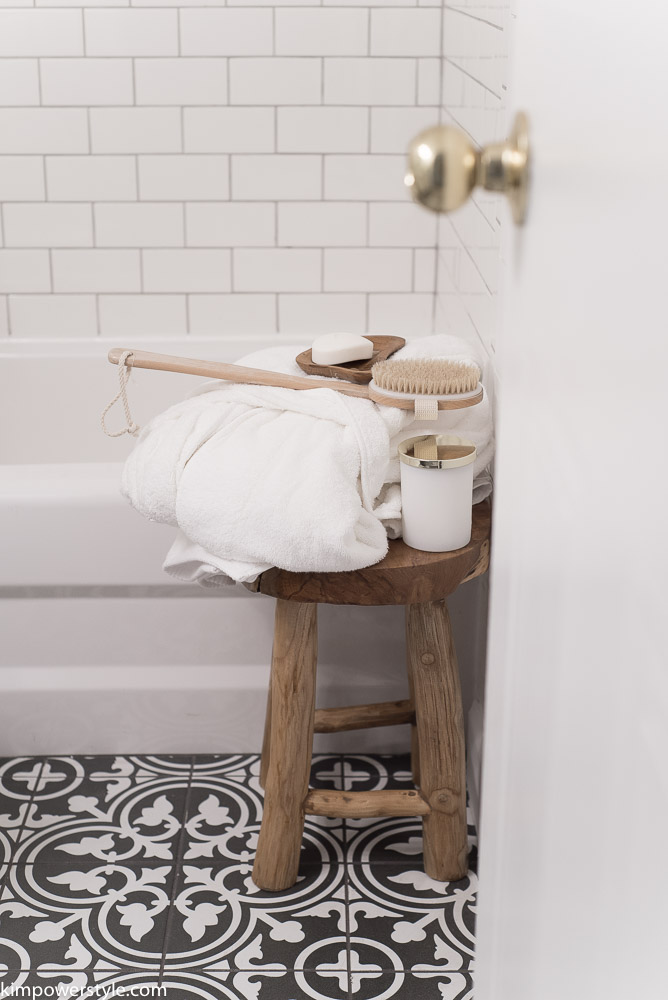 Isn't this little wooden stool so cute?  It's the perfect size for my small bathroom and a great place to set a book, cup and candle on when you're taking a bath. All these great accessories in our bathroom are from Homesense.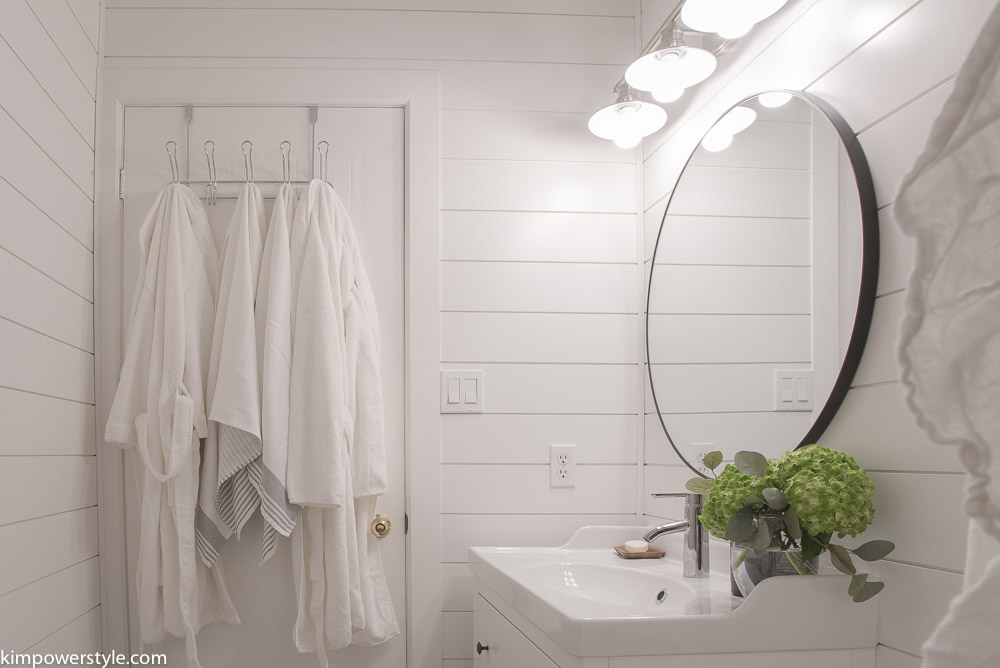 We chose to use the over the door rack to hang all the towels on. I loved this shiplap so much I didn't want to ruin it by placing hooks into it! I wanted to keep the bathroom as clean and clutter free as possible. The rack is also great for holding some bathrobes for your guests when they come to visit. I found these lovely turkish towels and bathrobes  along with the rack at Homesense!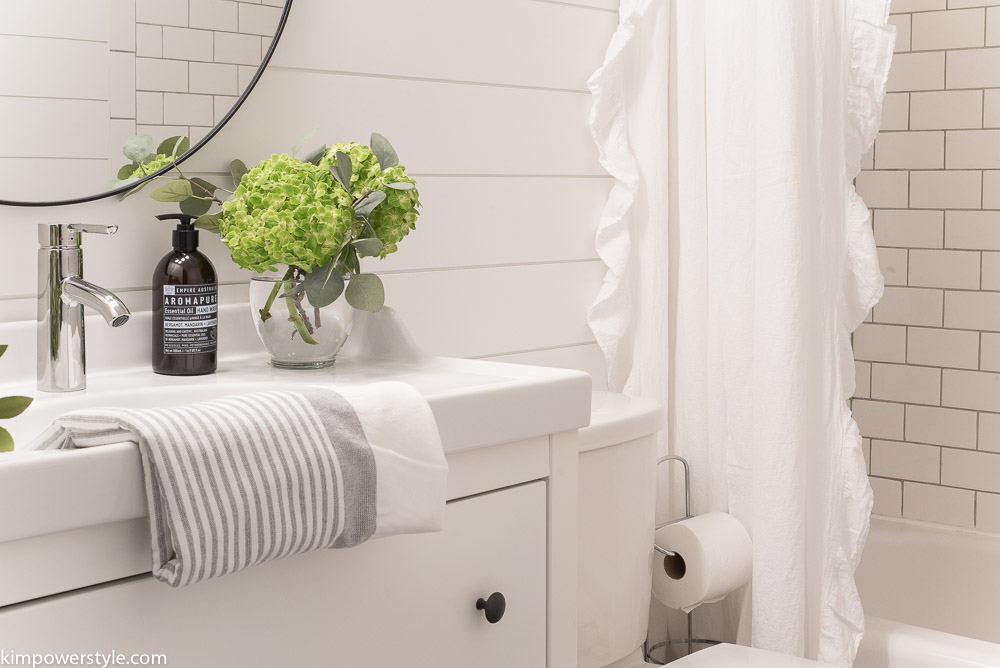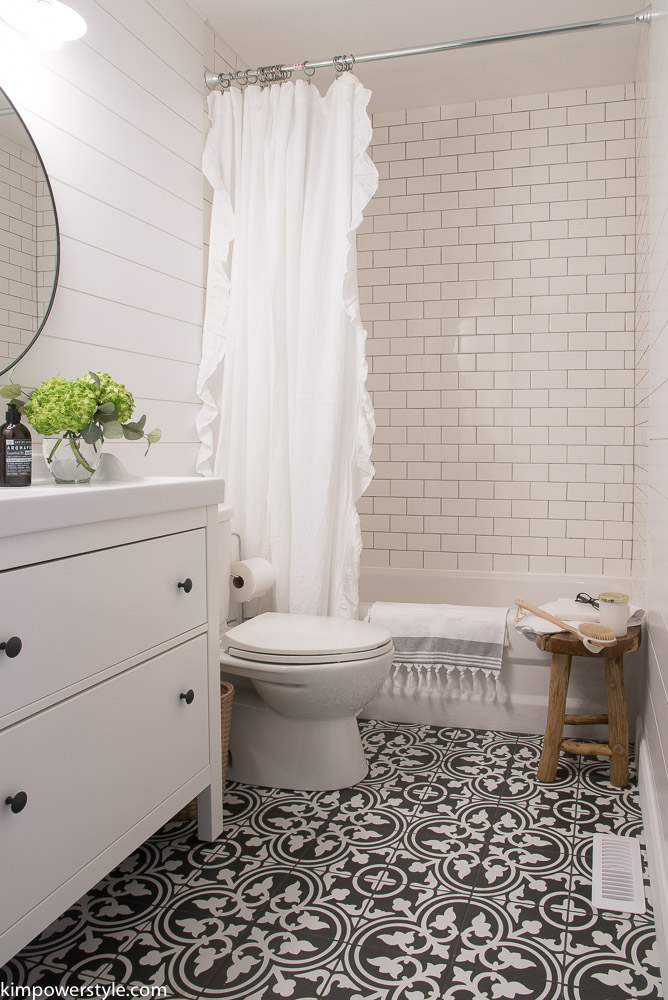 Source List 
Shiplap: Metrie Complete® Pre-painted Shiplap
Vanity Light: Glenhurst 3 light vanity fixture, Home Decorator's Collection, Home Depot
Mirror: Homesense
Floor Tile: M2 Tile
Vanity: Ikea
Faucet: Ikea
Stool: Homesense
Turkish towels, Cotton terry Bathrobes, Shower Curtains, Soap dish, Dispenser, Candle, Towel rack, Toilet paper stand: Homesense
Thanks so much for following along on this makeover journey with us! This was our first real reno and there were a lot of ups and downs, problems that we weren't sure how to deal with and lots of youtube video watching! We were the designers, contractors and tradesmen for this project. Next time I think I just want to design and leave the rest of the work to the real tradesmen 😉 Thanks to Linda from Calling it Home for hosting another great Challenge. Be sure to follow along with all the other designers and participants to see their finished projects.
Thanks to all our Sponsors who helped to make this makeover possible!