One Room Challenge Fall 2017 | Week 1
Call me crazy but I'm doing it again! This will be my second time participating as a guest in the biannual room makeover series called the One Room Challenge hosted by Linda from Calling it Home. Twenty featured design bloggers are chosen to participate, as well as 200 plus guest Participants to make over a room in six weeks!  So much decor and makeover inspiration to check out on the ORC site….And so the madness begins…again!

To say I'm a little nervous is an understatement! The last time I participated in the One Room Challenge we were making over our office space. We applied board and batten, hung a barn door and the rest was decor and cosmetic changes. This time around we will be making over our small main bathroom and there will be demoing involved people, Eek! This bathroom is used by my daughters when they come to visit and stay in the guest room. When it's clean and the shower curtain is pulled across, it can almost look pretty. I even had my daughter do a fresh coat of paint on it a few months back. But that black tile has been the bane of my existence (a little dramatic I know) since we bought our home. It's the one thing I told my husband had to go! The vanity was passible when we first moved in but it has served it's purpose and is ready to go as well.  So let me share this room with you.
Here is the before (It sounds better than right now, because these photos are a little embarrassing!) Please don't judge. Yes there is a missing  knob on the  vanity door.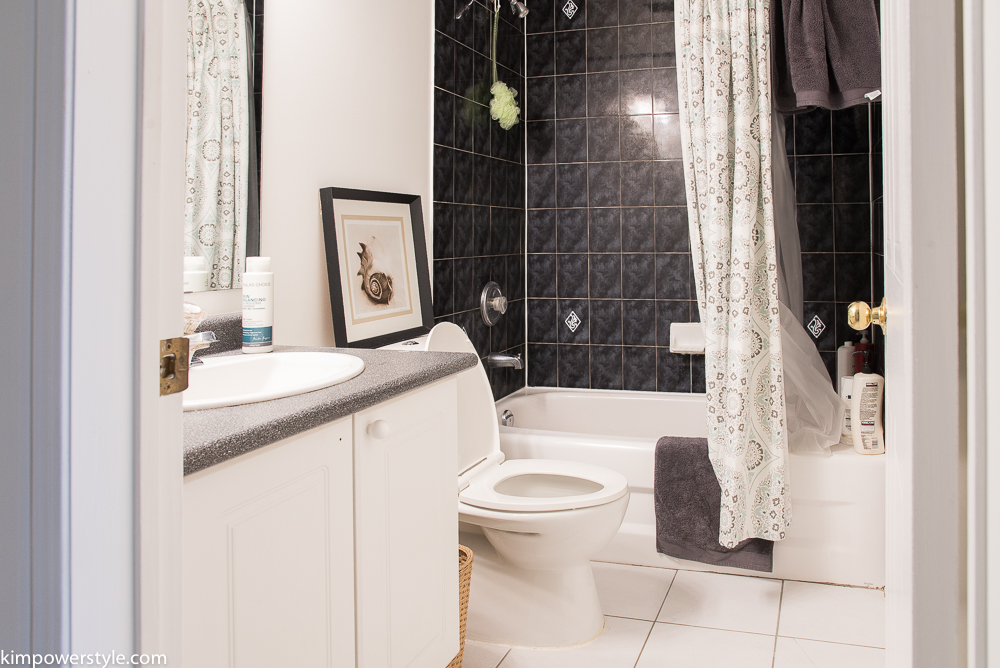 Maybe I wasn't being too dramatic when I said that the black tile was the bane of my existence?!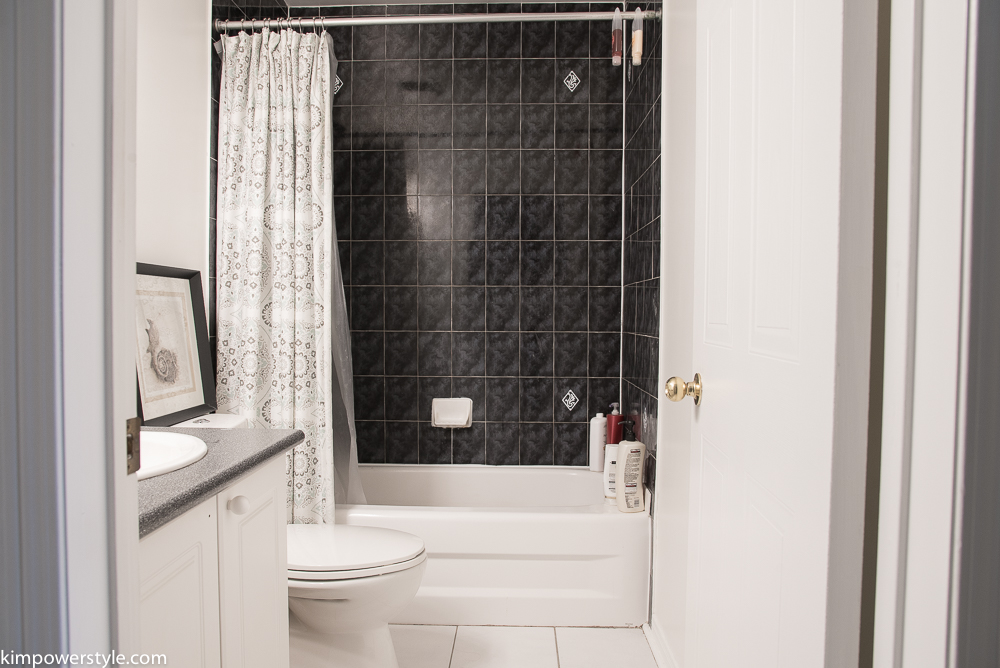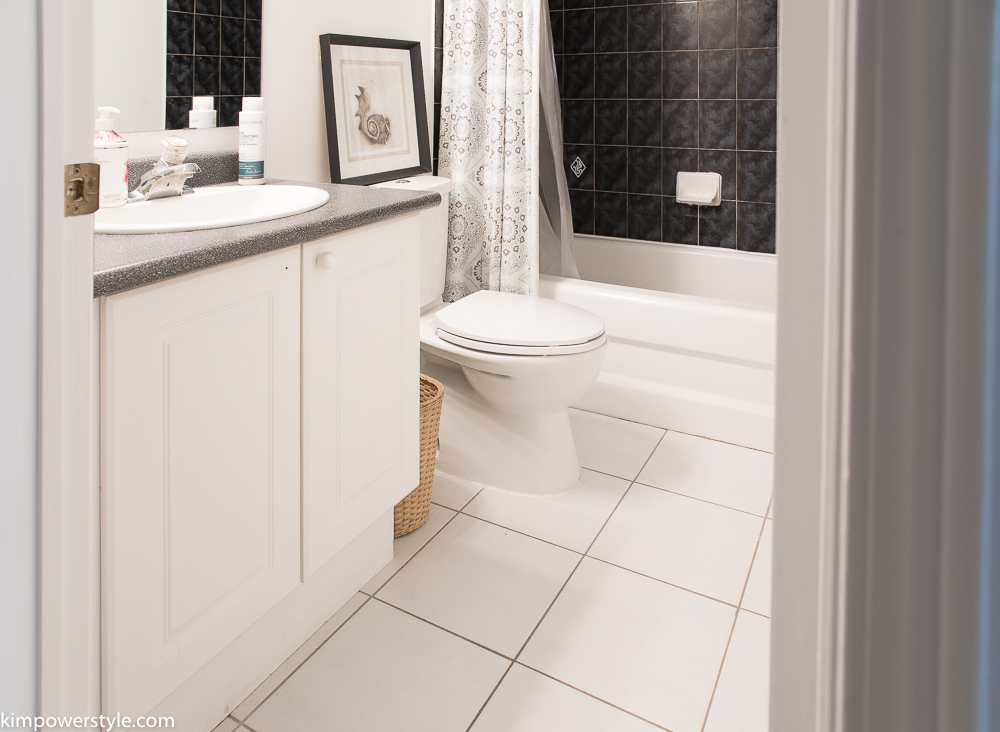 So let's move on to what I hope our after will look like:
Mood board
So here is the moodboard/vision I have for my new Modern Farmhouse Bathroom: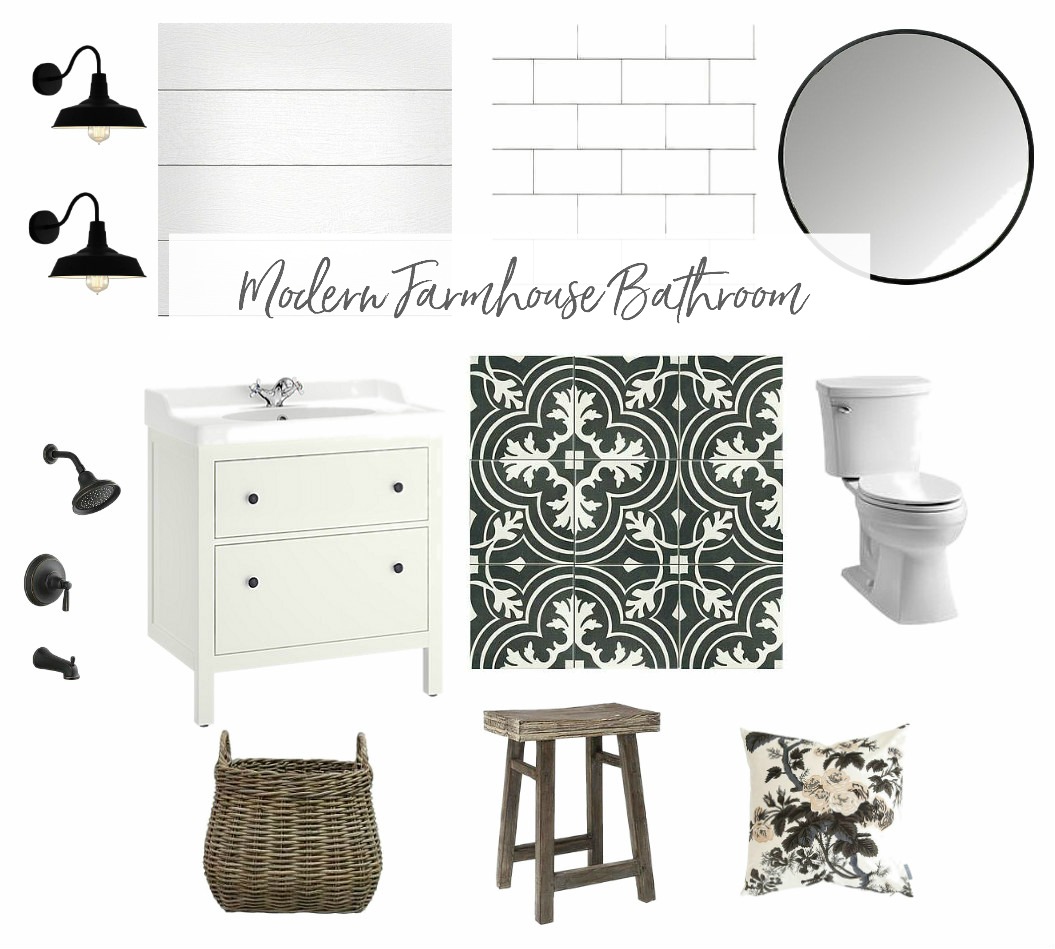 I placed all my favourite things in this moodboard to achieve this modern farmhouse look. It's a look that will go well with my coastal farmhouse/cottage vibe I have going on in the rest of my home and I love every element from colour to texture.
 Plan of Action
Remove the black tile and replace with plain white subway tile.
Apply white modern shiplap by Metrie to the rest of the room.
Change out the hardware in the shower/tub stall.
Do something creative with the floor tiles.
Remove the old vanity and replace it with something more up to date.
Remove the builder basic mirror and replace it with a new round one.
Remove the old lighting and replace it.
Add accessories, shower curtain, waste basket, stool etc.
It's exhausting just reading this! You can find all the other participants here.  Don't forget to check back next week to follow along with the process as well as to check if the hubby and I are still alive and married… Okay let's get this party started.. Honey, get the hammer!