The One Room Challenge Final Reveal
Well the day has finally arrived for the One Room Challenge™  final reveal! It's been a long, crazy  and busy six weeks for so many of us and now for the pay off! I've been working on making over an unused and dysfunctional office/workroom space into a  Modern Coastal Farmhouse inspired room that's both functional and pretty. It's been so much fun following the designers and other participants as they make over rooms in their homes all in six weeks! If you would like to see where we started  from and how we got to the final reveal,  you can follow along with our previous weeks here:
Week 1 | Week 2 | Week 3 | Week 4 | Week 5
And to give you a little reminder of what we started with:
Before: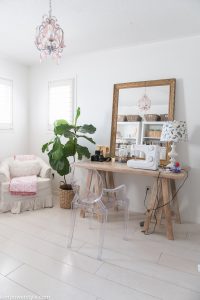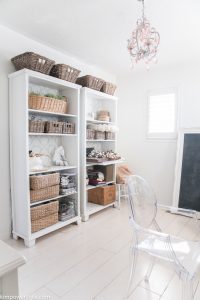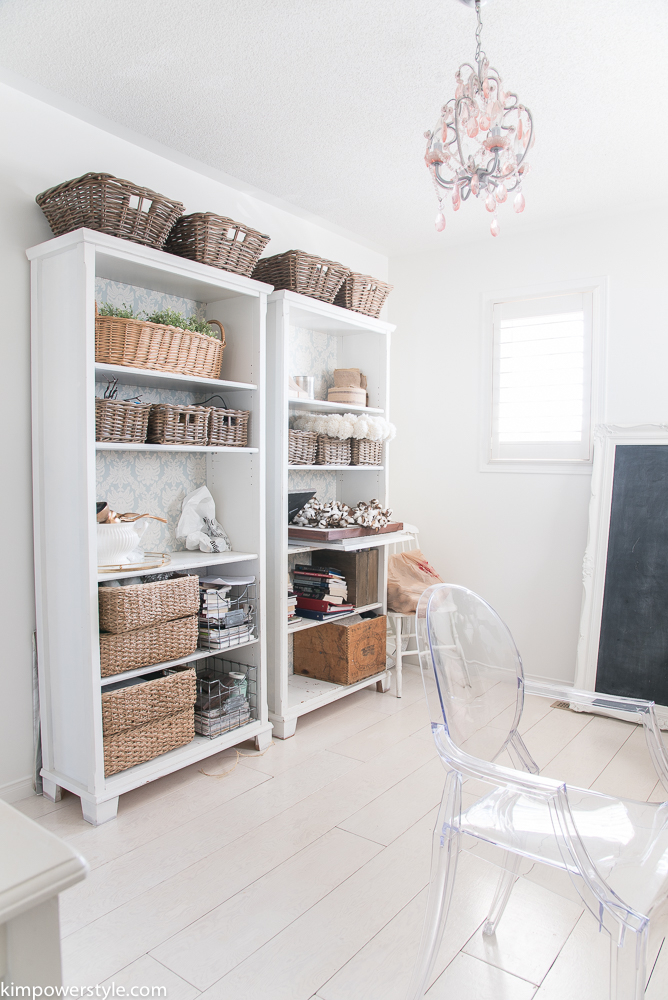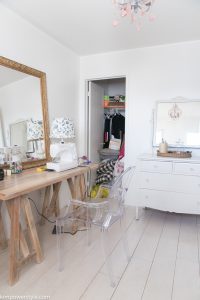 After: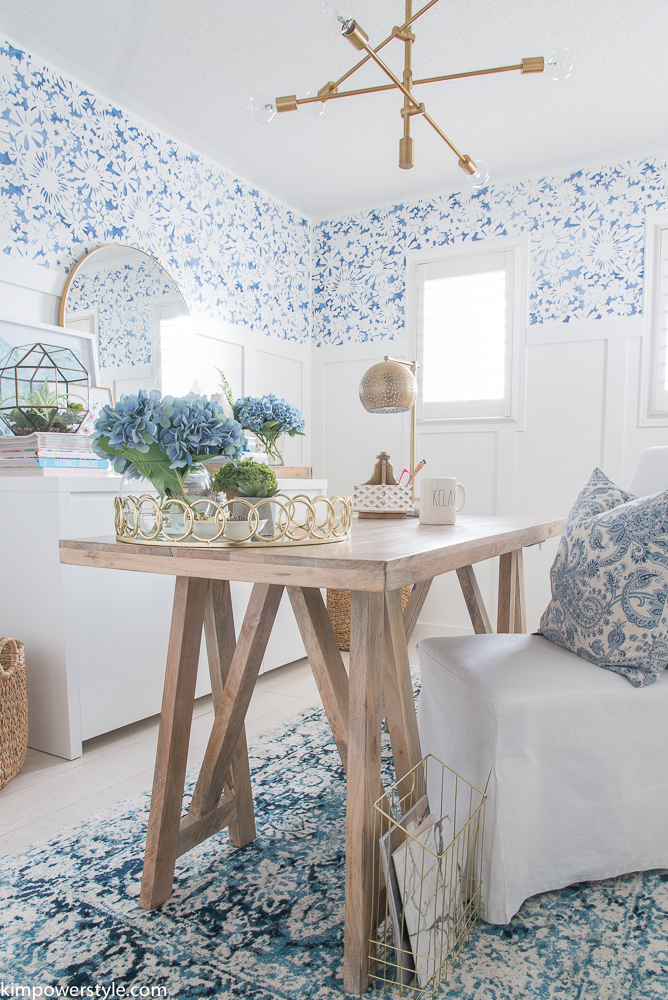 I love it! This space will function as both an office and a workroom for me. It's a small 9'x12′ room so I wanted it to be very functional without appearing cluttered. I removed the shelving units because I knew from past history that they can become a "catch all" for me. I replaced it with this gorgeous modern sideboard from Structube that is clean and sleek and contains so much storage space. The sideboard will hold everything to do with the "office" portion of the room. Everything is neatly hidden away and no clutter means no stress for me!
And did you see that awesome light fixture? I fell for this fixture as soon as I saw it in the Westelm showroom this spring. I love the modern look of it mixed in with some of the wooden pieces in the room. It adds the right amount of tension for my modern coastal farmhouse vibe I was going for.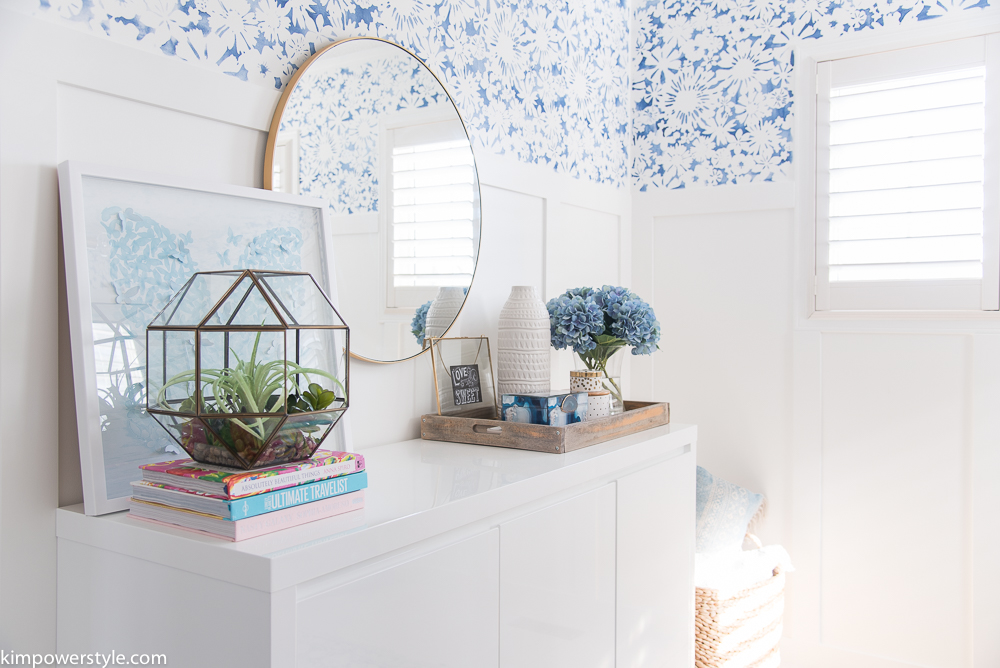 The top of the sideboard allows me a surface to add some pretty accessories that will change with the seasons. All the lovely accessories here and on my desk (except for the wooden tray and anthropologie candles) are from Homesense!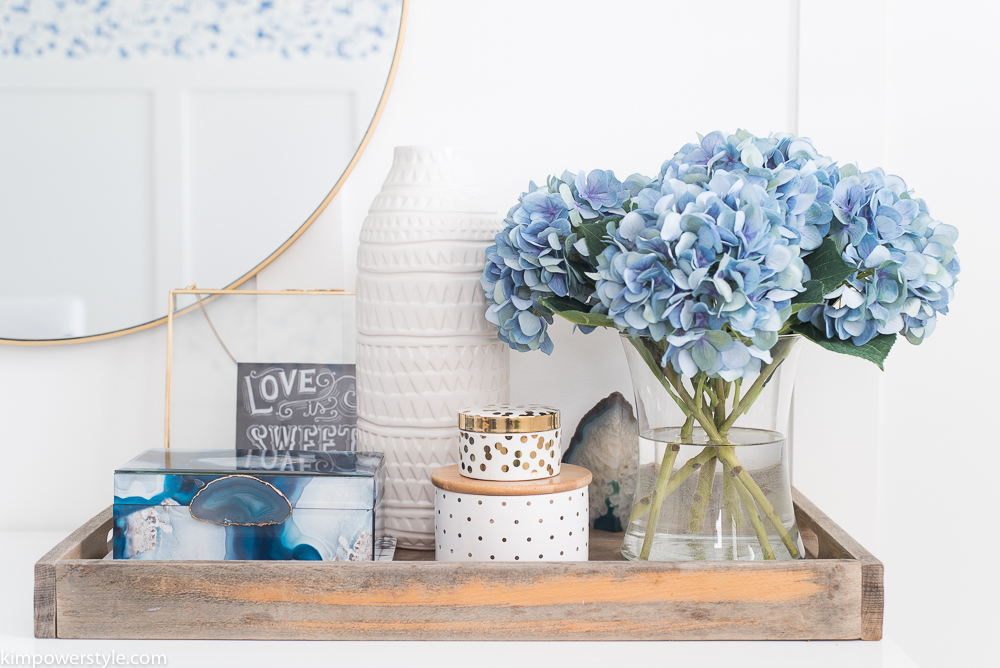 If you follow me on Instagram, you know how much I love decorating with flowers and these faux hydrangeas from Afloral look so real! They'll definitely see a lot of use.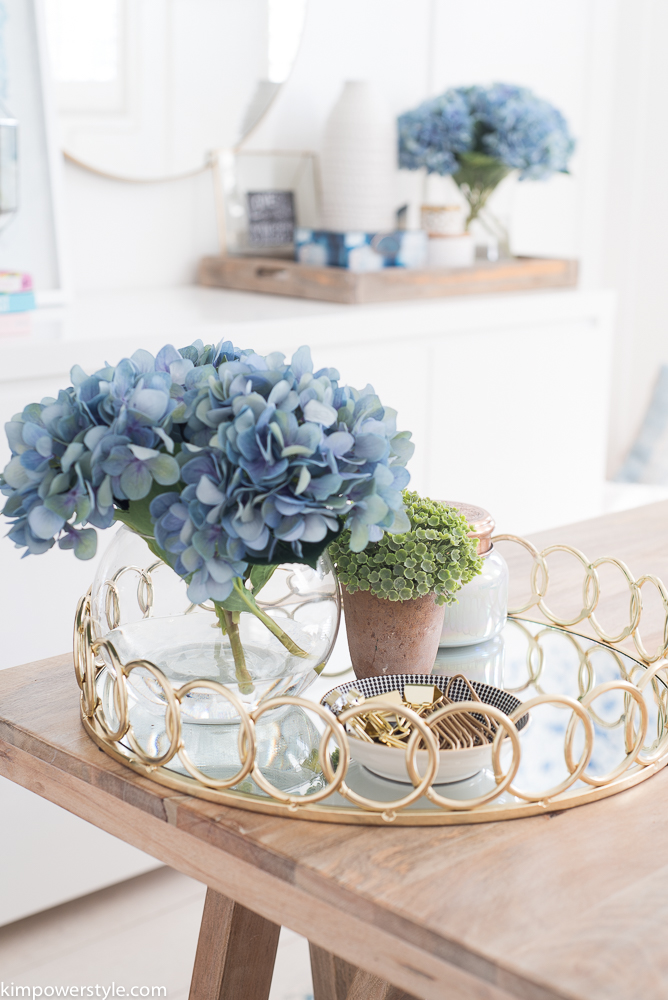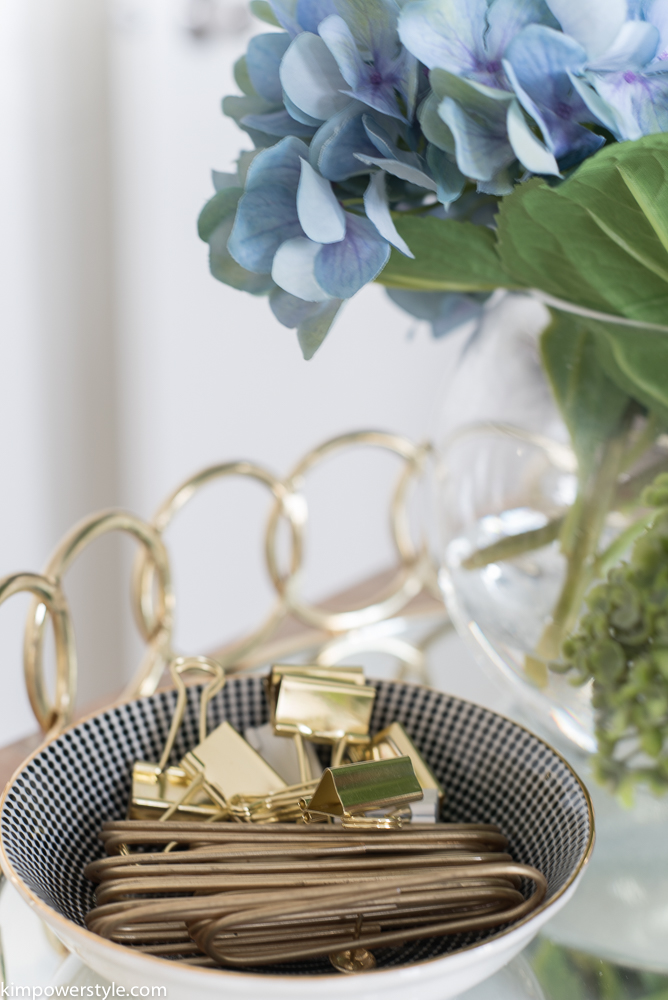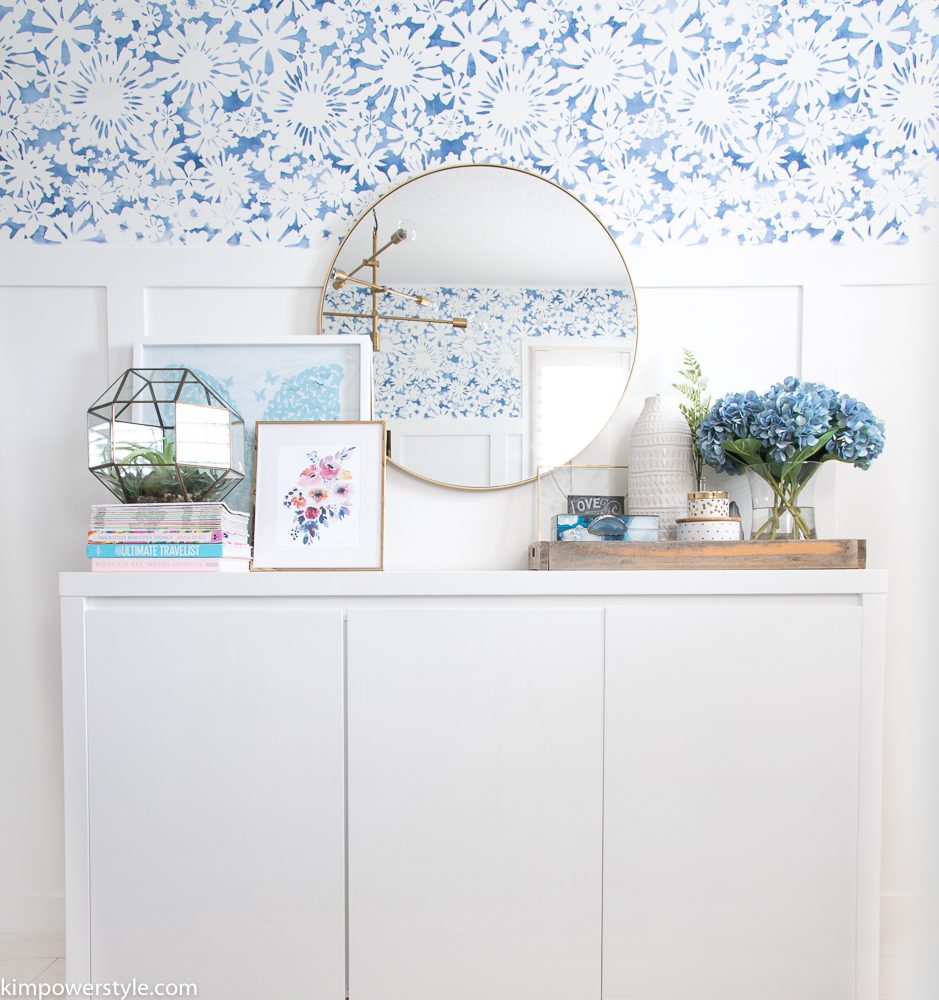 I already had this brass mirror hanging in my dining room but I knew it had to come into this room to play off the light fixture and other brassy accents. It really goes so well in here!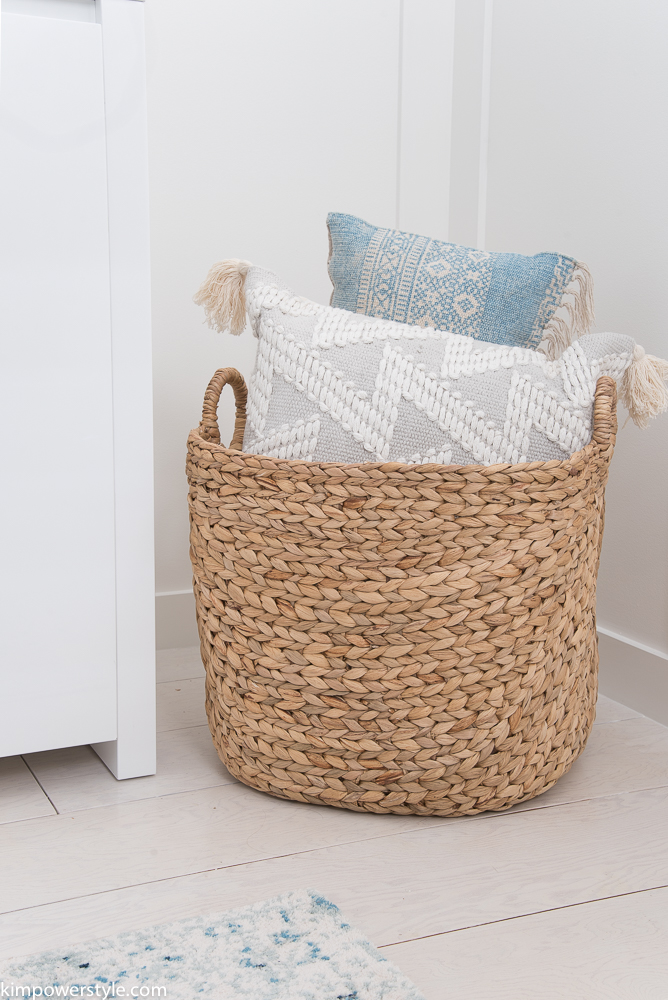 Every room needs some texture and something to hold extra pillows and throws and these baskets from Canadian Tire's CANVAS collection do the job wonderfully!
The pillow in the back is a diy pillow I made from a scatter rug, you can find the tutorial for that here.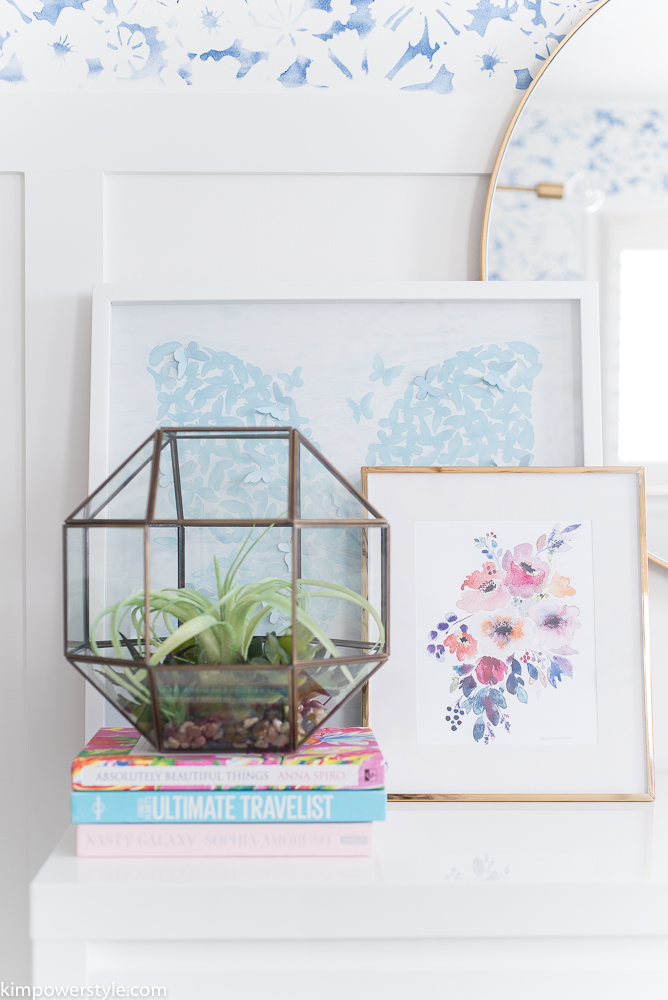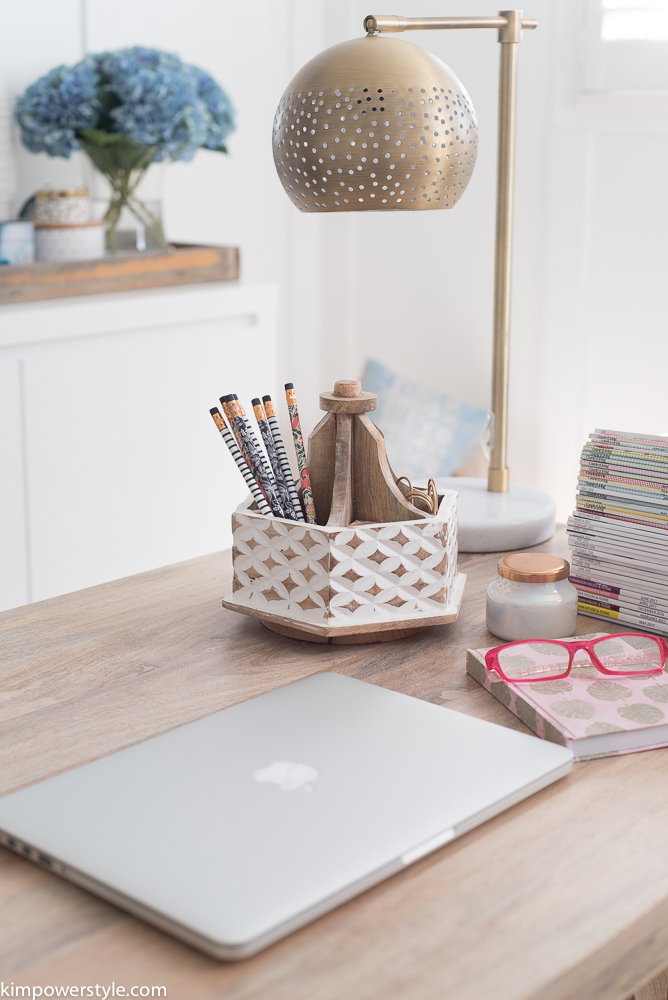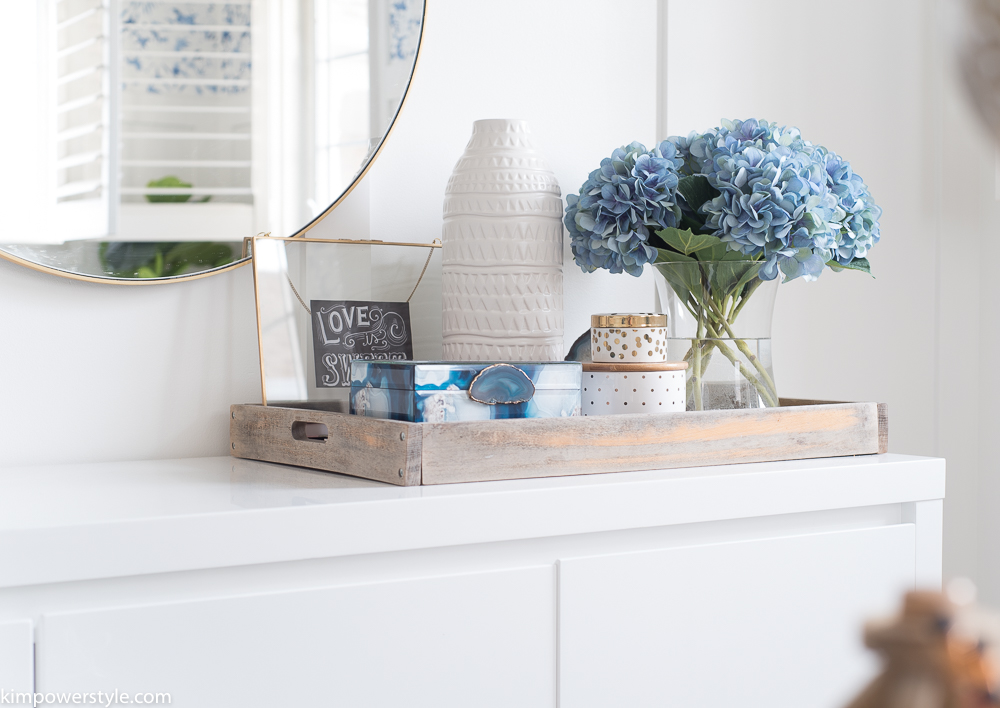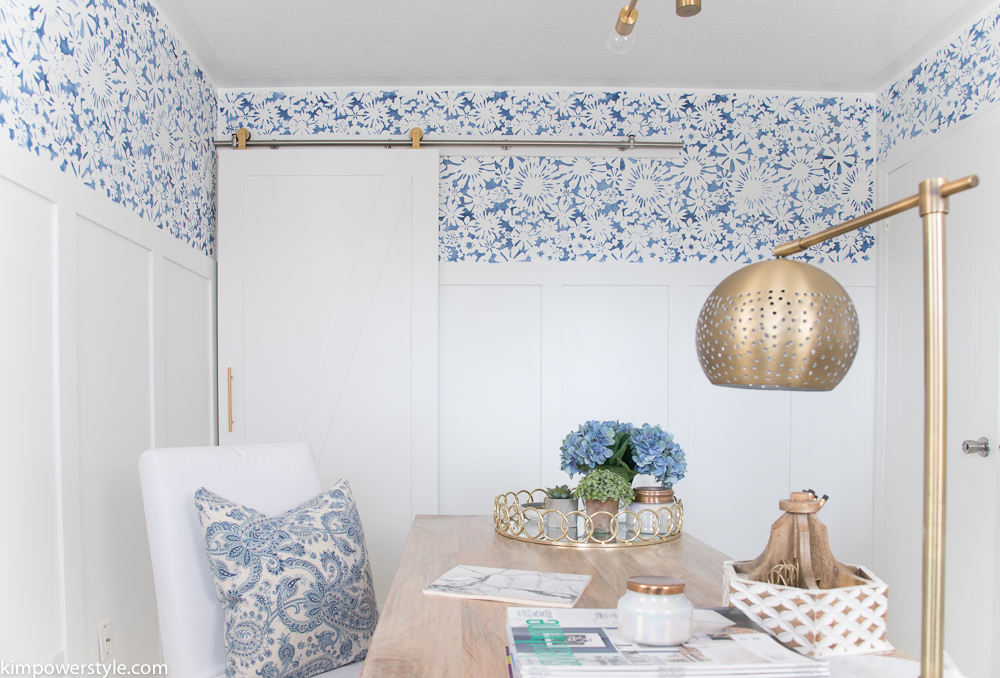 We added this barn door because previously there was so much "junk" in our little walk-in closet that there was no room to close the door! I've always wanted a barn door and this was the perfect place for one. It really does help with allowing more usable floor space in the closet. The closet will hold  everything to do with the "workroom" function of the space, such as my sewing machine, fabric, craft supplies etc.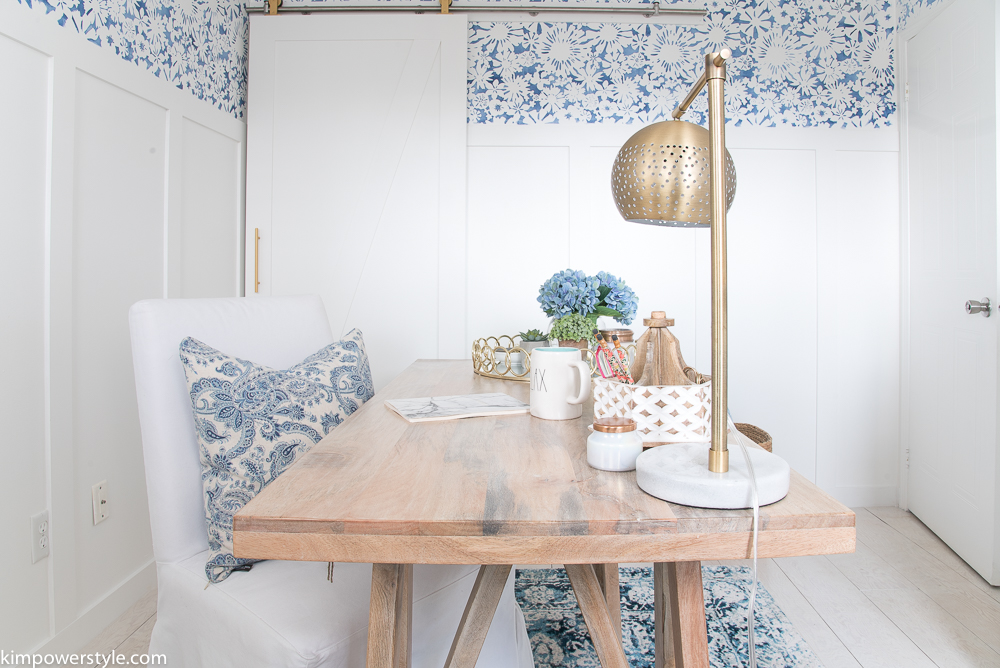 We still hadn't figured out what to do for wall treatments until the first week of the challenge! We then decided on board and batten and it was the best decision. I knew I wanted something to go above it to add some colour and pattern. For budget's sake we decided on this gorgeous stencil called the Floral Fireworks Allover Stencil by Royal Design Studio. I stencilled it using "liberty blue" by Fusion Mineral Paint and it turned out beautifully, you can find the stencilling tutorial here.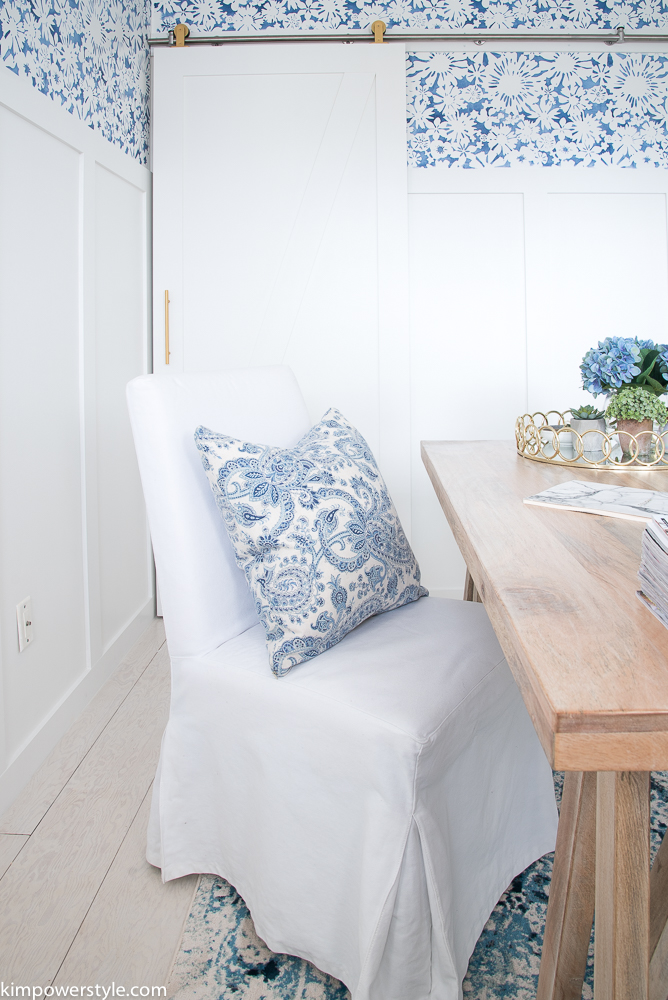 We had originally picked another chair for this space but it just wasn't the right colour and not the most comfy for sitting on for any length of time. I had wanted an office chair with wheels, but couldn't find one that was both pretty and comfortable. We decided on one we already had and it's suitable for now until I find that elusive "perfect desk chair" someday.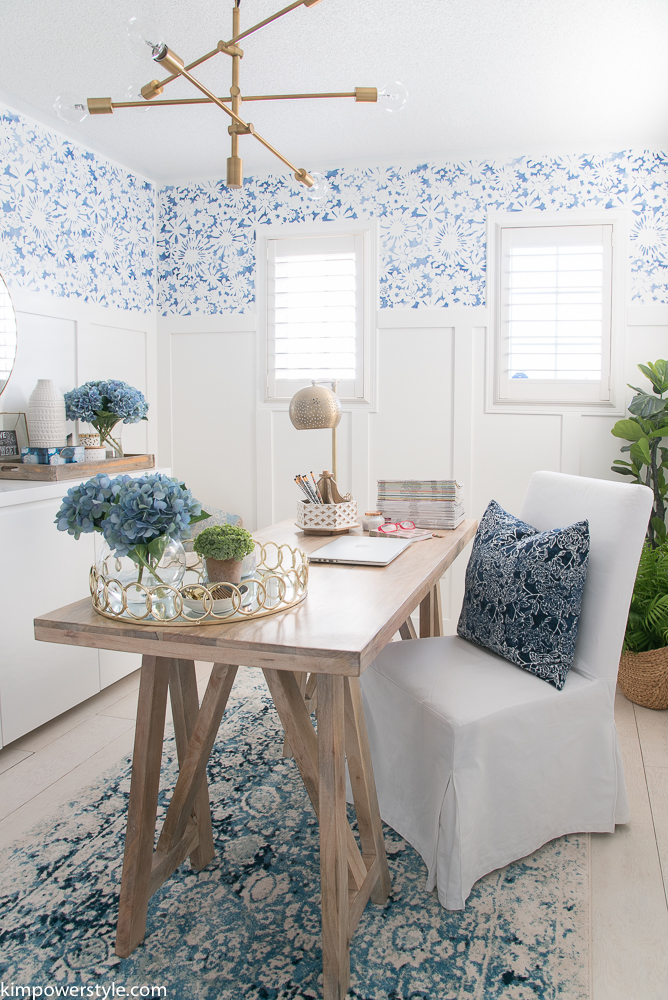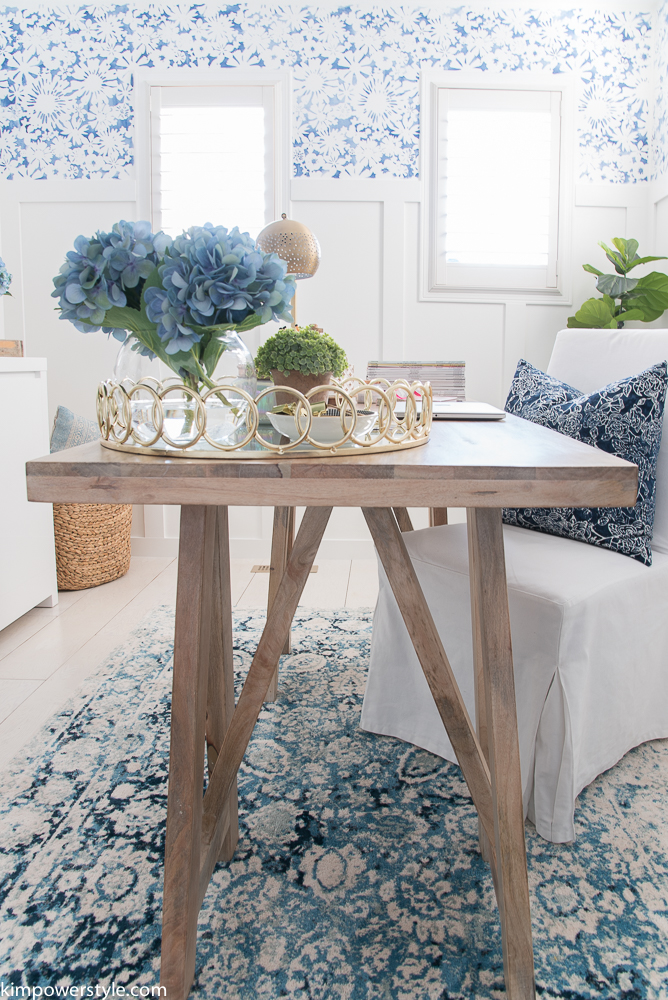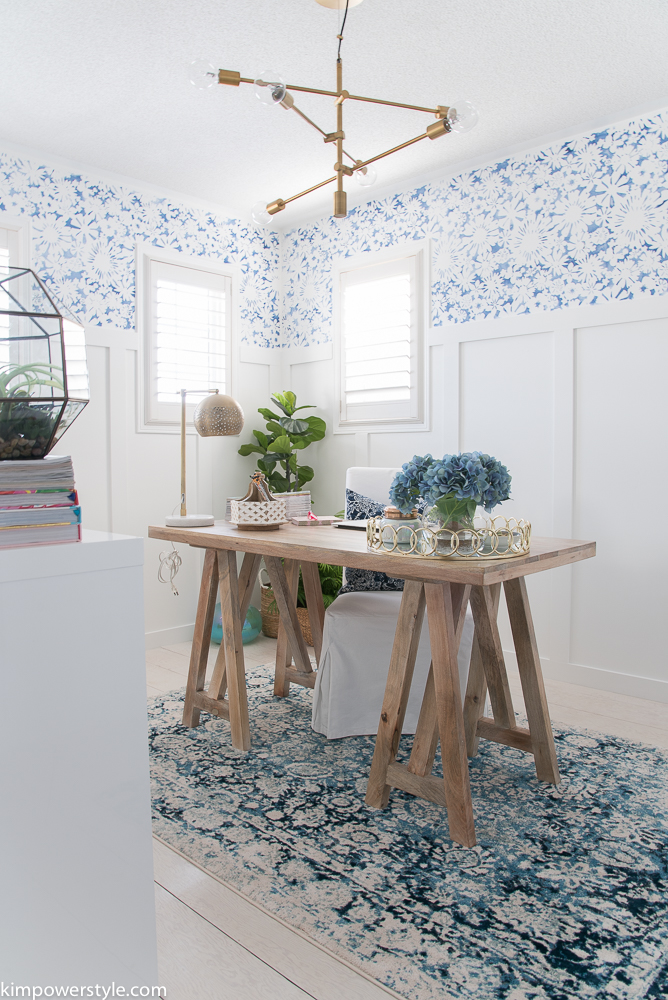 This rug from Rugs USA, is one of my favourite pieces in the room. It is so pretty and soft to walk on and goes so well with my coastal theme too.  I think I want one for my bedroom now!
You'll also notice that I switched out the above dark indigo cushion for a lighter one. The indigo one was made by yours truly!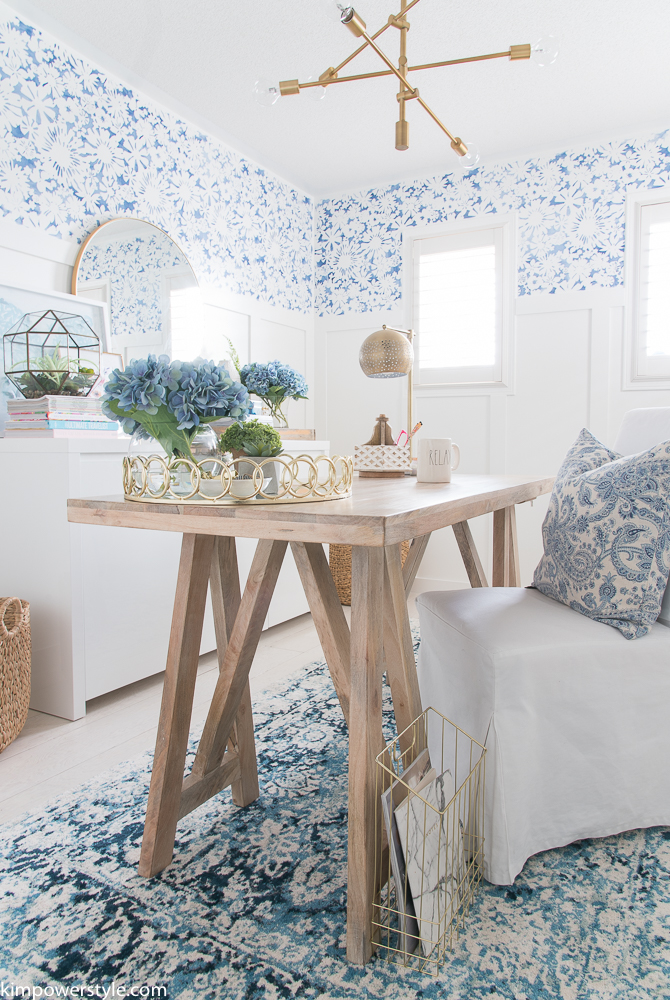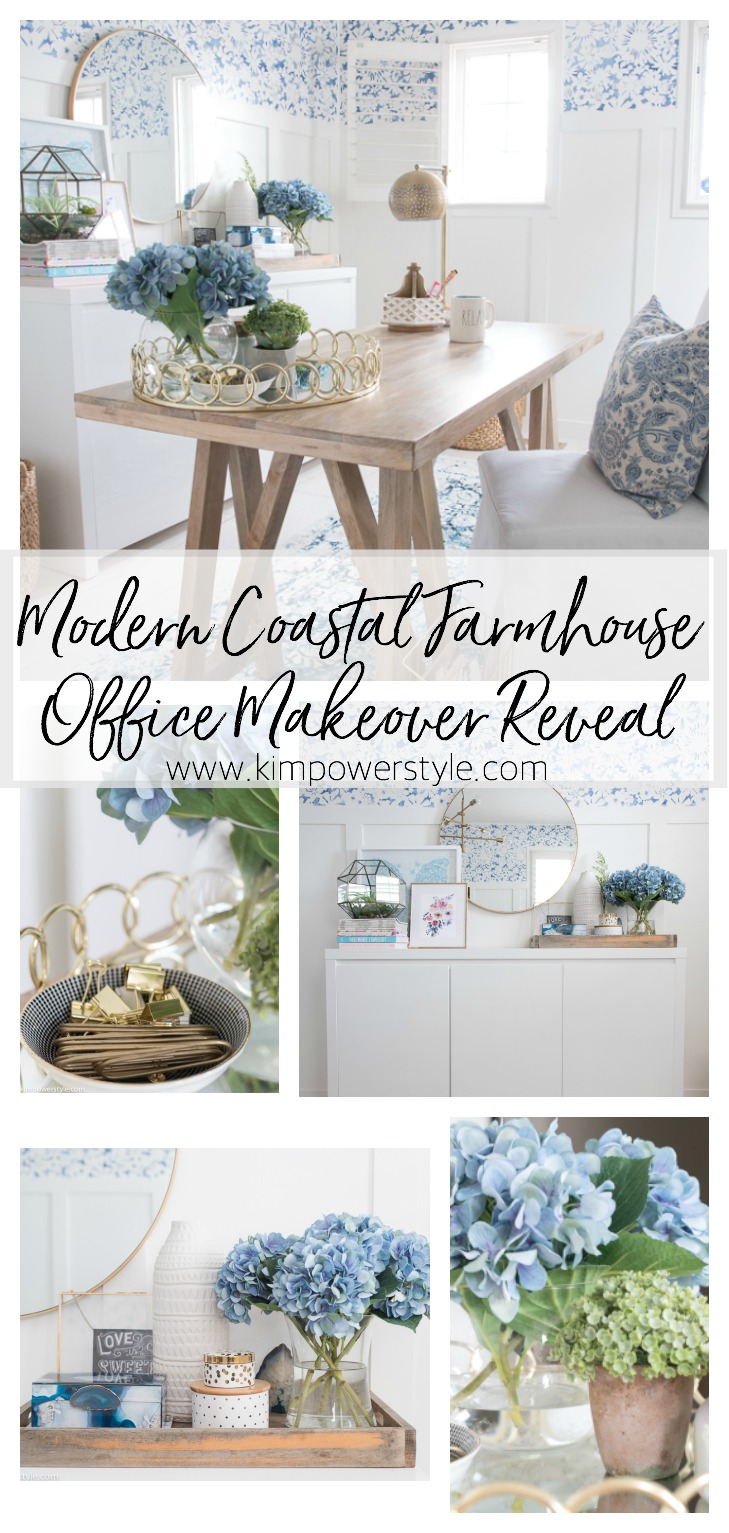 I'm so happy with my new office/workroom! It 's such a bright, airy and functional space now. I know I'll get so much use out of it, it's too pretty not to want to sit in there! Stay tuned for a post on what's in that sideboard and how I organized the closet coming later. Thanks so much for joining me on my first One Room Challenge journey and don't forget to catch up on all the other reveals!
Thanks to Linda of Calling it home for creating and hosting this biannual design challenge. It was a great first time experience for us and you know I'm already deciding which room to do over in October. 😉
And a huge thank you to all our amazing  Sponsors who made this project possible! I felt honoured to partner with each of these great brands and businesses and share their wonderful products.
(This post was sponsored by the following sponsors. All product given, was chosen by me and all photographs, thoughts and opinions are my own.)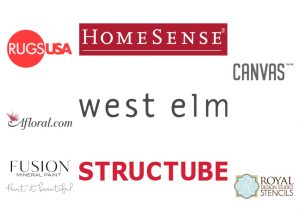 Source List