Wall Stencilling How-To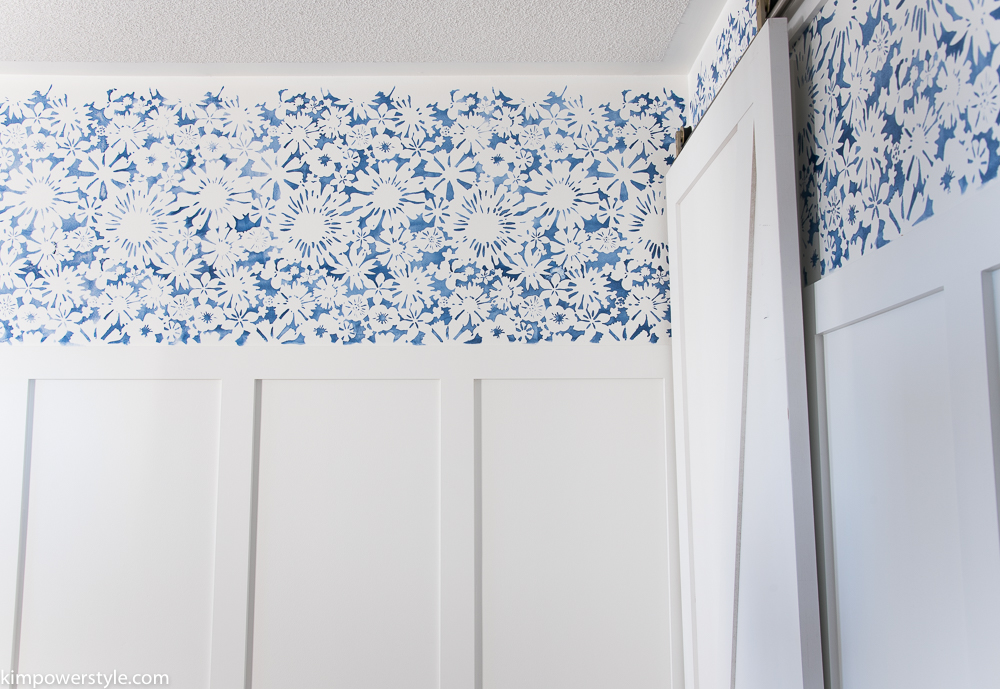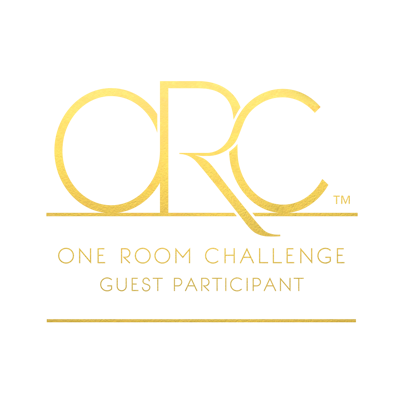 Well it's week 3 of the One Room Challenge and oh how the weeks have flown by! This week I've added some colour and pattern above the board and batten by using a stencil. I'll share a little wall stencilling how-to but first let's look at where we're going. If you're just tuning in now you can follow the progress by reading week 1 and week 2.
Here is the mood/inspiration board for the room:
If you notice, the board and batten as well as my stencil treatment above it aren't on my mood board. I still hadn't decided at the time what kind of a treatment to add. I knew that I wanted a modern coastal farmhouse look thats much in keeping with the rest of my home right now. Once I decided on the board and batten I knew I wanted to do something above it. Wallpaper can be pretty pricey even for a relatively small space so I decided on stencilling. There are so many gorgeous patterns out there now and when you add the colour factor, the possibilities are endless! I decided to go with Royal Design Studios Stencils for my stencil and chose the Floral Fireworks allover stencil 21″x 23″. I had the paint colour already and had been waiting for a chance to use it. I used the Fusion Mineral Paint in "Liberty Blue".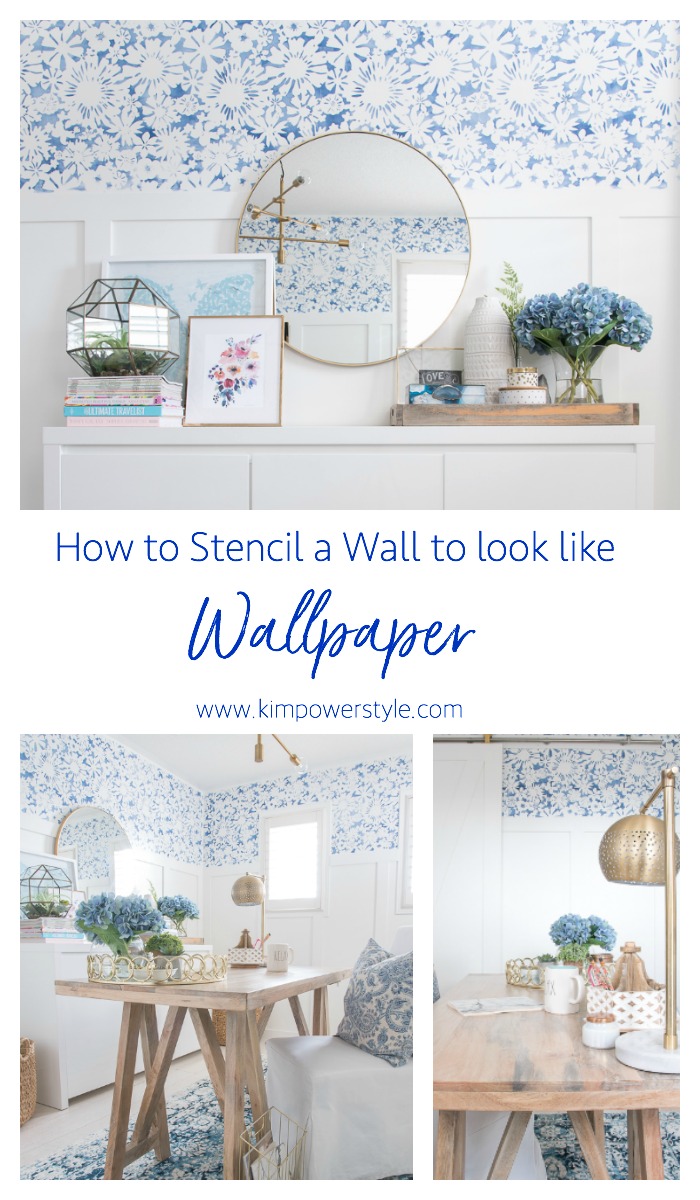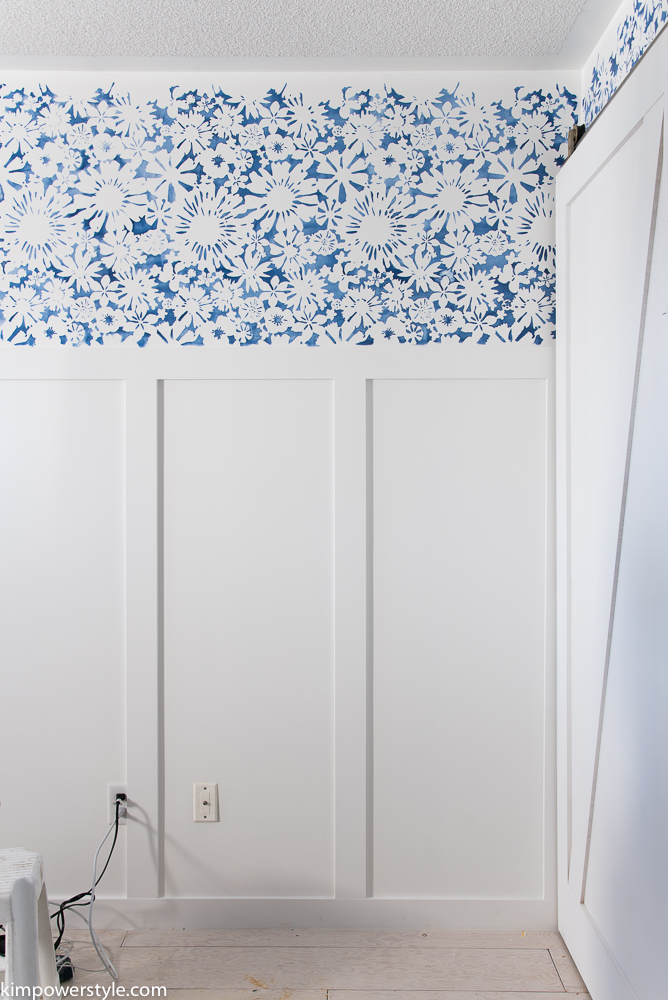 I have to say that I love the way it turned out! I'm still deciding on wether or not to finish the very top as I'm kind of liking the somewhat scalloped looking edge. I guess you'll find out on the final reveal! 😉
Wall Stencilling How-To
Let's start with what you'll need: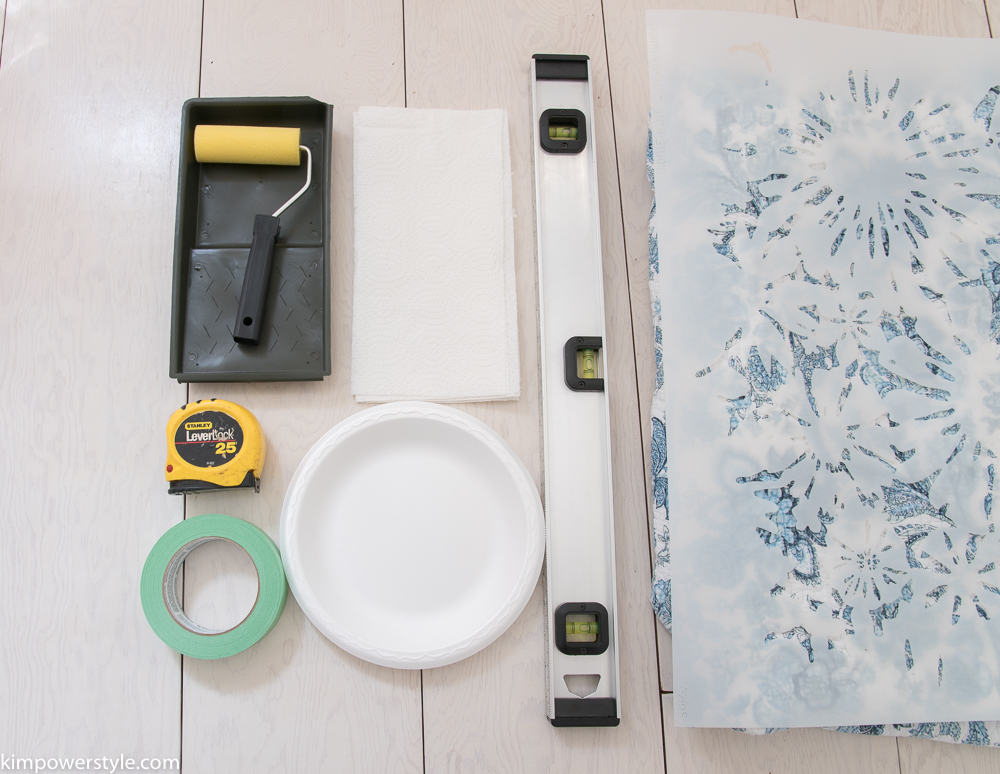 You'll need a stencil of your choice
A small roller and/or a stencilling brush
Good quality painter's tape
Lot's of paper towel
A small paint tray or a styrofoam plate will do
A level
Measuring tape
Spray on adhesive for the back of your stencil (optional)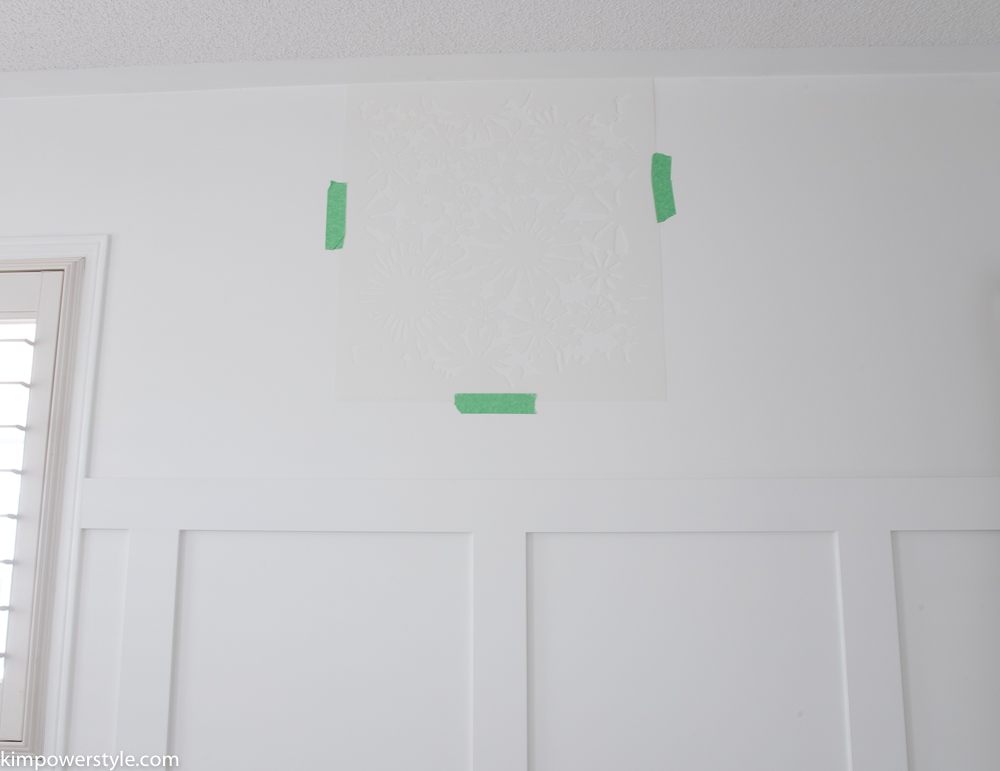 1.Using your measuring tape, find the centre of the wall. Affix your stencil to the top and centre of your wall. Check to make sure that your stencil is level.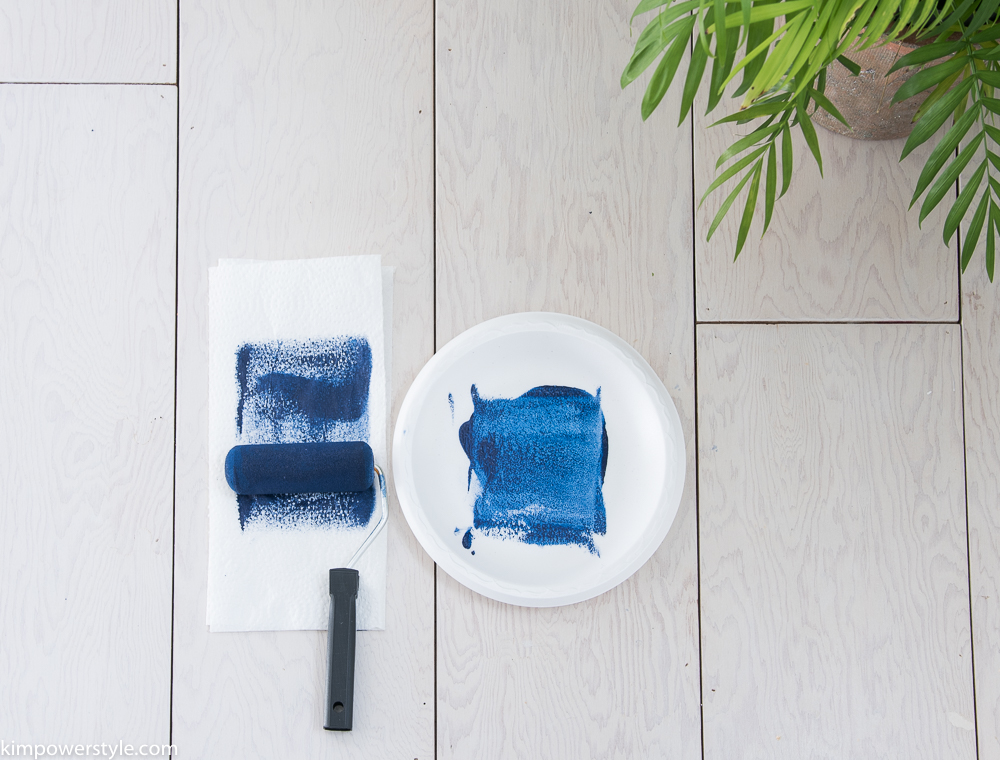 2. Load up your roller/brush with paint , enough to cover the entire thing evenly.
3. Remove most of the paint by off loading it onto some paper towel. This is important as you don't want excess paint to bleed underneath the stencil. Less is better when it comes to stencilling!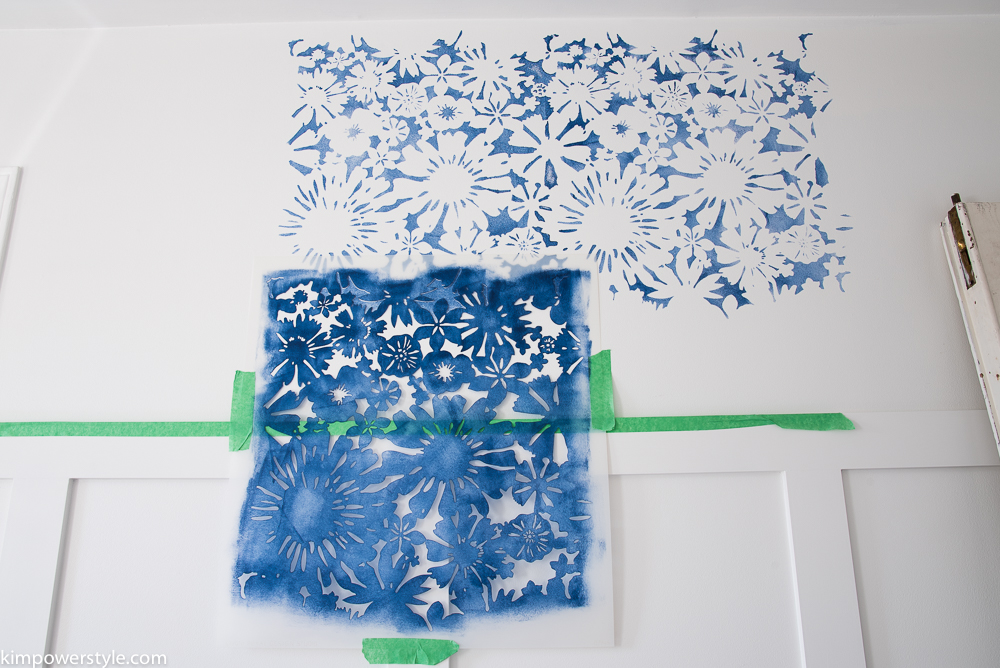 4. Begin to roll out over your stencil. You can lift up the corner of the stencil to make sure you're not applying too  much paint and bleeding through.
5. Move your stencil over to the the next position. Your stencil will have registration marks that will guide you to the correct placement. I found that the paint was dry enough to move onto the next placement without disturbing the previous paint.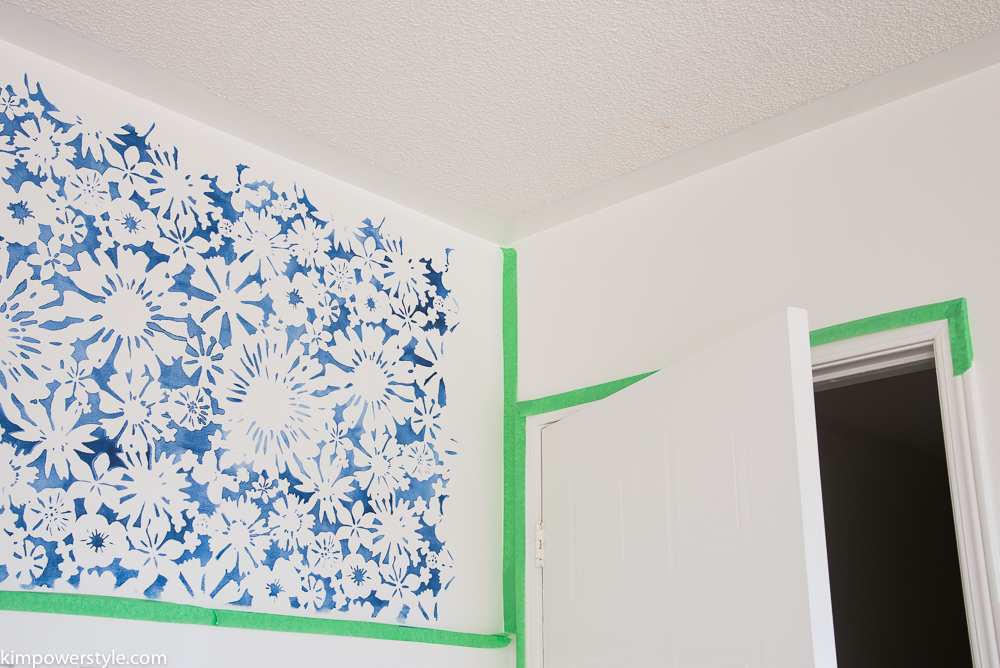 6. Once you come to a corner or edge. Apply your painters tape to protect the edge and the adjacent corner.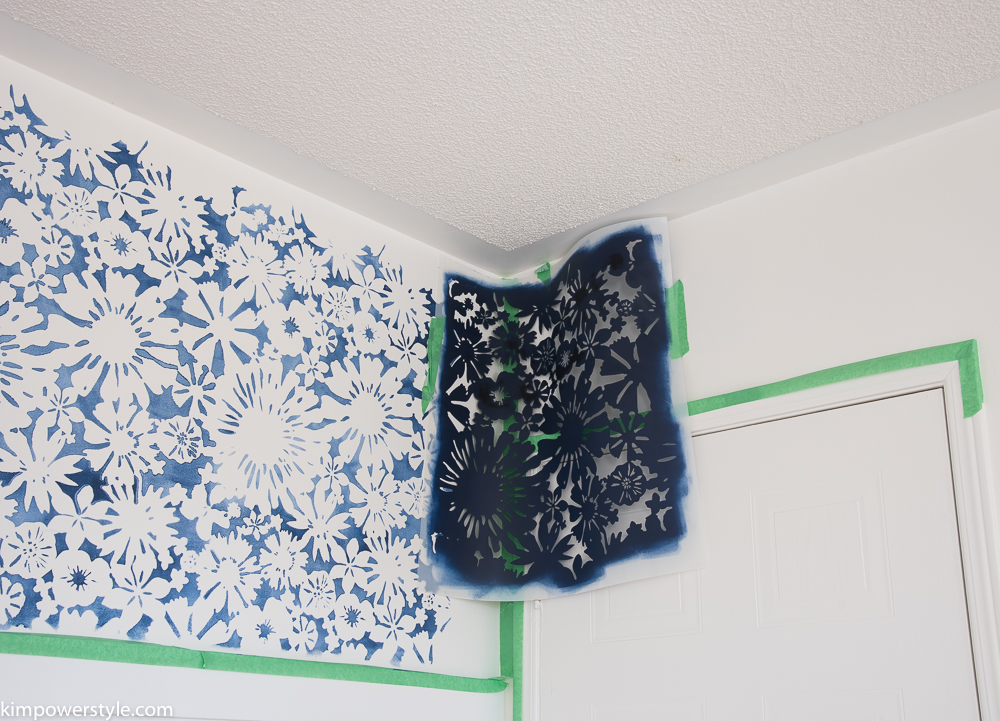 7. Place the tape on the side of your stencil that you will be stencilling. In this case the left of the corner. Don't tape the right side down as this will need to be flexible. (In the above pic. The right side is taped just to hold the stencil up while I photographed the pic, otherwise that side should not be taped)  Using your roller to paint into the corner by pressing into it.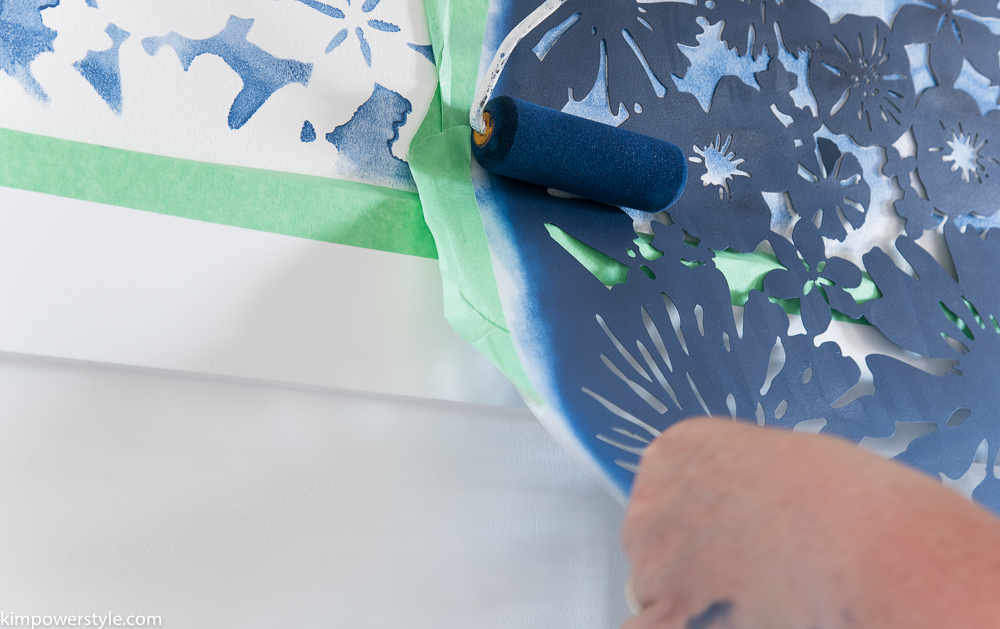 8. When doing edges and corners, you can use your roller to press into the corner/edge and  then use your fingers to press your stencil down into the corner/edge. You can continue to roll at this point or use a little stencil brush to get right into the edge. I just continued on with my roller.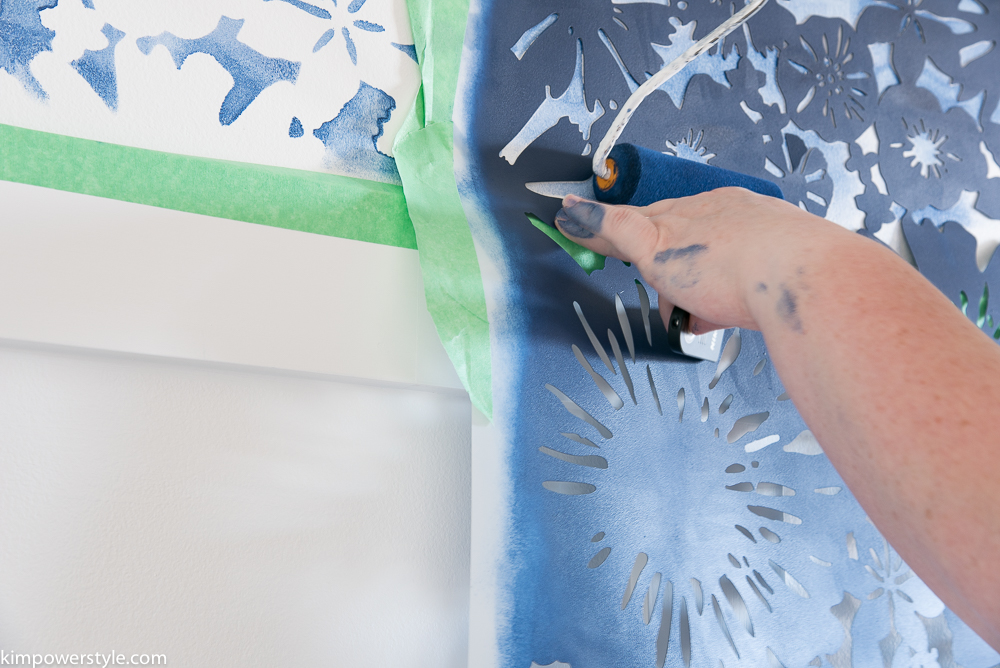 9. Continue to go around the room until you have finished. You may have to stop and clean the excess paint buildup from your stencil. I did this once and placed it in my bathtub to clean.
Royal Designs Studio has some great how-to videos and instructions on their site that I would encourage you to watch if you're thinking of trying this out.
If you look at my walls there are lighter and darker areas. I actually love this as it gives the appearance of water colour. I also found that in places near the corners and edges where It seemed that I made some major "out of the lines" mistakes, the pattern was very forgiving. If there are areas that you feel you need to address, you can simply get a little brush and use the base colour to help clean up the lines. I thought I was going to have to do a lot of cleaning up of the lines but it seems to blend in and has just become part of the pattern.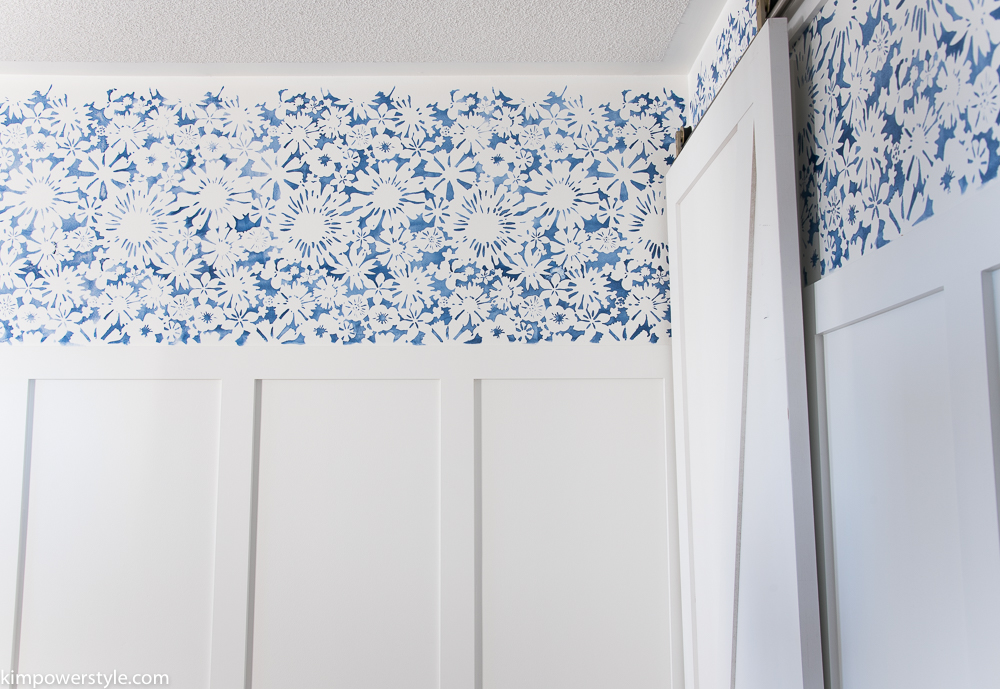 So here is a little peek into my Modern Coastal Farmhouse Office/Workroom. If you look to the right of the photo, you'll see a peek of something else we've been working on! 🙂 Thanks so much for joining me on my first journey with the One Room Challenge and stay tuned for more projects on the way! You can follow along with others on their journey as well right here!
(This post was done in collaboration with Royal Design Studio Stencils, all photography, thoughts and opinions are my own.)