One Room Challenge | Week 5
Hello again everyone,  It's hard to believe that it's week 5 already and that next week is the final reveal! I'm not sure where the time has gone but this challenge has been fun, crazy and scary all at the same time.  This week we've been busy  trying to pull everything together for our Modern Coastal Farmhouse Office/Workroom  makeover so that we'll be able  to style and photograph it on the weekend. If you'd like to get caught up from the previous four weeks:
Week 1: The Plan
Week 2: Board and Batten
Week 3: Stencilling Tutorial
Week 4: The Barn Door
This was the mood board I had created and helped to guide me in my plans of the makeover:
This post contain affiliate links, all photography thoughts and opinions are my own.
There have been some additions and changes to our plans since I first created this board so let's get caught up !When I first created the board I didn't have any idea what I was going to do with the walls. After some thought I decided to go ahead with board and batten and was so pleased with the results. You may just see a little more of that being put up in another room soon! We also stencilled  the upper part of the wall above the board and batten using a gorgeous stencil called the "Floral Fireworks allover stencil" fromRoyal Design Studios. I used  my favourite Fusion Mineral Paint in Liberty Blue. The lovely water colour effect  adds to the look and feel we were going for.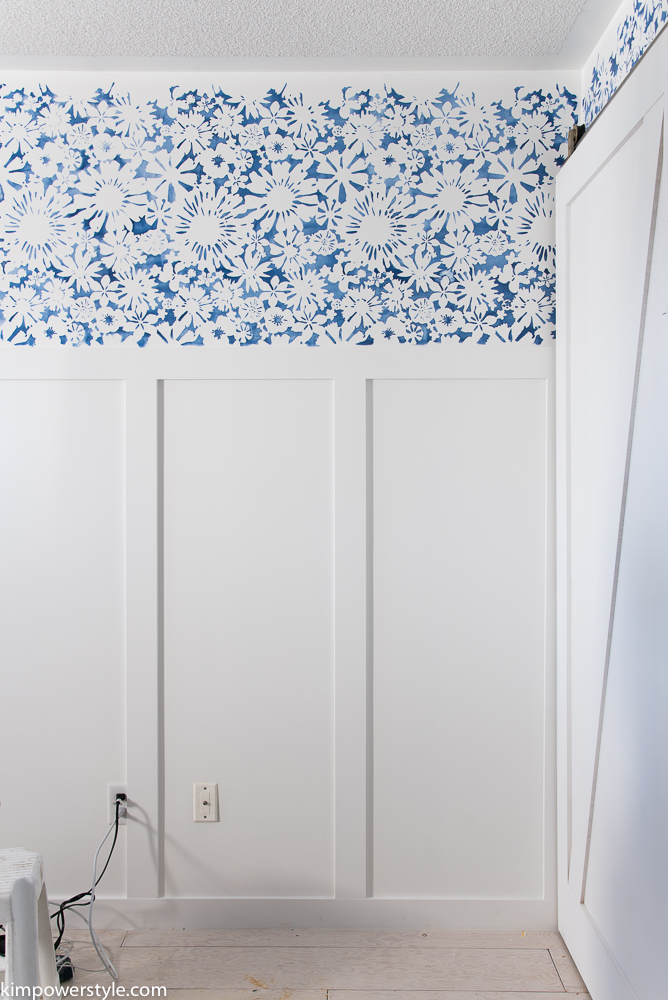 (Week 2 and 3 saw us adding board and batten along with stencilling)
Another element we added to the room that was not on the mood board was the addition of our barn door. The barn door was added to help with the function of the closet as well as my dream to put one somewhere in my house! I simply love it! I had spray painted some of the hardware along with the handle to mimic the look of brass that would go along with the light fixture we were adding. It wasn't brassy enough for me so I overlaid it with a couple of coats of Fusion Mineral Paint in Pale gold and it looks so much richer now and matches the brass light fixture perfectly.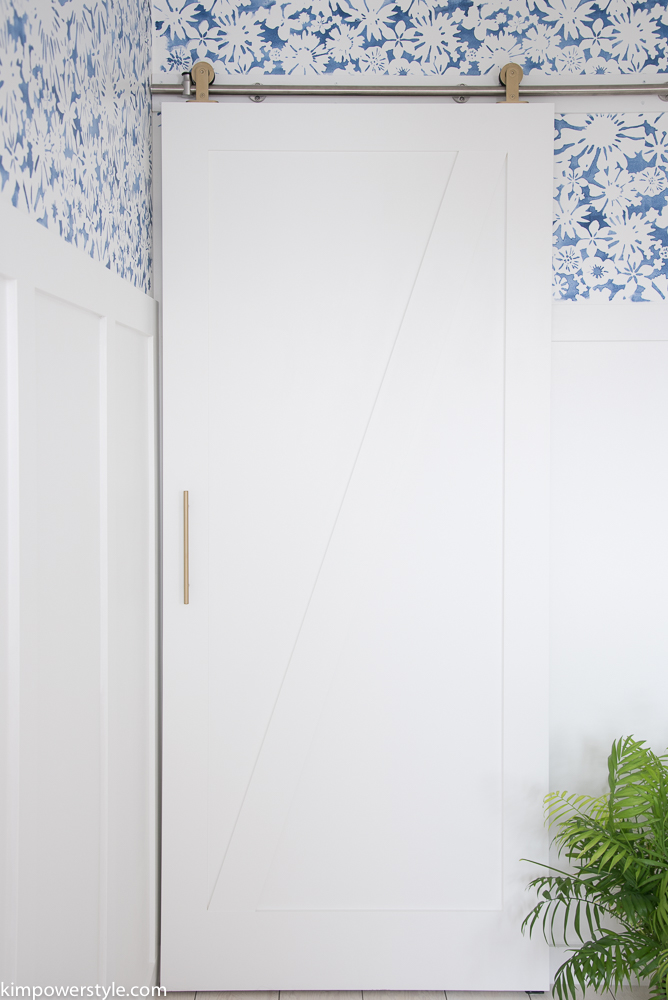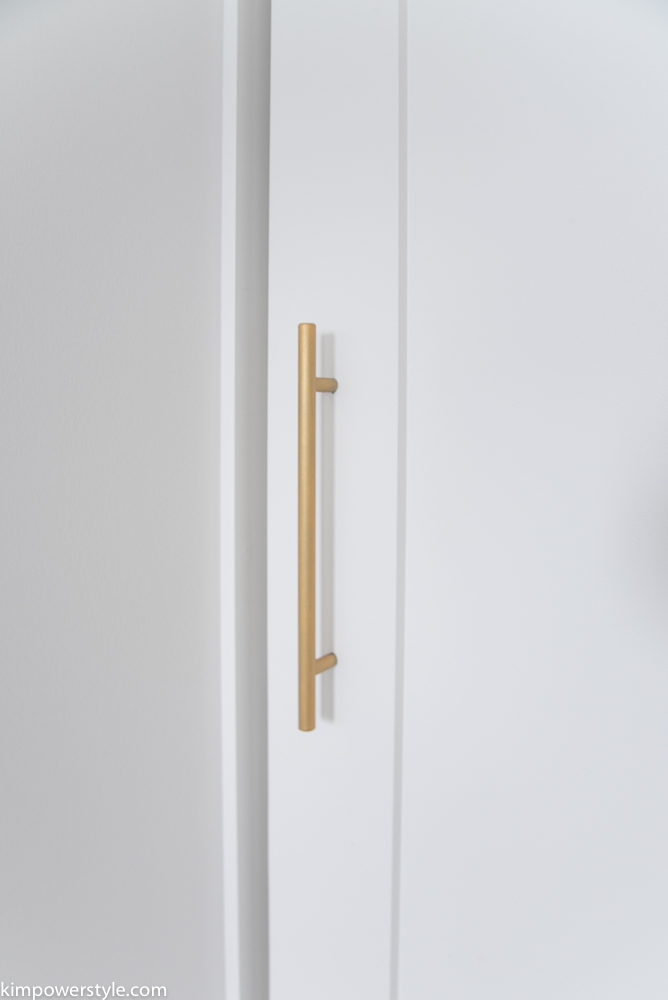 (Week 4 had us adding a barn door)
So this is where we are as of today! You'll notice that we've changed the chair from the one in our mood board. I'm still not sure about this one either. I'd love an office chair with wheels on the bottom but have yet to find one that is pretty to look at and comfortable too. Stay tuned to see how that saga plays out!
We have this gorgeous rug from rugsusa, desk, mirror, chair and pretty faux hydrangeas from Afloral in the room right now. My light fixture from Westelm came in on Monday and I am smitten with it! I'll wait until next week to share that beauty! I'm still waiting for our sideboard storage unit that's to be picked up from the store tomorrow (fingers crossed it's arrived from another province, Ack!) I also have two deliveries scheduled for tomorrow which hold all the accessories for the room! Oh yes, I'm also waiting for delivery of a couple of cushions to add to the seating and hoping they'll be here on time too…Phew!
I've learned a lot of what not to do here on my first challenge. The next time (If I survive this one) I'll have a  better idea of how things should work! 🙂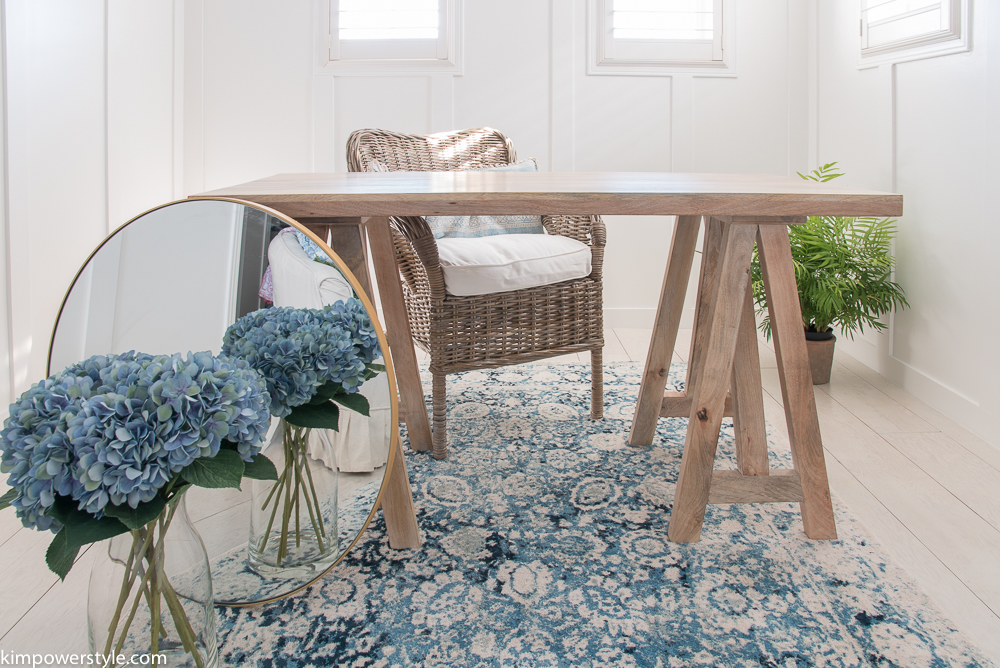 So that's a rundown of where we started and where we are as of today. There is still so much to do but I'm excited to see all our plans come together and praying for sunny skies to photograph it all! Don't forget to come back next week to see the final reveal. You may want to subscribe to get my posts sent directly to your inbox. You can also follow along on Instagram for more pictures and progress stories. Have a great week!
For more great design inspiration take a look at the designers and participants link up  here.