Modern Barn Door
One Room Challenge™ Week 4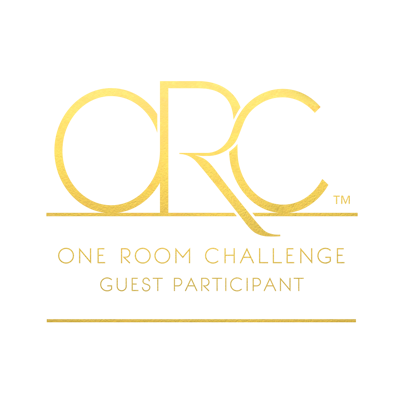 Welcome to week 4 of the One Room Challenge™ hosted by Linda from Calling it Home, where designers and bloggers makeover a room in their home in 6 weeks. For those of you just tuning in, you can go back and follow the progress by reading Week 1, Week 2, and Week 3. This week I'll be sharing this Modern Barn Door we've added to the space. We had planned on building our own door from plywood and molding, but when we factored in the time and cost, we decided that buying this ready-made door made more sense for us.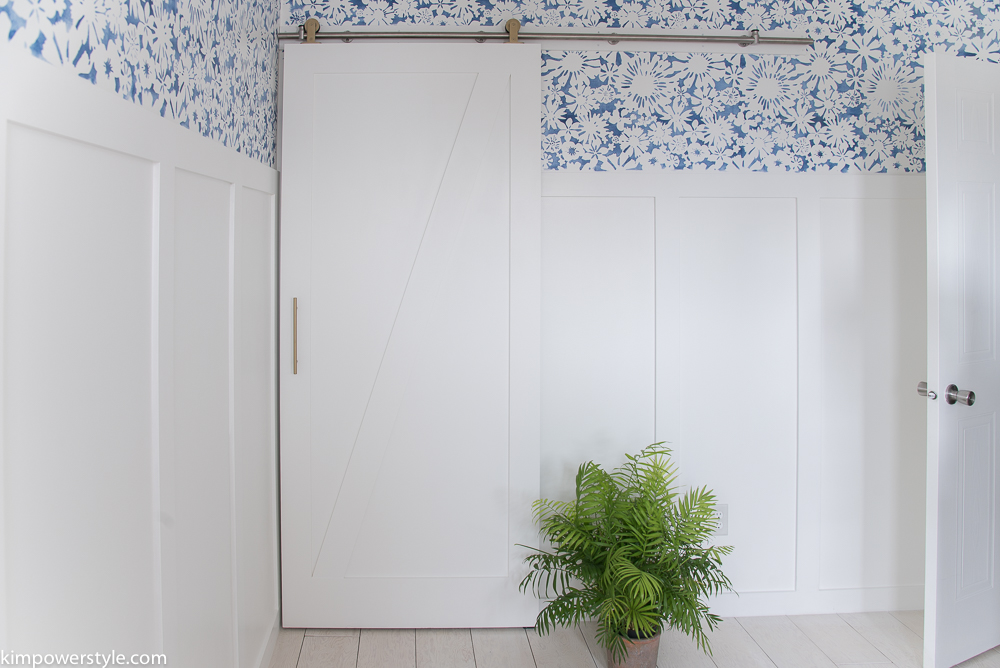 I had wanted a barn door for a really long time but I have a smaller home and a more open concept main floor. Meaning, there was no room anywhere for a barn door except in this room. When we were deciding on how to make this room more functional, we realized there was so much junk in our tiny walk in closet that we couldn't even shut the closet door! However, we had to utilize as much floor space as possible in this closet, so a barn door was just what was needed! You can use all the floor space without having to worry about a door being swung open or shut. It was the  perfect solution and I got my dream of having a barn door!
If you remember my mood board, I had wanted this room to take on a Modern Coastal Farmhouse vibe:
So that meant along with some cozy pieces and texture, it would also have some clean lines and brass finishes. When we decided on the barn door, I wanted it to have the same aesthetic. Instead of going with the black hardware that I had always thought of having on a barn door, I chose this clean steel hardware. I had wanted hardware that incorporated  brass, but that was difficult to find, so I came up with my own solution.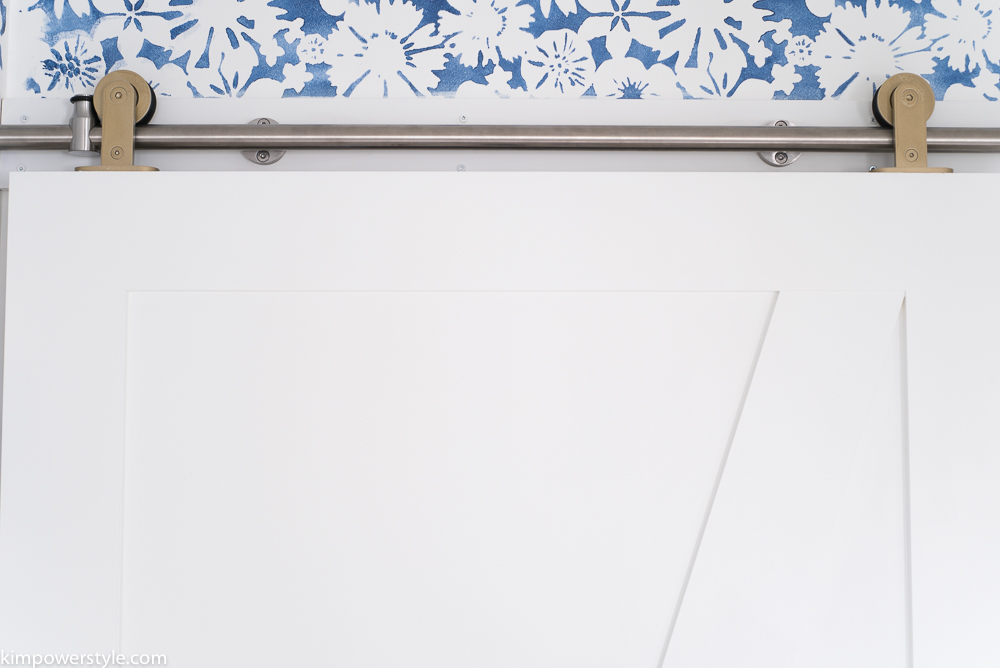 The brass hardware is to tie in with the brass mirror and light fixture that are coming. I spray painted the two pieces that attach the door to the track, a soft gold using Rustoleum Metallic in Pure Gold before we hung the door.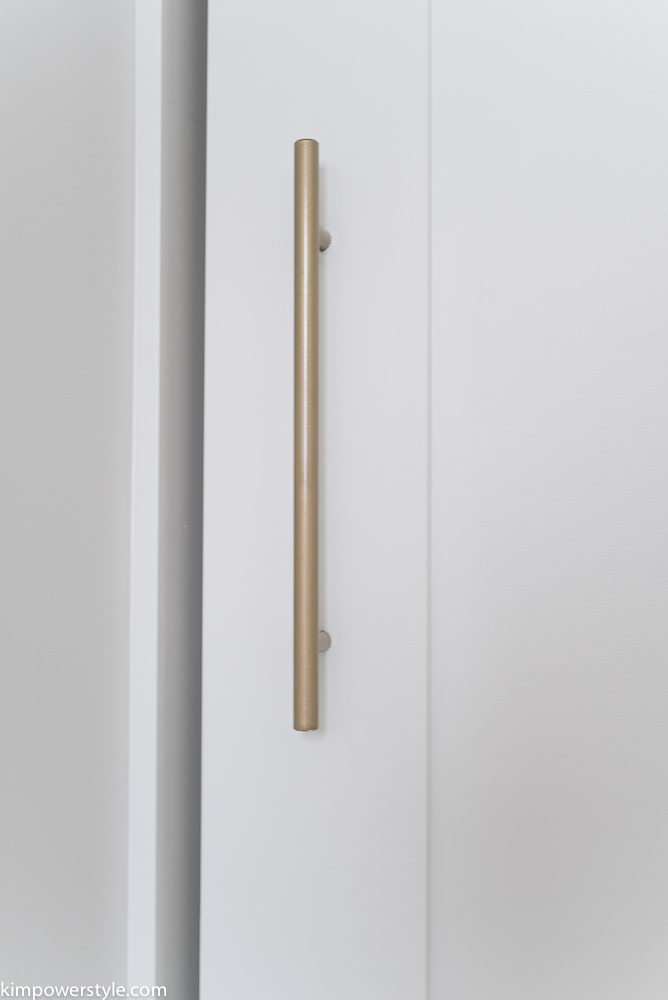 I also found this clean lined and modern door handle from the Home Depot and spray painted it in the same finish. It really tied it all together. The door is painted Benjamin Moore's "Simply White" along with the walls.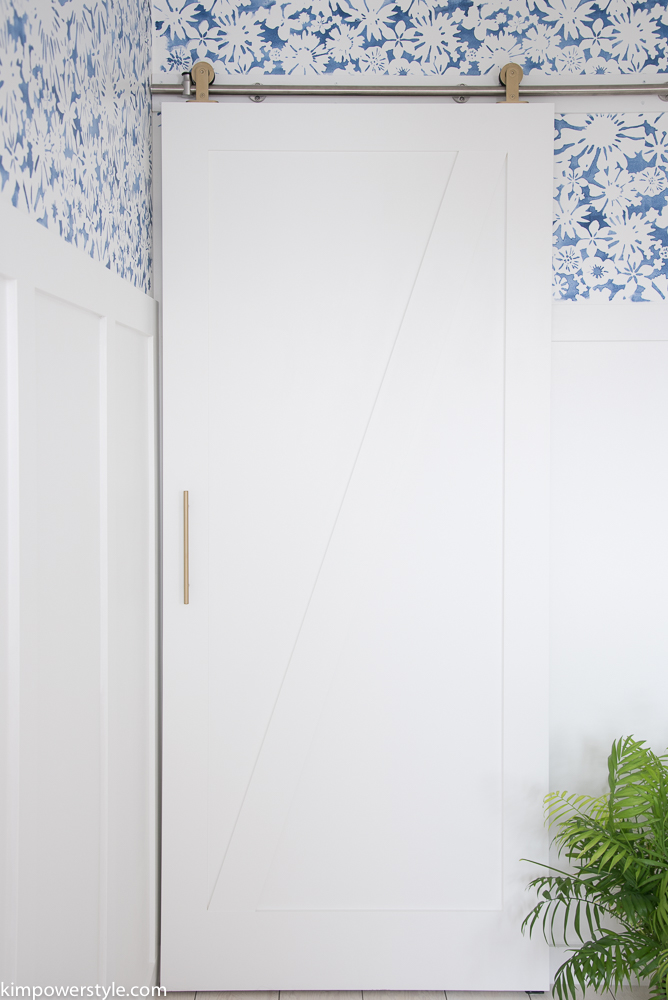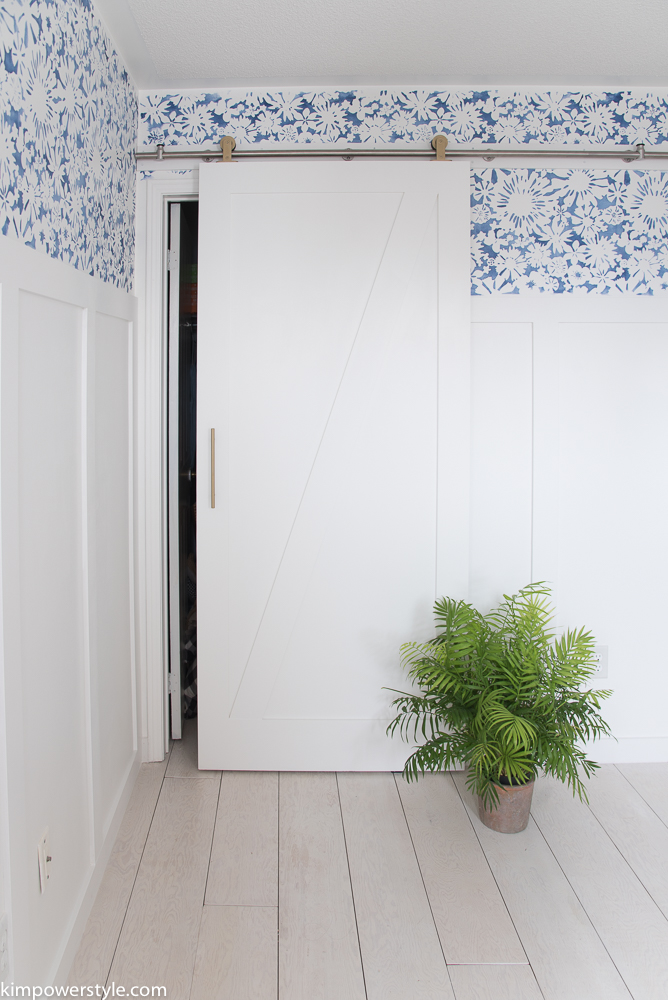 Our old door is still attached in there! Lol. The closet will be cleaned out and the old door removed this week. You may have noticed that I didn't leave the space by the ceiling empty, but brought the stencil as close to the ceiling as possible. I didn't mind it in the room at the time, but after seeing it on the blog last week, it looked too unfinished to me so I filled it in this week. I'm still loving that watercolour look!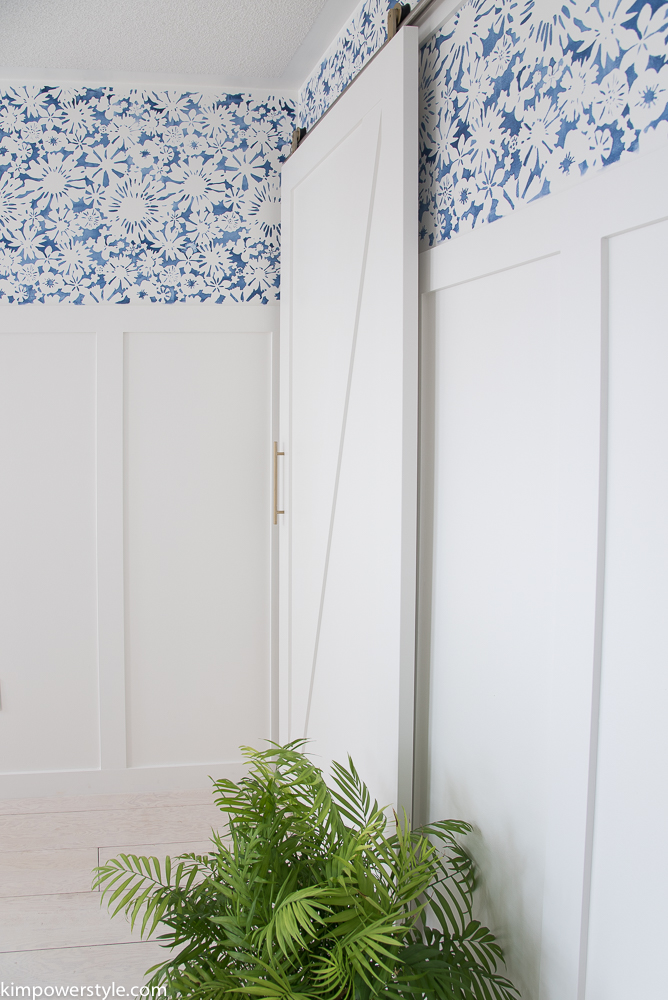 Thanks for stopping by to check out the progress. It's hard to make these update posts exciting when you're only showing little bits at a time, I know.  Stay tuned though, only one more progress post and then the final reveal! Don't forget to follow along with the other participants here!
Blessings,
Kim