Spring Home Tour
Hello again everyone and welcome to my Spring Home Tour Part 2! This week I've joined up with 20 Canadian bloggers for the Canadian Bloggers Spring Home Tour hosted by Shannon at AKA Design and Christina at The DIY Mommy For those of you who are new around here, my name is Kim and I'm so excited to share a little more of my home with you all!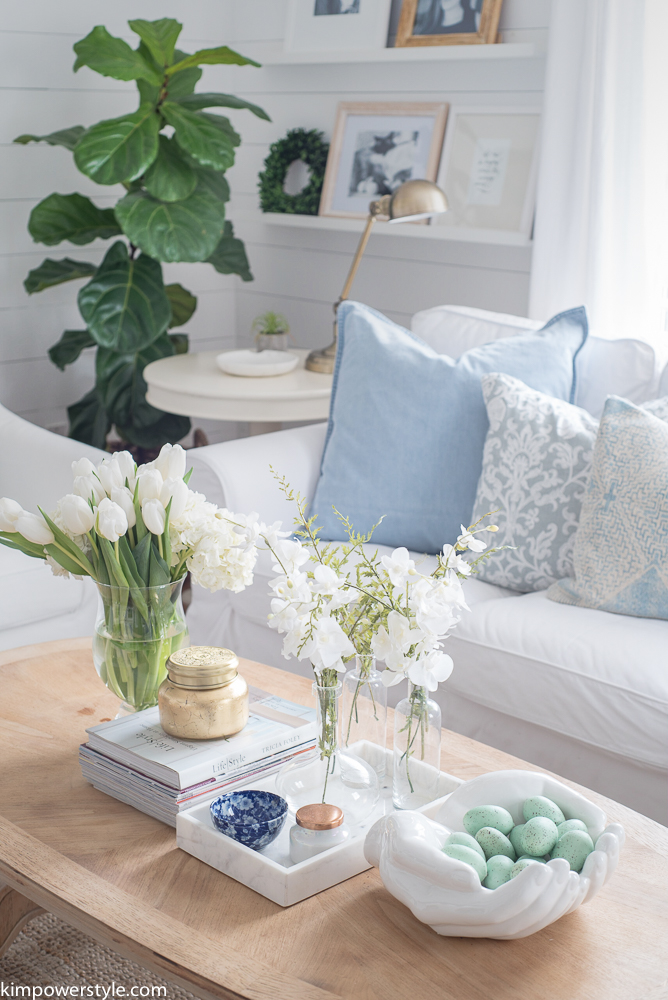 In my previous Spring Home Tour Part 1, I shared My living room and  the breakfast nook. This week I'll be sharing the dining room, the guest room and the Master bedroom. I try to make this as simple as possible and start with a good spring cleaning. Then I change out the winter throw pillows and bedding for some fresh spring ones. Mostly using  pieces that I already have. A few little fresh and faux flowers and  greens and my home is ready for spring!  So let's begin the tour,  grab a cup of something comfy, sit back and enjoy!
Guest room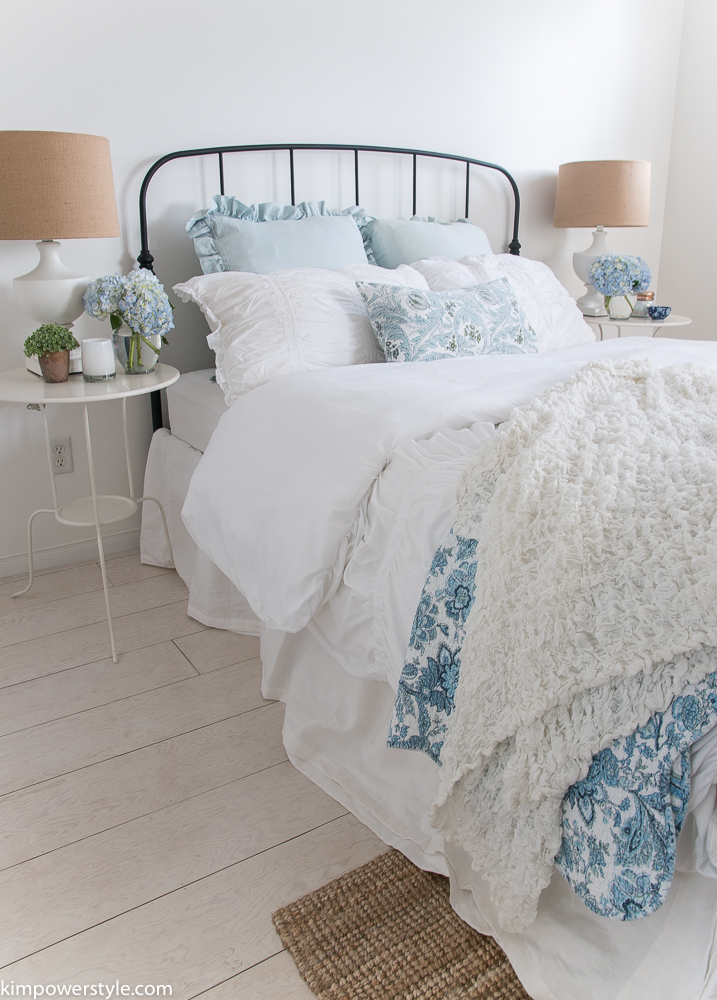 In the guest room I changed out the winter bedding and added some spring bedding  I've had for years in beautiful shades of blue and sage. I used the same colours for the throw pillows as well. A few fresh and faux flowers and greenery and everything looks bright, fresh and ready for spring!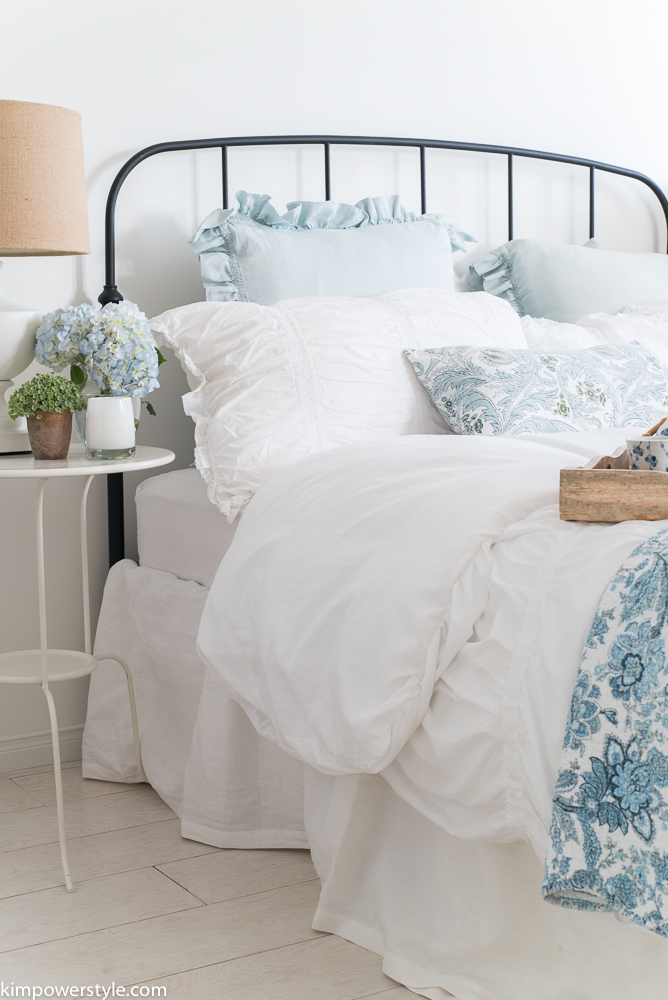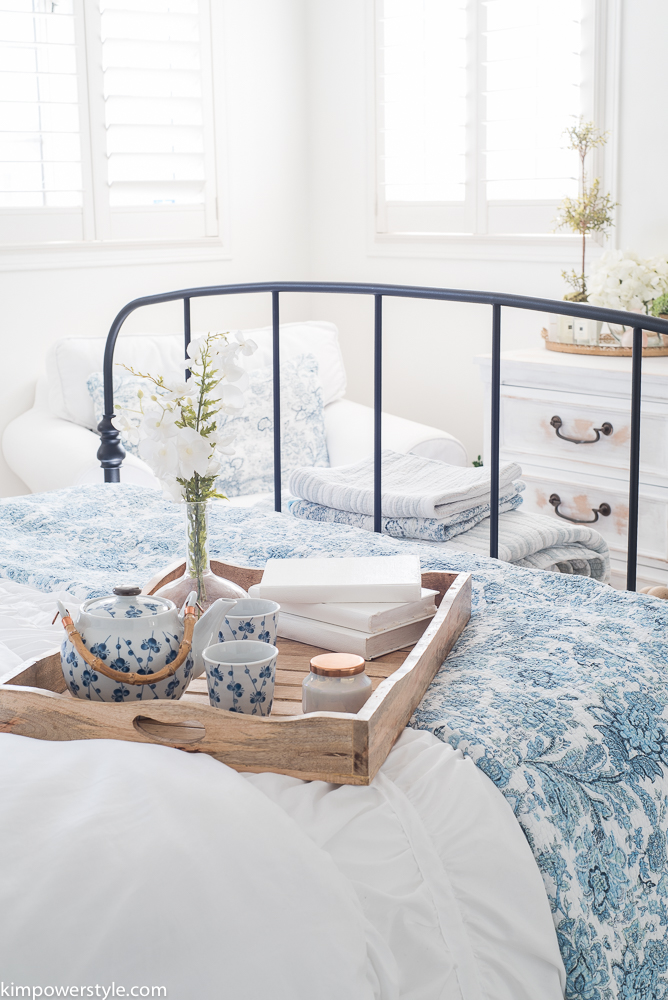 The guest room is the sunniest and  brightest one in the house and a favourite of Jack who loves to lay in here. He also loves to follow me around so If I'm taking pics, he's sure to be in them! This room is used mostly by my daughter and Son in law when they come to visit so it's nice to keep it warm and welcoming.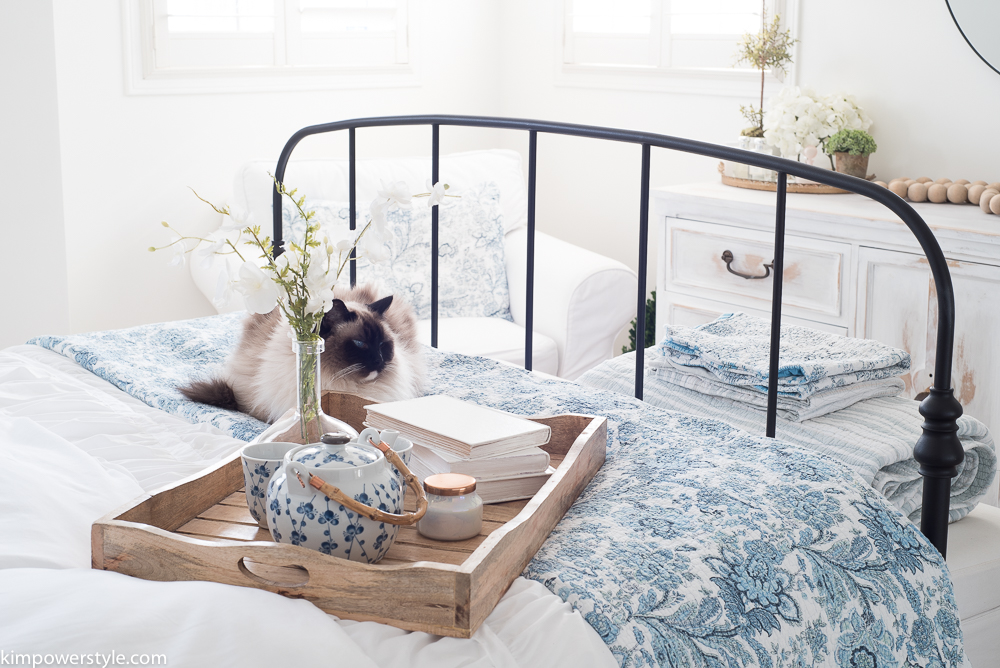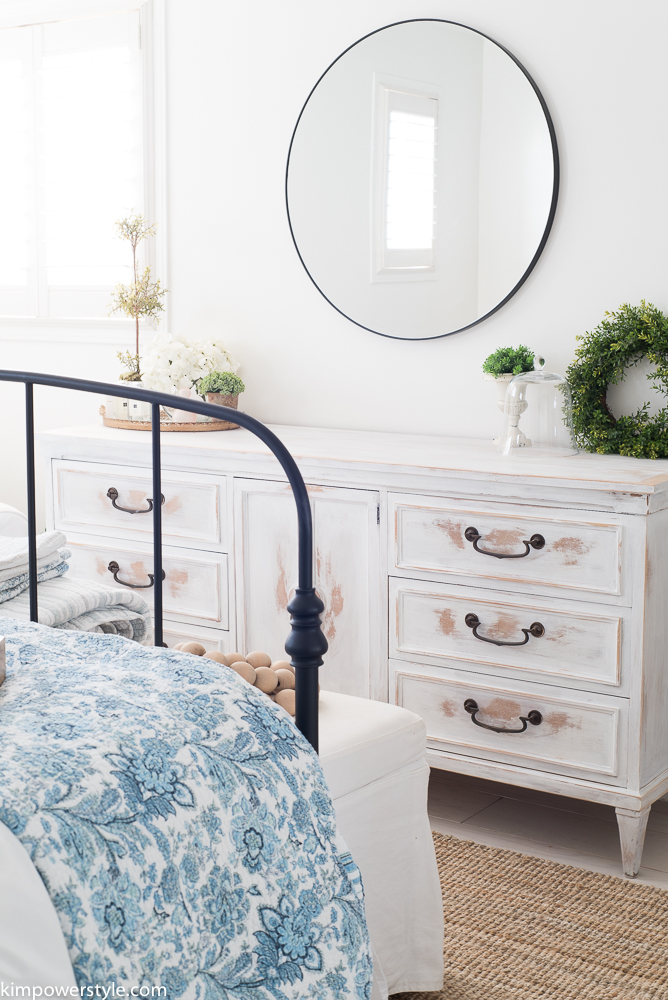 I've white washed this dresser and then sanded it down, which I may do again. 🙂 I have a tutorial for that here.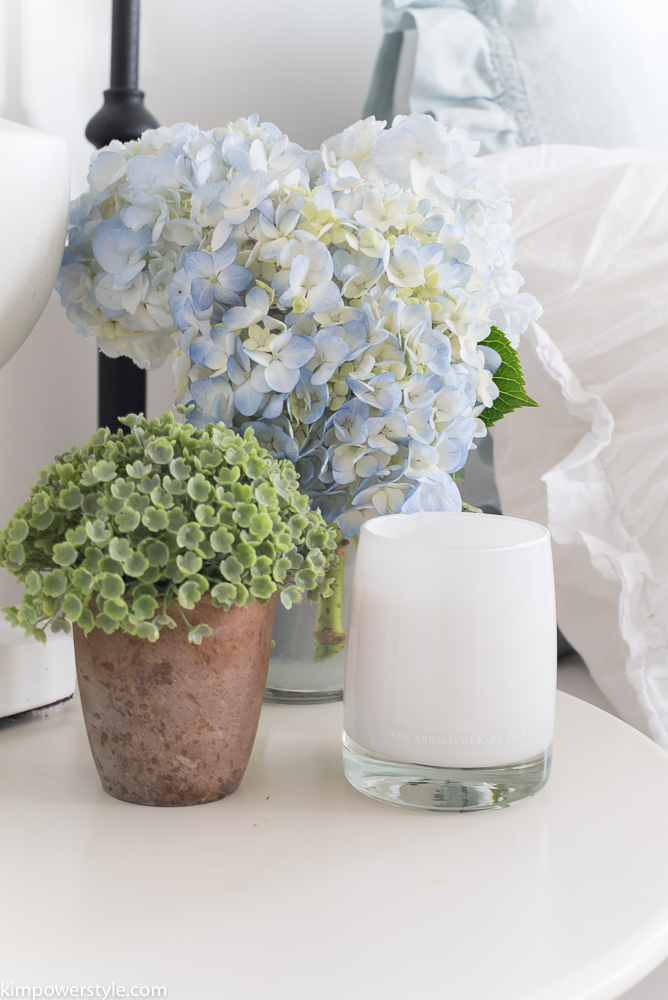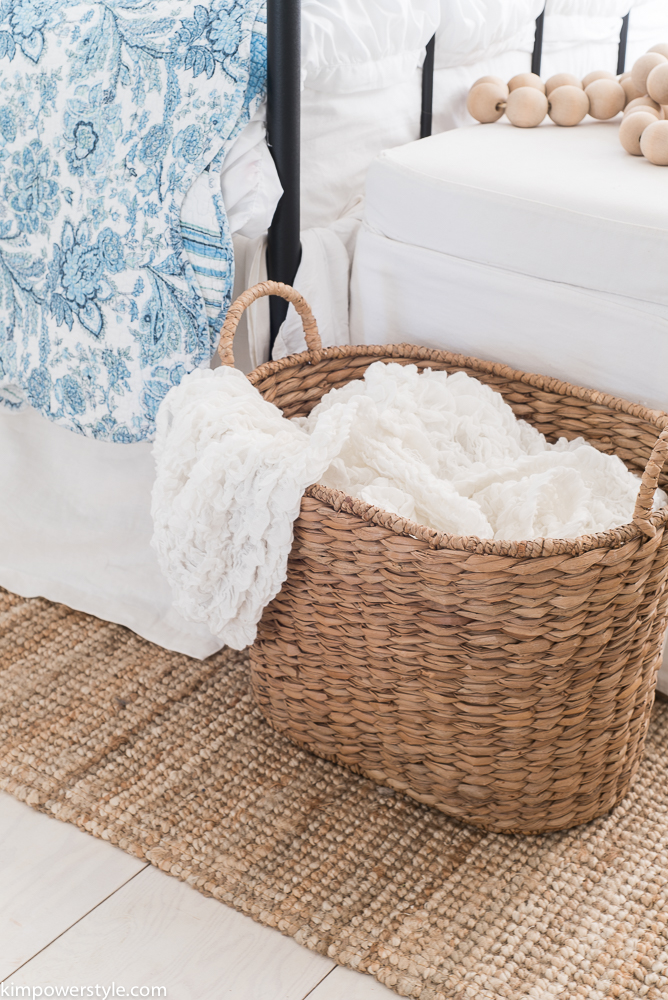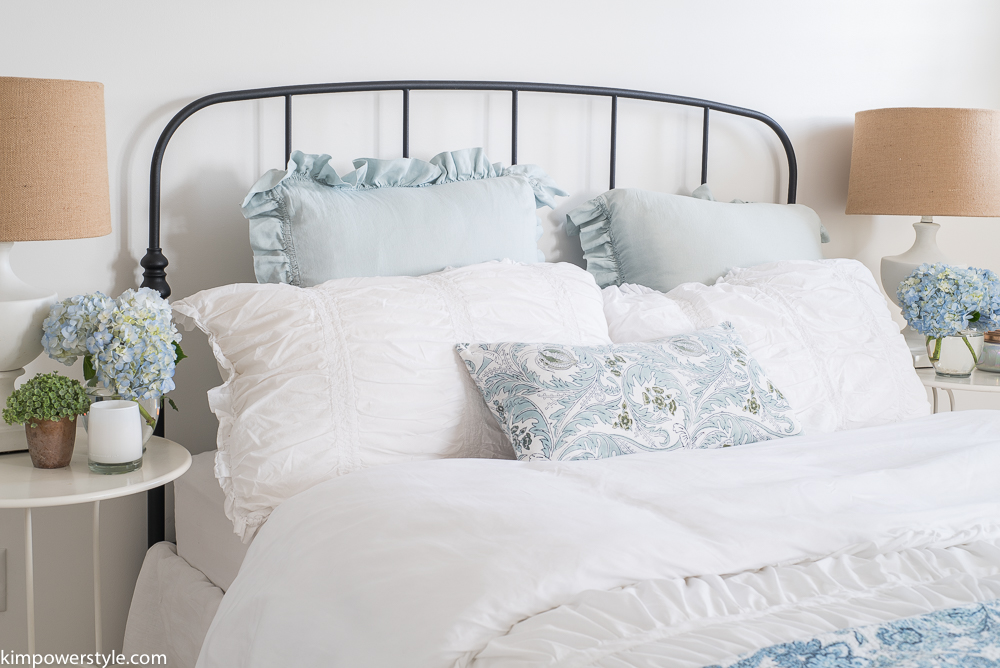 Sources
Bed: Craigslist find. Originally IKEA | Sidetables: IKEA | Bedding: Homesense, Pottery Barn | Armchair: IKEA ektorp|Dresser: Garage Sale|Rug:  IKEA
Master Bedroom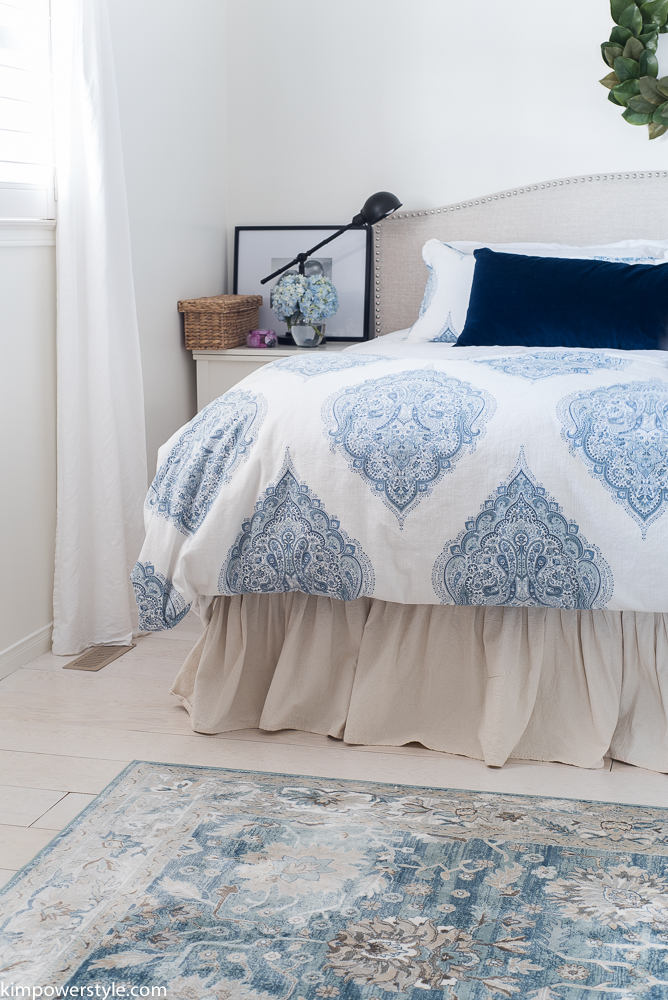 In the master, I changed out the bedding from winter to spring, added some fresh flowers and the green magnolia wreath. It's nice to have faux florals and greens, unless you're able to keep up with fresh ones…which I'm not! Lol. I made the blue velvet pillow and the little one in front of it was made out of a throw rug. I have a tutorial for that here. The rug is from my daughter and I thought it would look great in here. It goes so well with the blues in the bedding.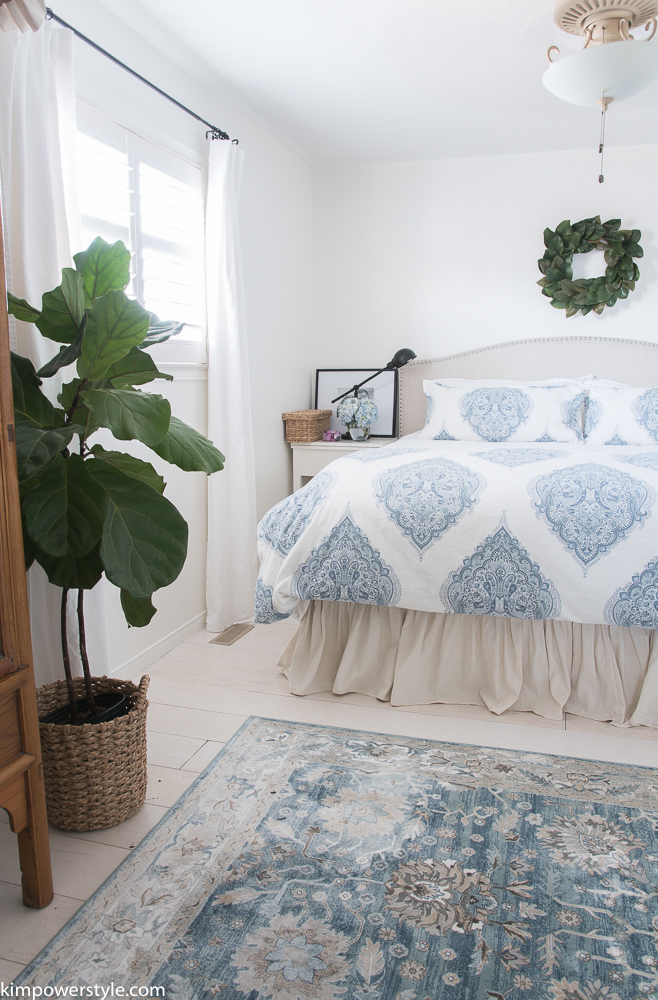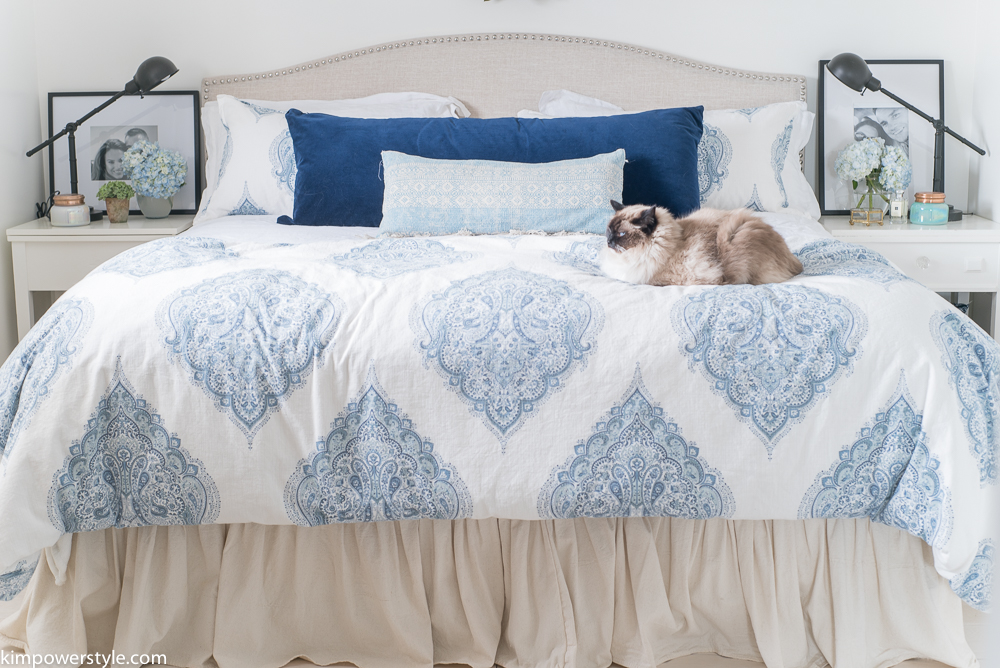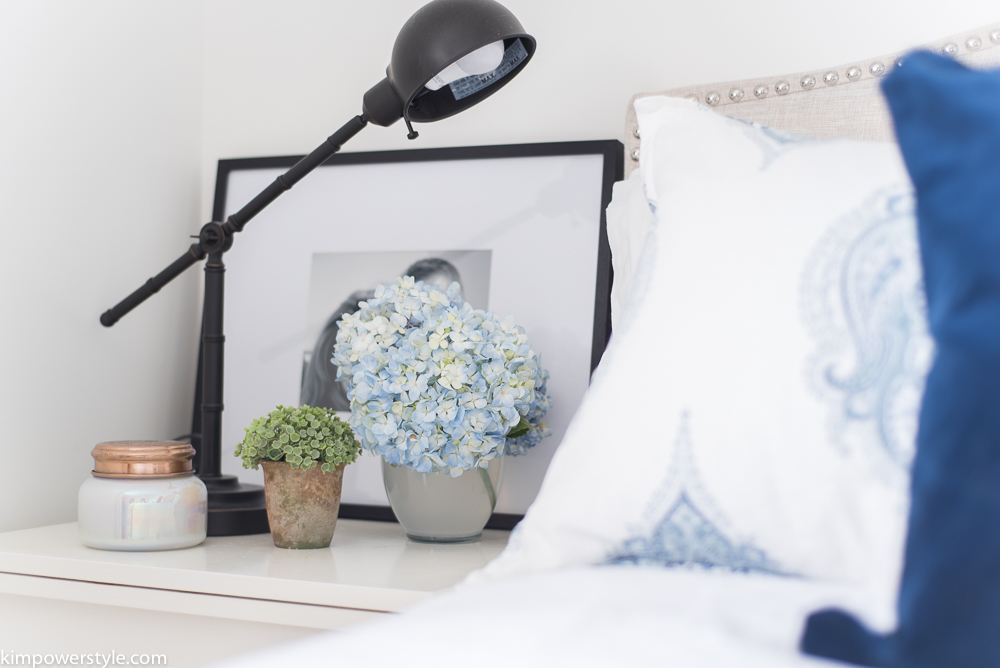 Sources
Headboard: Homesense | Bedside tables: Thrift finds | Bedding: Homesense | Lumbar Pillows: By me | Rug: Homesense
Dining Room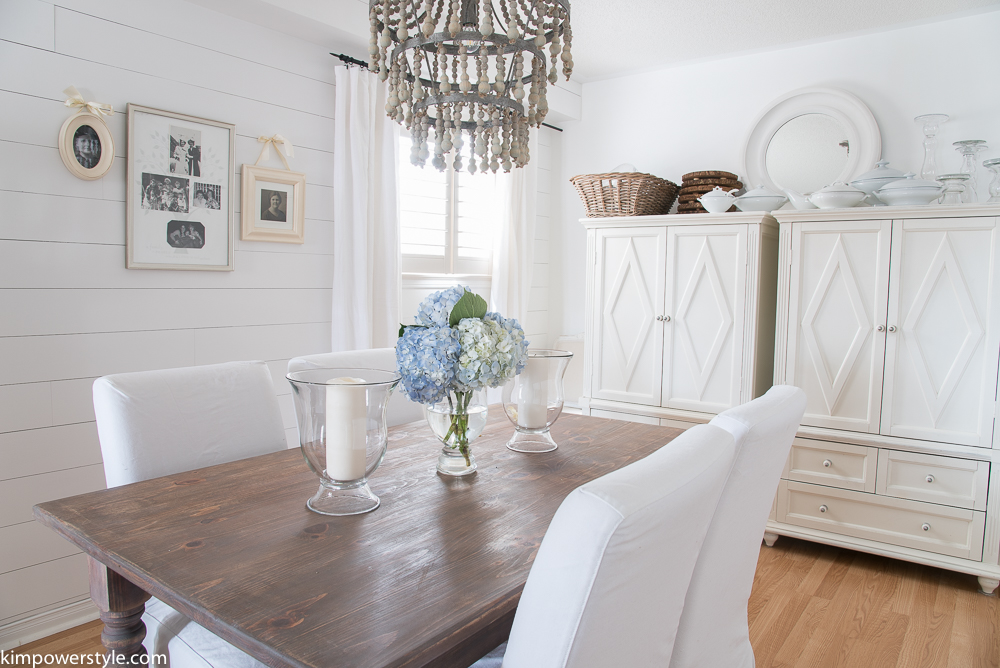 In the dining room I did some spring cleaning and removed a lot of extra dishes etc. I changed out the curtains for one's that I already had. Replacing the white fur throw pillows for these blue and white linen  ones makes such a difference! I've had these linen pillows for years and they're my favourite! For the mantel I placed a couple of topiaries with some vintage brass candle holders I've been collecting and a brass terrarium. Some gorgeous hydrangeas and a few little faux fern stems to add some freshness and greenery.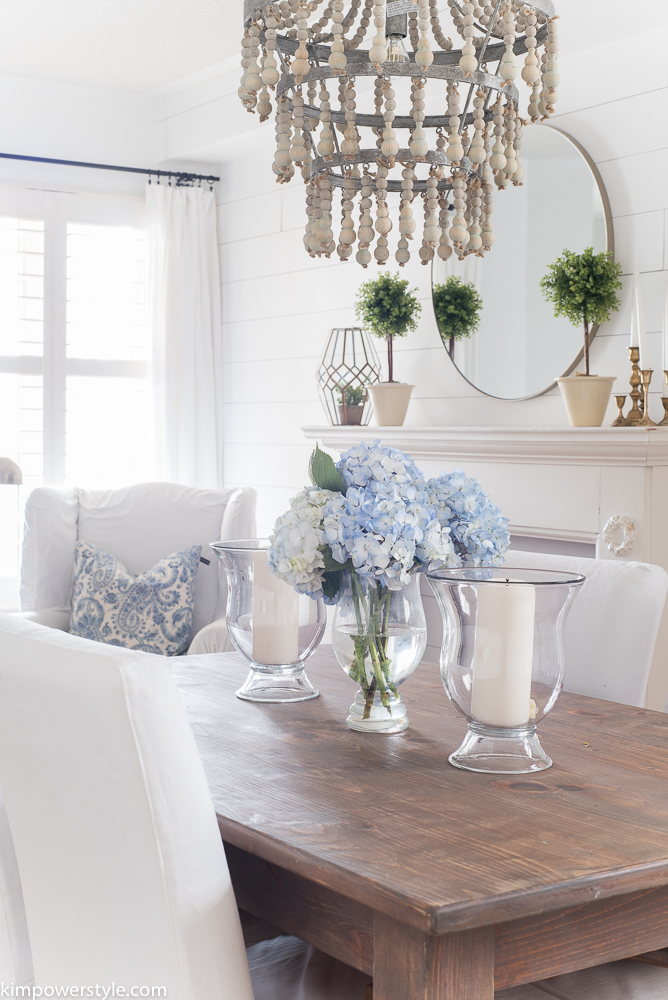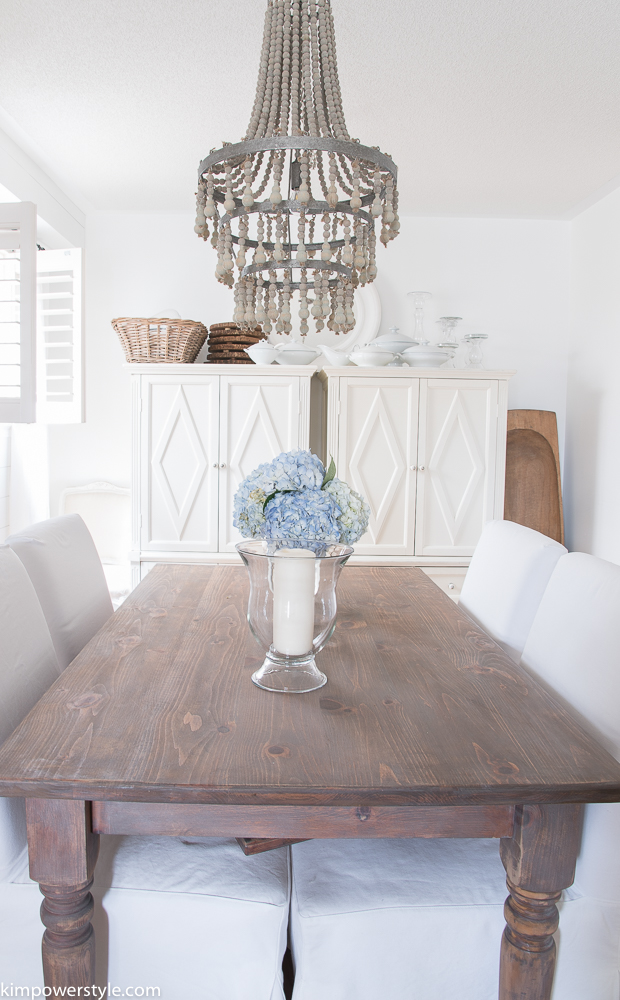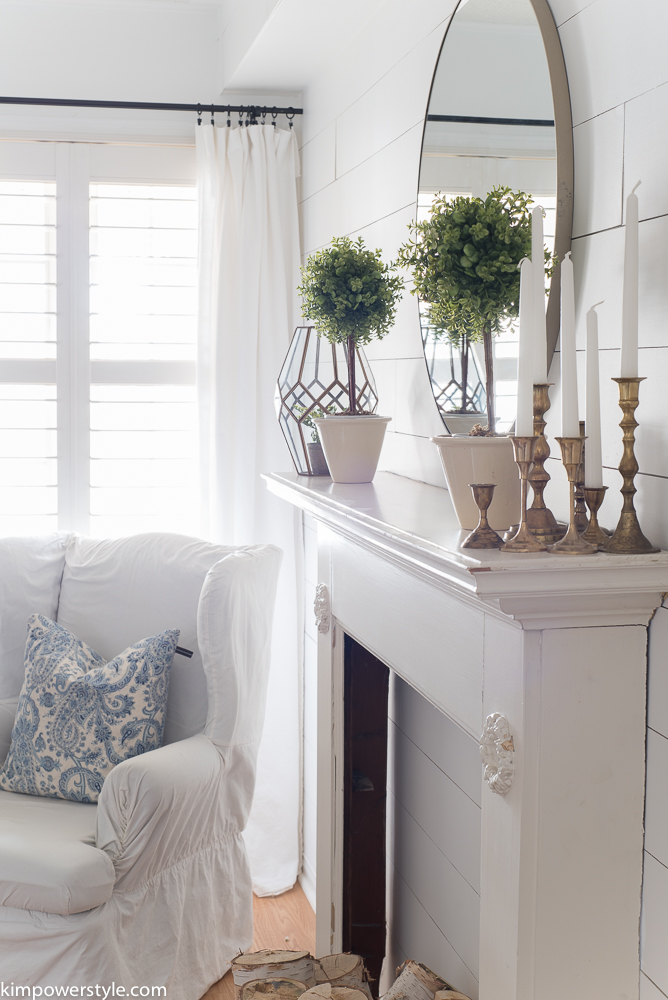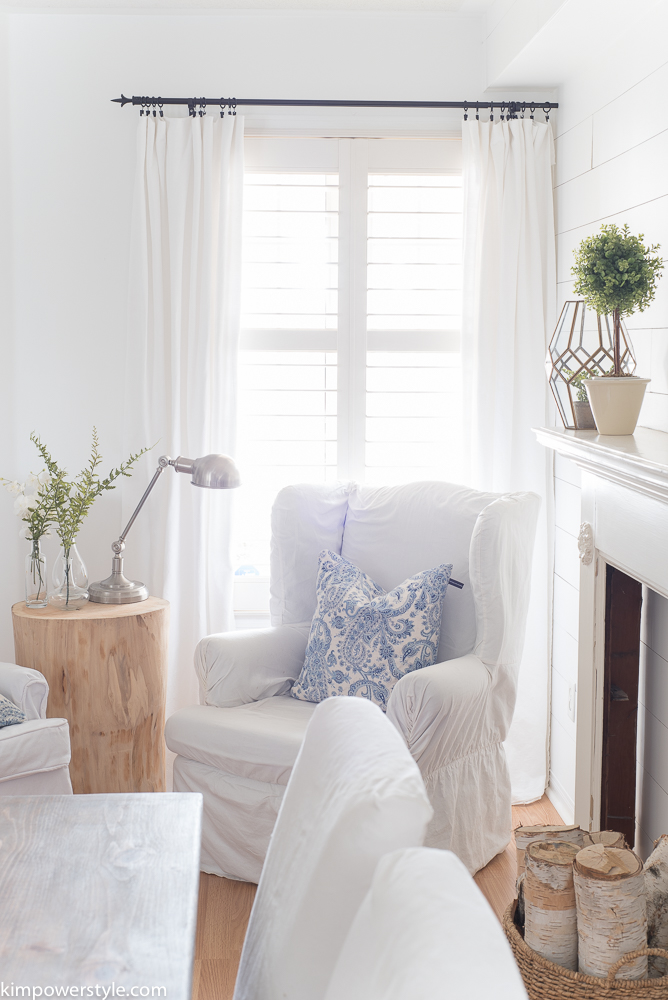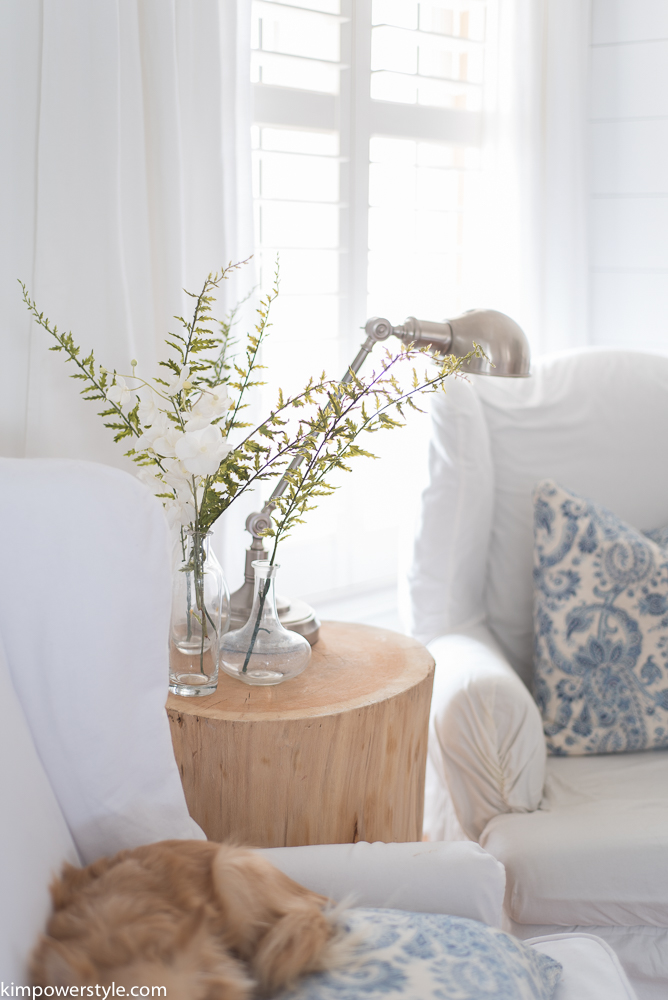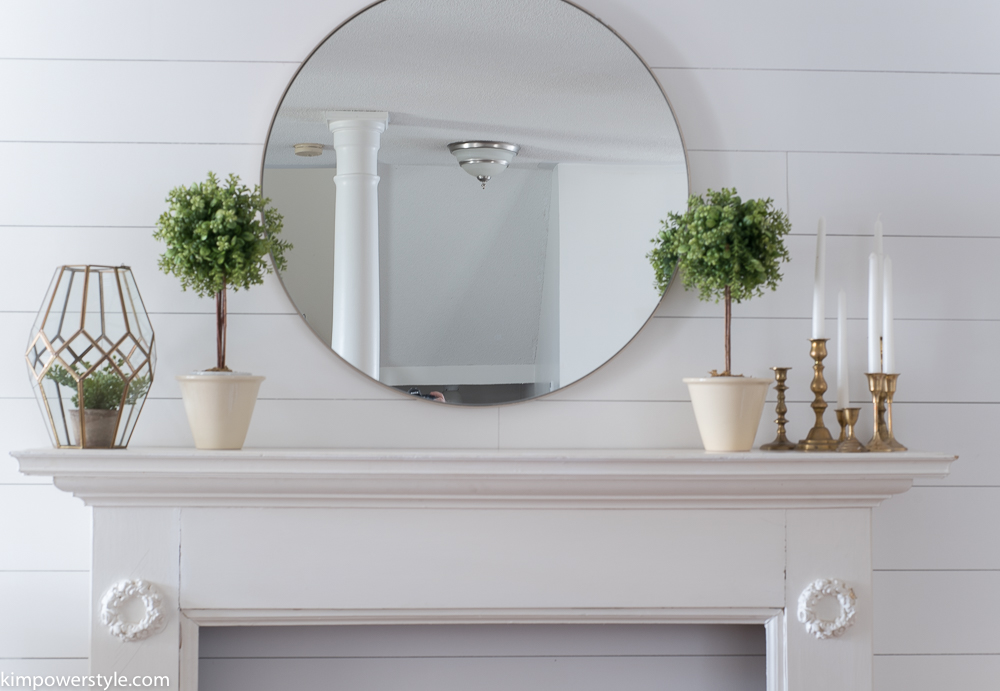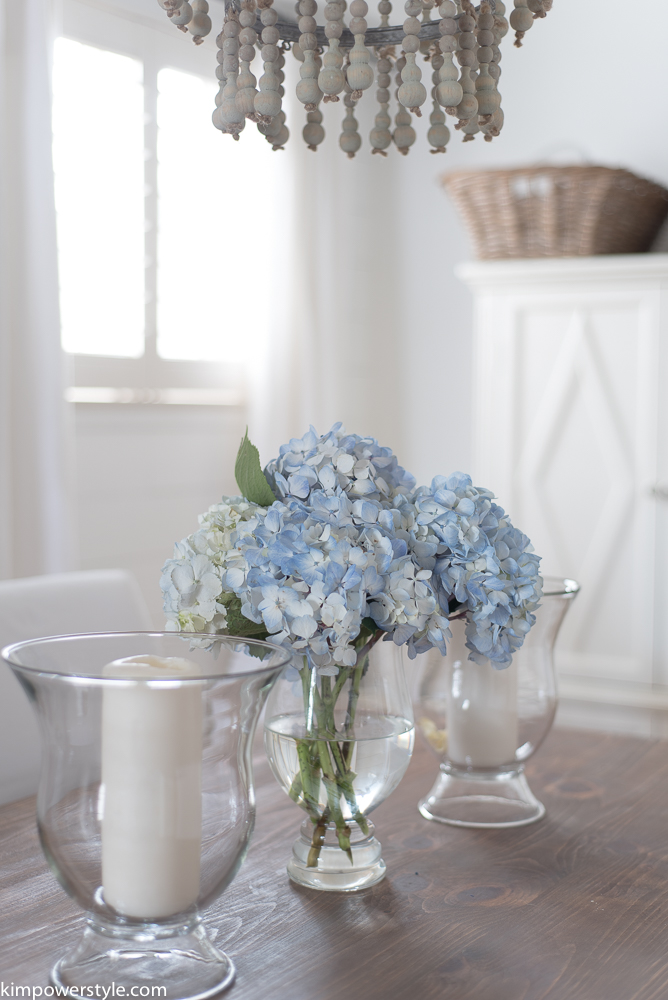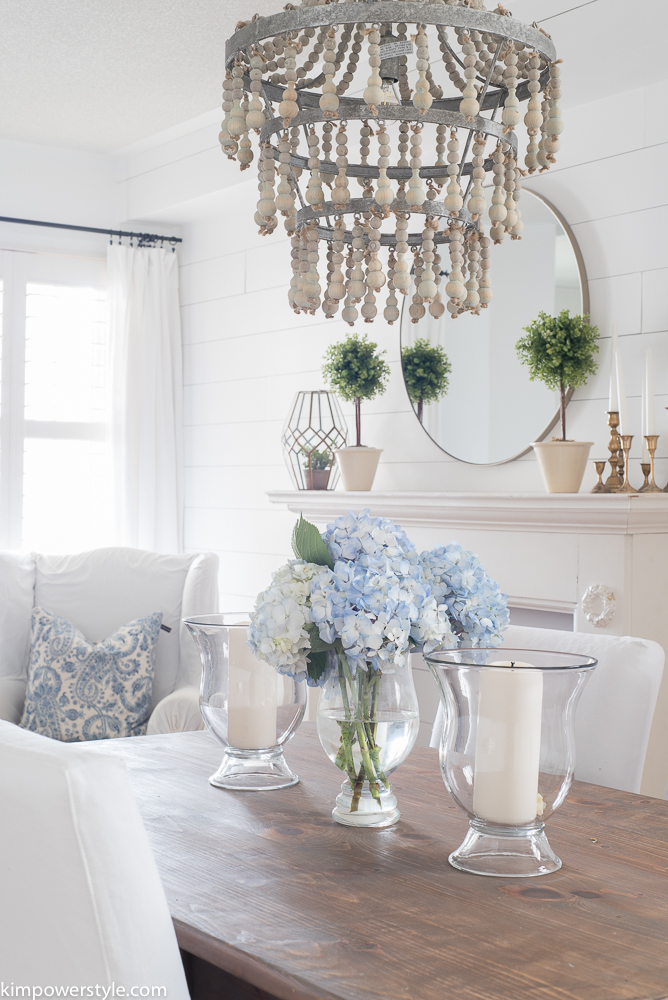 Sources
Armoires: Pier 1 Imports | Table: Thrift find | Dining Chairs: IKEA | Wing back Chairs: Thrift finds |Light Fixture: Homesense
Thanks so much for joining me again for another Spring Tour, I hope you were able to find some inspiration for your own home, and please continue on the tour for more! All the links are below.
Blessings!
Kim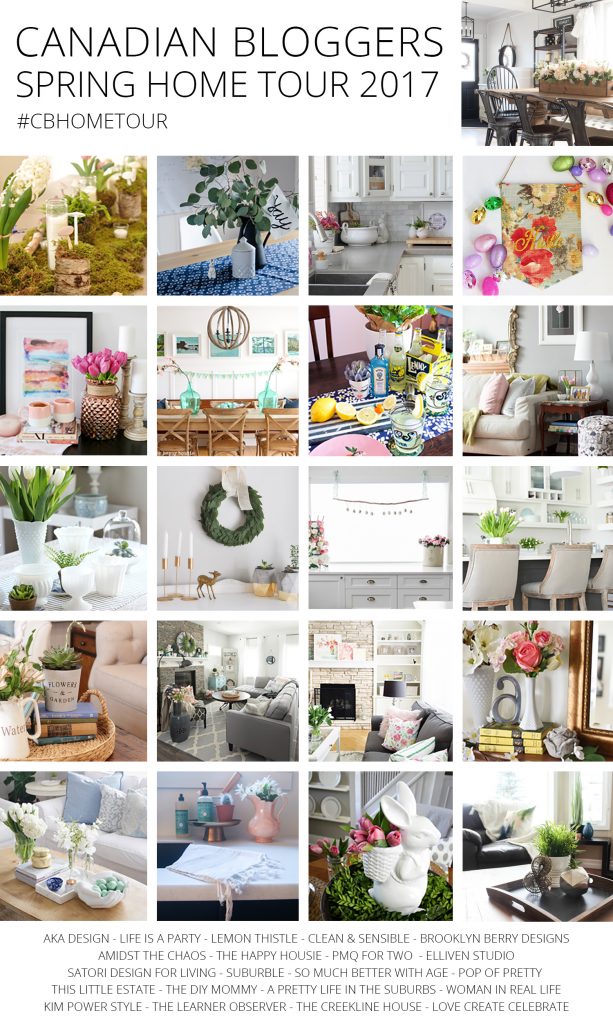 MONDAY
AKA DESIGN – LIFE IS A PARTY – LEMON THISTLE – CLEAN AND SENSIBLE
TUESDAY
BROOKLYN BERRY DESIGNS – AMIDST THE CHAOS – THE HAPPY HOUSIE – PMQ FOR TWO – ELLIVEN STUDIO
WEDNESDAY
SATORI DESIGN FOR LIVING – SUBURBLE – SO MUCH BETTER WITH AGE – POP OF PRETTY – THIS LITTLE ESTATE
THURSDAY
THE DIY MOMMY – A PRETTY LIFE IN THE SUBURBS – WOMEN IN REAL LIFE – KIM POWER STYLE – THE LEARNER OBSERVER
FRIDAY