The Guest Room Makeover and White Washing the Dresser
Hello friends! I'll be working on the guest room over the next few weeks leading up to the holidays. We'll have all three of the girls and one son in law home for Christmas and I want to make it as comfortable as possible. It's also a great excuse to spruce up a plain room! The first project I  started on was white washing the dresser and I couldn't be happier with the results.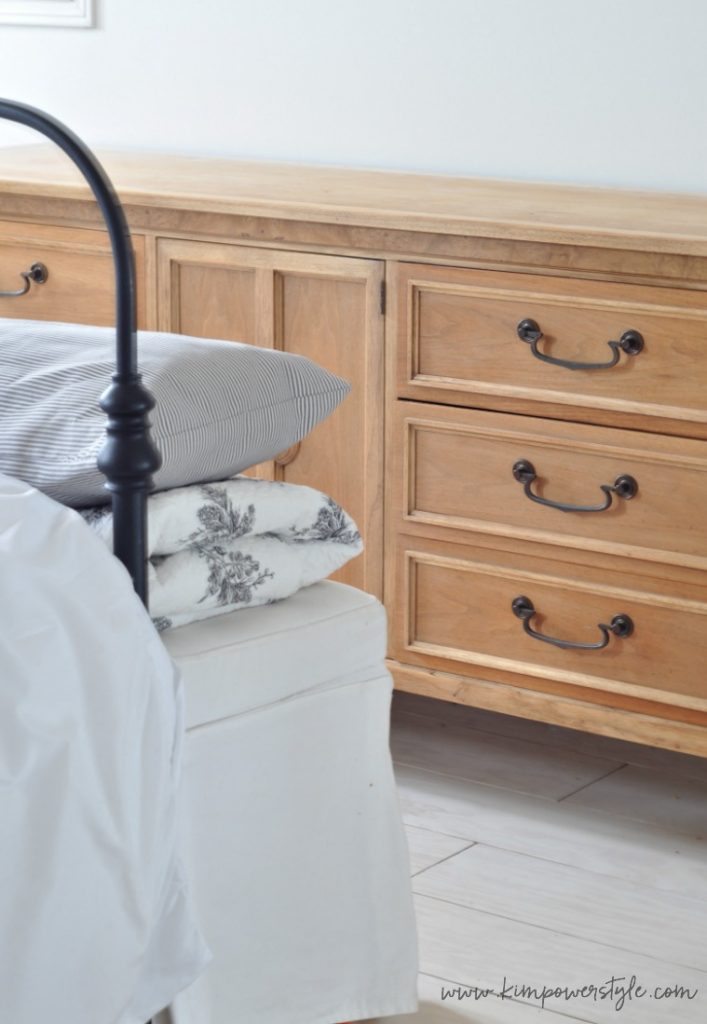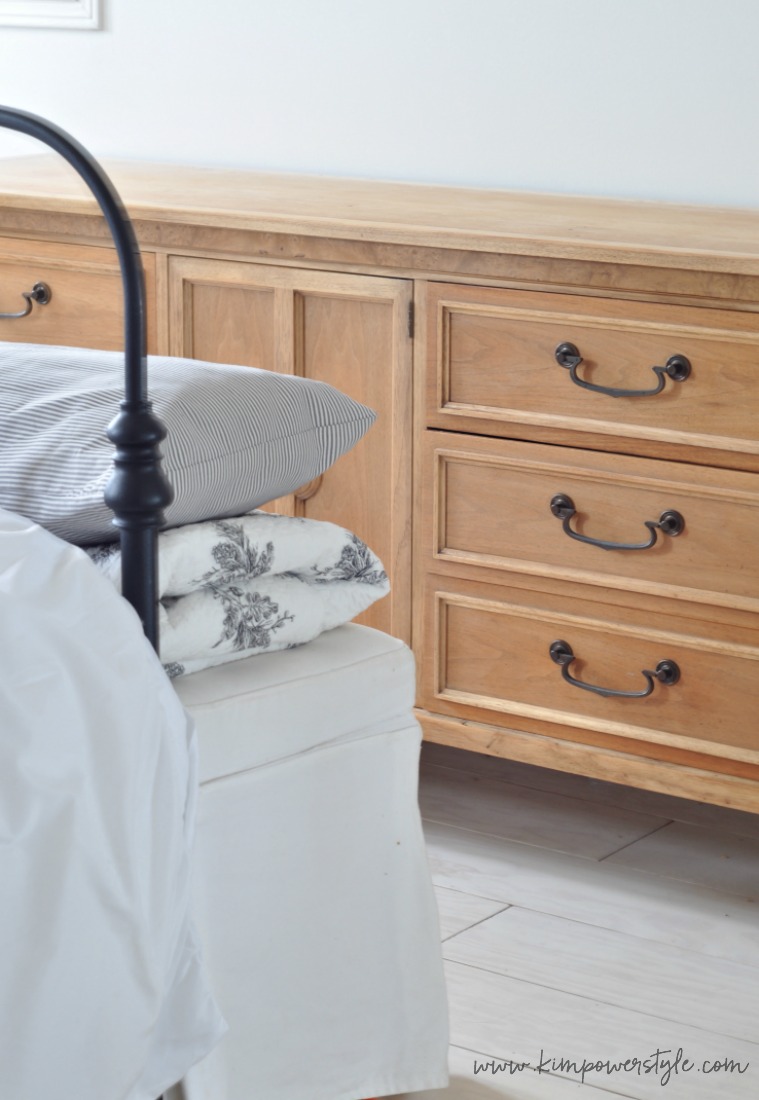 I found the dresser a few summers back at a garage sale for next to nothing. It's a solid piece that came with two nightstands as well. Unfortunately, I gave those away and have been kicking myself since. They would have looked great in the room, but they're gone to a good home. The dresser was stained and varnished when I found it and I spent a couple of weeks removing it all… only to white wash it! I actually liked it in it's raw wood state, but felt the piece needed a little character. White washing the piece to achieve a distressed worn look, would help it fit in with the modern farmhouse look I'm going for in the guest room.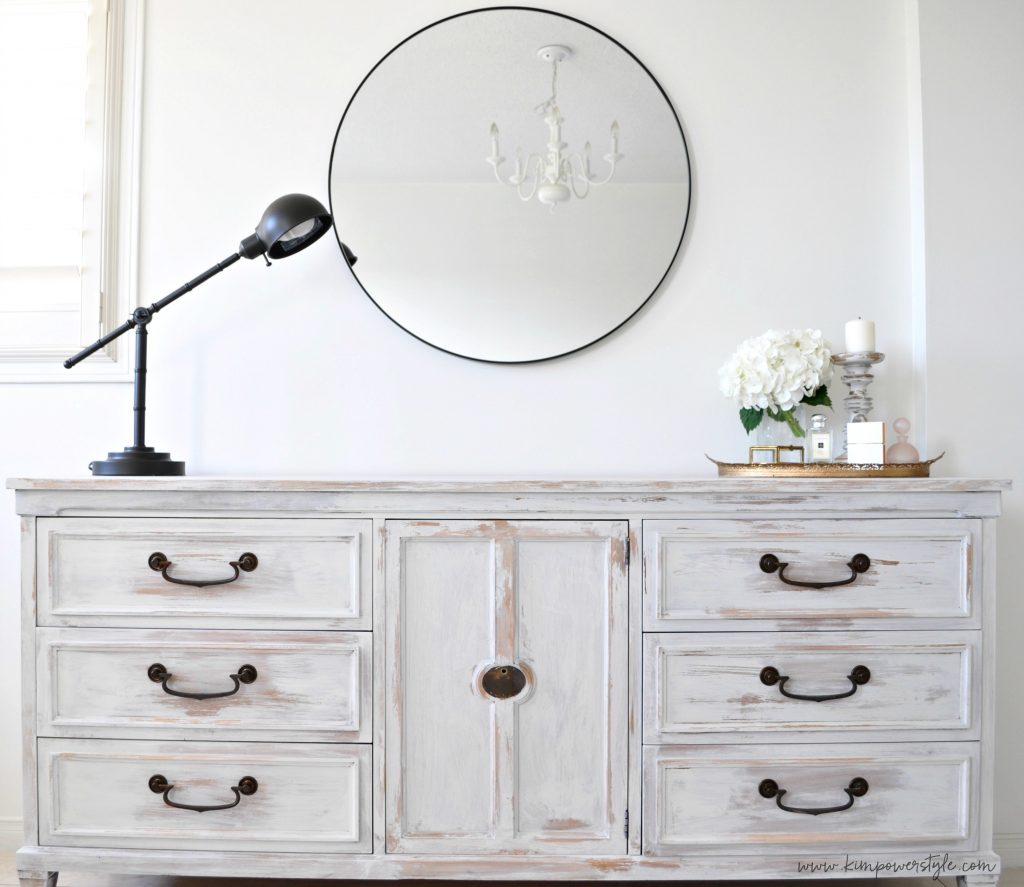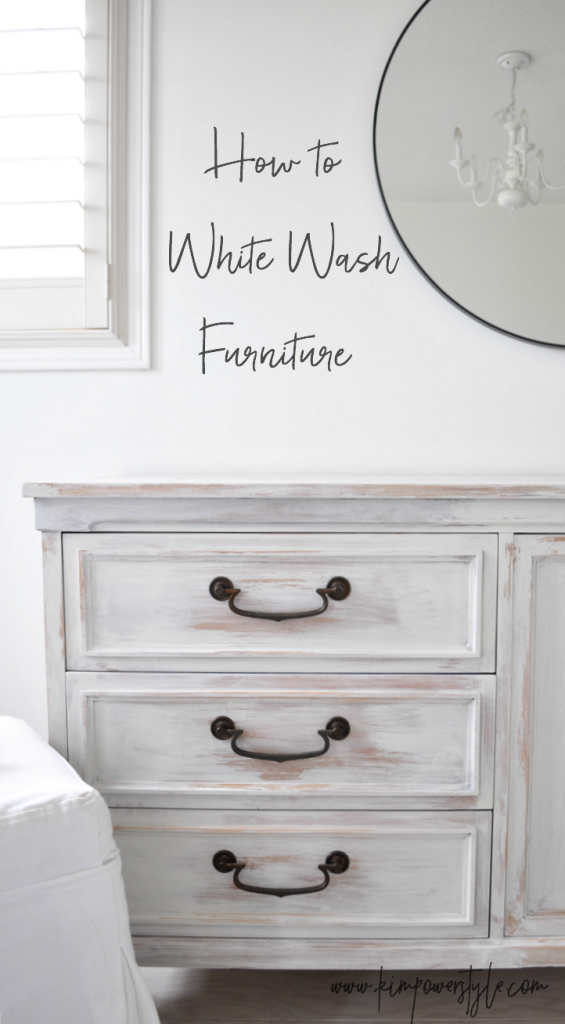 How to White Wash furniture Tutorial
For those of you who have never tried this technique before, it is one of the easiest to do! The whole process cost me absolutely $0! Now if you're somebody who doesn't have any leftover paint kicking around it may cost you for the paint. The smallest size container will do! This technique is called white washing because you usually use a white, off/white paint colour. However, you can do this in any colour! White washing can also refer to the effect of washing over, with paint or stain, another colour or stain to tone down or add an effect to your piece. This tutorial however, will be a simple and easy white wash over wood.
You will simply need:
Paint of your choice. (It's better to use a flat finish but I've used satin and eggshell before too). Depending on the finish you're looking for,  your paint can be mixed  1:1 with water.
Paint brush.
Cloth or rag (one that doesn't leave behind any lint).
Sandpaper (optional, if your decide you want to distress it a little more after it's dried).
I wanted to achieve the effect of a painted piece where over time  it has lost it's paint with wear and tear. You can white wash your piece more evenly so that it looks less distressed. It's up to you! I also chose some leftover paint that was more greige than white. The dresser had a bit of orange in the wood that I thought the greige would tone down.
Start by adding your paint with the paint brush in sections (the effect will change depending on how dry or wet the paint is when you try to remove it with your cloth. So working in sections will help you obtain a more uniform look).
Depending on the look you want to achieve, you can then use a dampened cloth to remove some of the paint and or begin to "wash" your section with the cloth to remove any brush strokes. The more you wipe, the more paint you'll remove. You'll notice that you need to rinse your cloth out after each section to remove excess paint.
Sometimes you'll think that you removed too much paint, (unless that's the look you're trying to achieve). No problem, simply add more paint with your brush.
The time you allow between applying the paint and wiping it off will also change the look. I let my paint dry for a few minutes after applying, This gave me more of a "sanded" look rather than "washed".
Once you've finished your piece and are happy with it, you can apply a coat of poly to help protect the finish. A matte or satin finish would be better, but it's up to you!
If you're not happy with the look, you can sand it to remove more paint or you can add more paint again and start over. The sky's the limit! You can check out the coffee table I white washed last Christmas with a slightly different look here.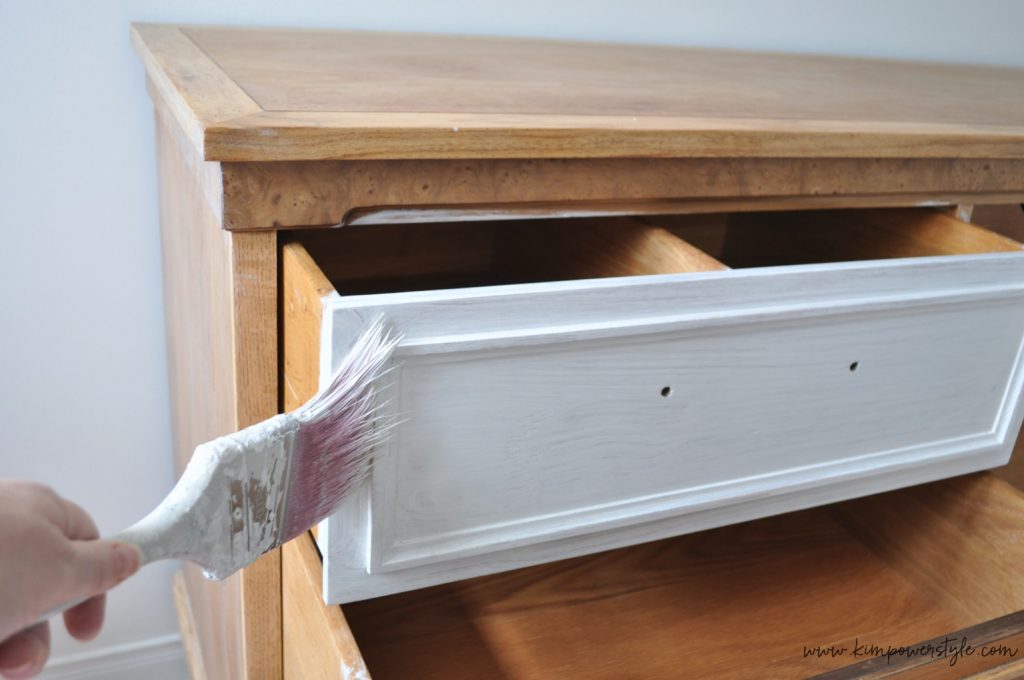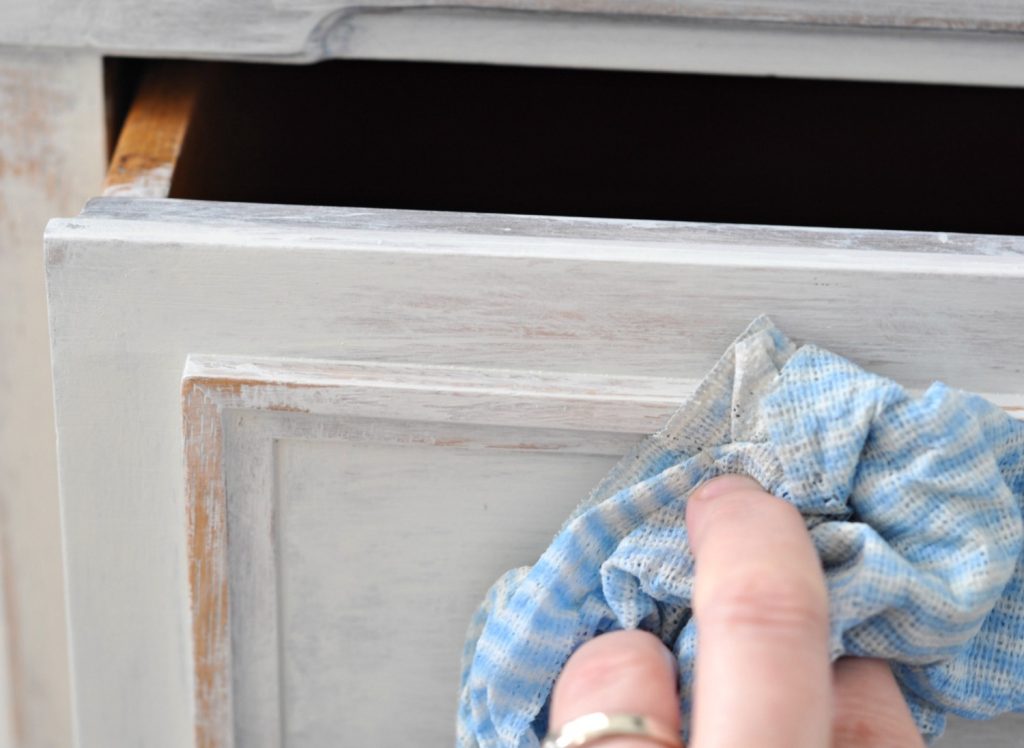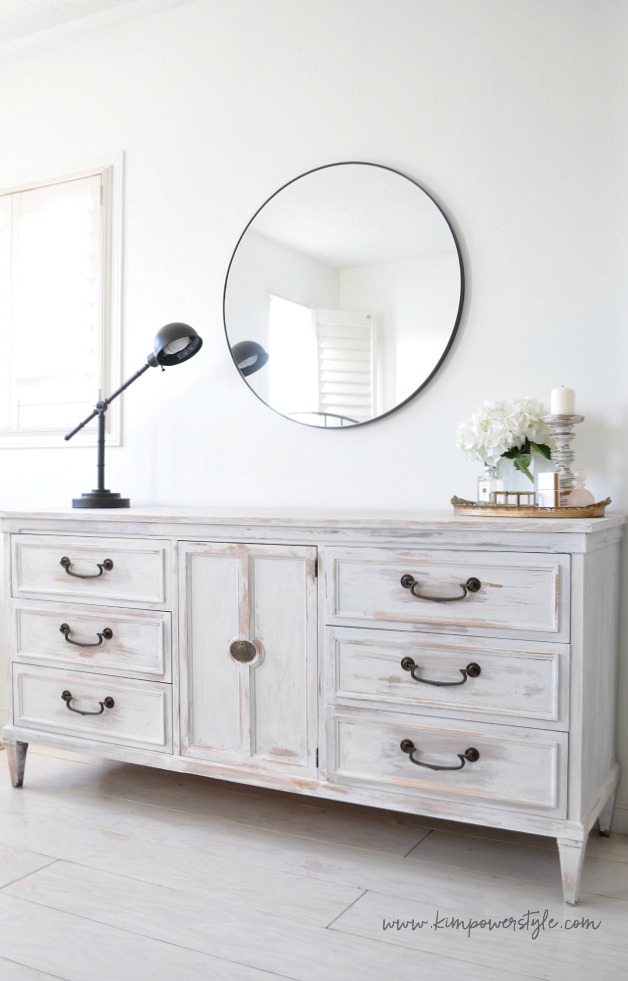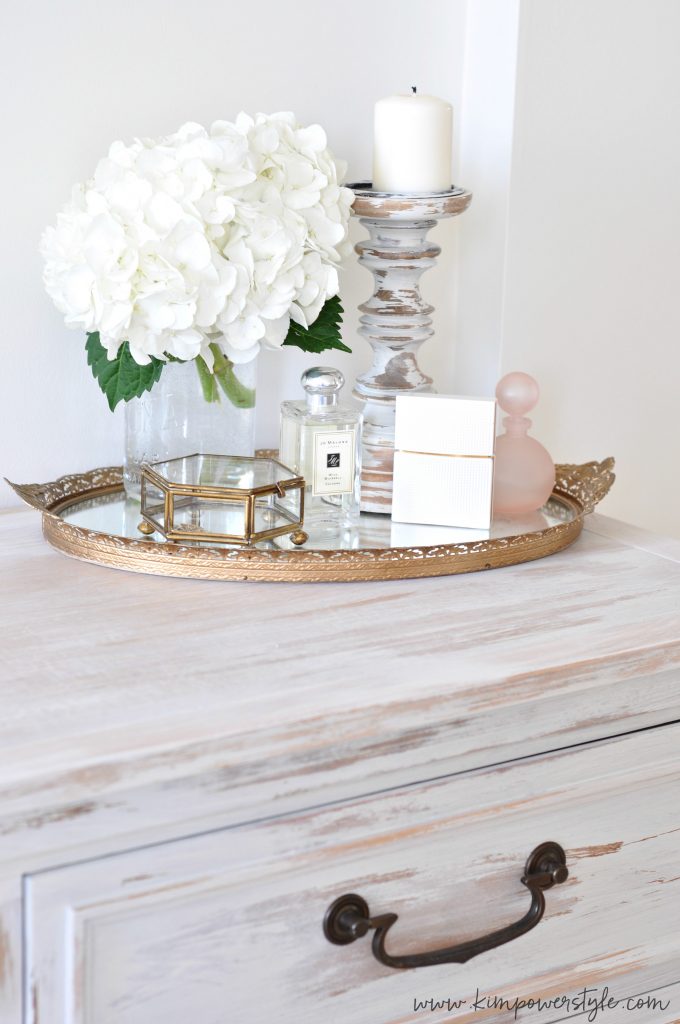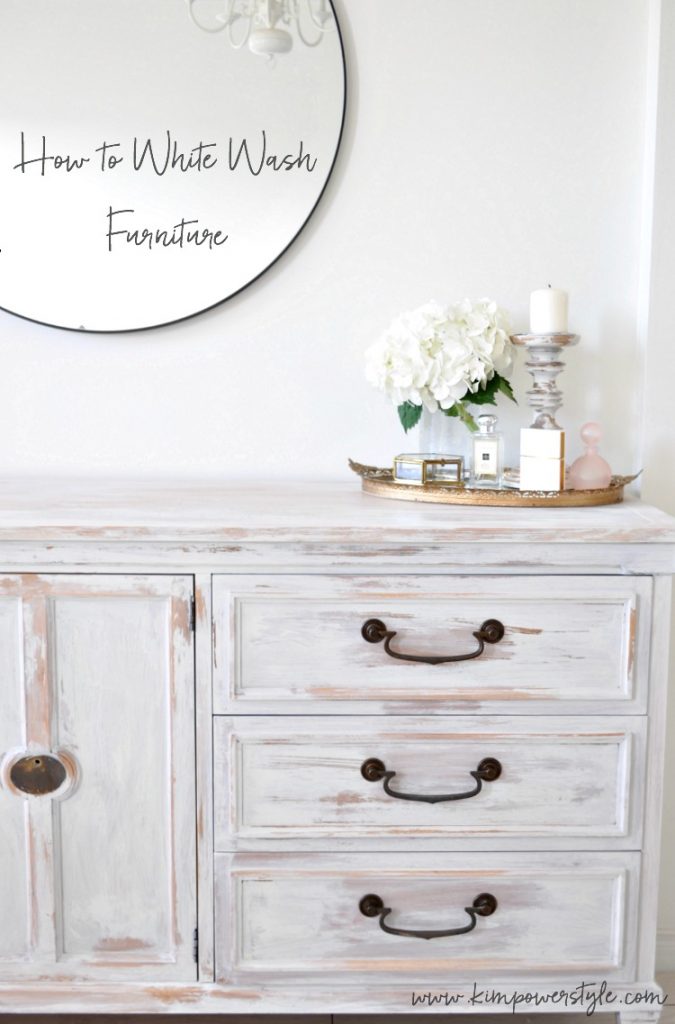 Thank you for stopping by! I hope this mini tutorial was helpful for you. If you do try out this technique, I'd love to hear how it worked out for you!
-Kim