Fridays are pretty special around here!
As a nurse in my previous life Fridays were usually a work day or night for me and while most people were kicking off their shoes, sharing a bottle of wine or whatever else, I was on my way to work! After twenty five years of working weekends and holidays my hubby can usually get weekends off now too, so we truly do look forward to Fridays and celebrate
!
However, my celebration consists of sitting back and enjoying my home! Possibly opening that bottle of wine and visiting the odd thrift store
…not all that exciting and not necessarily in that order!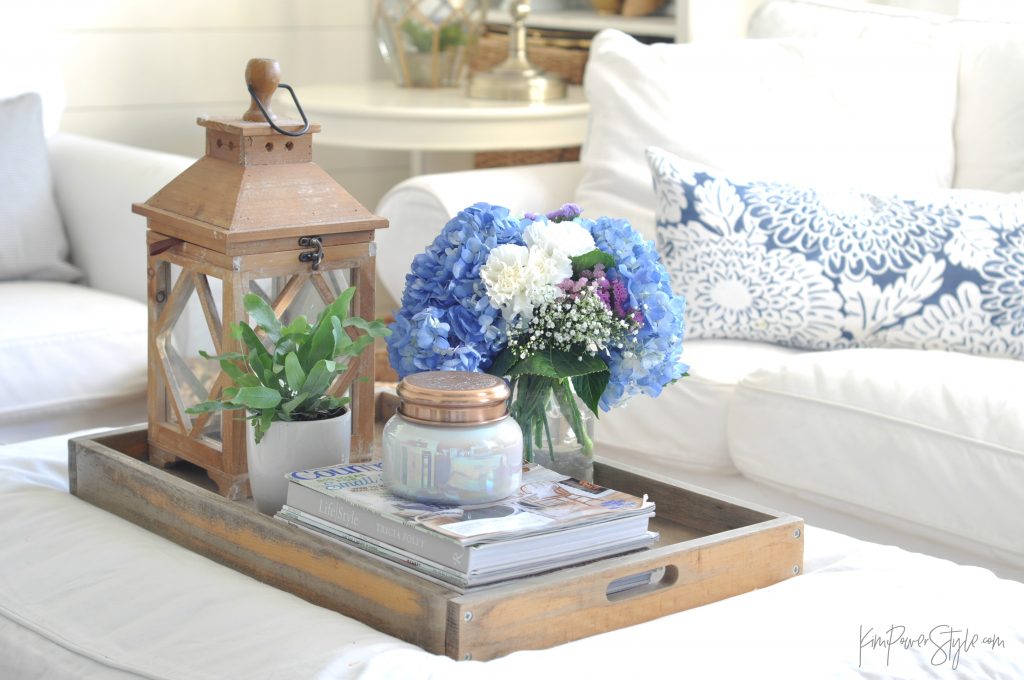 One of the things I love to do to help usher in the weekend and to make this day a little different form the rest is to buy flowers. Nothing fancy, just your average bunch from the grocery store. 
I usually buy the three bunches for $20 You can pick and choose
from an assortment and  I usually pick my favourites: hydrangeas and roses.
You have to get there early Friday mornings to get the best selection though! I was only able to get 1 bunch of hydrangeas yesterday. I spotted a lady in the line in front of me with hydrangeas and roses and wanted to wrestle her for them but restrained myself 😉 You snooze your lose as the saying goes.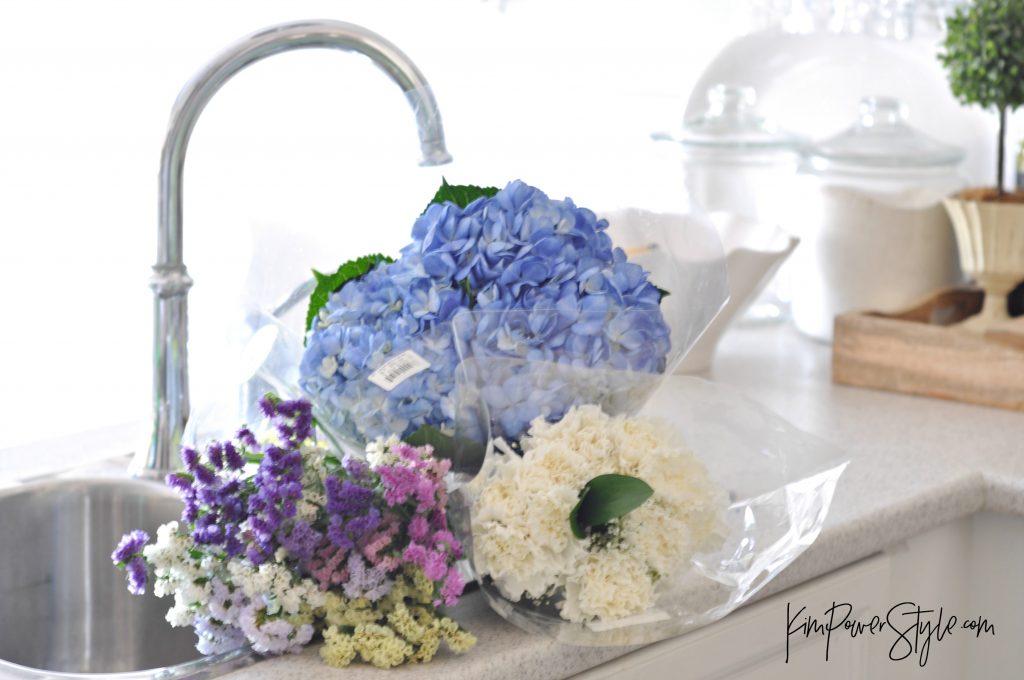 Some day I'll have a dedicated space to do my flower arranging 😉 but for now I place them in my kitchen sink full of water until I'm able to get around to them. Sometimes just seeing them sitting in the sink is beauty enough for me!
This is where I'll prepare them and its a fairly quick and easy clean up.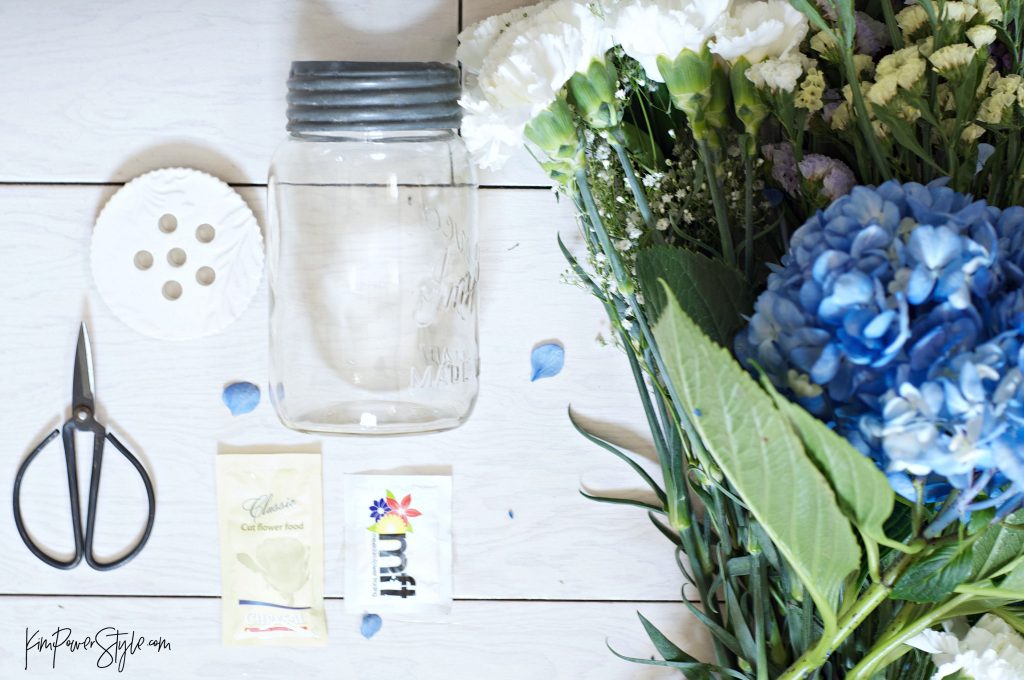 I use lots of containers but love the look of mason jars, they have a real laid back country aesthetic  that suits me and my home. I love these little frogs that fit right onto the lids of mason jars, they especially come in handy for long stemmed flowers like daisies, queen anne's lace etc. 
I use the little  powder packets that come with the flowers to help feed them.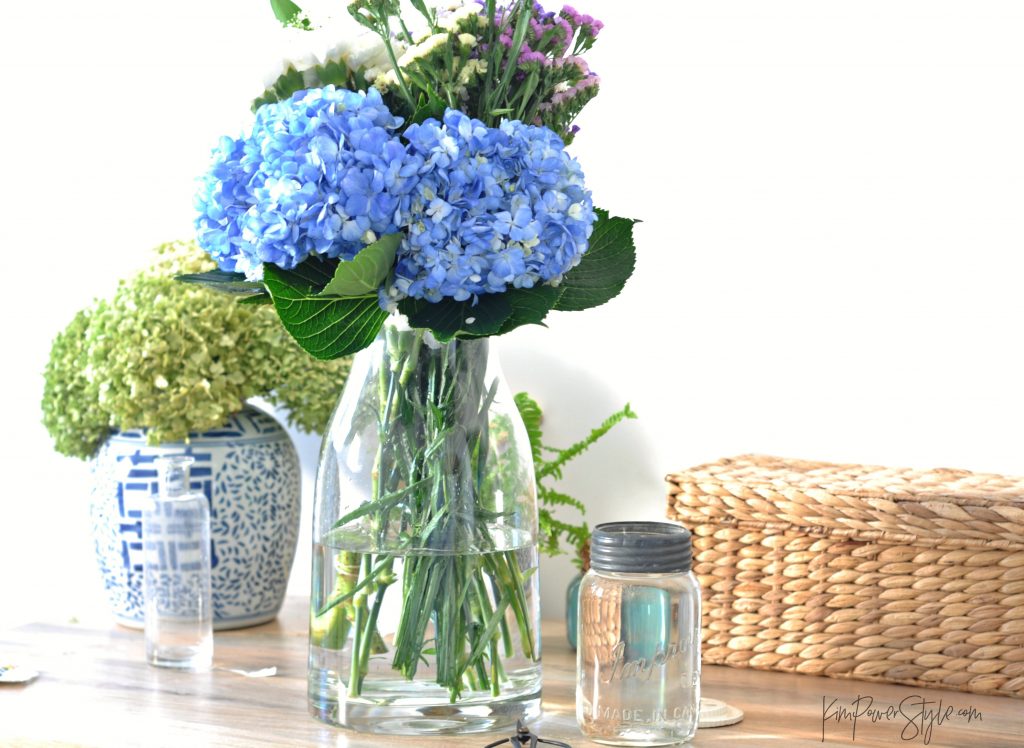 Because I wanted to photograph the process, I  arranged these flowers at my desk, placing them in a large vase of water to keep them hydrated. You don't want to start out with wilted flowers!
I start by mixing in my packet of food in some cool tap water. These packets basically contain sugar and bacteriacide. If you just give them sugar, that can cause bacteria growth and the stems can't take up the water. Bleach can cut down bacterial growth.
Here is a quick recipe for some Homemade flower preserver:
1teaspoon household bleach
2 teaspoons lemon or lime juice
1 quart of lukewarm water
clean your vases and rinse out with bleach
trim the ends of the stems daily… a 45 degree angle is best for water uptake. Also, make sure there are no leaves below the water line!
This will keep your flowers looking their best and lasting longer.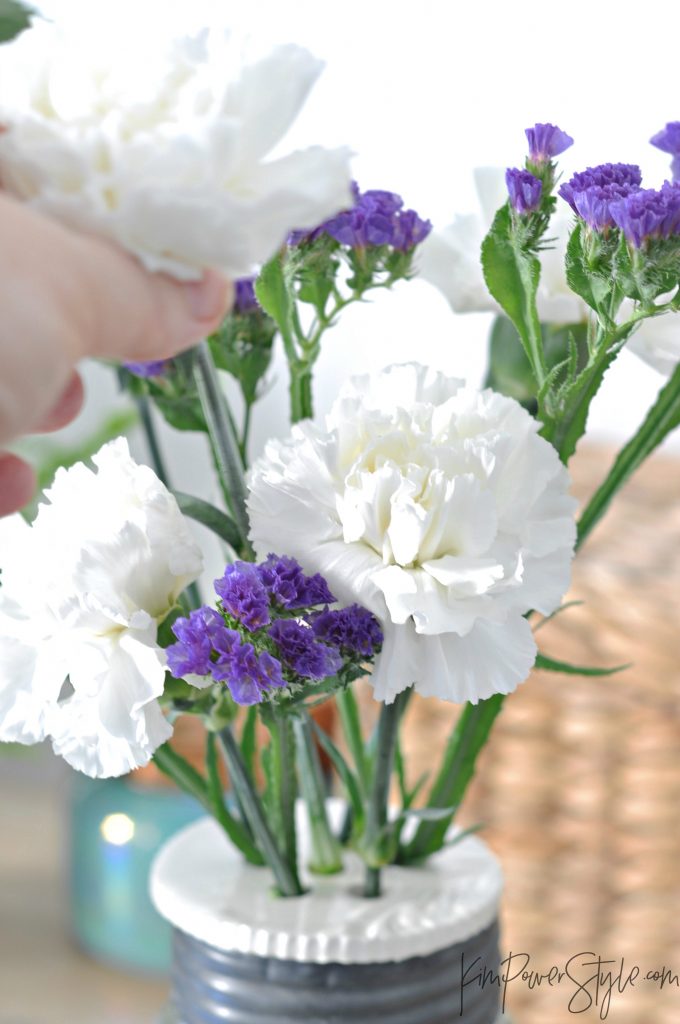 I can usually get a few bouquets from my bunches and display
This little bouquet is in my office and I was able to place two more on my bedside tables, with a larger one kept in the living room where everyone can enjoy it all day!
There is nothing like nature to bring joy to your surroundings!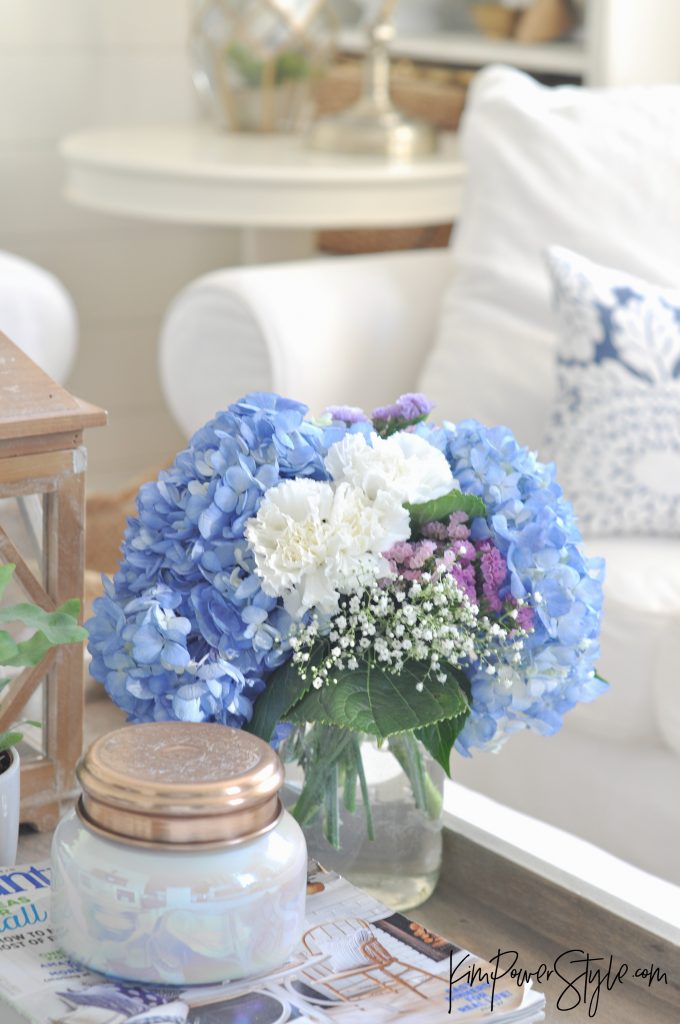 Fridays are for flowers, lighting some candles and unwinding with friends and family!
I hope you have a great weekend too! and thanks for stopping by for a visit.
P.S. Thanks for bearing with my while I go through the process of updating and redesigning my blog. I'm hoping to have the new design up and running in the next couple of weeks!