Welcome to our Canadian Bloggers Fall Home tour! I'm so excited to join in with nineteen other Canadian bloggers from across Canada to share our homes and fall decor. Each day a new group of bloggers will be sharing. Visit each home tour by following the links on the days at the bottom of this post!
If you've just come from  visiting Jennifer of Rambling Renovators, welcome to my home!
I love fall for so many reasons and it's my absolute favourite season, what's not to love? Cooler sweater and boot weather, warm comfort food, the changing of the colour of the trees and pumpkins to name a few.
When embarking on fall decor I'm not averse to any colour, the sky's the limit! Last year I used brown's, and tans with a hint of orange, you can find last year's home tour here. This year I was loving the colours of the charcoal and sage coloured pumpkins and thought I'd use more of a black/grey and white colour scheme.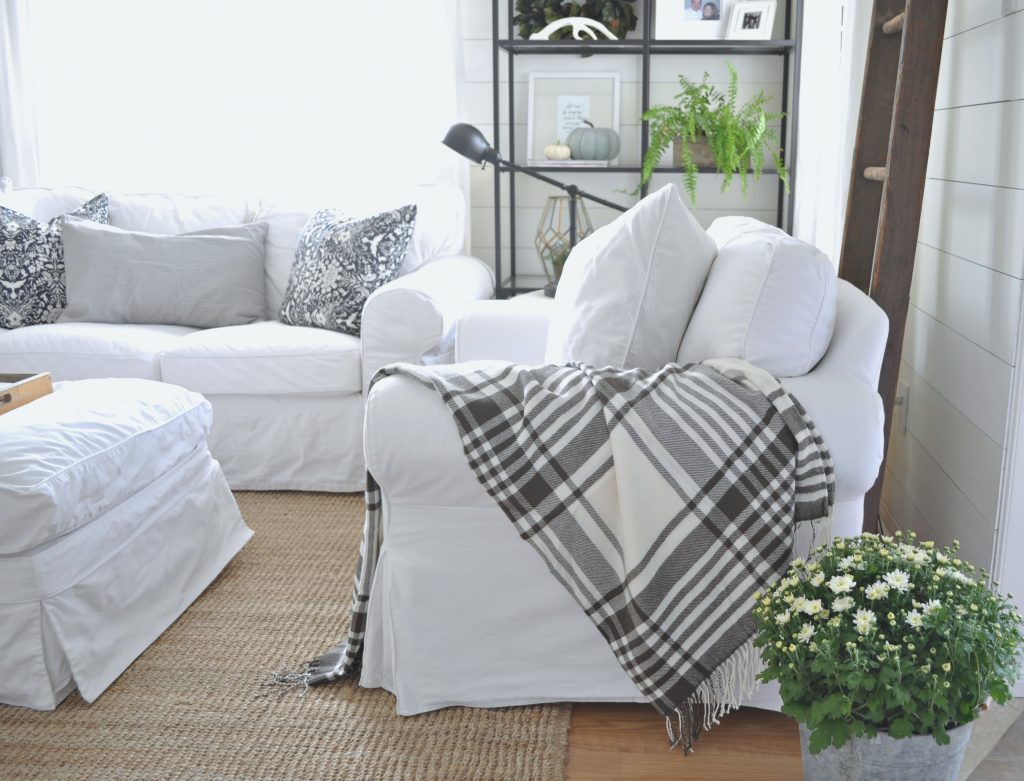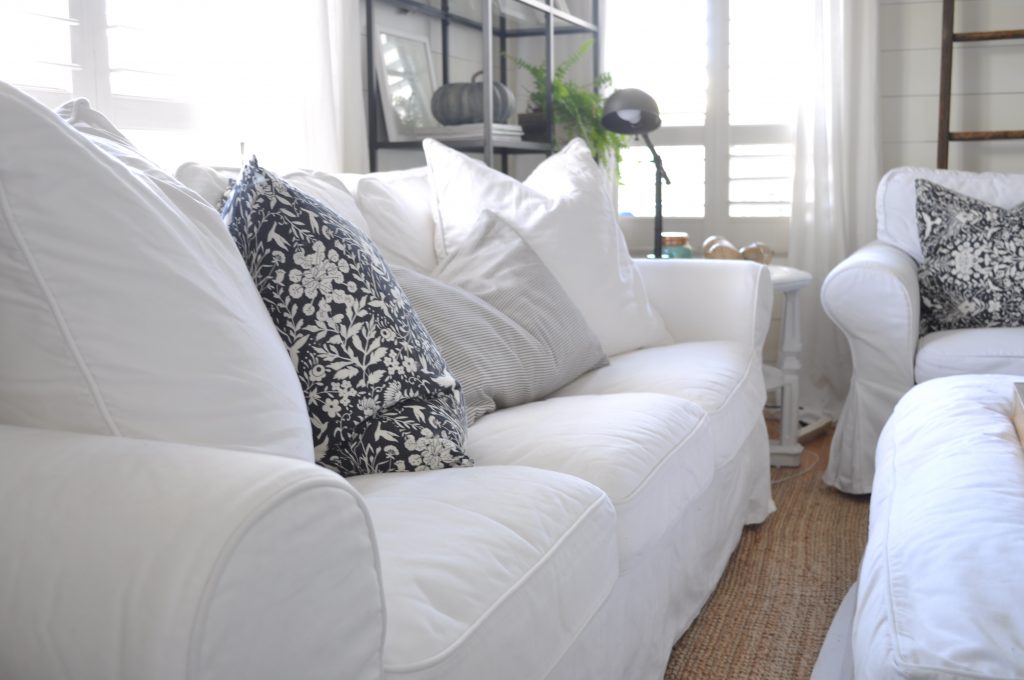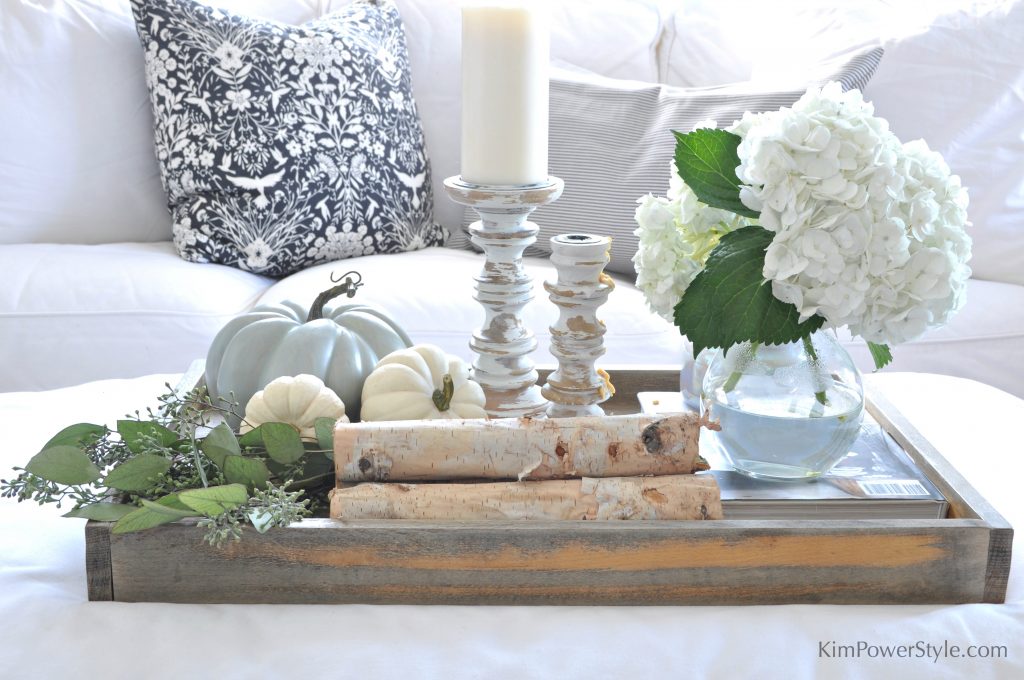 I started off with charcoal and sage pumpkins and then found this gorgeous black and white floral fabric and sewed together these cushion covers. I added the black and white ticking cushion covers to complement them. Having a neutral backdrop makes it easy to add any colour you like to your decor.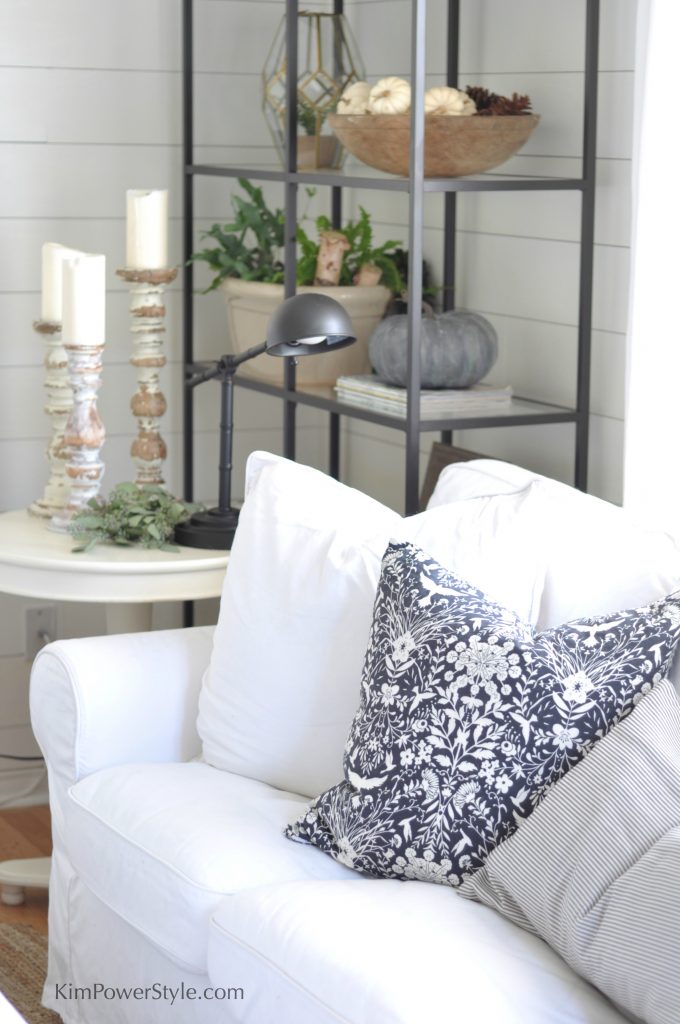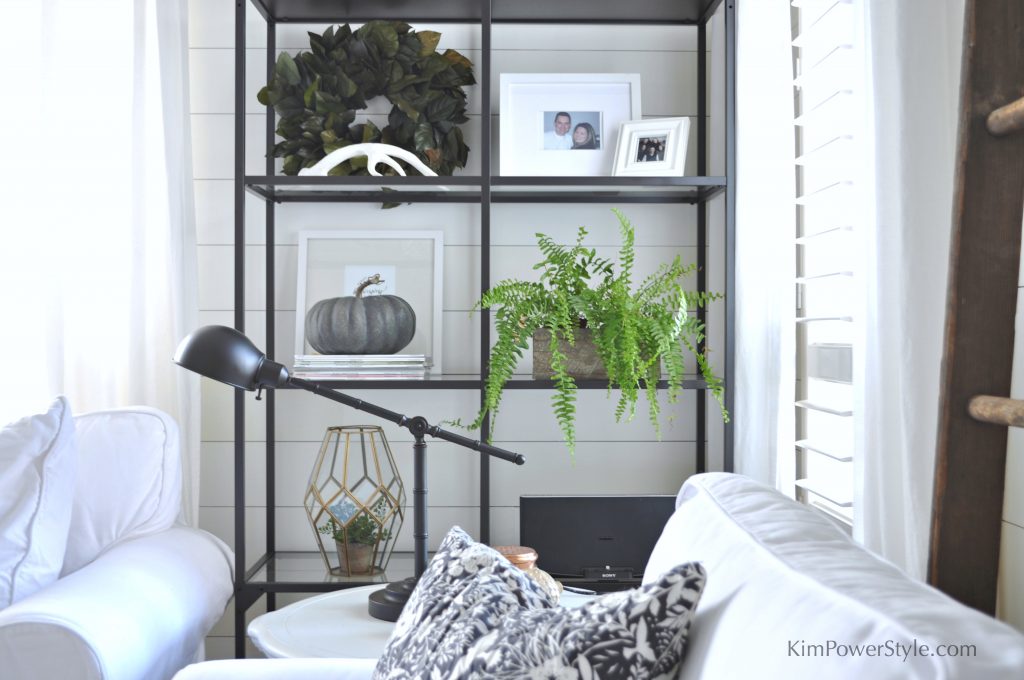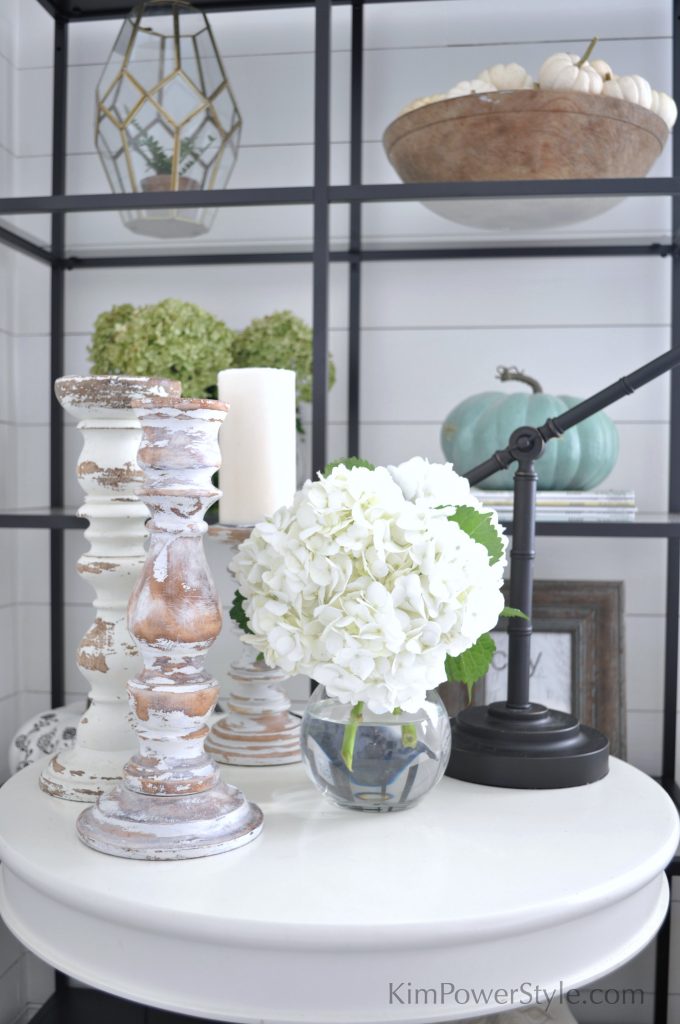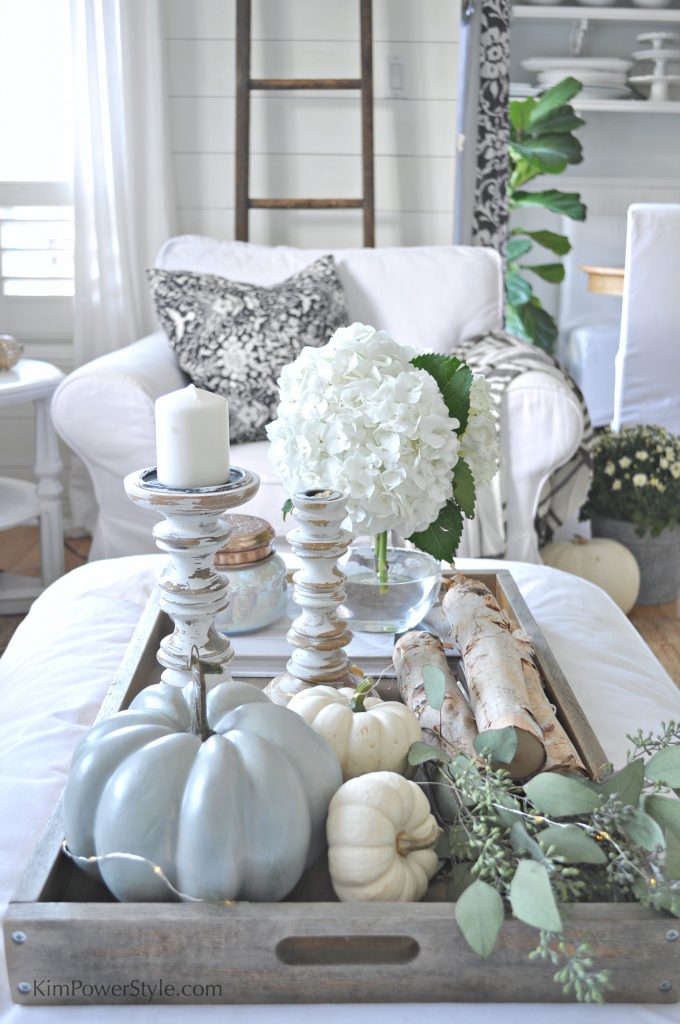 You'll notice lots of pumpkins! I added a mixture of faux pumpkins in plastic, paper and velvet, as well as some real classic sage and white ones along with my favourite little white baby boos. They were my main staple in decorating this year and I left out my usual cotton stems and branches. Sometimes you need to mix it up a bit, but they may come out yet, my decorating changes like the weather and I'm adding and removing things all the time!
I love any kind of eucalyptus during the holidays and this seeded eucalyptus is used all over my home right now. The beautiful soft green is in keeping with the sage and charcoal I used this year. You may also notice a bit of birch here and there. I basically have some form of birch hanging around all year long. The beautiful white and texture of it goes with everything and adds more of that natural element I like to bring into my home.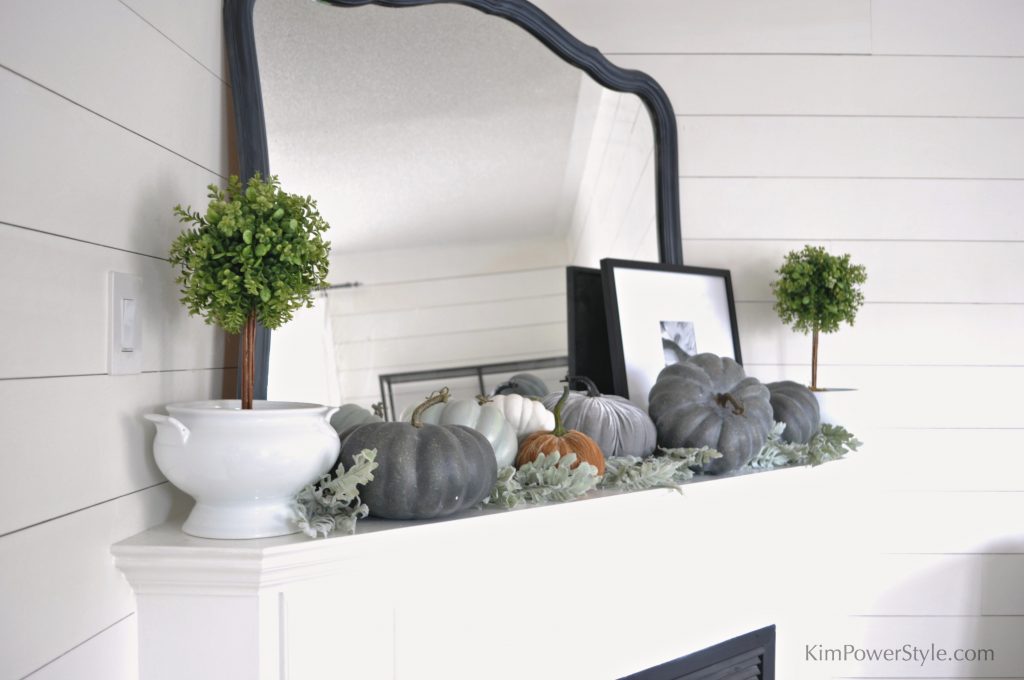 The mantel in my family room is full of pumpkins with sage faux greenery flanked by a couple of faux topiaries. My mantels change constantly and I'm mixing thing up all the time!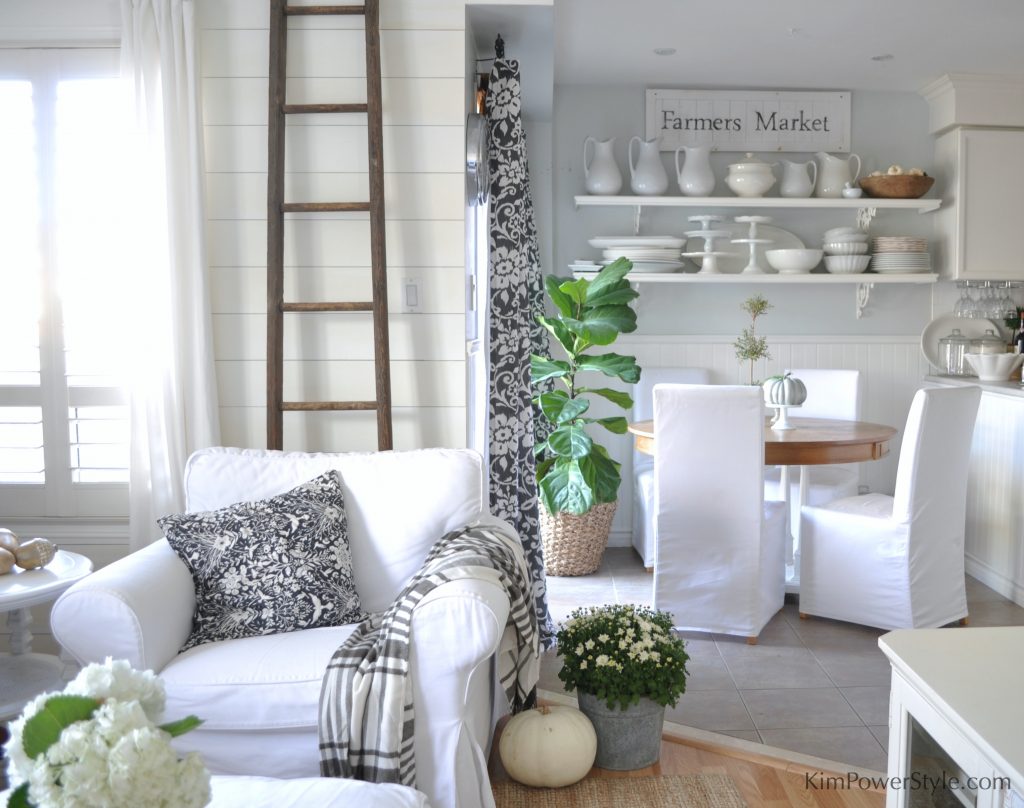 My living room looks out onto the breakfast nook. I have a large collection of vintage ironstone and I've placed some pitchers  and an arrangement of platters, bowls and cake stands on the shelves. I display them and use them all the time. The rest of my ironstone is in the dining room and displayed throughout the house. I've simply added a few pumpkins out there along with a bit of eucalyptus on the table and thats it for fall decor. I change up the curtains out there in the fall into whatever I'm using to decorate with in the season. These curtains are a charcoal grey and white with a floral design. Whenever I have curtains that aren't lined I place a pair of white curtains behind them to make them more opaque and appear heavier, which makes them appear a little more substantial.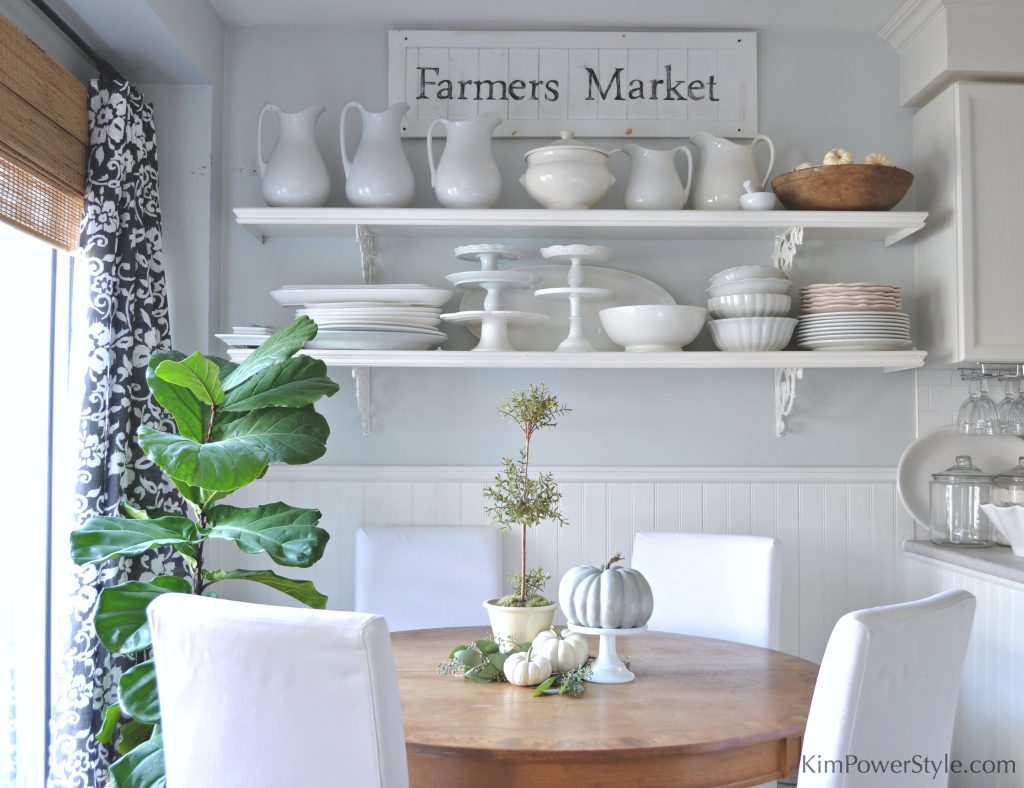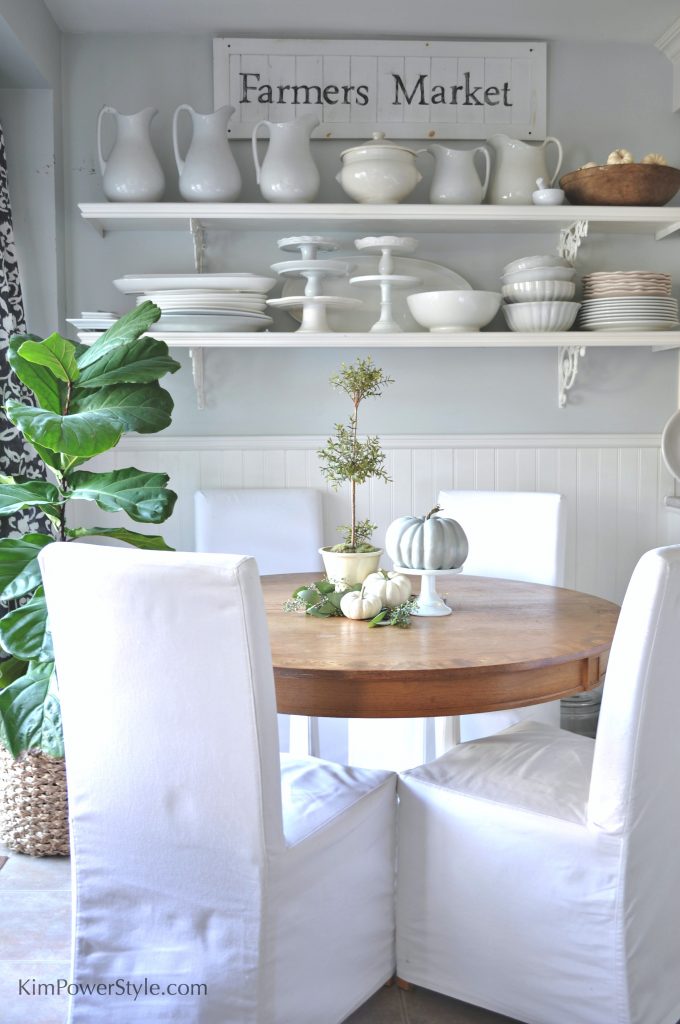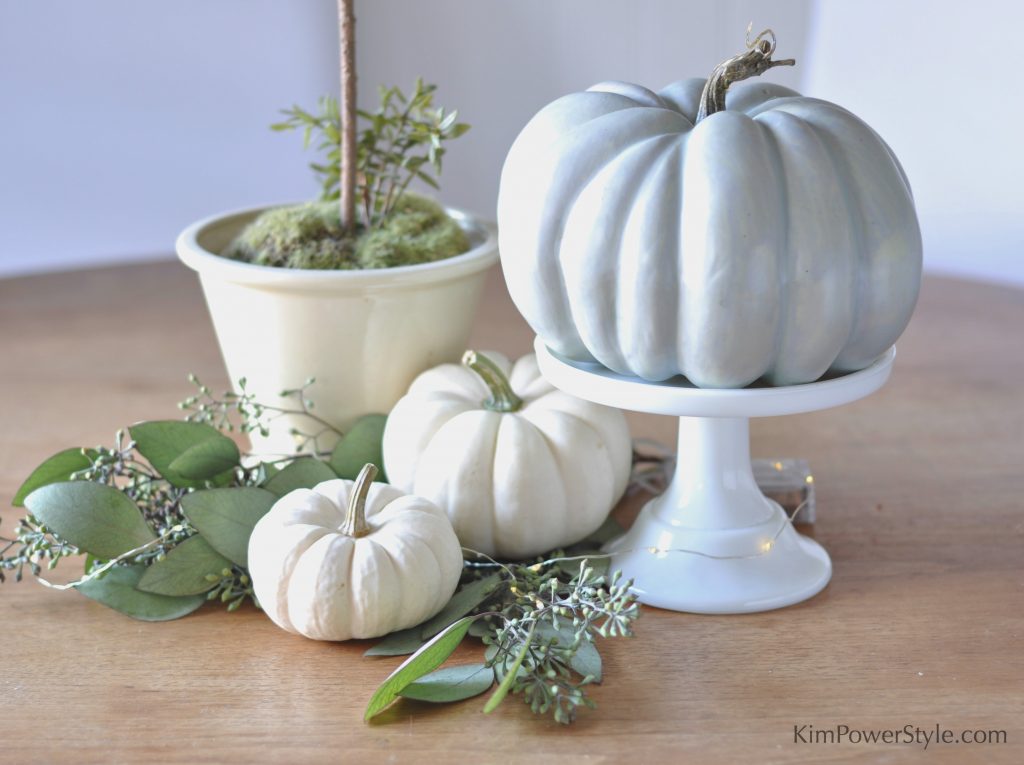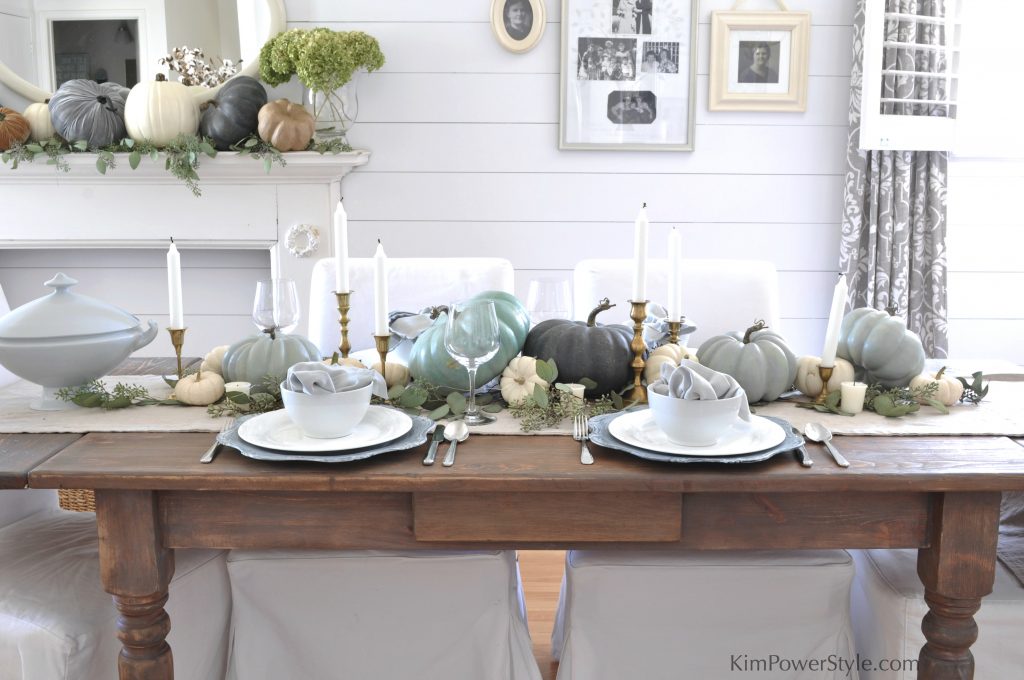 I decorated my dining table with the same coloured pumpkins that I have in the living room. I've added some brass candlesticks to add some warmth and who doesn't love candles on your tablescape?  I had different coloured pumpkins on the mantel in here but later changed them out for all white. I told you I change my decor like the weather! I made this simple linen table runner last year and It's my favourite, I've used nothing else since I made it!  My table is set for a hearty fall soup with a thick french loaf…which I couldn't keep my hands off which is why a third of it is missing 🙂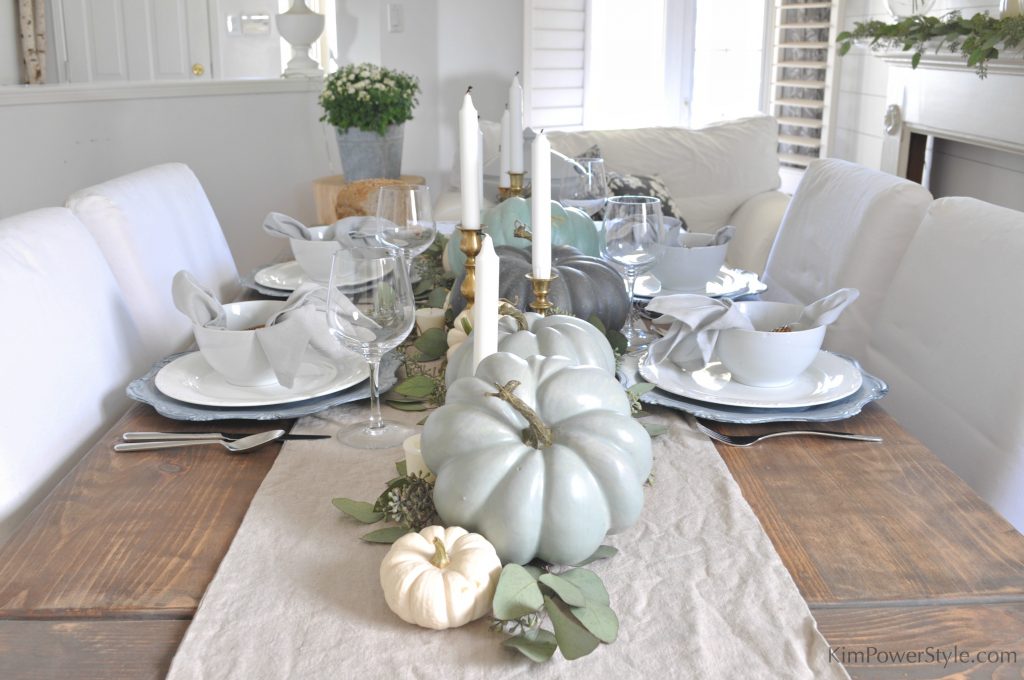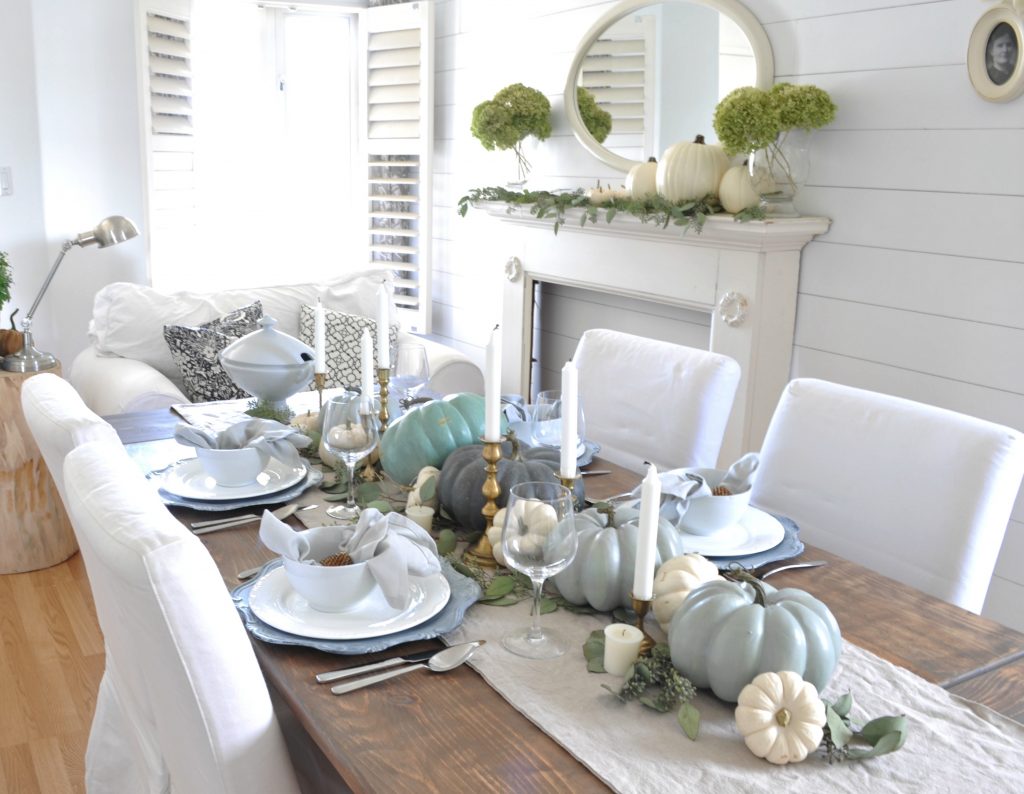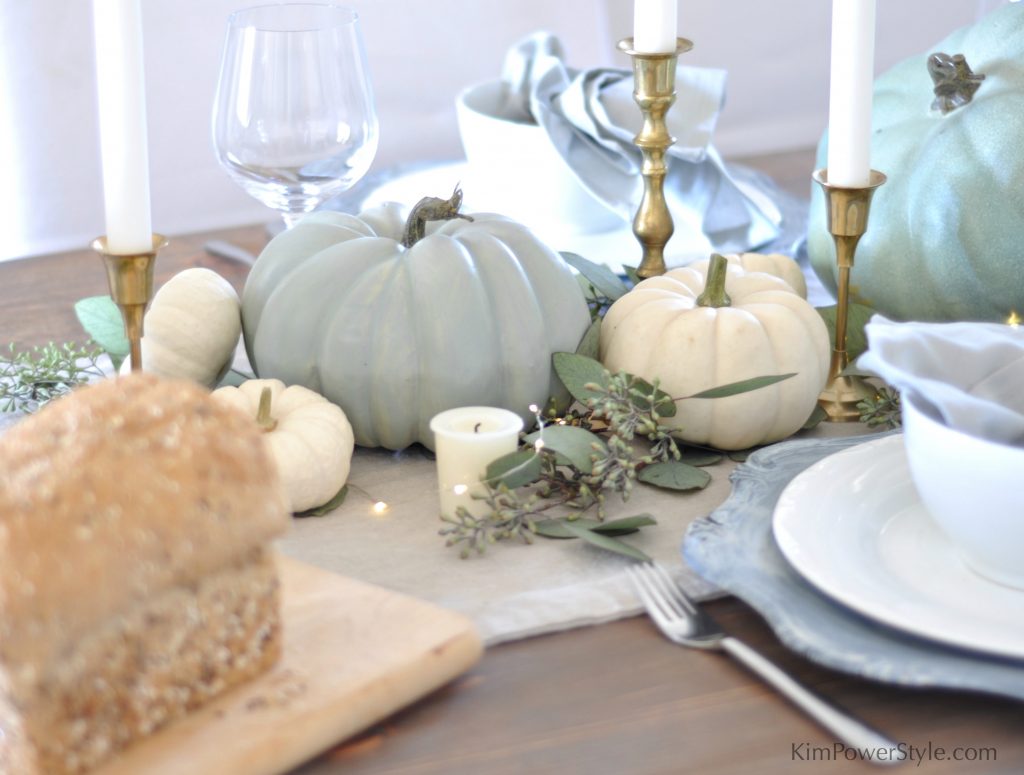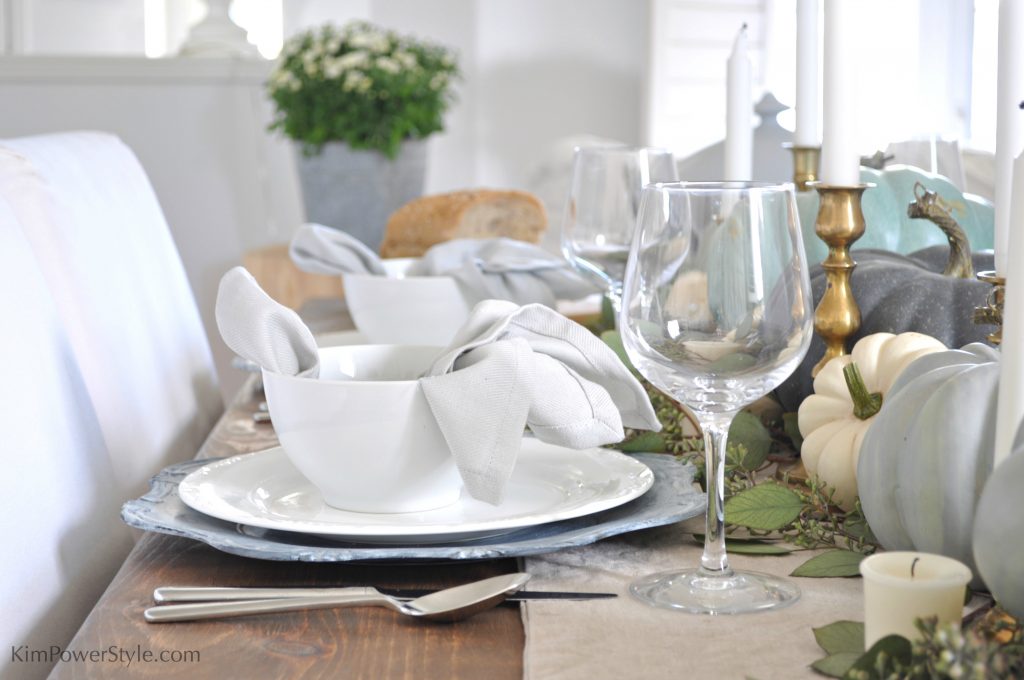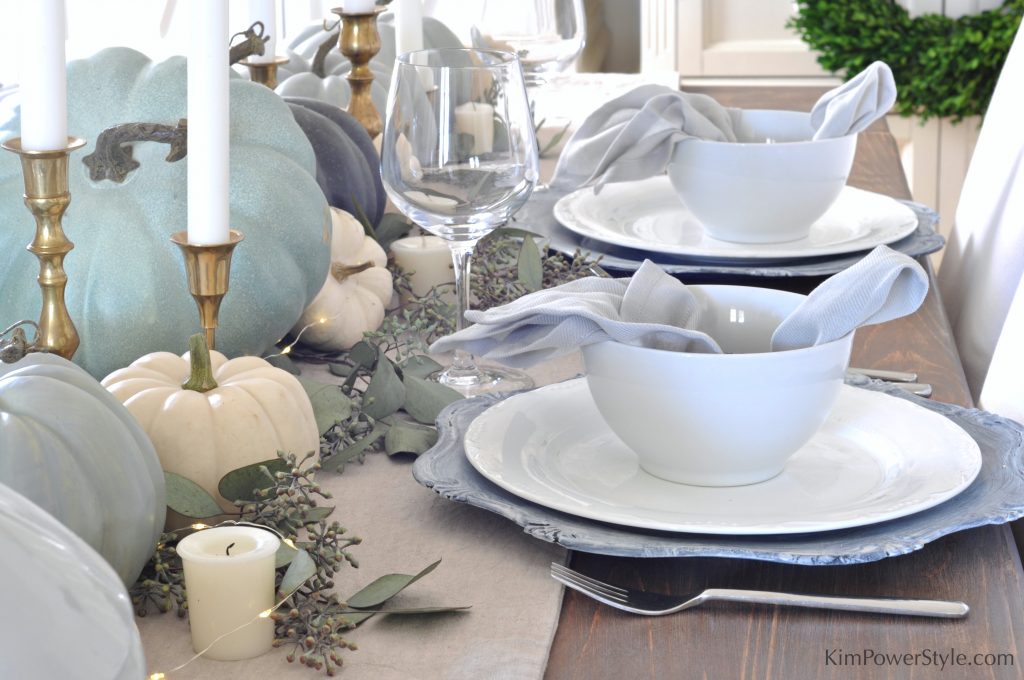 I couldn't do a tablescape without adding a bit of fairlyights! As well as candlelight I love mixing in some delicate fairylights interwoven between branches and/or greenery. It just turns what may otherwise be natural and simple into something that's festive and sparkly. No matter what you've set your table with they up the wow factor!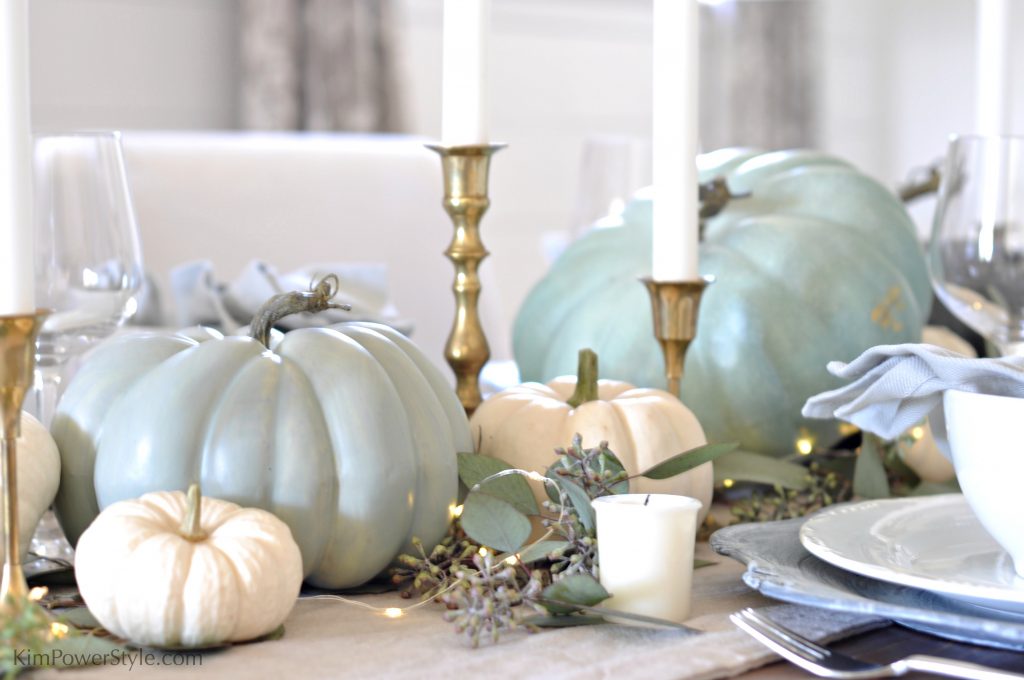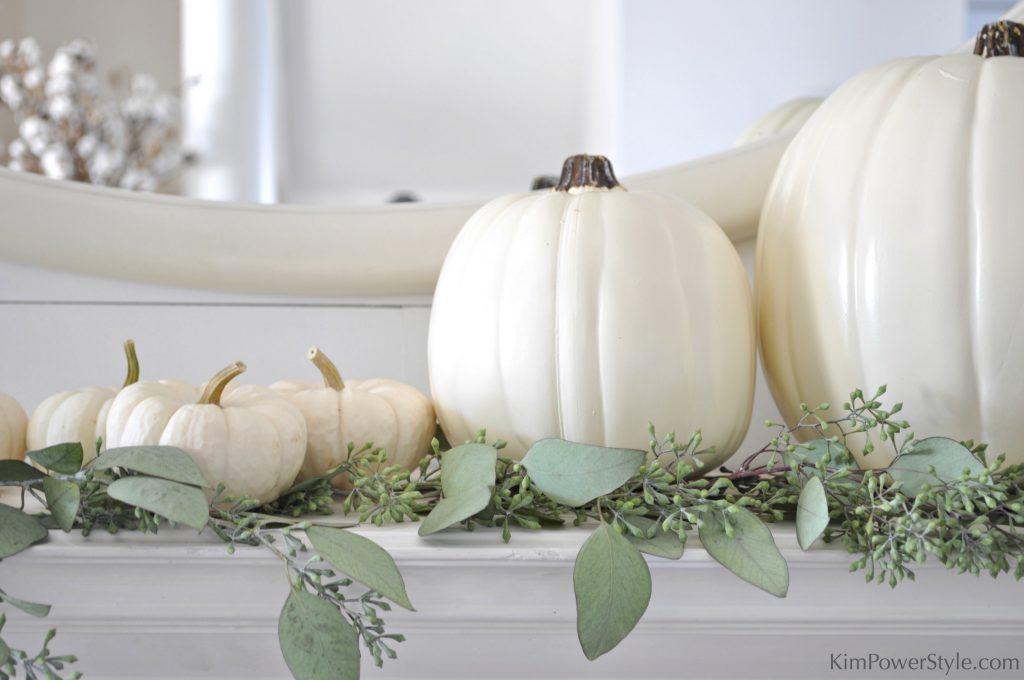 I switched up my mantel in the dining room and used some simple faux white pumpkins along with some baby boos on top of seeded eucalyptus with vases full of dried green hydrangeas. Simple and beautiful.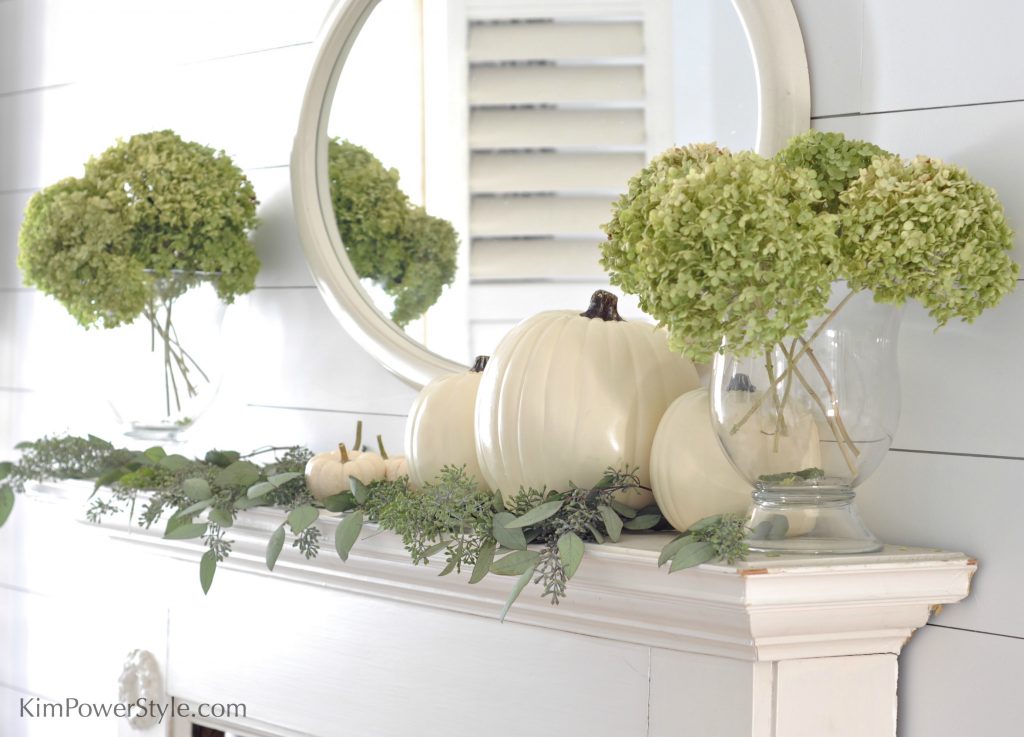 Thank you all for joining me and staying till the end! For more fall decor inspiration be sure to follow the links at the bottom of this post to join the other bloggers on this tour!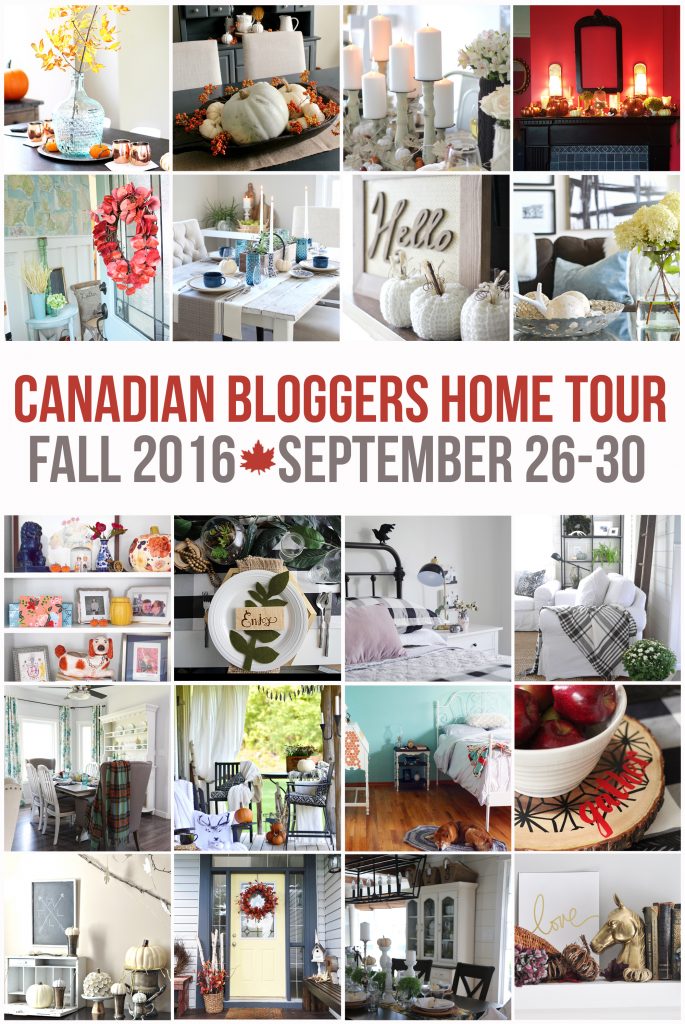 Monday
Northern Style Exposure
Clean and Scentsible
Amidst the Chaos
Heather In Heels
Tuesday
The Happy Housie
Satori Design for Living
Love Create Celebrate
A Pop of Pretty
Wednesday
PMQ for Two
Brooklyn Berry Designs
Rambling Renovators
Kim Power Style
Thursday
The DIY Mommy
Vin'yet Etc.
Home To Heather
Fresh Crush
Friday