Thanks for joining me today along with 10 other bloggers as we share some of our favourite slow cooker recipes! Fall is my favourite season and I love it when the air starts to get cooler and we go from barbecues and salads to more hearty indoor comfort meals. There is nothing more hearty than a delicious beef bourguinon made slow and easy in your slow cooker. This tasty slow cooker beef bourginon recipe has a little work on the front end but once that's done you can enjoy the aroma of it cooking away while you enjoy your day!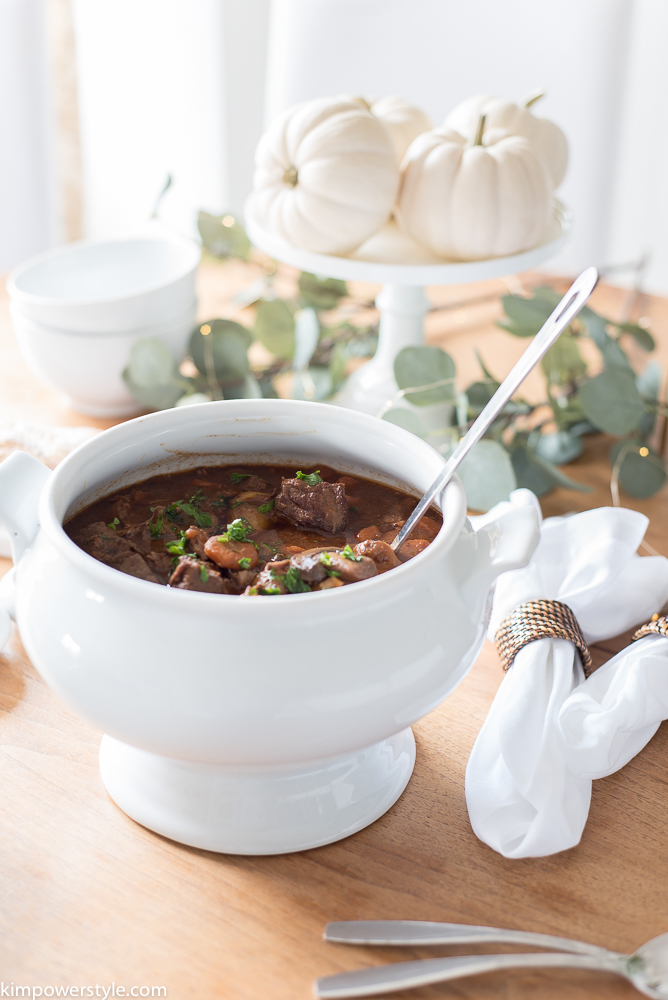 Slow Cooker Beef Bourguignon Recipe:
Ingredients:
5 slices of bacon chopped
3 lbs stewing beef
1 cup good red wine
2 cups beef broth
1/4 cup soy sauce
1/4 cup tomato paste
1/4 cup flour
1 lb baby potatoes
5 medium carrots chopped
4 cloves of garlic minced
10 0z mushrooms sliced
8 oz pearl onions
2 tbsp fresh thyme minced
fresh parsley finely chopped for garnish
salt and pepper to taste
Instructions:
Add chopped bacon to a pan over medium heat and brown for 3-4 minutes. Remove bacon and place in slow cooker.
Salt and pepper stewing beef and place in the pan to sear in the bacon fat in small batches. Add beef to slow cooker.
Pour the cup of red wine into the pan and deglaze all the bits from the bottom.
Whisk in beef broth, soy sauce and tomato paste. Once those ingredients are incorporated, whisk in the flour and let simmer for a couple of minutes. Add to slow cooker.
Add the potatoes, chopped carrots, pearl onions, sliced mushrooms, minced garlic and thyme.
Stir all the ingredients together and cook on low for 6-8 hours or until beef is tender.
Once it's done, finely chop some fresh flat leaf parsley on top and you're ready to serve.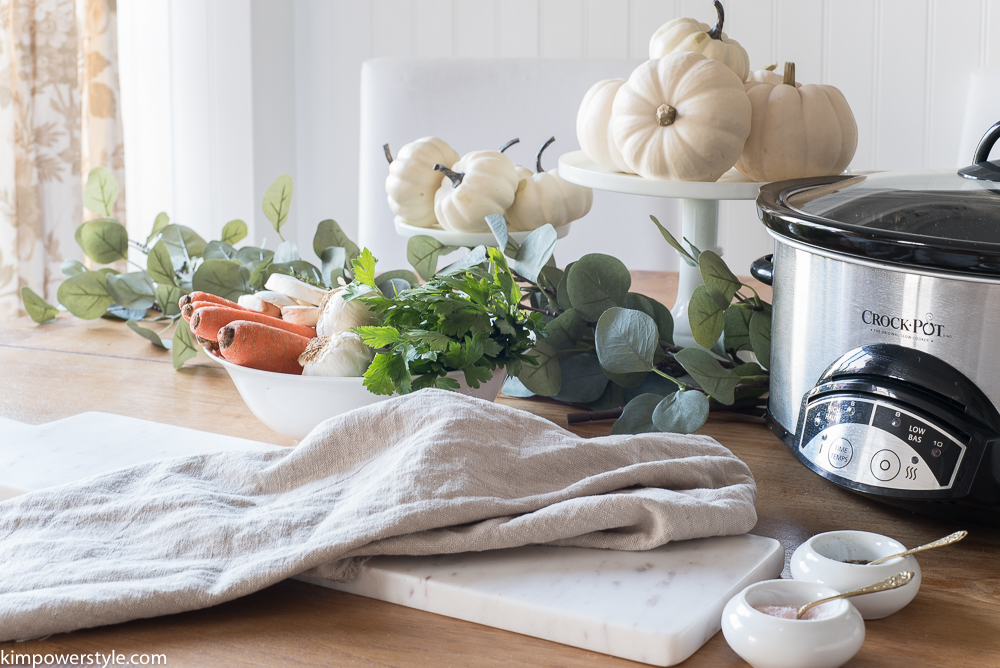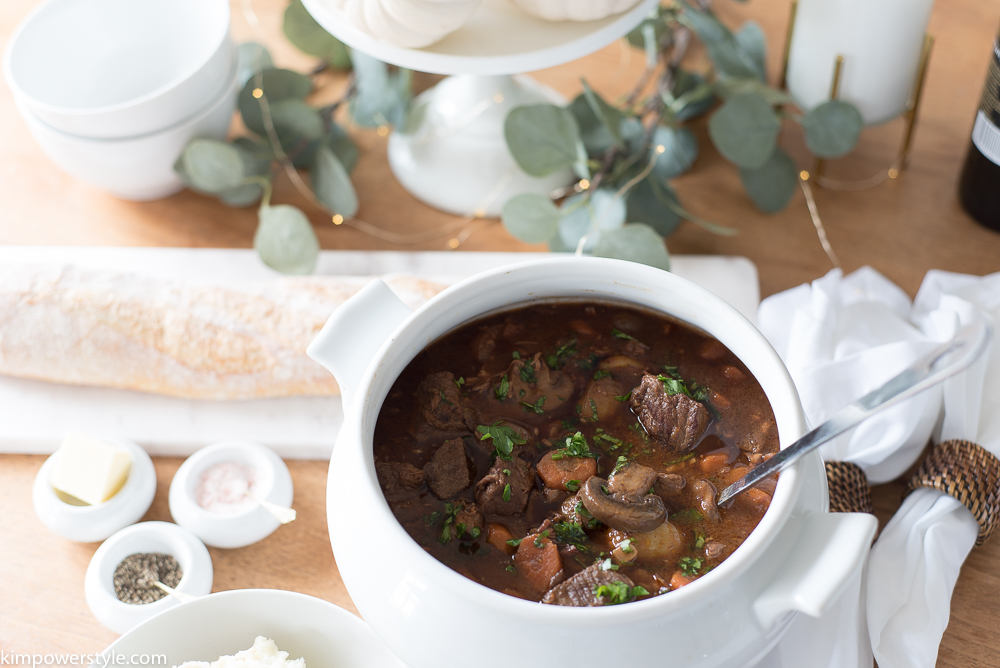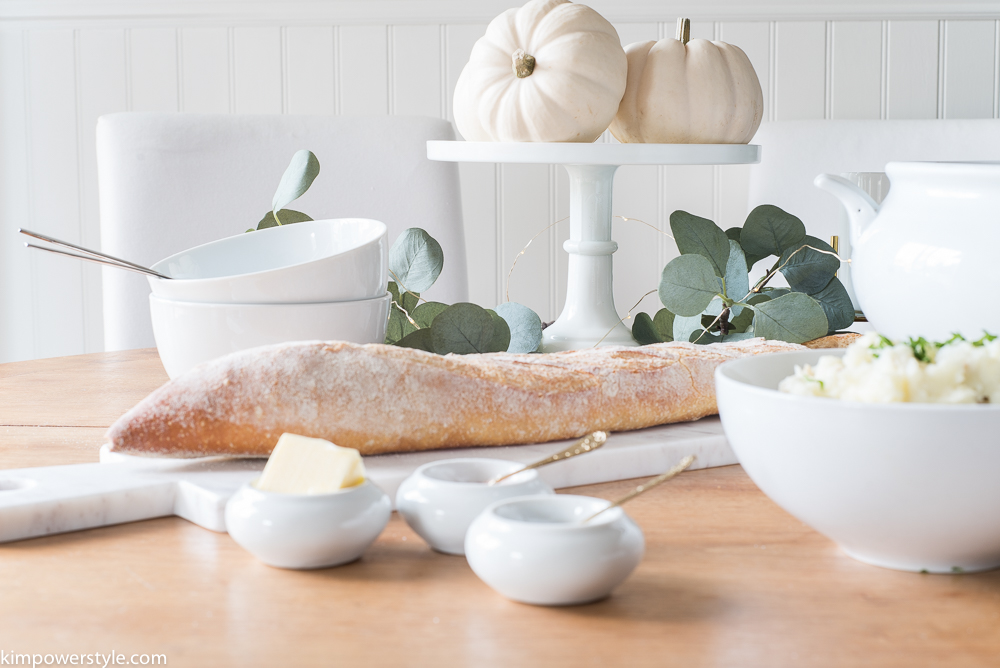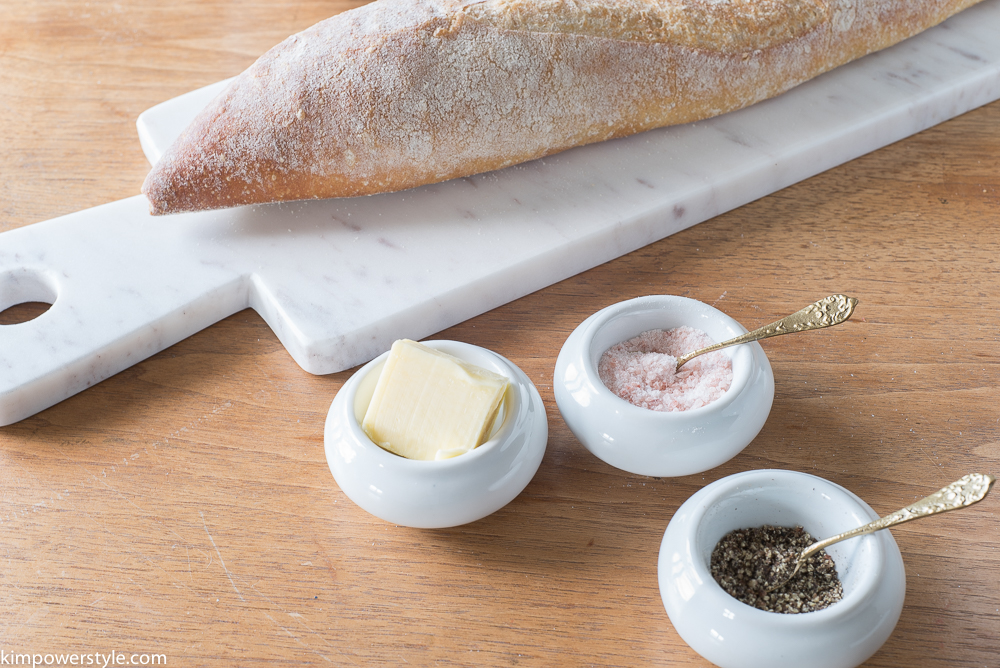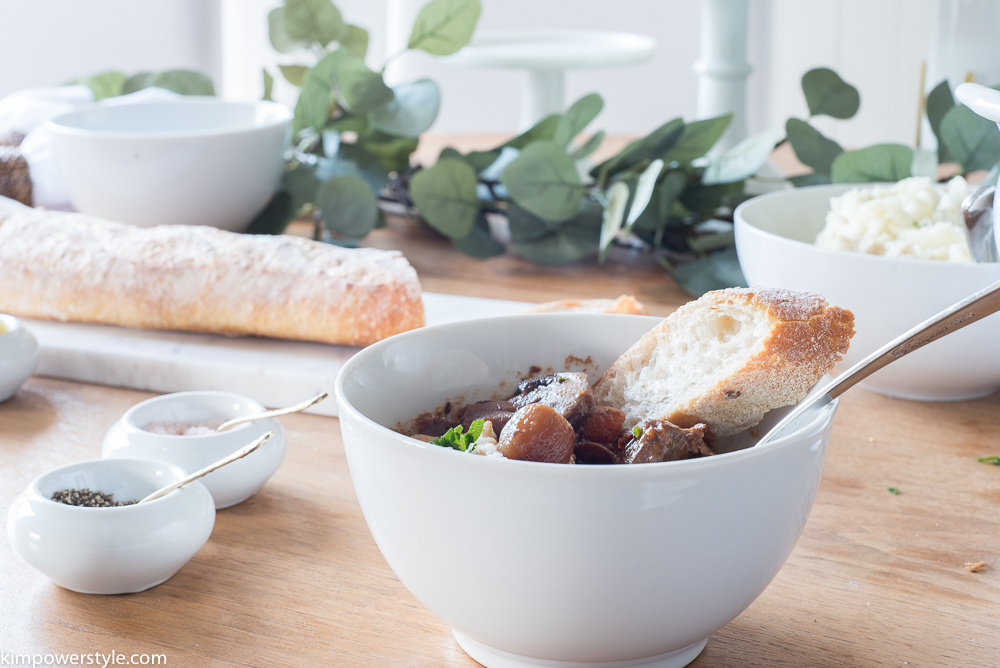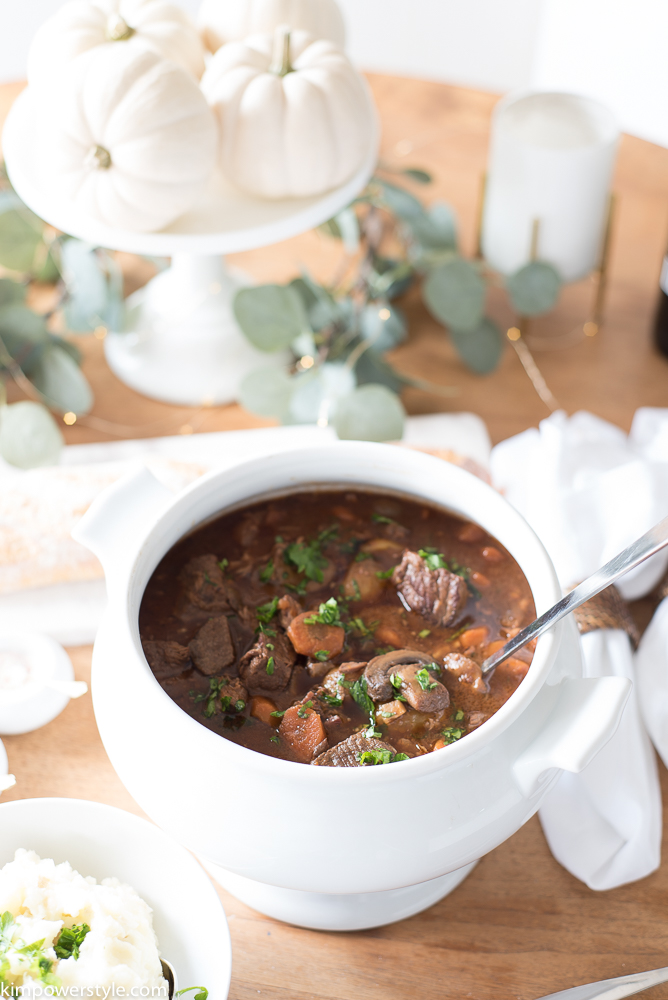 This delicious meal can be served with a crusty loaf of bread and creamy mashed potatoes. It's definitely worth the added time it takes to sear the meat once you taste that rich dark gravy. It makes a great week night meal or a special Sunday supper with the family. I hope you try it, I promise you won't be disappointed! Don't forget to check out all the links below and visit the rest of the bloggers for some more great slow cooker recipes.
Blessings,
Kim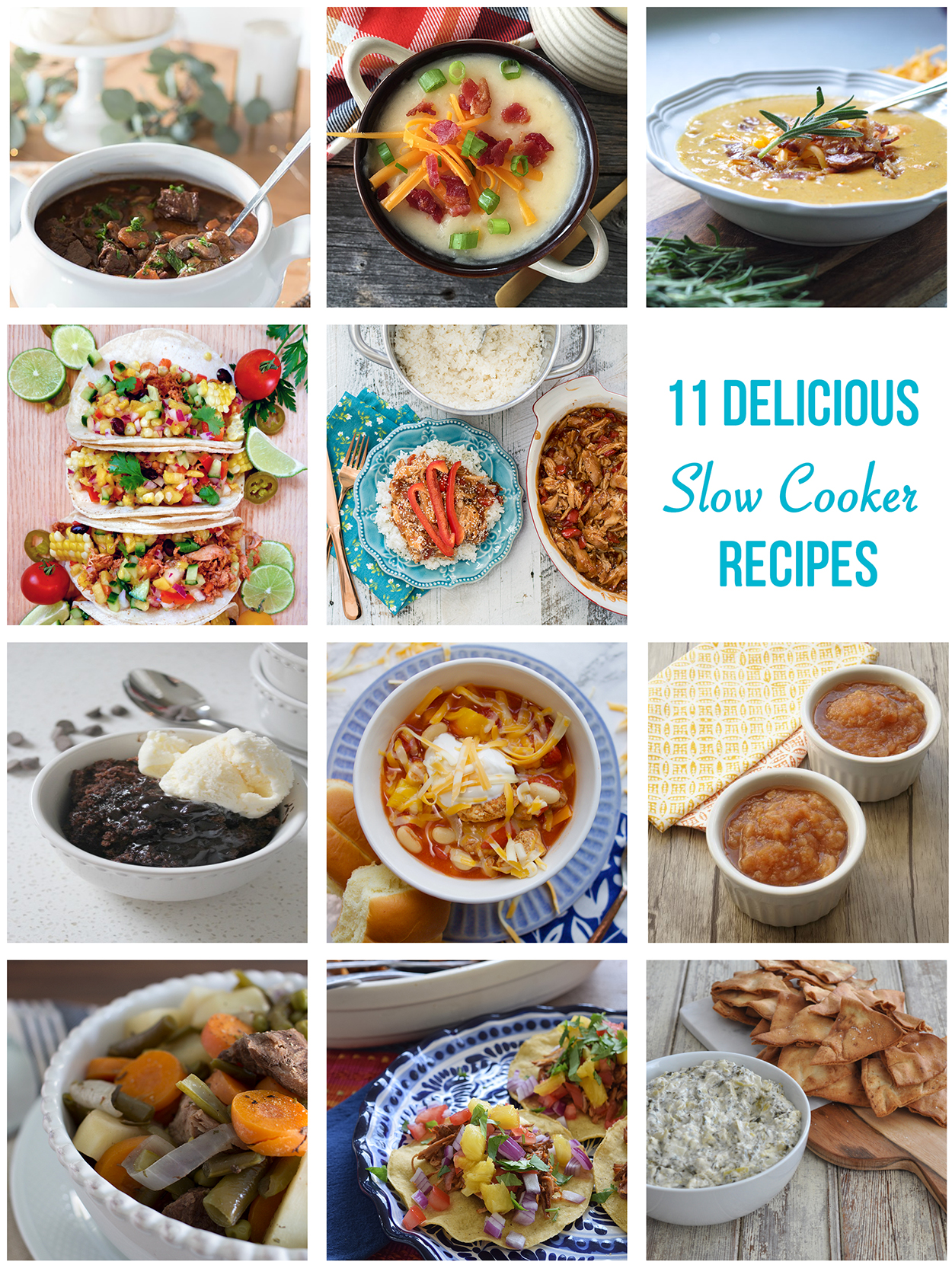 Slow Cooker Beef Bourguignon by Kim of Kim Power Style
Slow Cooker Loaded Baked Potato Soup by Jo-Anna of A Pretty Life
Cheesy Sweet Potato and Bacon Soup by Tara of Suburble
Weight Watchers Crock Pot Chicken Tacos by Virginia of Fynes Designs
Slow Cooker Honey Garlic Chicken with Peppers by Christina of The DIY Mommy
Slow Cooker Hot Fudge Cake by Kendra of Joy In Our Home
Slow Cooker Chicken Fajita Chili by Christine of Amidst the Chaos
Slow Cooker Apple Sauce by Jen of Kitchen Counter Chronicles
Slow Cooker Beef Stew by Shannon of AKA Design
Mexican Pulled Pork by Sarah of Flourish & Knot
Slow Cooker Spinach and Artichoke Dip by Dannyelle of Life is a Party