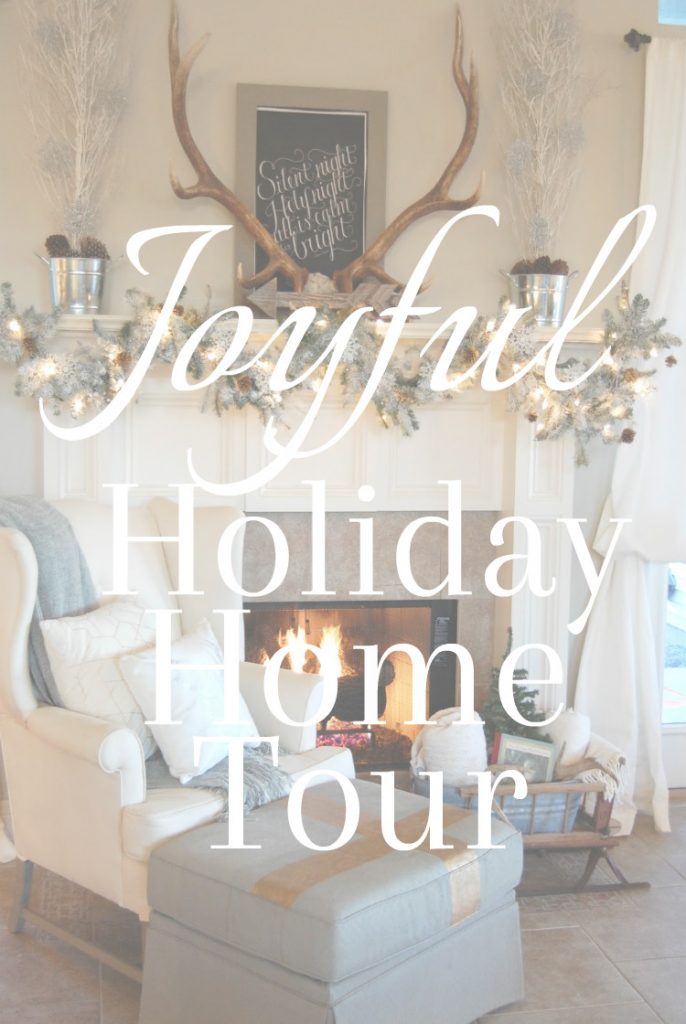 Joyful Holiday Home Tour 2016
Welcome to the Joyful Holiday Home Tour ! I'm so excited to join along with seven other talented bloggers to share our homes all done up for Christmas. This is one of two tours I'm a part of this year. I'll also be joining in with The Canadian Bloggers Christmas Home Tour as well,  so stay tuned for more! If you're following the tour in order, you just came from Natalie from My Vintage Porch's home. I loved every bit of her gorgeous farmhouse style! If you missed it you can see it here you will be glad you did! OK then,  grab a cup of whatever you fancy, settle in and lets get started! In this tour I'll be sharing a few spaces, one of them being my guest room that I have been working on over the past five weeks. I call it my "mini makeover" as it's been a fairly simple and easy project. Since I've chosen this tour to reveal the guest room makeover, we'll start here.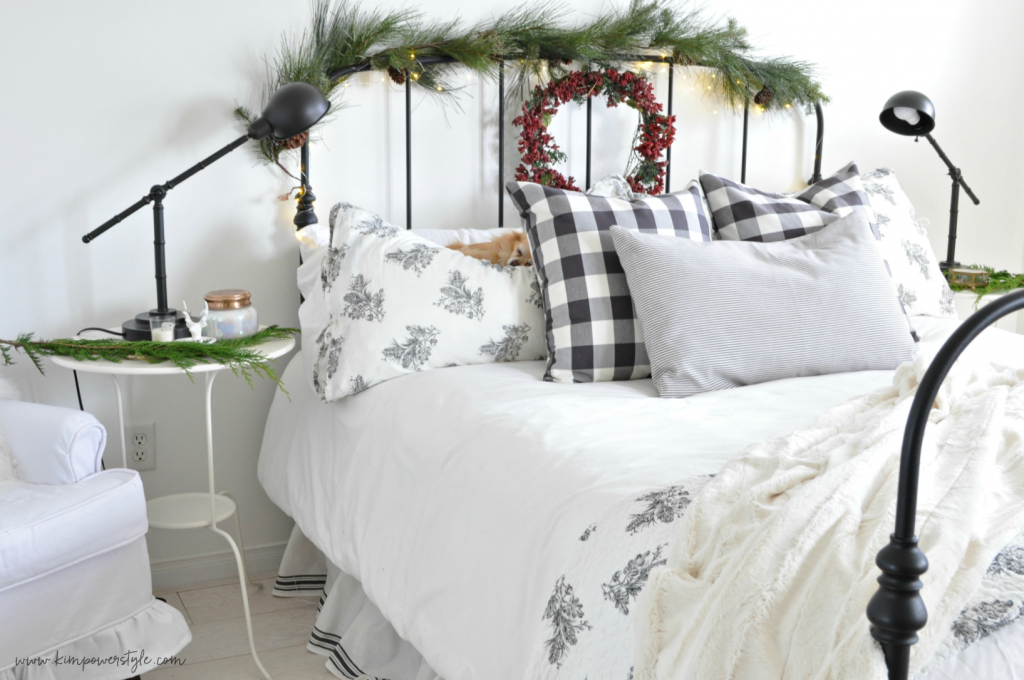 When my eldest daughter left home, the room looked very stark and empty. I decided that I needed to freshen up the space and add a few touches to make it homey and lived in again. So I spent a few weeks working on little projects that would make it warm and inviting. The buffalo check and ticking pillows were some of my sewing projects for this room, along with the tea towel bedskirt. If you missed the tea towel bedskirt post you can find it here.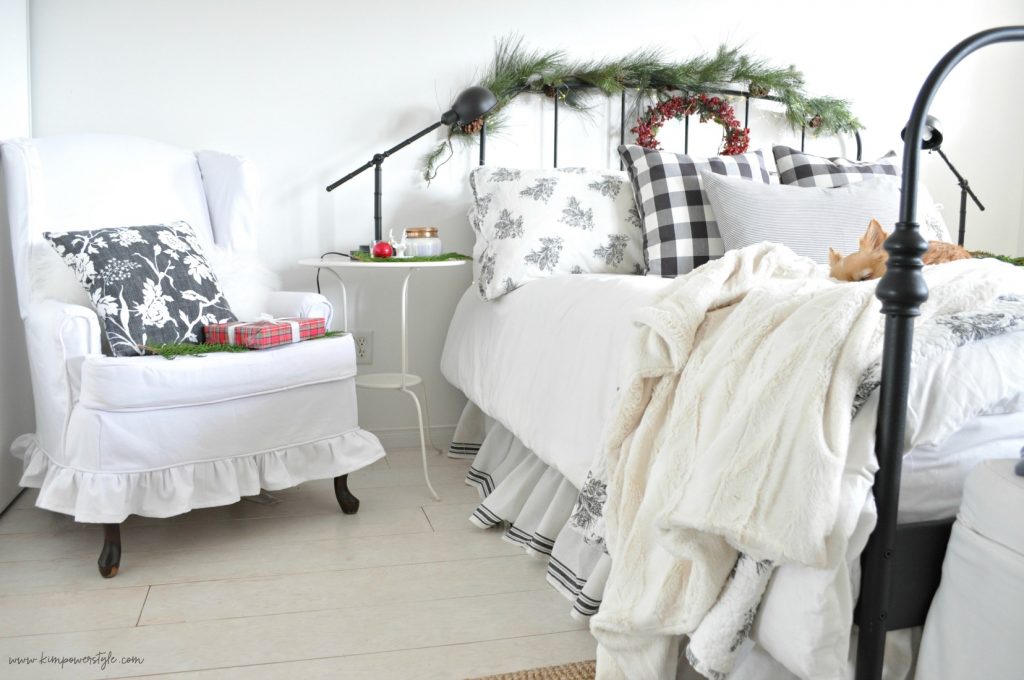 The slipcover was the biggest project for this room. I had found an ugly brown velvet wingback that was in good shape. When I saw a great denim fabric on for 50 % off I thought it was a great opportunity to try my hand at making a slipcover again. It took me a few days of marathon sewing but was so worth it! You can find that post here.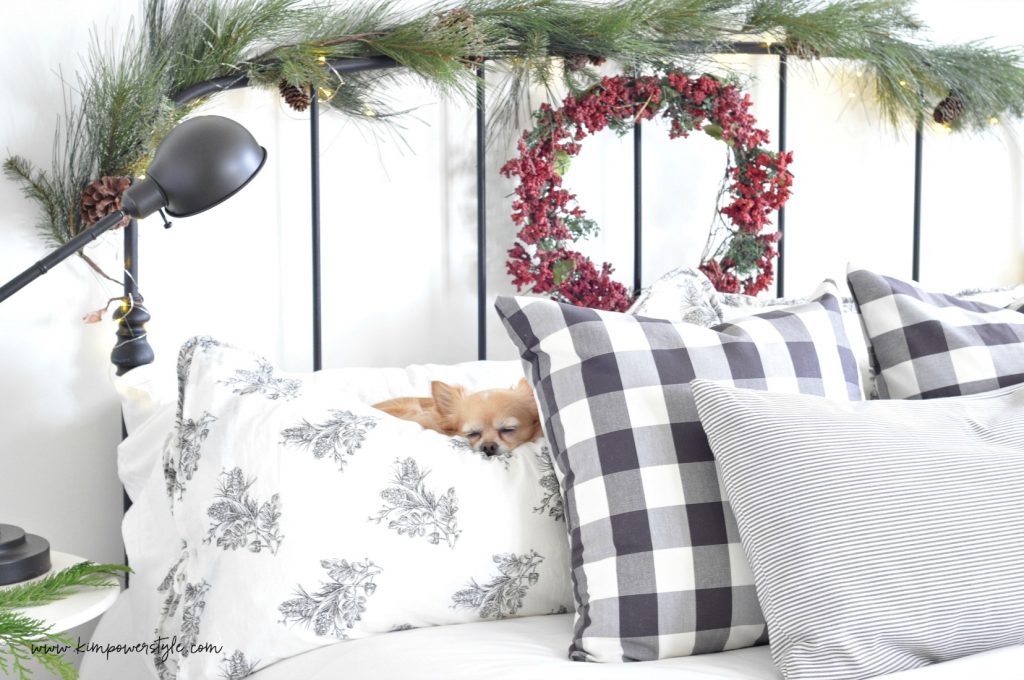 You'll notice a couple of my little guys in the pics. There is no way of working in any room without them following me around! I don't try to stop them anymore because it's a losing battle. Who could deny that sweet little face?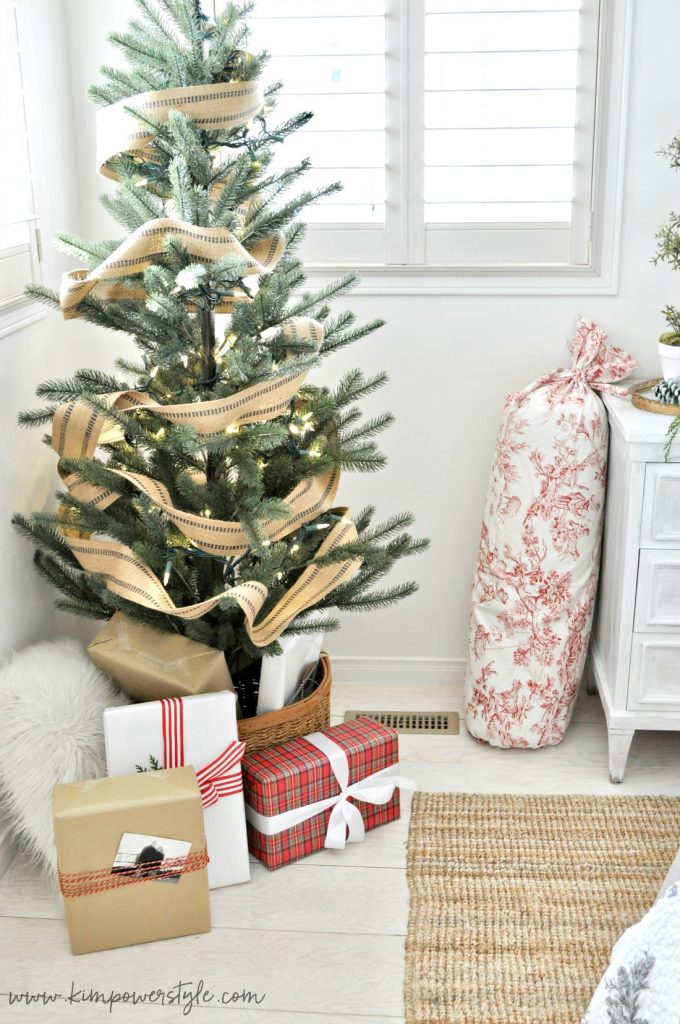 I found this upholstery webbing for 5o% off at my local fabric store too and thought it would pass for garland on my little rustic tree.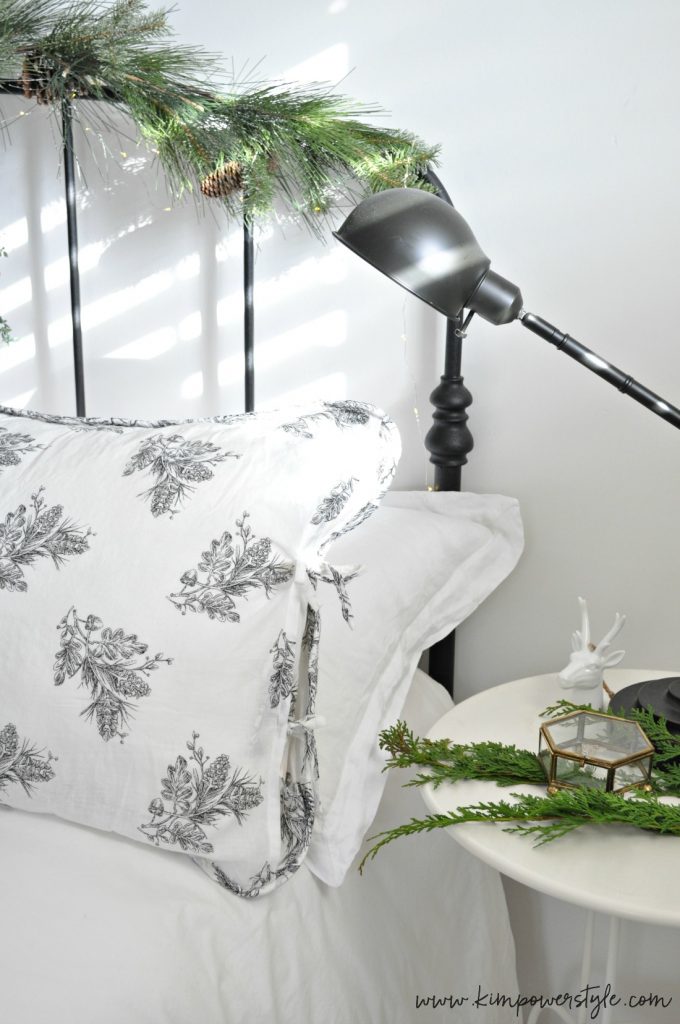 I love adding touches of greenery to my Christmas decorating. It's so simple but makes everything cozy and festive.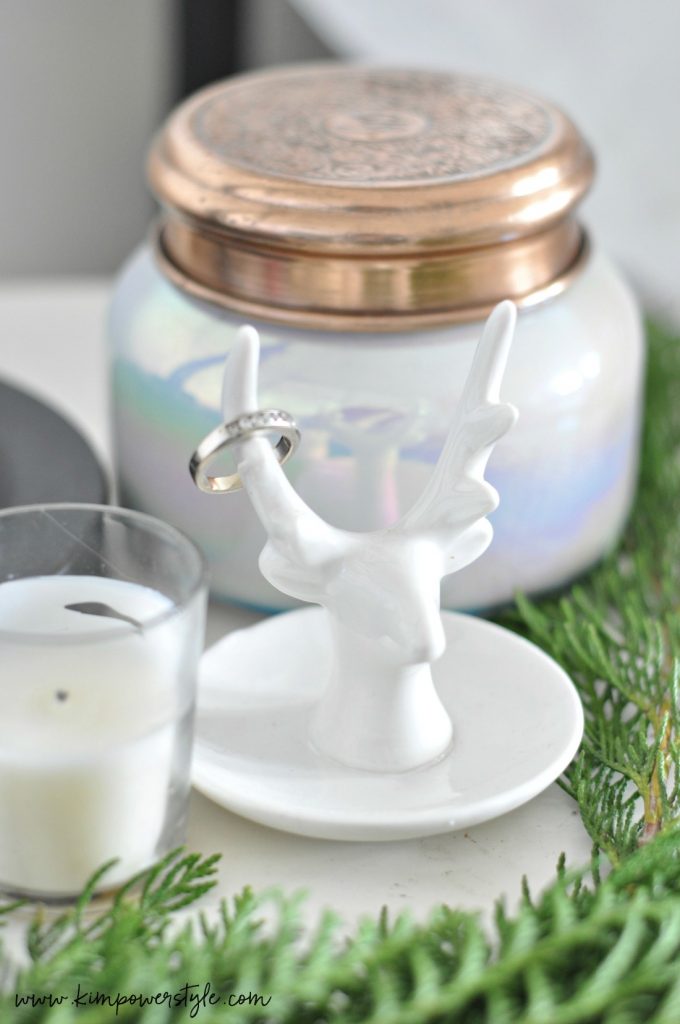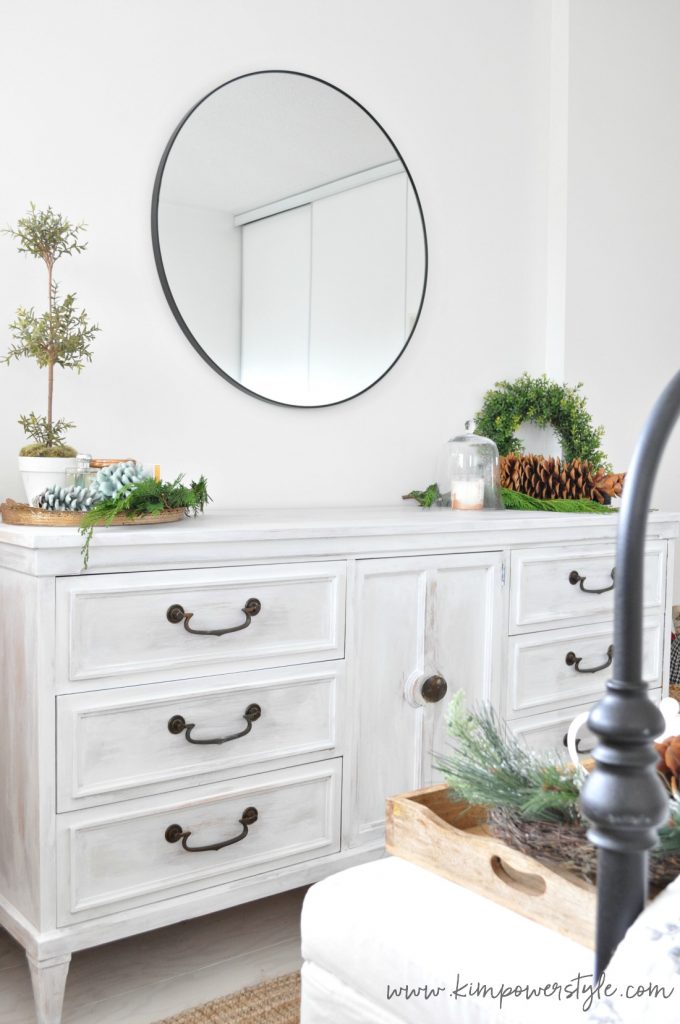 Whitewashing the dresser was my first guest room makeover project and set the tone for the rest of the room. You can find the tutorial here.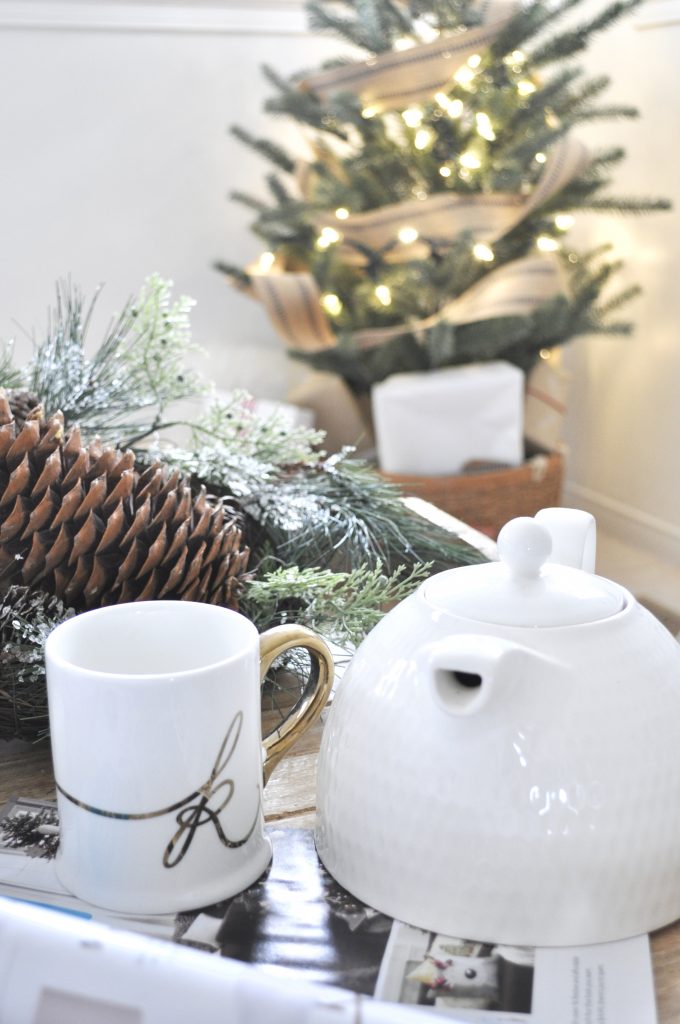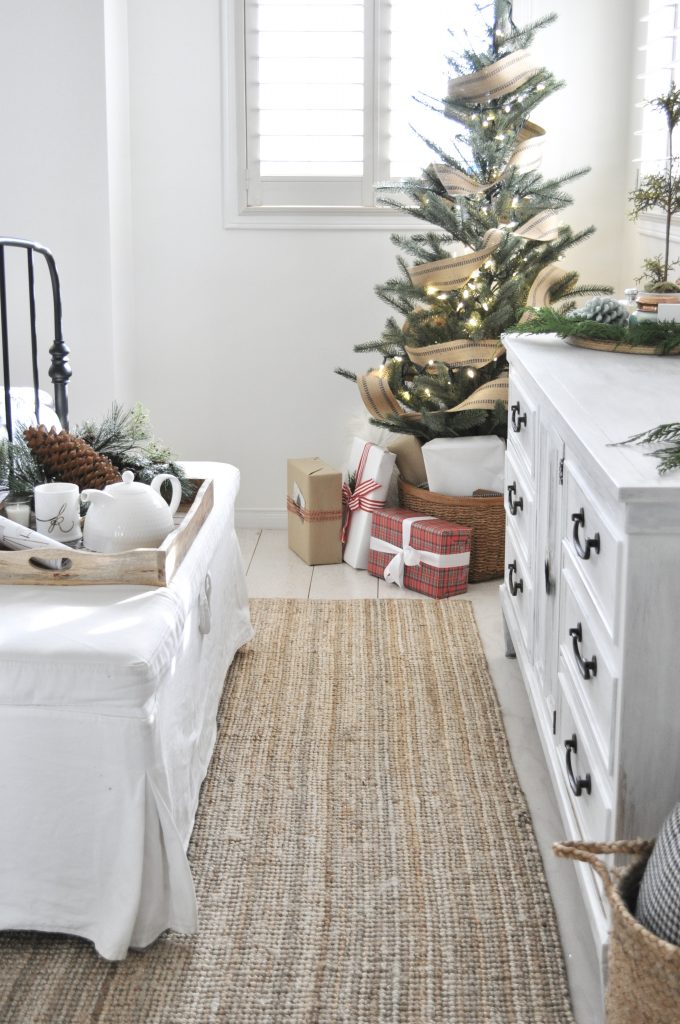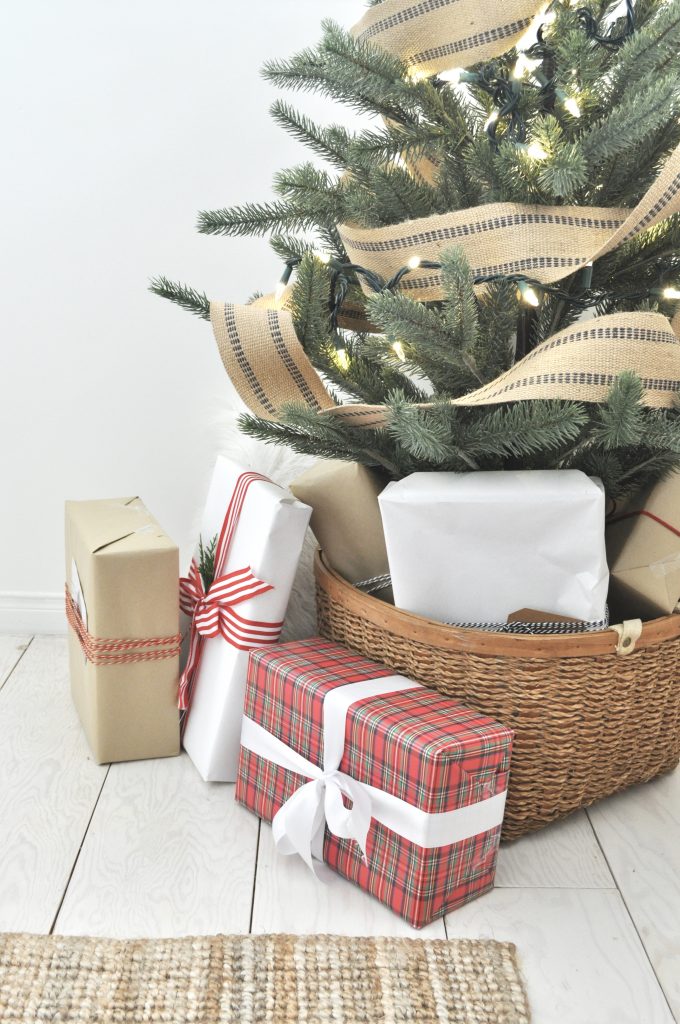 The guest room is all ready for my daughter and son in law when they come to visit for the holidays!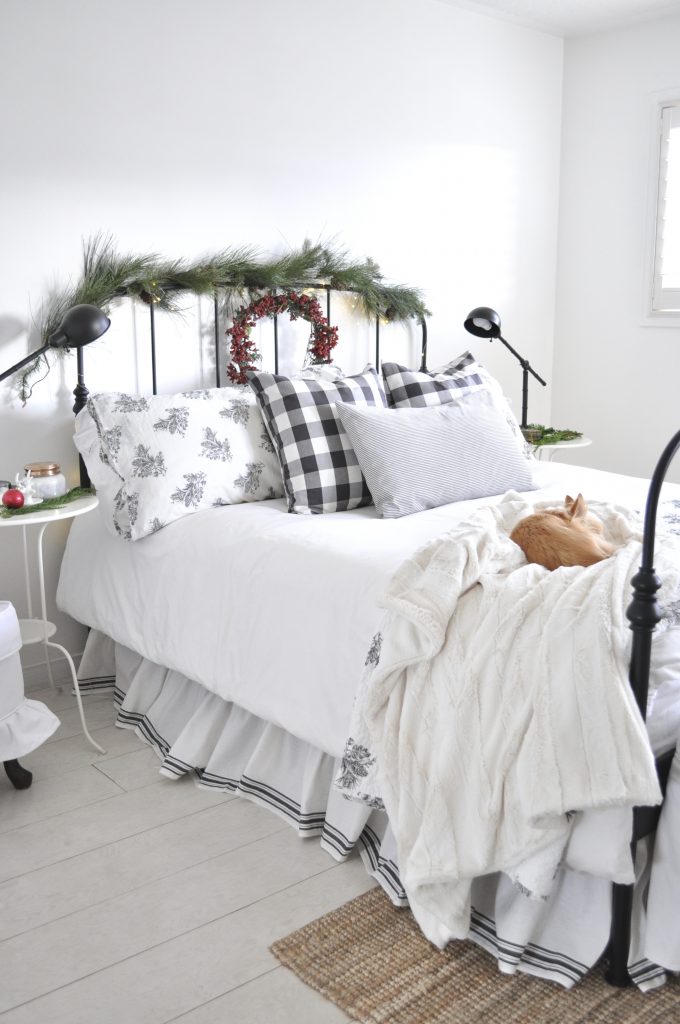 From there, we'll move into the breakfast nook. On Christmas day, we start off with mimosas in champagne flutes and brunch. We usually have scrambled eggs, bacon and one of my faves, banana pancakes, along with a treat or two. My three daughters usually cook and I clean. It works out perfectly. The food is placed on platters and set on the counter in a buffet style and then we sit at our little table to enjoy. We usually fit the five of us around the table but now there are six counting our new son in law. We may have to move to the dining room now! The tablescape is easy and can be done the night before so that the morning is a little less hectic. It also means we can get to opening our gifts much sooner!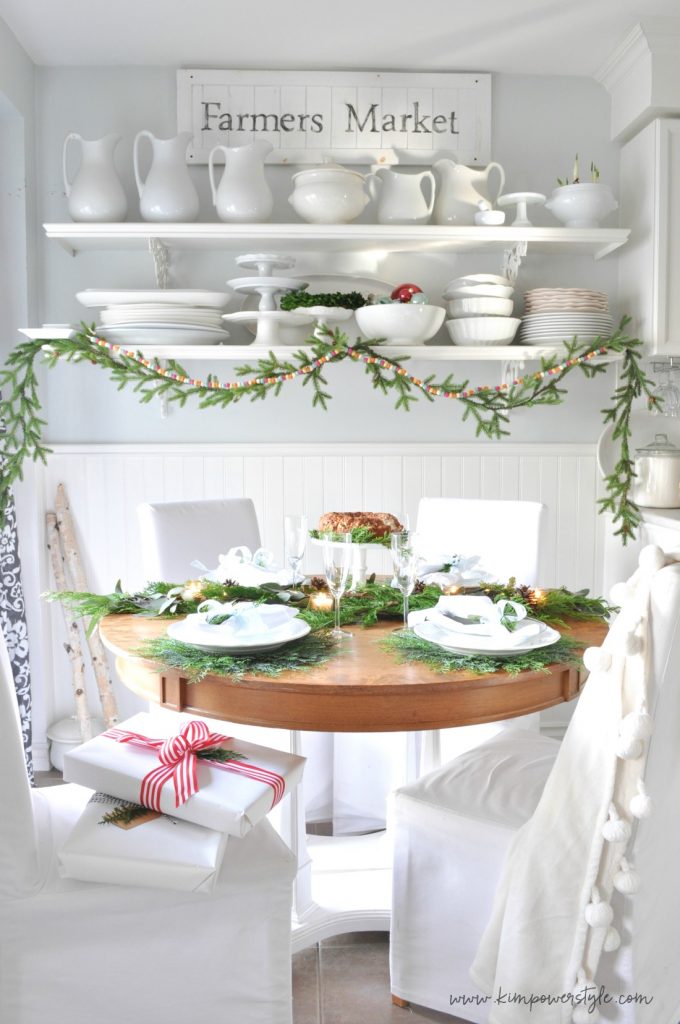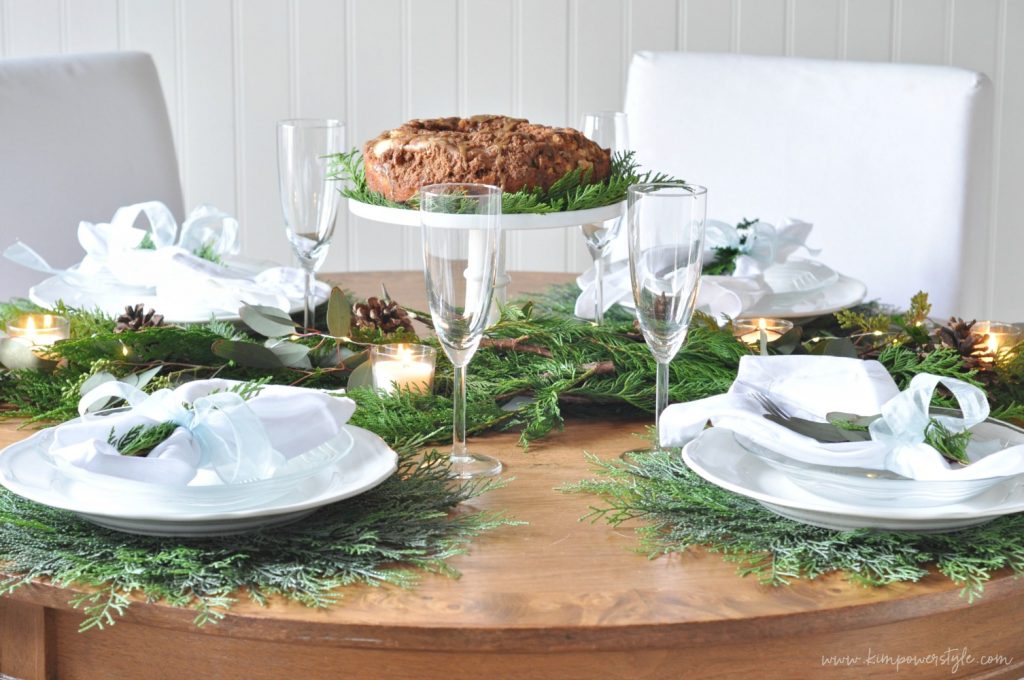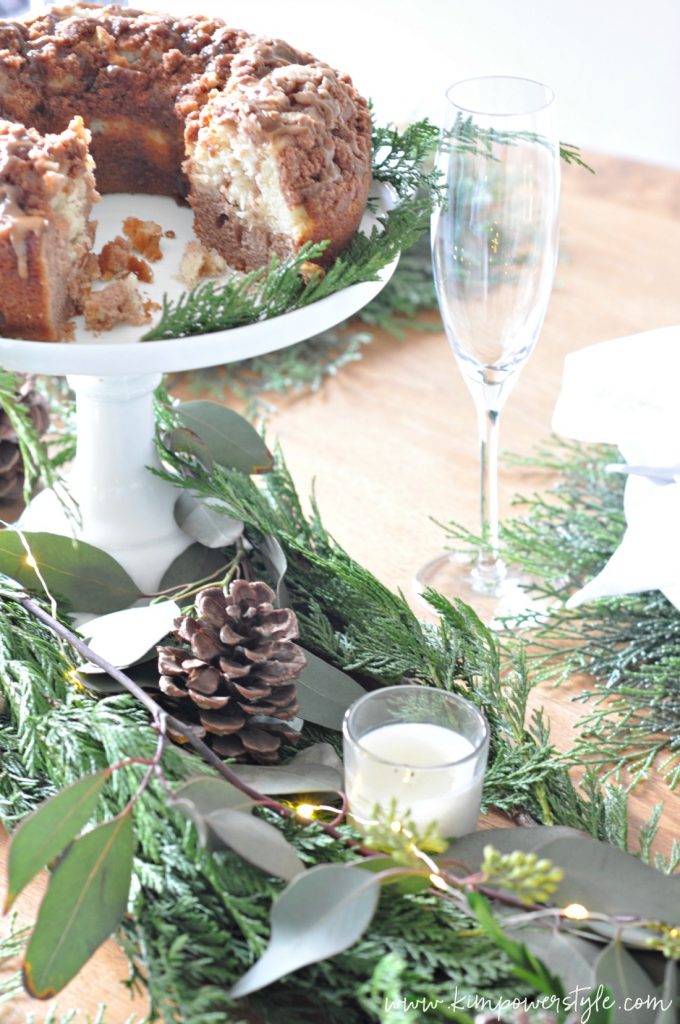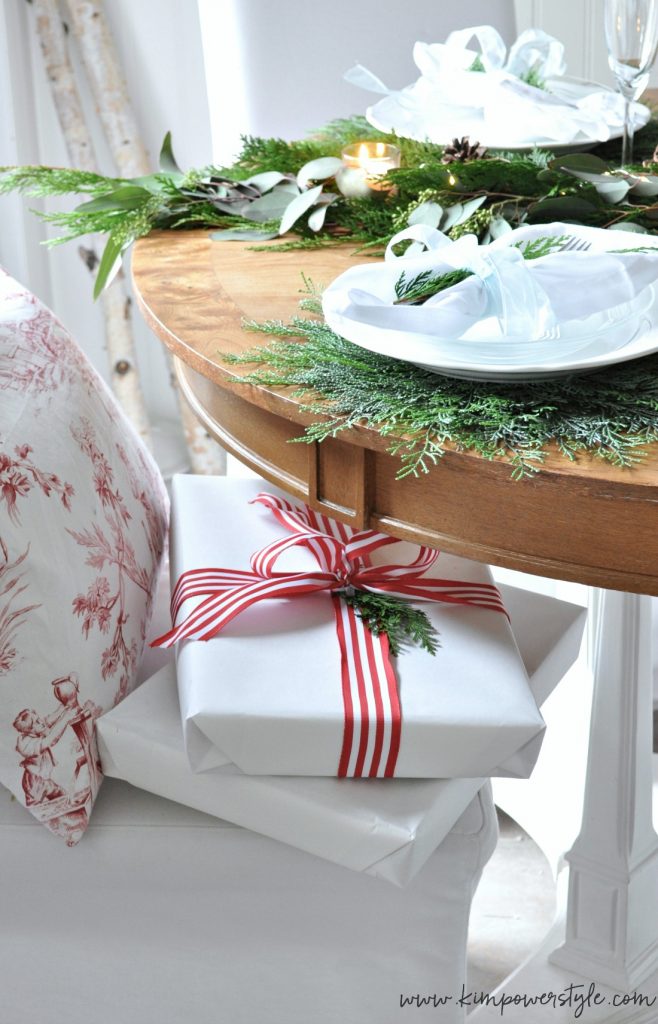 We wait until after breakfast to open our gifts, but sometimes somebody can't wait..thats usually me!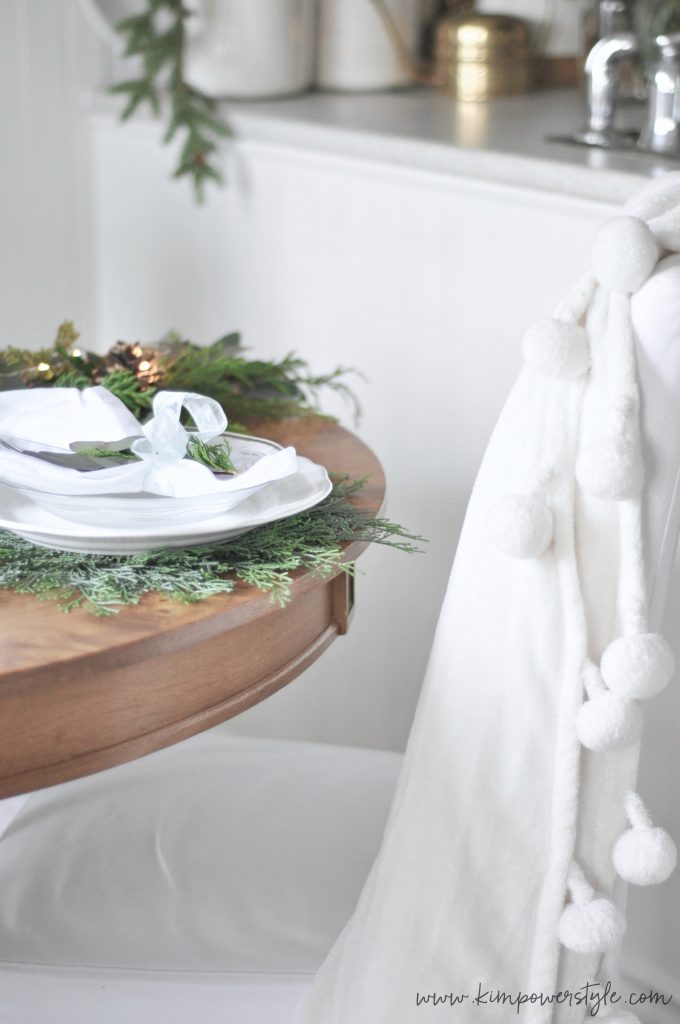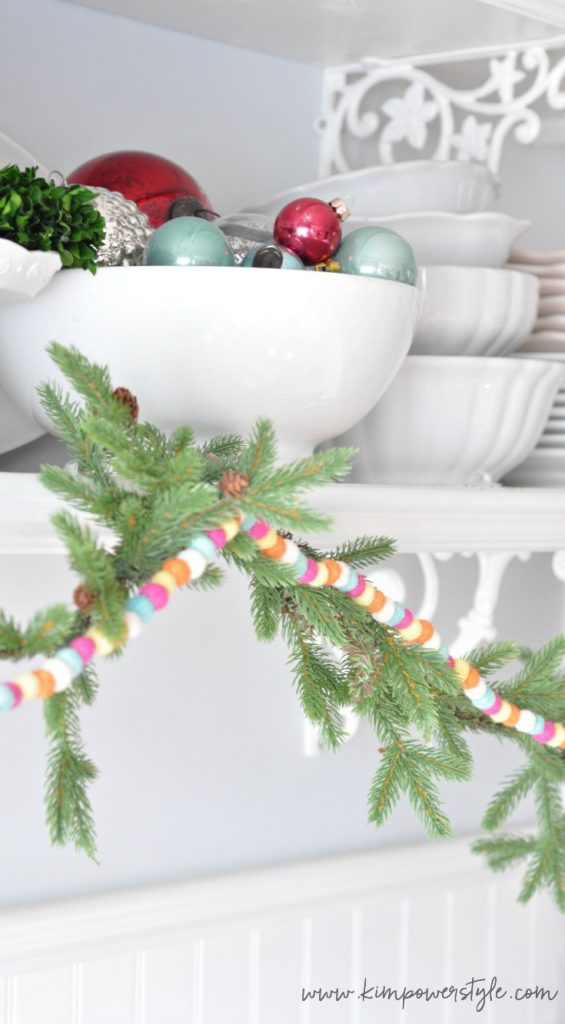 I loved adding a little colour and whimsy to  the shelves with these lovely ornaments and felt ball garland.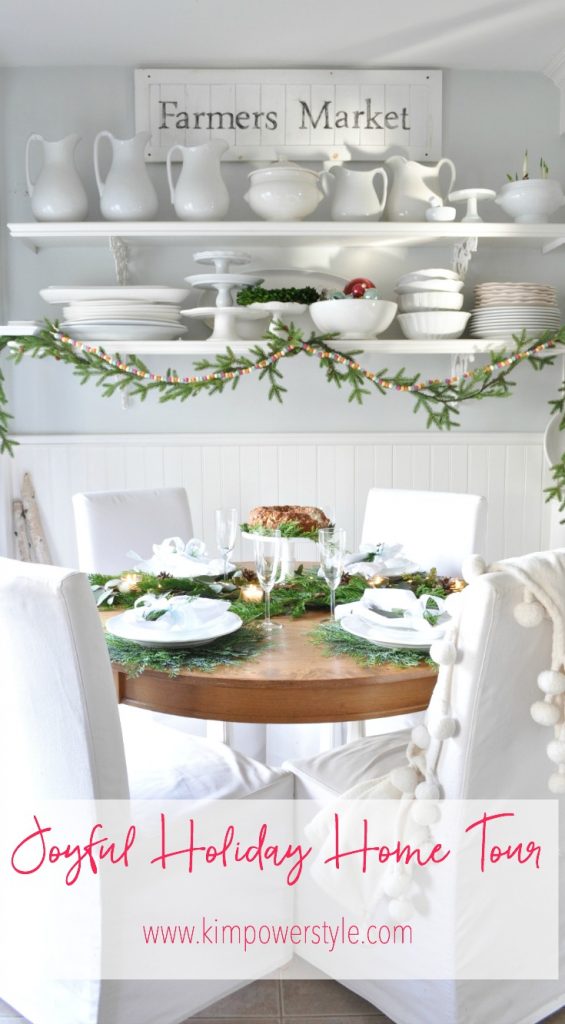 The next room on our tour is the living room. This is where we spend most of our time. It's small but I call it "cozy"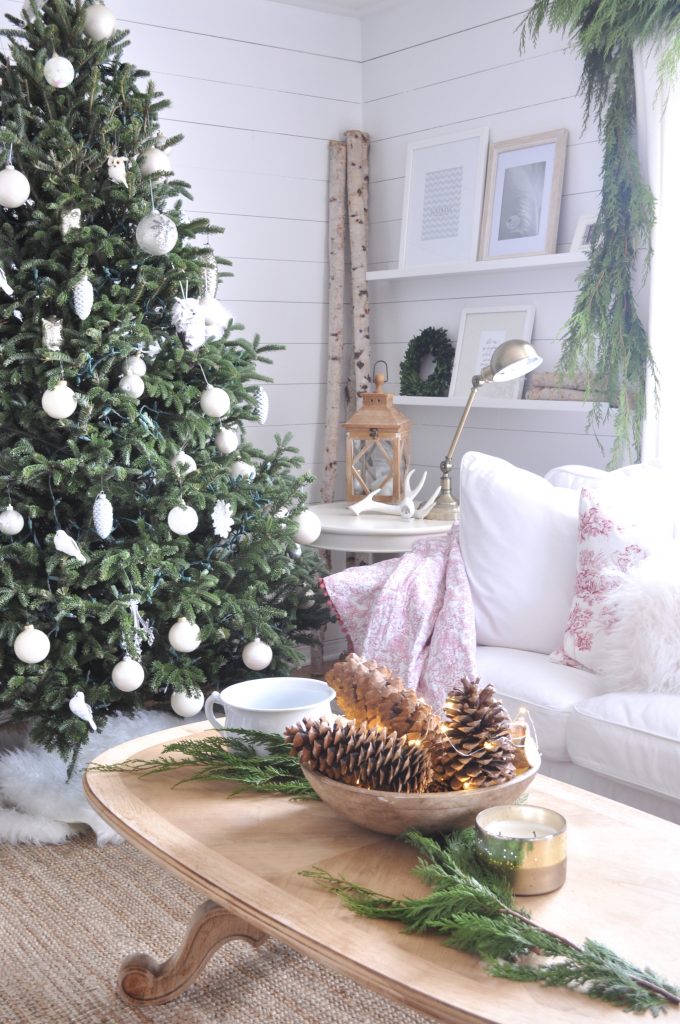 I found this toile fabric a few years ago at a garage sale and had used it as curtains in the past. But this year I made a number of pillow and bolster covers with it and I decorated around it. It's a pinky red so I drew out the pink and found this pinky pompom throw to go with it. I love my pretty in pink living room!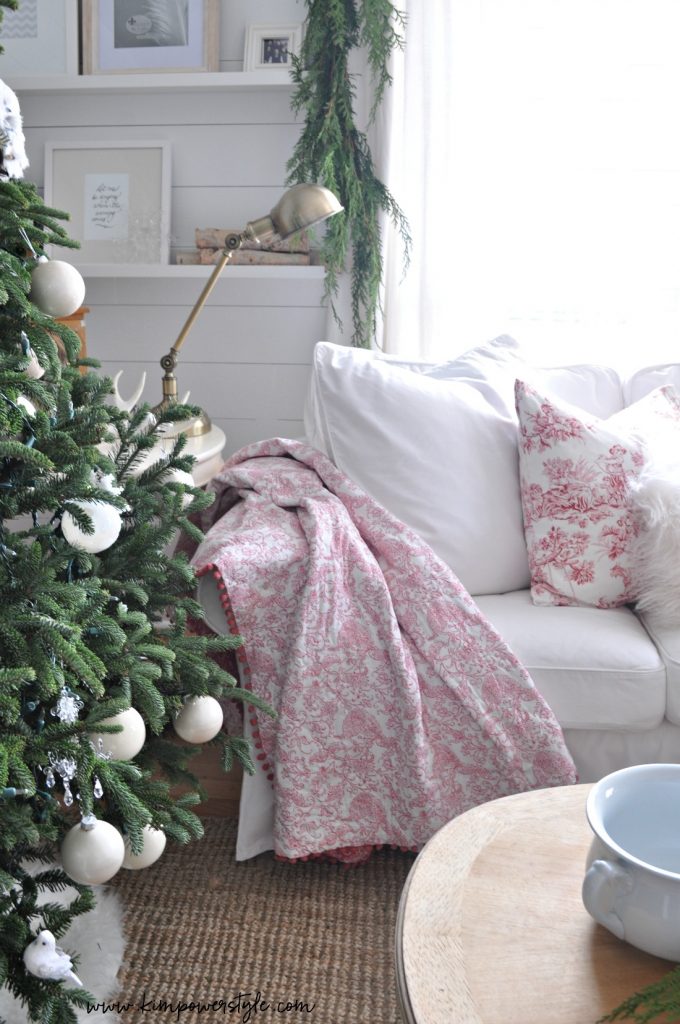 I used natural elements to decorate with. As stated before it's simple and easy but so festive with adding too much decor to my small space.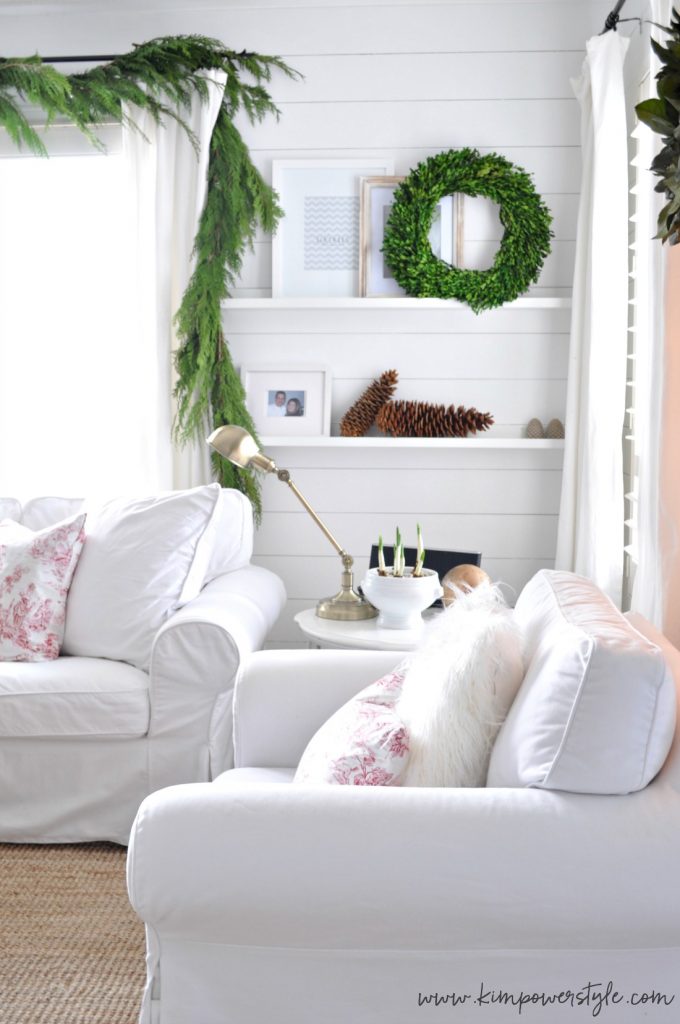 Thank you so much for joining me for Part 1 of the tour! Remember to stay tuned for Part 2 of my home tour when I share my master bedroom, dining room and more of the living room in the Canadian Bloggers Christmas HomeTour on Dec. 9th! The next person up on our tour is Rachel from The Porch Light Cottage.
Marci- Lemons to Lovelys
Jordan from JorDecor
Natalie from MyVintagePorch
Rachel from The Porch Light Cottage
Lisa from Farmhouse on Boone
Laura from Meaningful Spaces
Jennifer from Delightfully Noted
I'll be linking up to The Nester