Simple Spring Home Tour 2017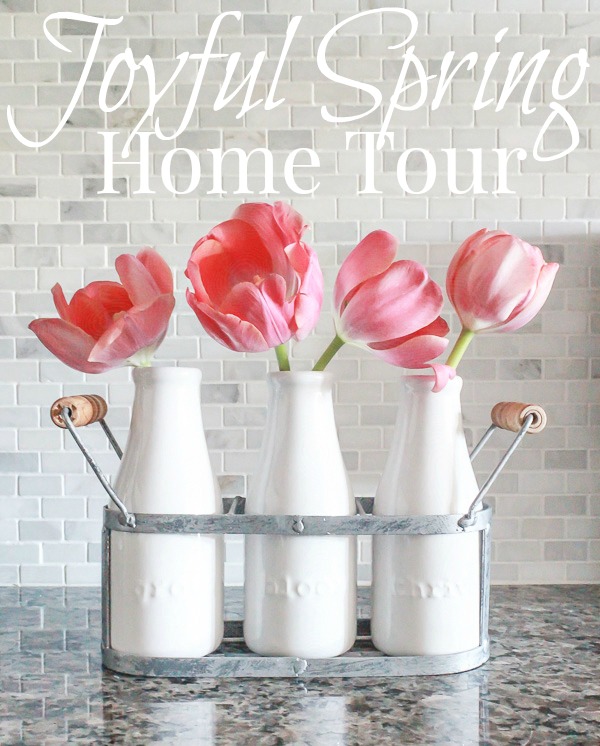 Thanks so much for joining along with me and fifteen other bloggers as we share our homes for the Joyful Spring Home Tour.  If you're coming from Haley at the  The MountainView Cottage welcome, Isn't that bedroom gorgeous? You can find links to all the bloggers at the bottom of this post where you'll find tons of  inspiration for your own homes. So grab a cup of something comforting, settle in for my simple spring home tour and enjoy.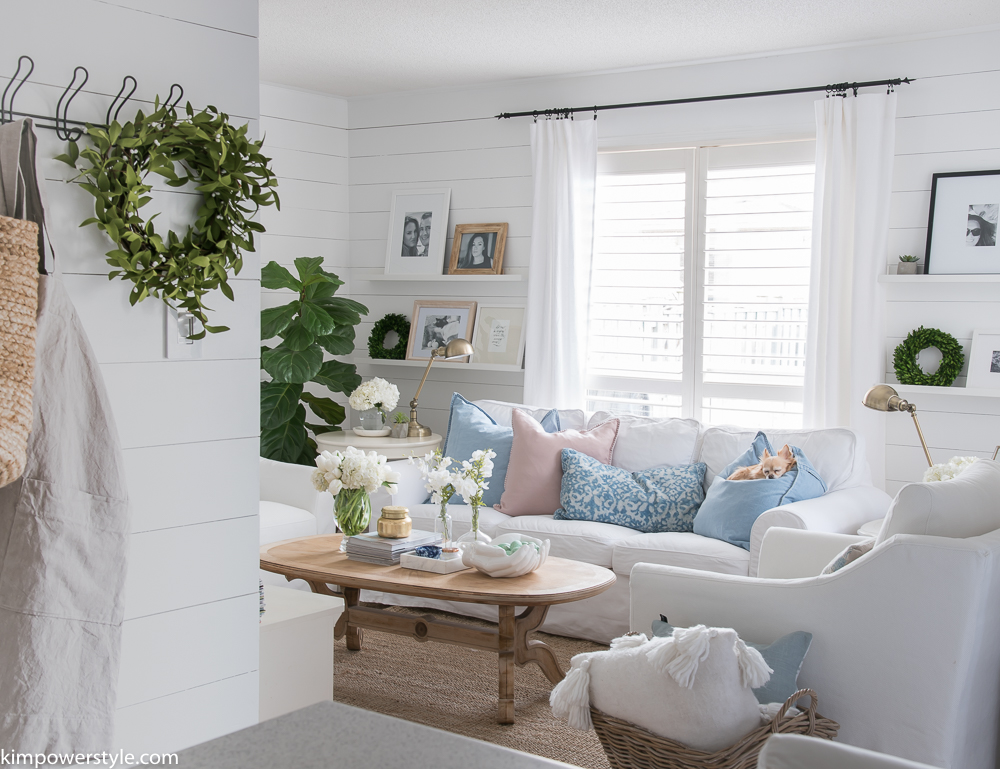 I'll be sharing my living room and breakfast nook this week for Part 1 of the tour and the following week I'll be sharing Part 2. I called it the simple spring home tour because changing out your decor for spring doesn't have to be difficult or expensive. I simply changed out my winter throw pillows for some more springlike colours and textures. Then I added some fresh and faux flowers as well as some greenery! It really can be that simple and easy.
You may find the odd pet hanging around but they come with the home!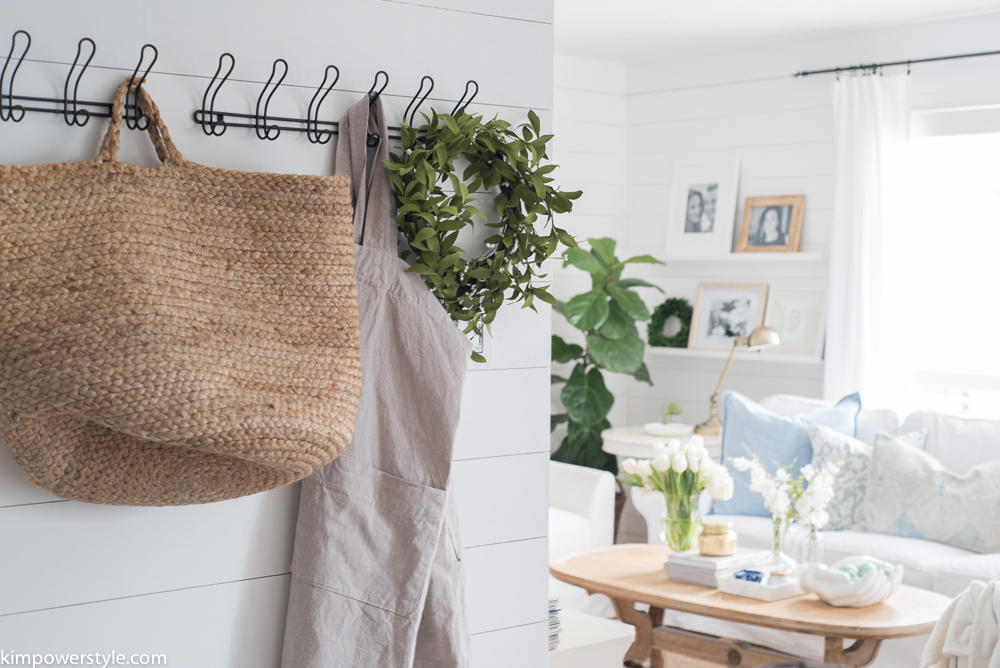 The shiplap off the kitchen here is new and I love it. I added these little coat hooks and it's a great place to hang your apron..and any odd wreaths you may want to hang up too! The wreaths  bring a great hit of green to the space making it feel fresh and springlike.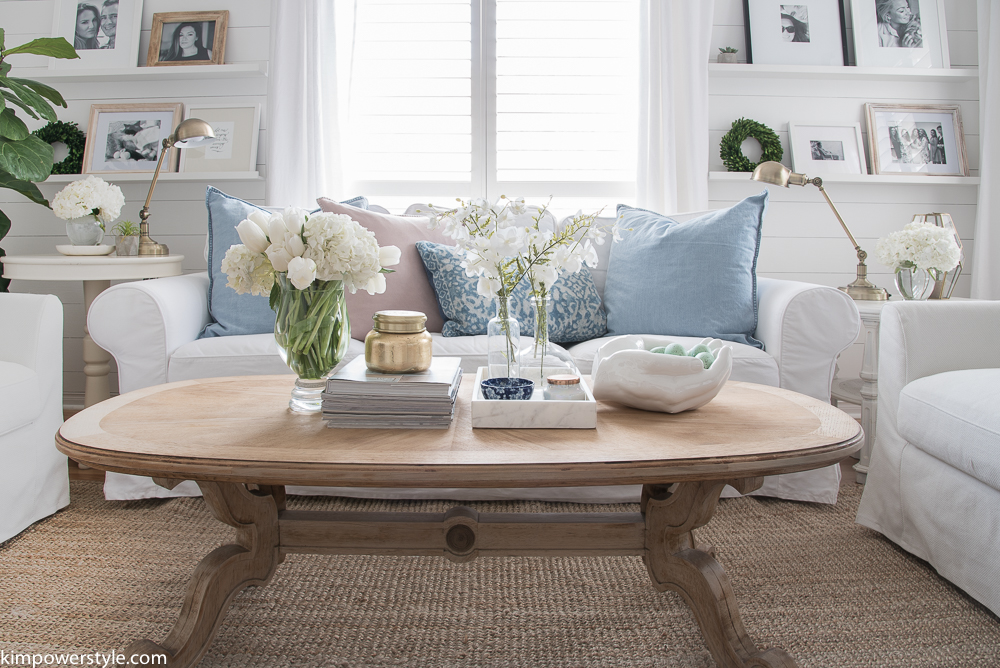 The coffee table was a thrift find and I stripped it down of all its old varnish to reveal this beauty! I think it's a one of a kind piece and it's added such warmth to the living room. I've layered it up with a few pieces as well as fresh and faux flowers. Nothing says spring like tulips and hydrangeas!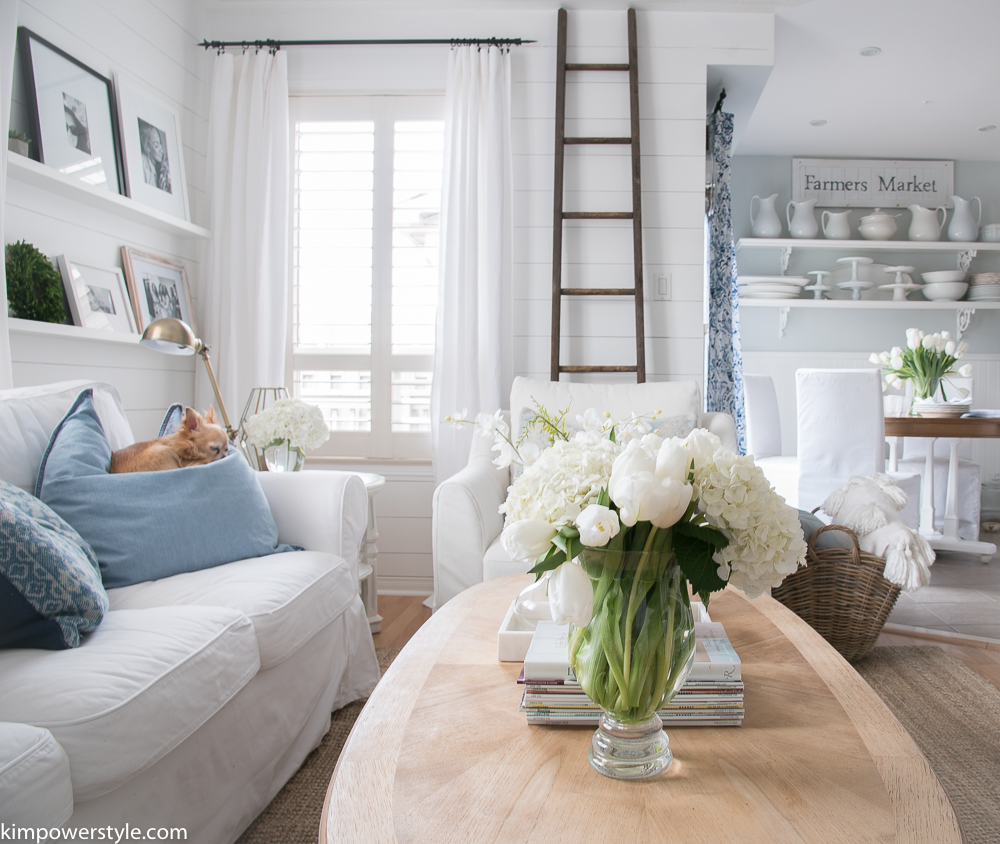 My home is pretty white and neutral so it makes it quite easy to change things up. Trading out the winter pillows for these beautiful blues and adding the flowers and greenery is all it's taken to spruce this room up for spring.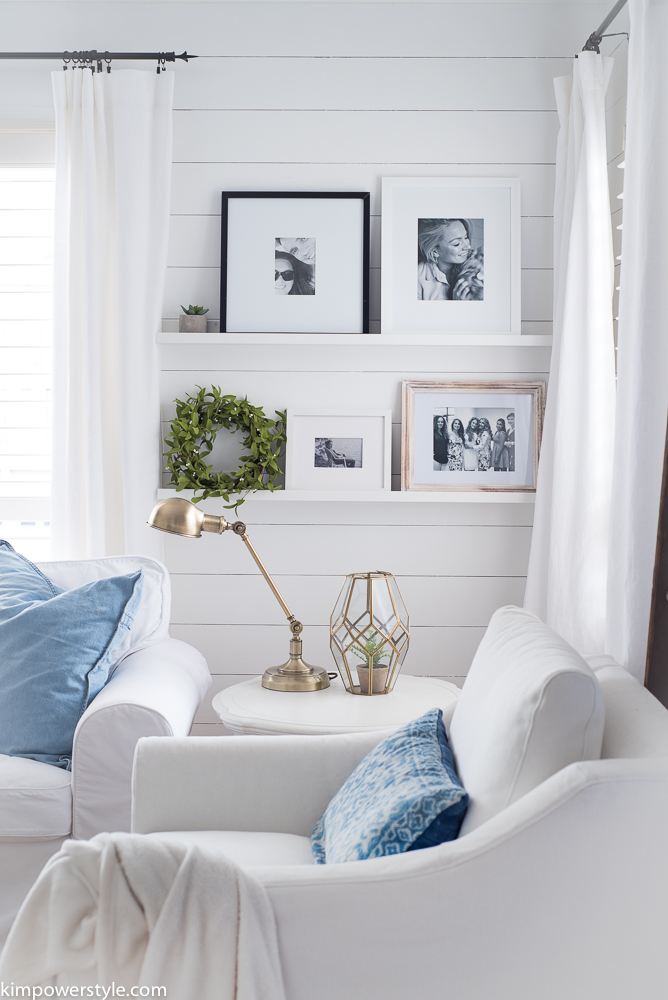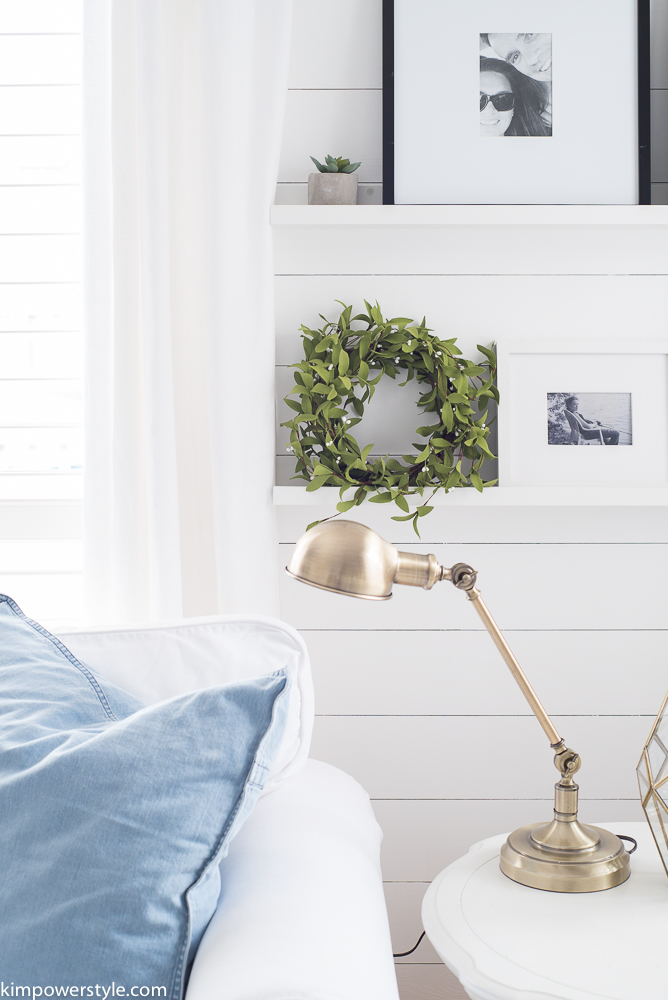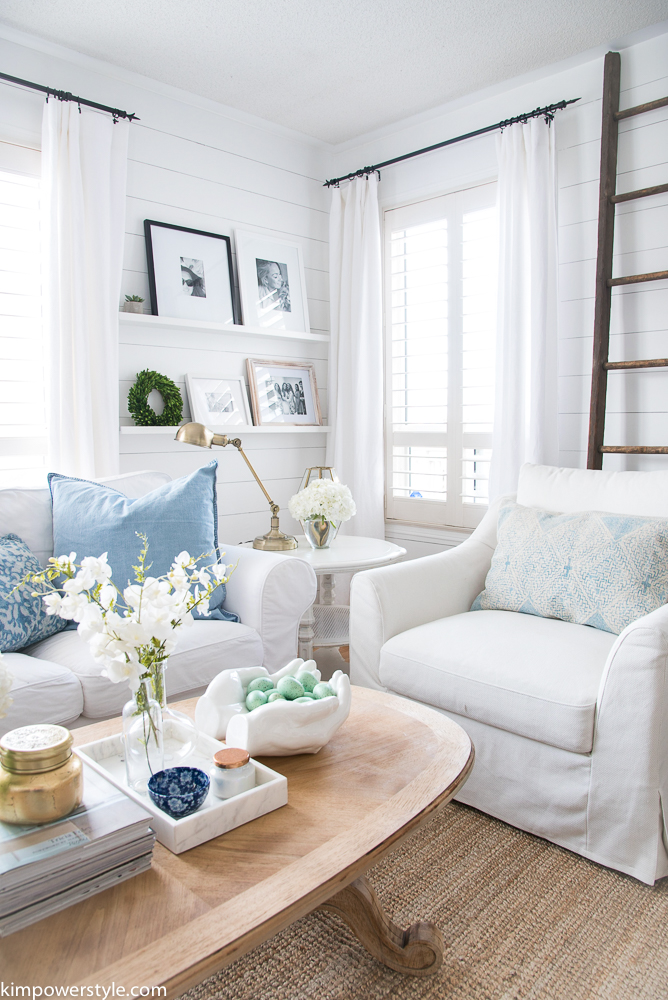 I kept it pretty simple but added a little whimsy to my mantel this year in the form of this bust. She has a hollow place in the top of her head where you can place plants. She now has a lovely asparagus fern for hair! I just call her "my lady". With the addition of these wooden bead "pearls" I'd say she looks pretty striking! Plants always make a space fresher.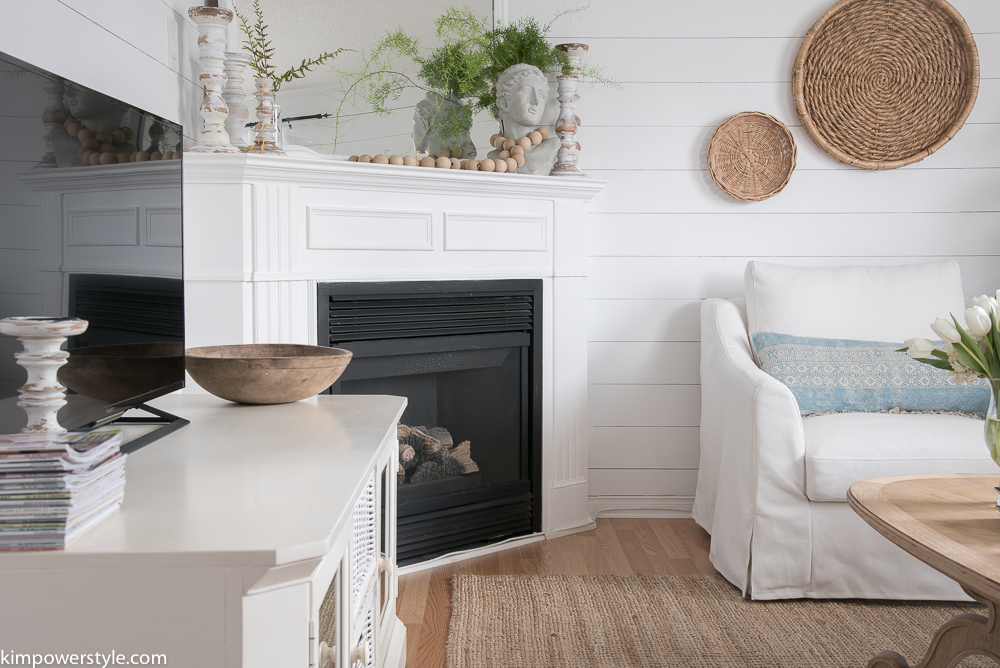 The gorgeous pillow on the chair was made by me from a throw rug, you can find the tutorial here. I love the colour blue and come spring you'll find it all throughout my home. It makes me think I live in a coastal cottage by the sea. The lake is actually down the street, so I'm not that far off… a girl can dream right?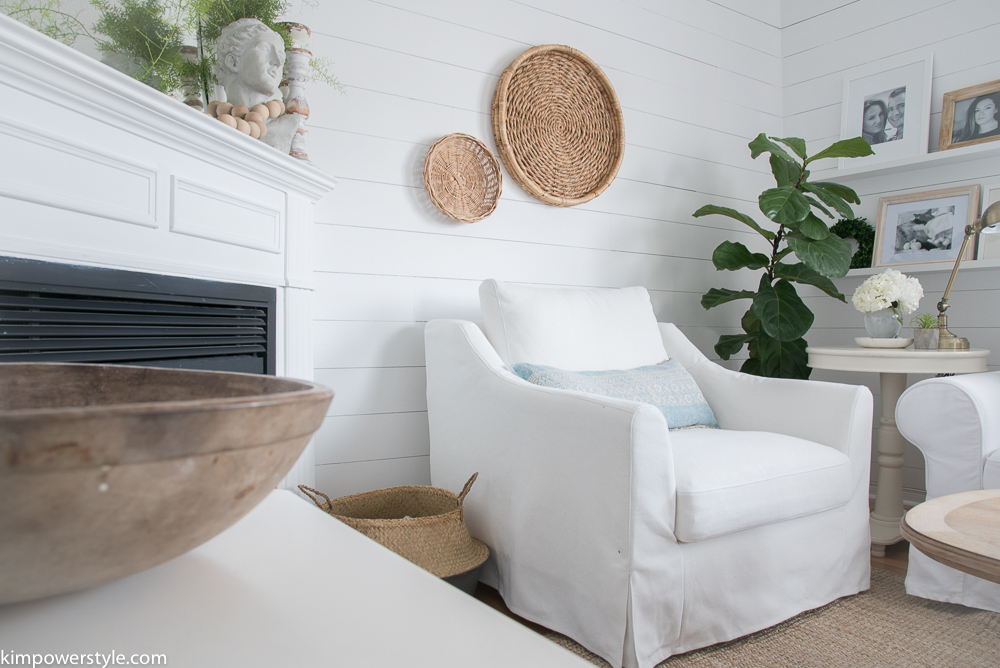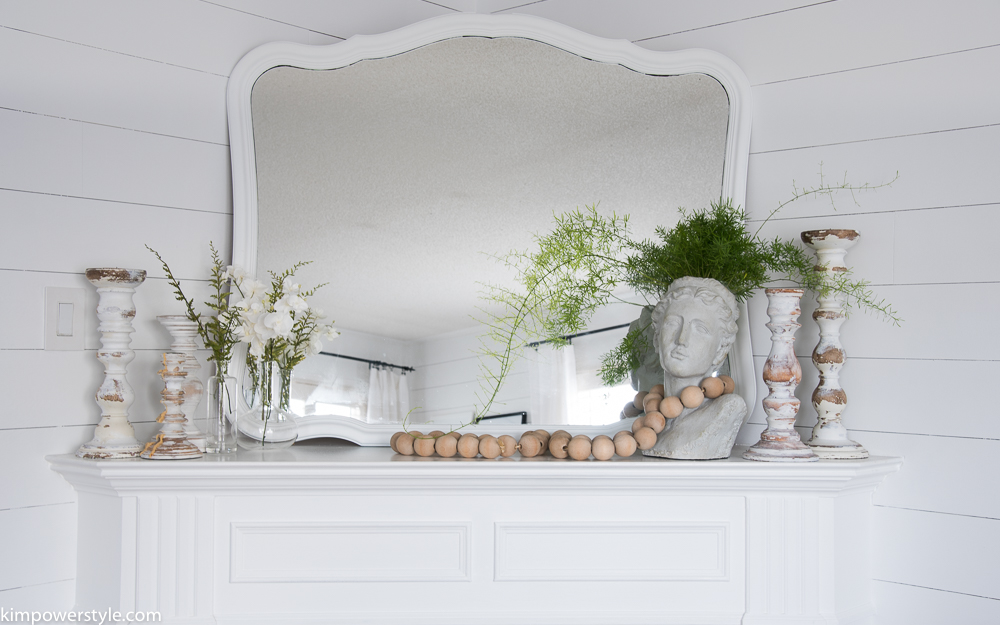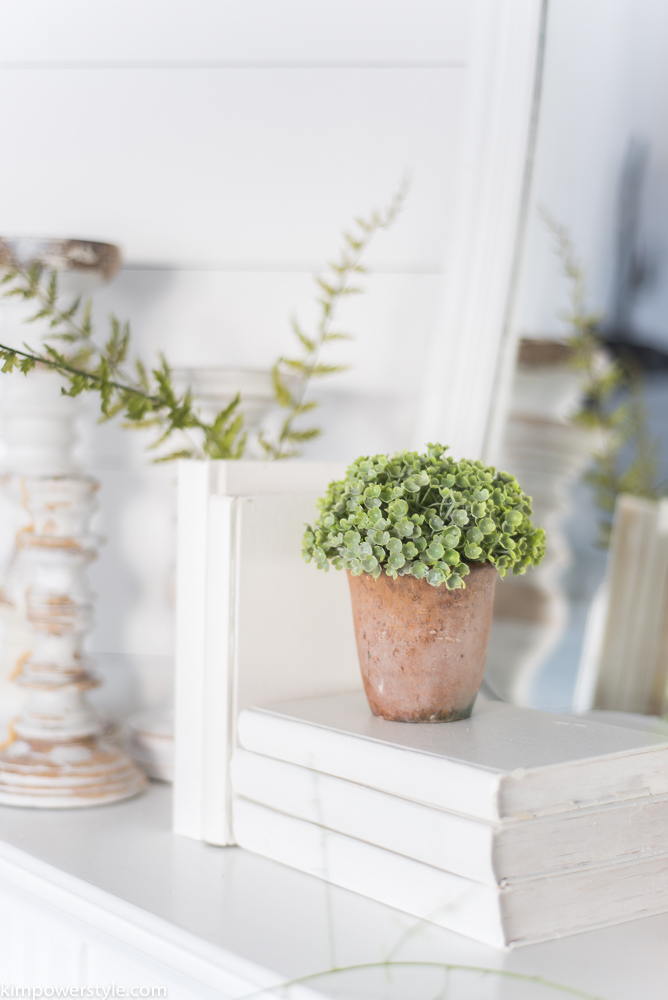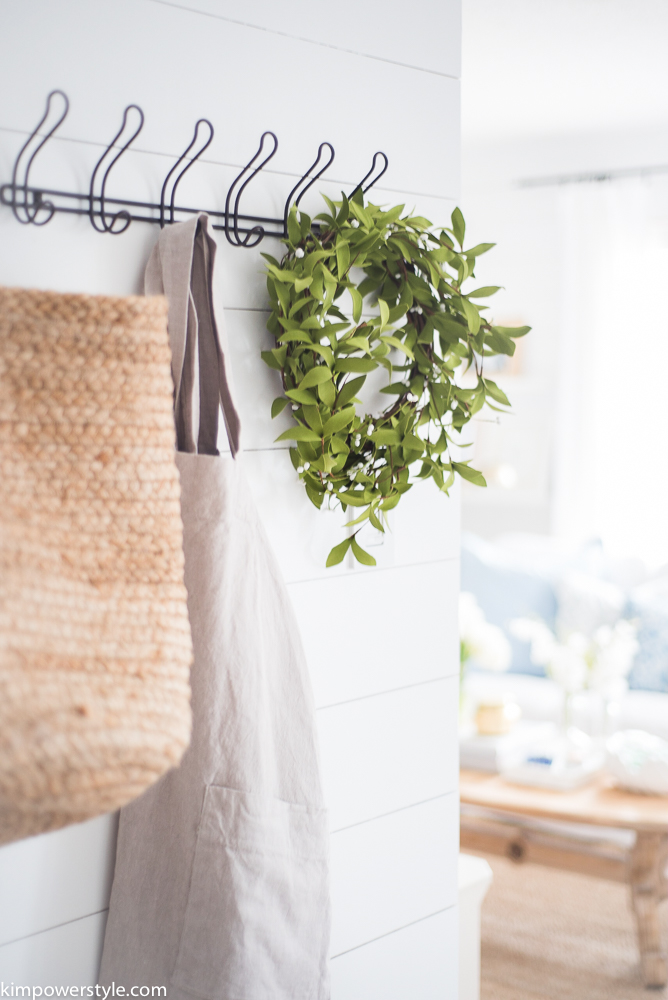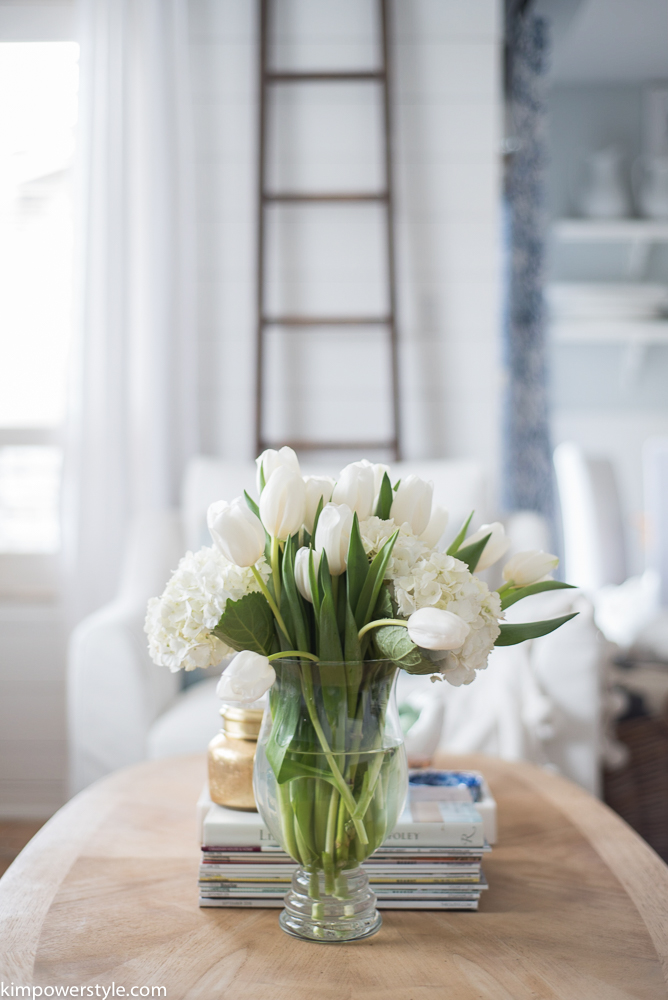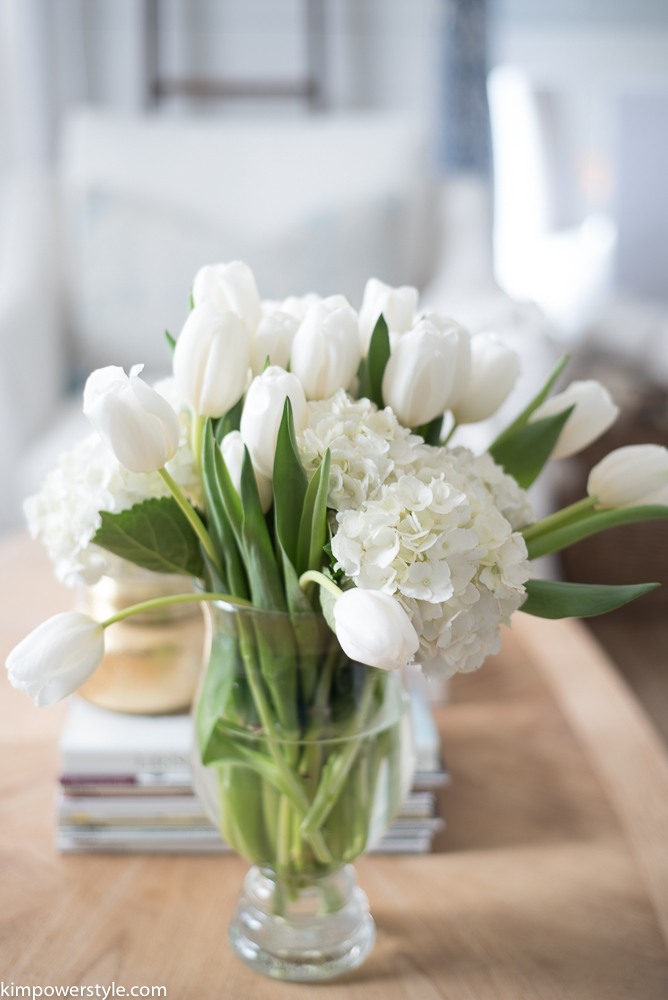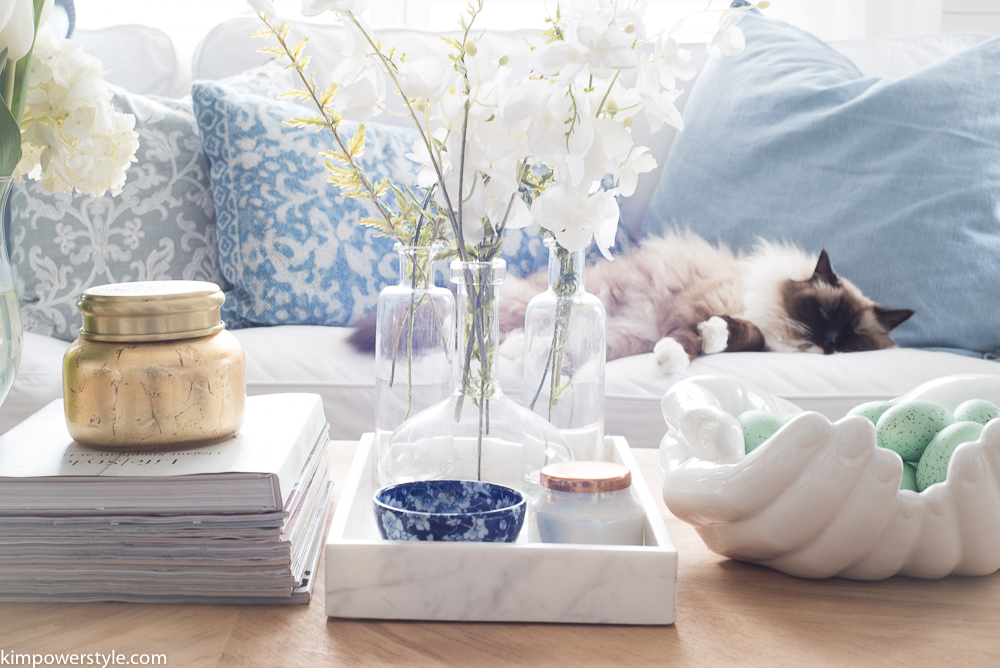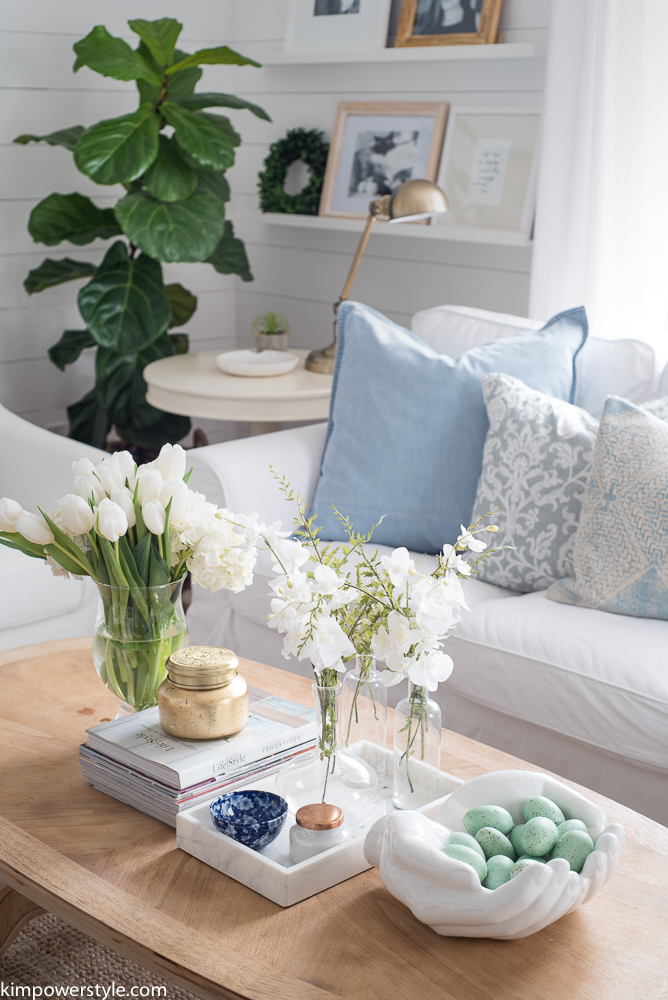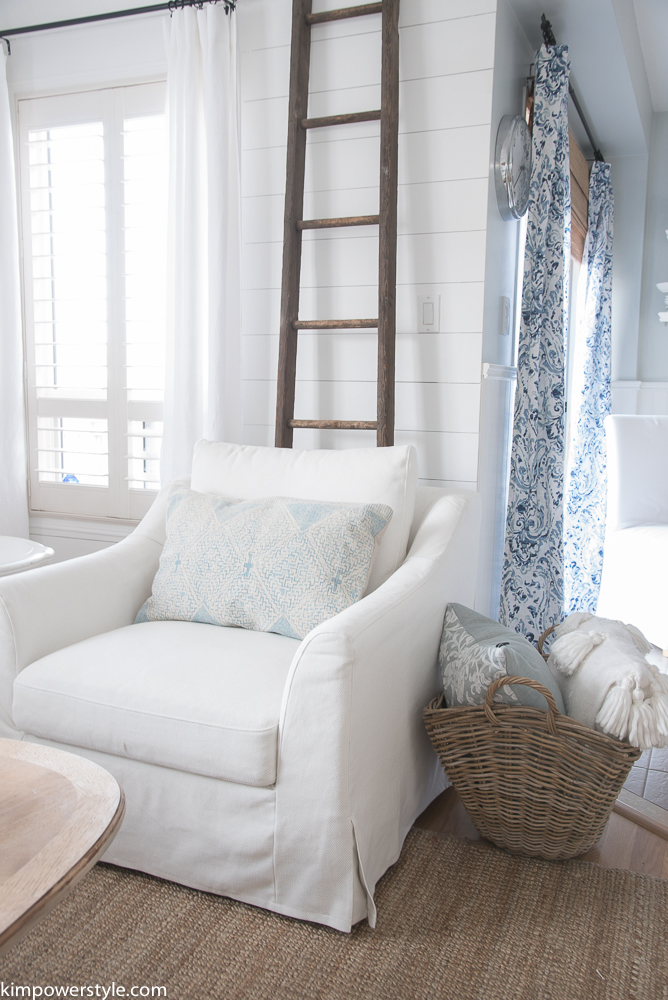 This is our little breakfast nook. Other than changing out the curtains to spring/summer ones, the only changes I made in here were to add these tulips. Once the tulips are gone, I'll add a plant or some faux greenery to keep it looking fresh. All pretty simple touches that make a big impact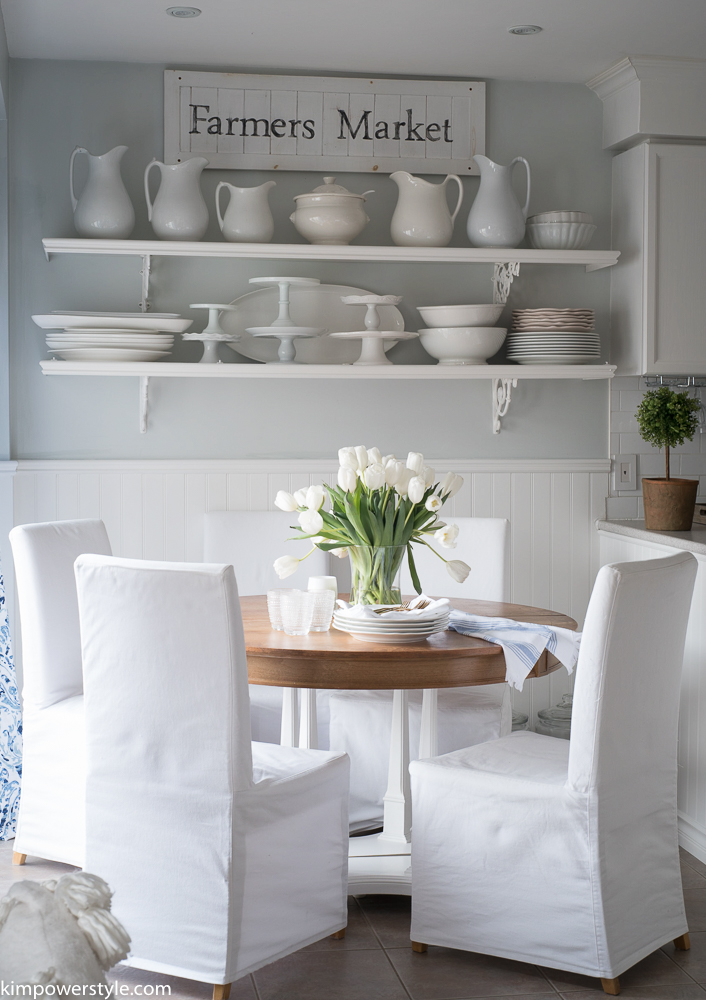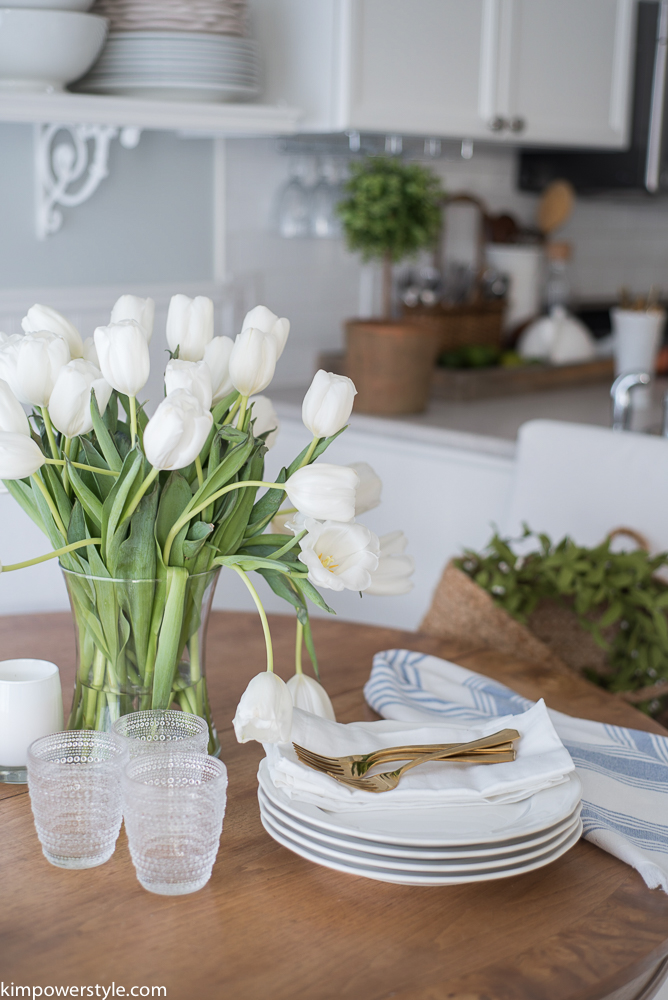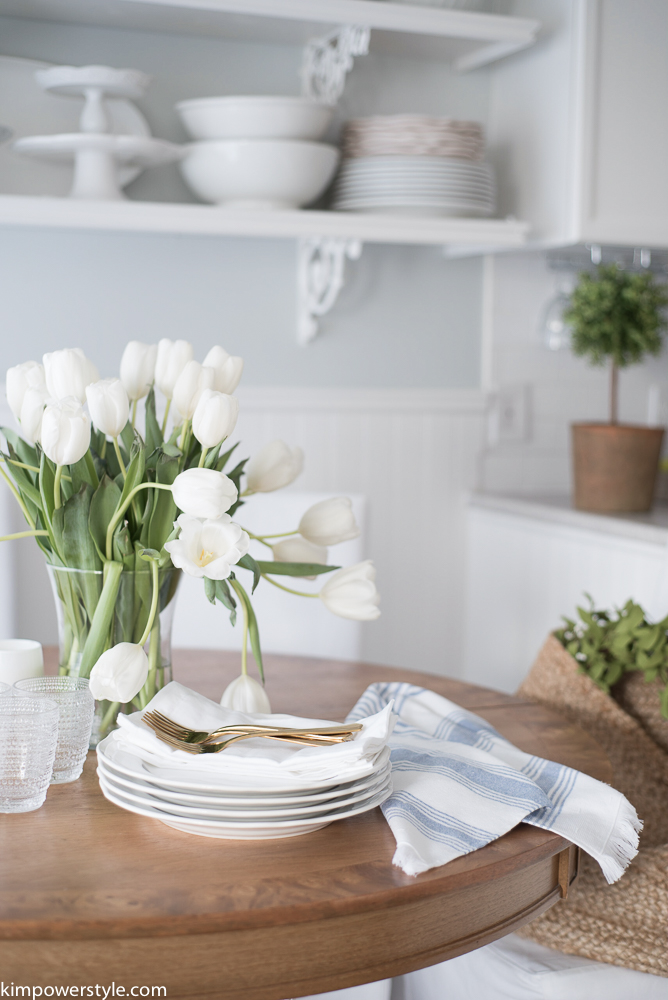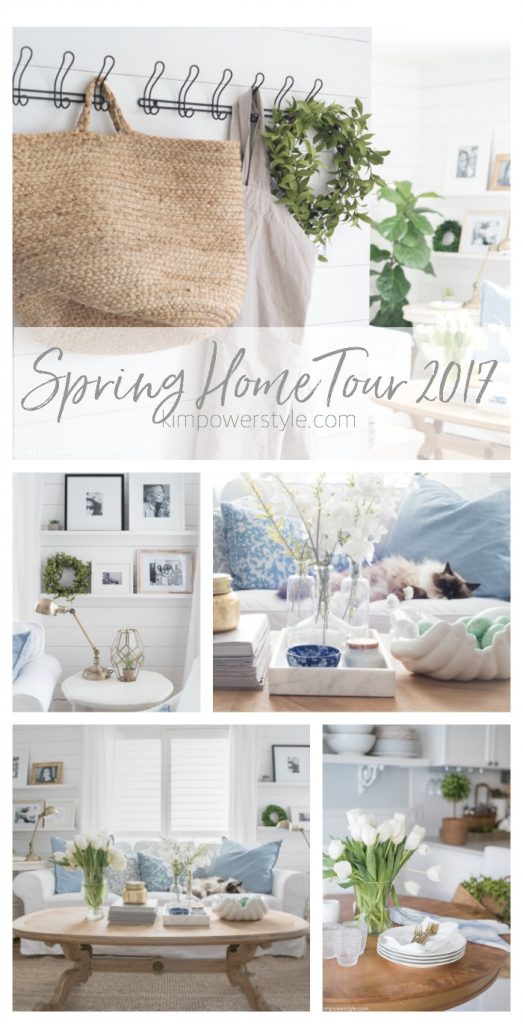 Thanks so much for dropping by! Don't forget to join me again next week for Part 2 of my spring home tour.. be sure to subscribe and it will be sent directly to your inbox!
Please follow the links below to continue on with this tour, there is so much more to see!
Tour Schedule
Monday March 13
Maison de Pax | Lemons to Lovelys | TIDBITS | Belle Amour Blog
Tuesday March 14
The Mountain View Cottage | Kim Power Style | Meaningful Spaces | My Vintage Porch
Wednesday March 15
The Porch Light Cottage | White Lane Decor | Delightfully Noted
March 16