Hello and welcome to a Valentine's Day blog hop. I'm joining together with some great friends to share everything Valentine's day! I've paired up two of my favourite cakes, red velvet and cheesecake and will be offering up this recipe for a delicious and creamy, red velvet cheesecake Valentine's Day dessert. There will be links to follow the other participants and to see what they're sharing at the end of the post, so be sure to check them out!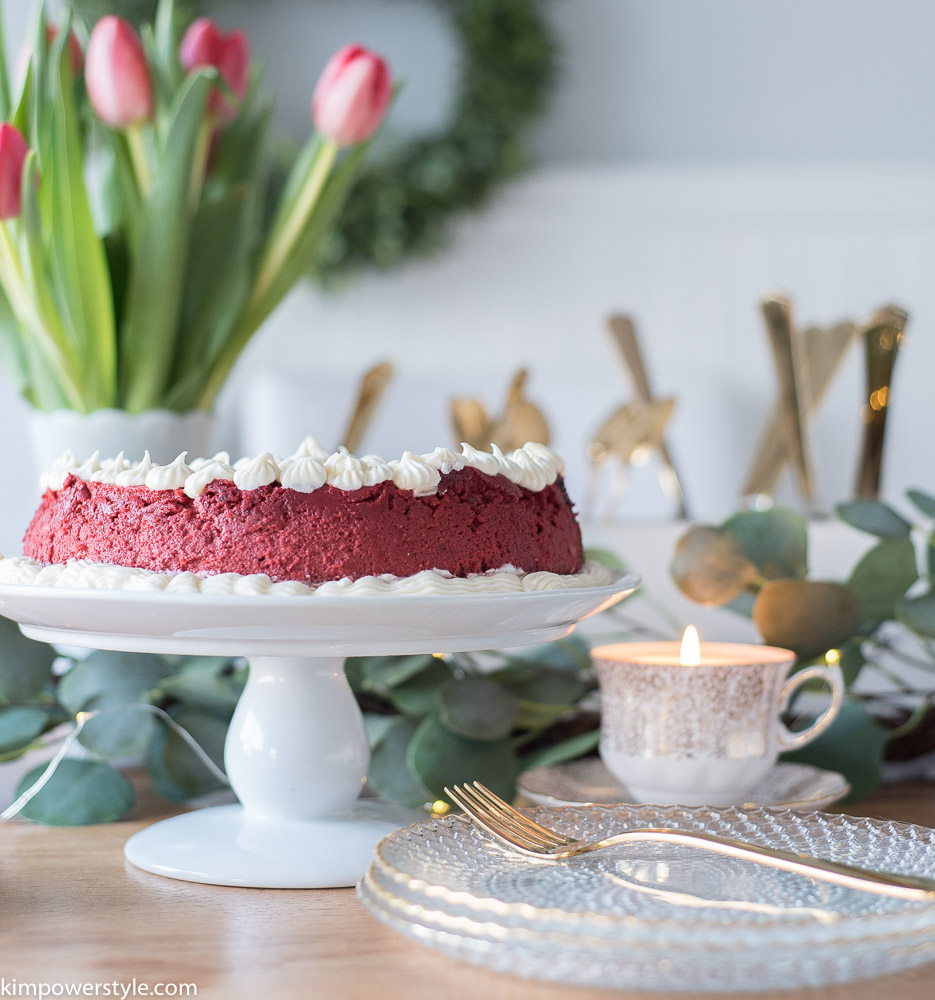 Valentine's Day happens to be my wedding anniversary so if the hubby and I are not away on a trip, we'll be going out for dinner. Having some lovely desserts waiting at home to share makes the occasion a little more festive…and it's a great excuse to indulge in some sweets!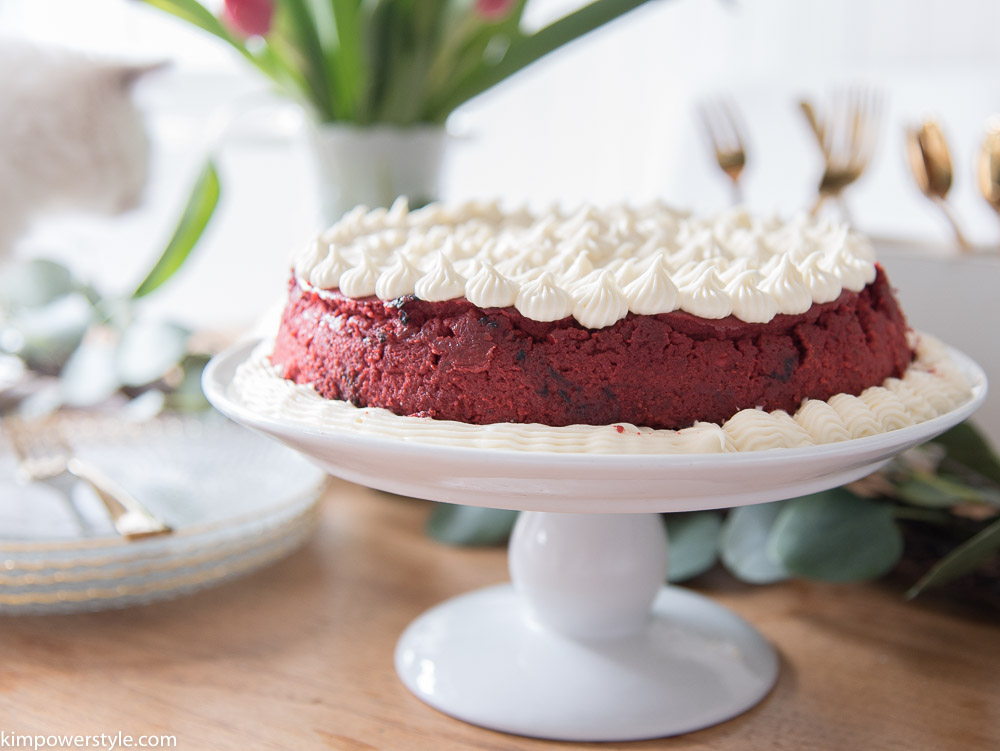 This is a newer recipe for me as I usually make my red velvet cheesecake with actual red velvet cake mixed into the cheesecake and as the bottom layer. This red velvet cheesecake has less steps involved so I thought I would share an easier version. It has a chocolate crust with a delicious topping of cream cheese frosting piped on. It makes a perfect Valentine's Day dessert and should be made the day before it will be enjoyed.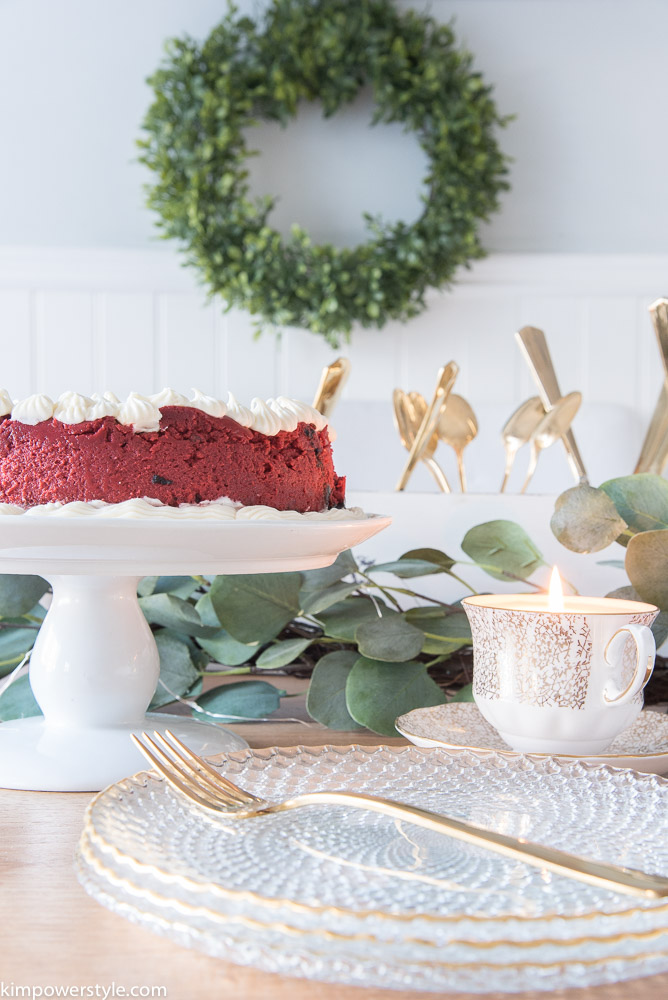 For the table setting I used my faux eucalyptus garland, some pretty gold flatware with gold rimmed dessert plates along with these pretty Tea Cup Candles. You can find a tutorial for the the Tea Cup Candles here.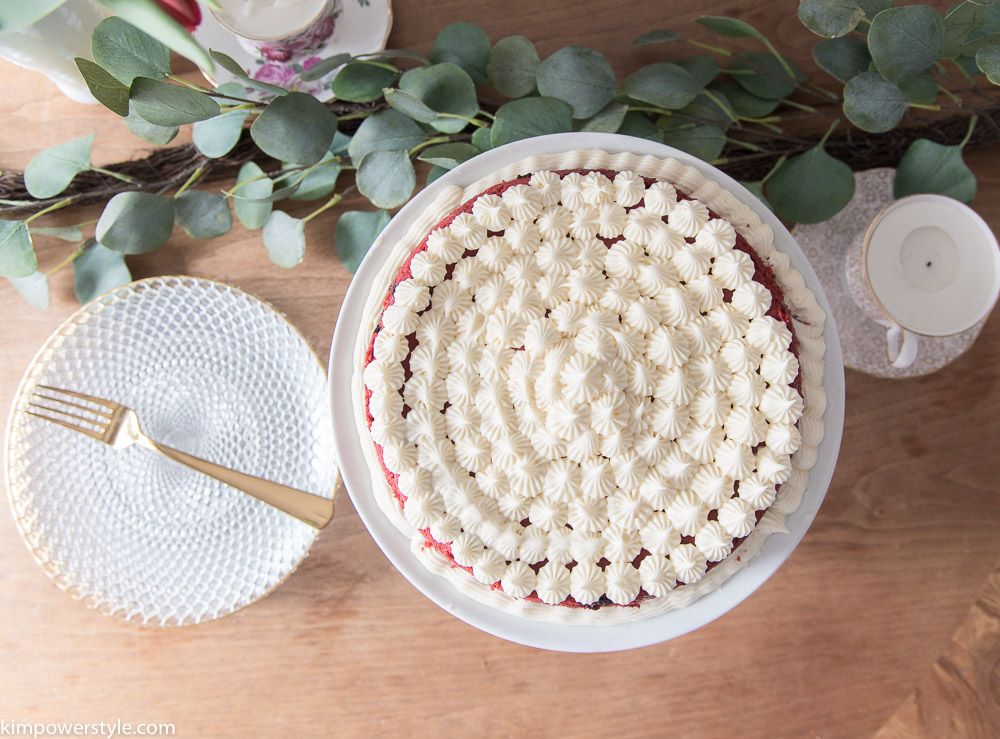 Red Velvet Cheesecake
Ingredients
1-1/2 cups of chocolate graham cracker crumbs
1/4 cup melted butter
1 tbsp. sugar
3 8 0z. packages of cream cheese
1-1/2 cups sugar
3 tbsp. unsweetened cocoa
4 large eggs, lightly beaten
1/2 cup whole buttermilk
1 cup sour cream
2 tsp. vanilla
red food colouring
1 8 oz. package of cream cheese
1/4 cup butter
2 cups icing sugar
1 tsp. vanilla
Directions
In a small bowl, mix together the chocolate graham cracker crumbs with 1/4 cup melted butter and 1 tbsp. sugar. Press into the bottom of a 9 inch springform pan.
Using a mixer, beat together 3 8 oz. packages of cream cheese with 1-1/2 cups of sugar until smooth. Add eggs, buttermilk, sour cream, cocoa and vanilla. Depending upon the kind of food colouring you're using, add enough to get the colour you're looking for. Mix together until combined. Don't over mix. Pour into prepared pan on top of chocolate graham cracker crumb crust.
Bake in a pre-heated oven at 325° for 1o minutes then reduce heat to 300° and bake for 1 hour 15 minutes or until centre is set and top appears dull.
Remove cake when done and turn off oven. Run a knife around the edge of the pan and place back in the oven for 30 minutes. Remove and let cool for an hour. Cover and refrigerate over night.
Remove the sides of the pan. Mix together the 8 oz package of cream cheese together with 1/4 cup of butter until fluffy. Add the icing sugar and vanilla and mix until smooth. You can pipe your icing on or just smooth it over the top. Enjoy!
For more amazing Valentine's Day inspiration, follow the links below. There are over 30 different Valentine's Day ideas to make, bake and create!
Blessings,
Kim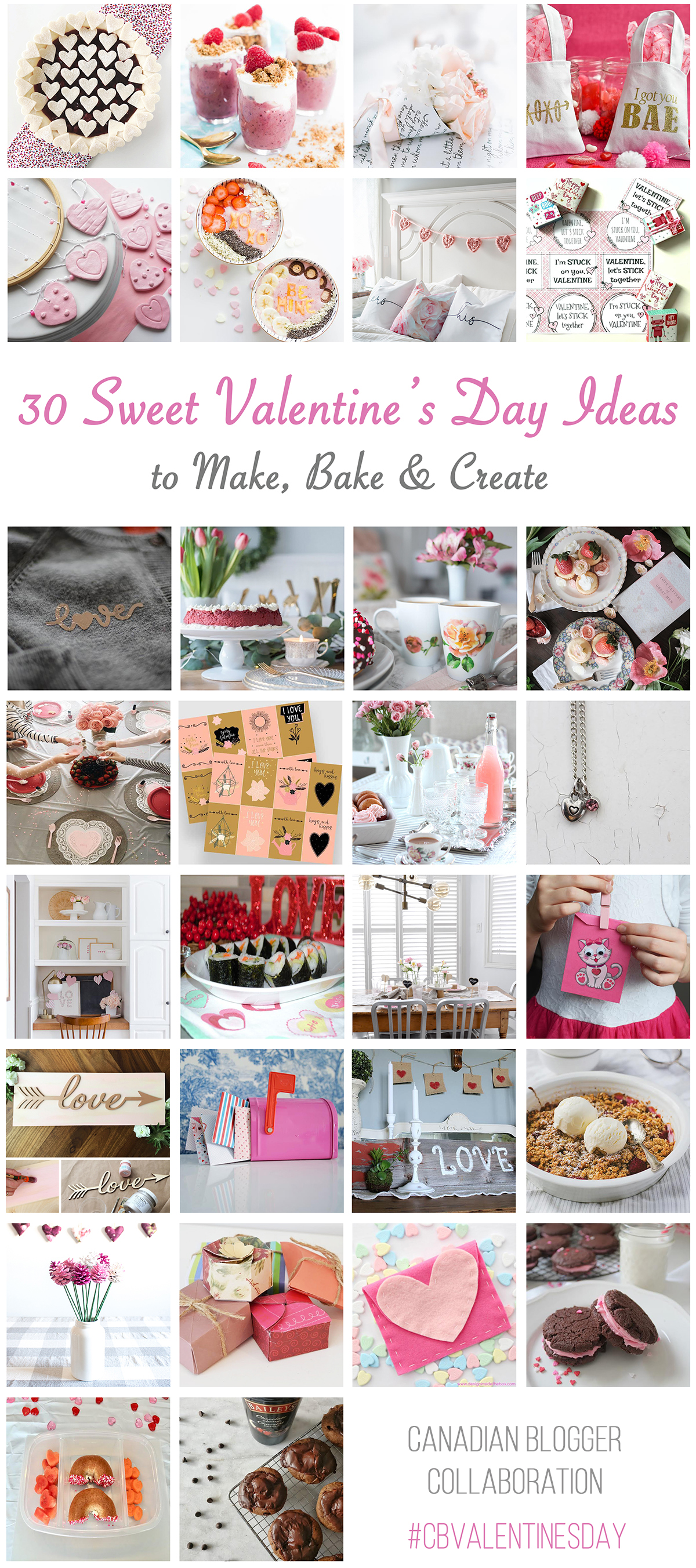 Valentine's Day Cherry Pie by Jo-Anna of A Pretty Life
Valentine's Triple Berry Breakfast Parfait by Joanna at Lazy Moms Blog
Valentine's Day Mini Bouquet with Printable Wrap by Lucy of Craftberry Bush
DIY Iron-On Mini Tote Bags for Galentine's Day by Joann of Woman in Real Life
DIY Clay Valentine Heart Wall Hanging by Jen of Kitchen Counter Chronicles
Valentine's Day Smoothie Bowl by Kristeena of Motherhood in Stilettos
Chunky Crochet Heart Banner by Christina of The DIY Mommy
'I'm Stuck On You Valentine' Free Printable by Chandra of HashtagBlessed Blog
DIY Love Tees by Colleen of Lemon Thistle
Red Velvet Cheesecake by Kim of Kim Power Style
Custom Floral Dishware DIY with Temporary Tattoos by Christine of Amidst the Chaos
Valentine's Day Keto Cheesecake by Thalita of The Learner Observer
How to Host a Mother/Daughter Galentine's by Kelsey of Kelsey Diane Blog
Free Printable Farmhouse Style Valentine's Day Cards by Shannon of AKA Design
GALentine's Day Tea Party by Shauna of Satori Design for Living
Valentine Heart Necklace by Christine of The DIY Dreamer
Simple Valentine's Day Decor by Alicia of A Burst of Beautiful
Valentine's Sushi Recipe by Stefania of From the Playpen
Valentine's Day Decor by Dannyelle of Life is a Party
Valentine Countdown for Kids by Heather of Raising Memories
Love Sign by Meagan of Row House Nest
Valentine's Day Kindness Countdown Calendar by Jen of Rambling Renovators
Rustic Valentine's Day Decor by Sarah of The Project Pile
Peach Raspberry Crisp by Brittany of My Daily Randomness
How to Make Pine Cone Roses by Jane & Sonja of Sustain My Craft Habit
Handmade Paper Gift Boxes by Jessica of The Vanderveen House
DIY Valentine's Day Pouch by Lidia of Design Inside the Box
Valentine Oreo Cookies by Kendra of Joy In Our Home
Valentine's Day Lunch Idea by Adriana of Chaos and Caffeine
Chocolate Cherries Baileys Cookies by Emily of daydreaming of elsewhere
—