Canada Day Celebrations and a Simple Summer Sangria!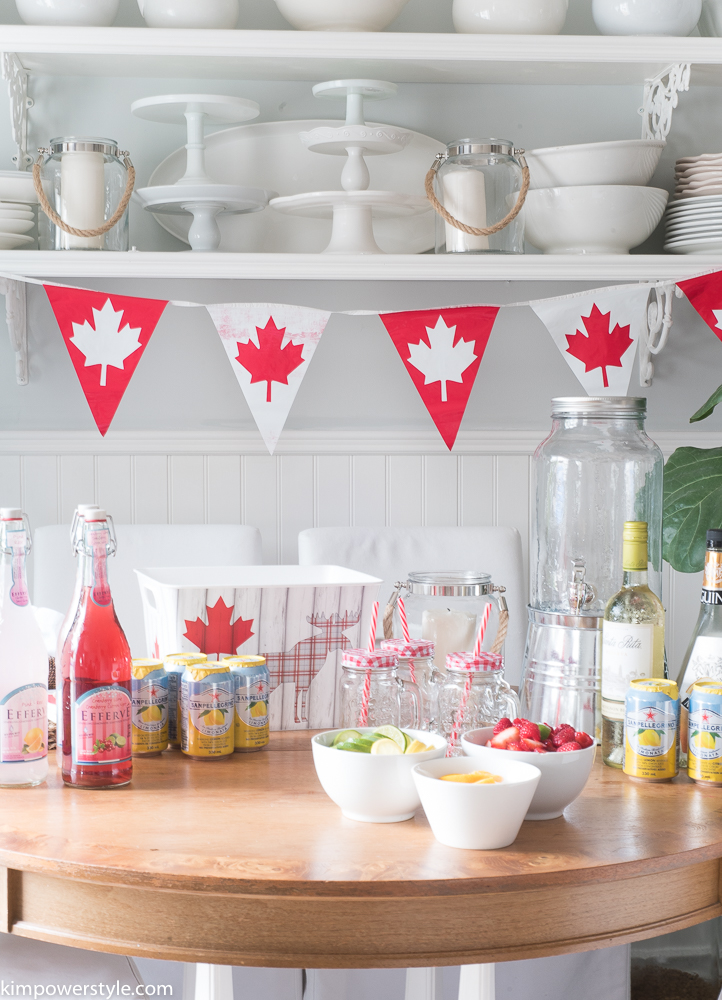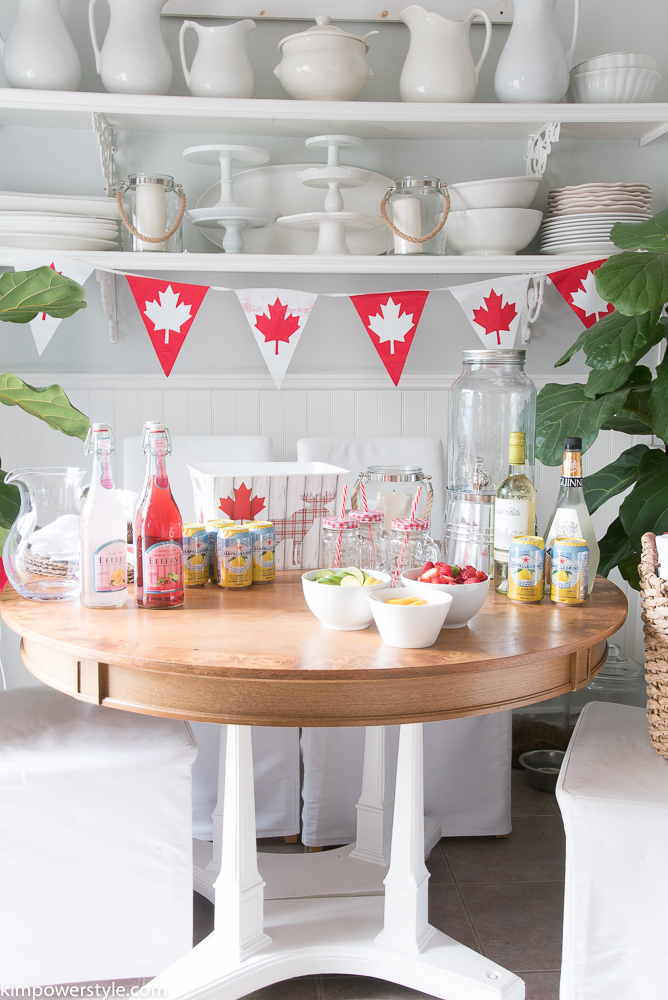 On July 1st, we Canadians will be celebrating Canada's 15oth birthday! So that means lots of Canada Day family and friend get togethers to celebrate this amazing country that we live in. There will definitely be a sense of national community happening across the nation. My little shore community already has flags outside our homes and some of the streets will be lined with tiny little maple leaf flags and lots of parties going on. You can check out my previous Canada Day Post here.  This fits right in with our #YearofFeasting as I, along with 5 other bloggers get intentional about opening up our hearts and homes and inviting others to feast together with us no matter the occasion.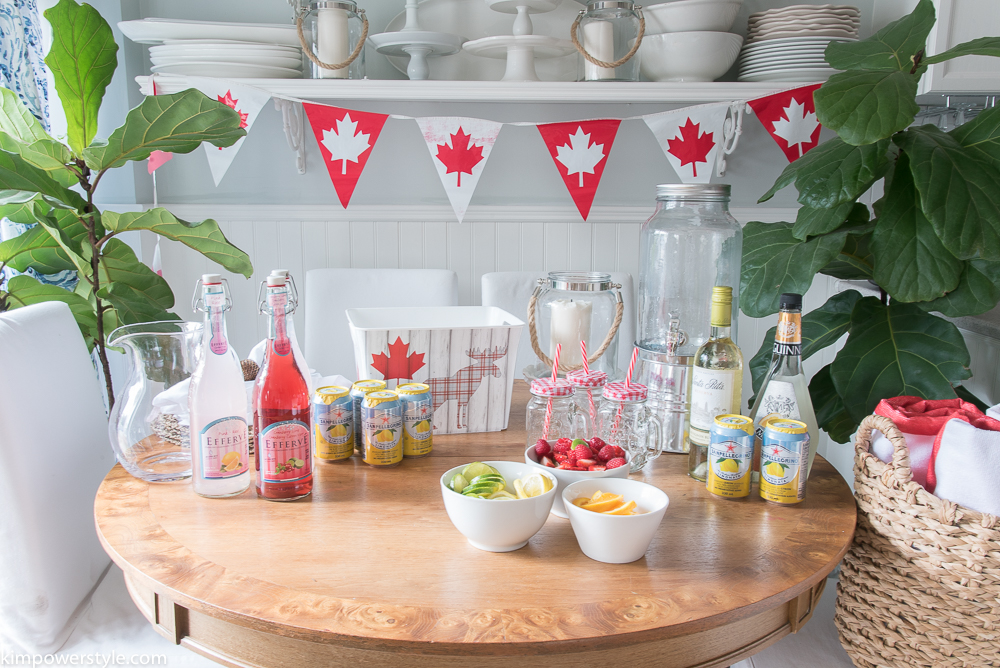 I love pot-luck get togethers where everyone pitches in and brings their share of the food. It takes a huge burden off of the host and other people's food always taste better, (probably because I didn't have to make it;) ) This year I'm in charge of the drinks, so I've set everything up and will mix it all together before everyone arrives. I'll have a tasty simple Summer Sangria, pre-made jug of Ceasars, Cold beer, and a mix of different lemonades. I've set up the table in the nook where people can grab their drink and a  beach towel and head on outside. I found these Canadian flag beach towels at Giant Tiger. I rolled them up and placed them in a basket, which makes it convenient for everyone to grab and run.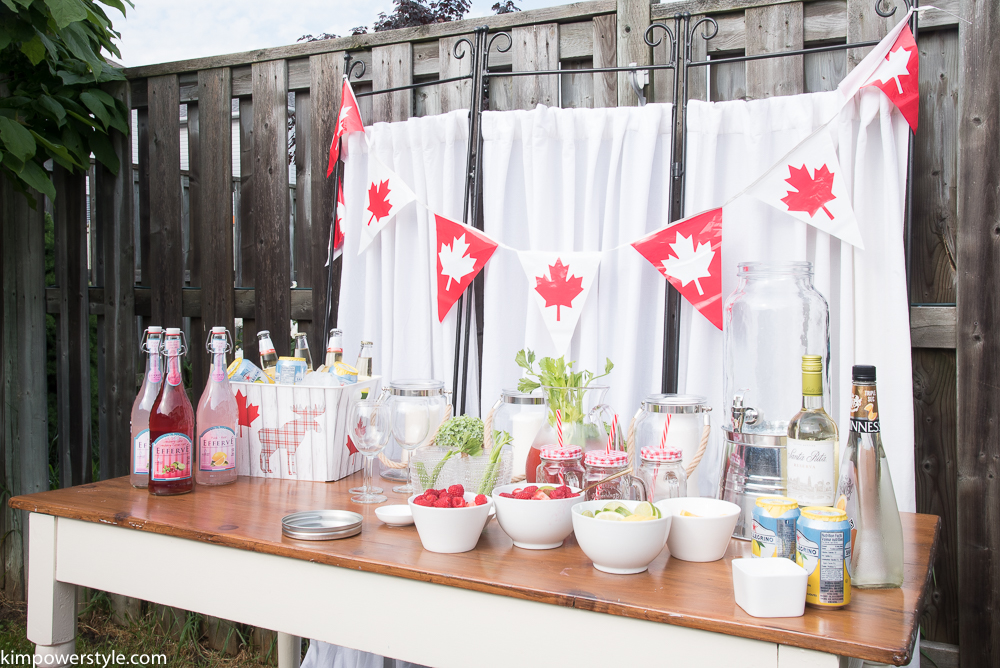 Before I mixed the drinks I brought everything outside to make it more convenient and accessible for guests to go back and forth for fill ups! To decorate I  used some Canada flag bunting and strung it up along this room divider. I found some glass lanterns with rope handles at Giant Tiger and filled them with candles. I also found these sweet little mason jar cups complete with straws along with a Canadiana plastic tub that I  filled with ice to keep beverages chilled. My favourite find was this great glass jar to mix my sangria in where everyone can help themselves. The bottom can be removed and used as an ice bucket, but I liked having the spout a little higher so you can place your glass under it. Giant Tiger is a great go-to shop for budget friendly decor and food!
Simple Summer Sangria:
White Wine 750ml.
Orange liqeur 25oml.
2 Limes sliced
2 Lemons sliced
1 Orange sliced
1 cup Strawberries
1 cup Raspberries
1/4 cup of Sugar (optional)
4 cans of San Pellegrino Limonata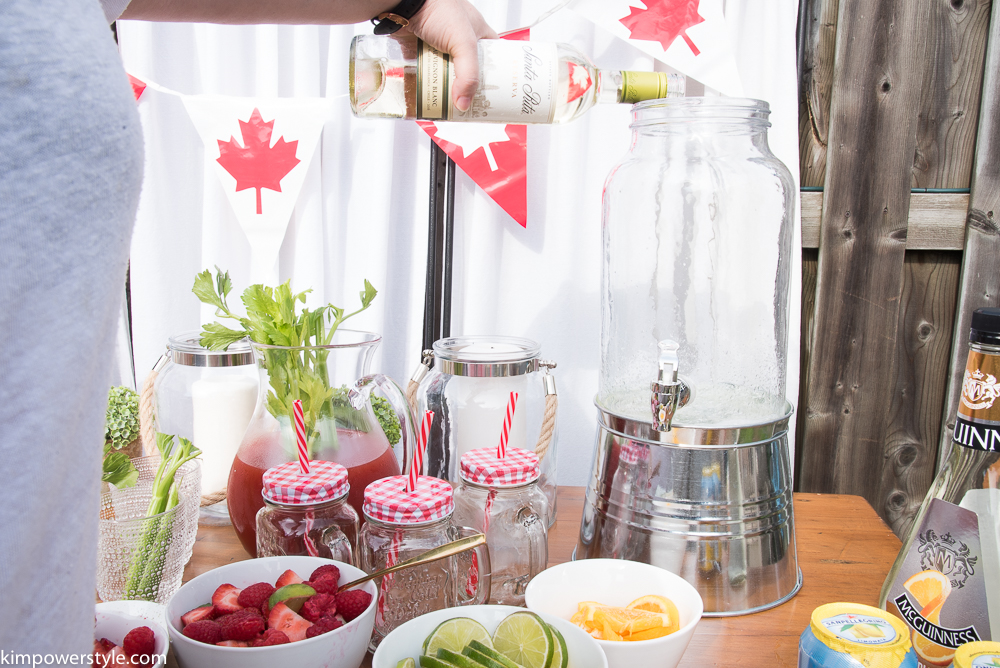 First add your white wine. I chose my favourite Chilean wine.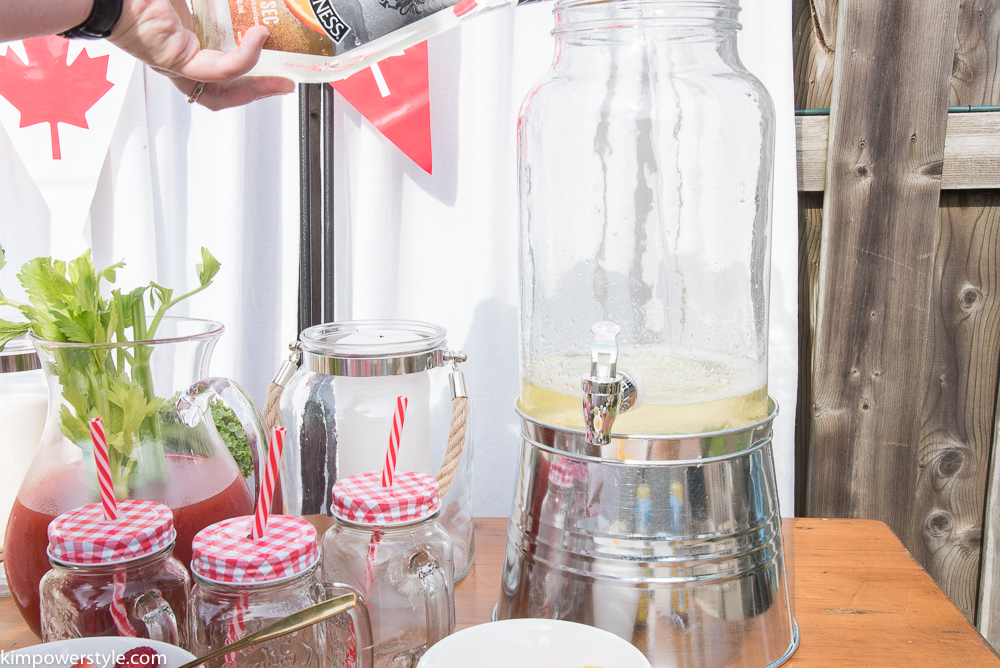 Next add your orange liqueur, I chose triple sec.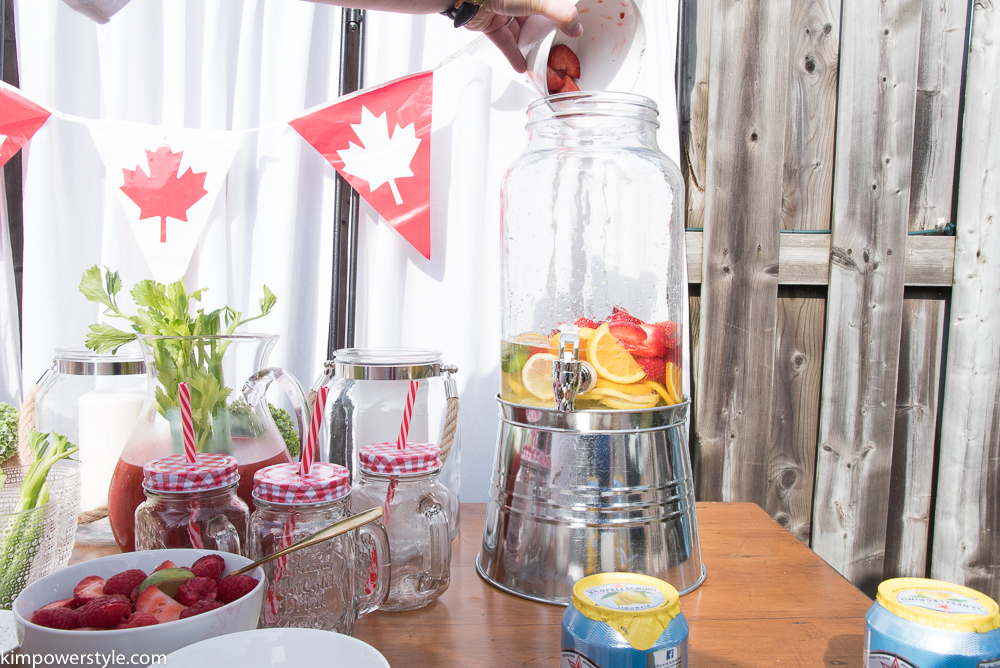 Next add all your fruit and berries. You can add any fruit or berries that you like here. I just find that a citrus base is always light and refreshing. At this point if you wanted to make this ahead of time, you can add the sugar and then chill it in the fridge until you're ready to serve.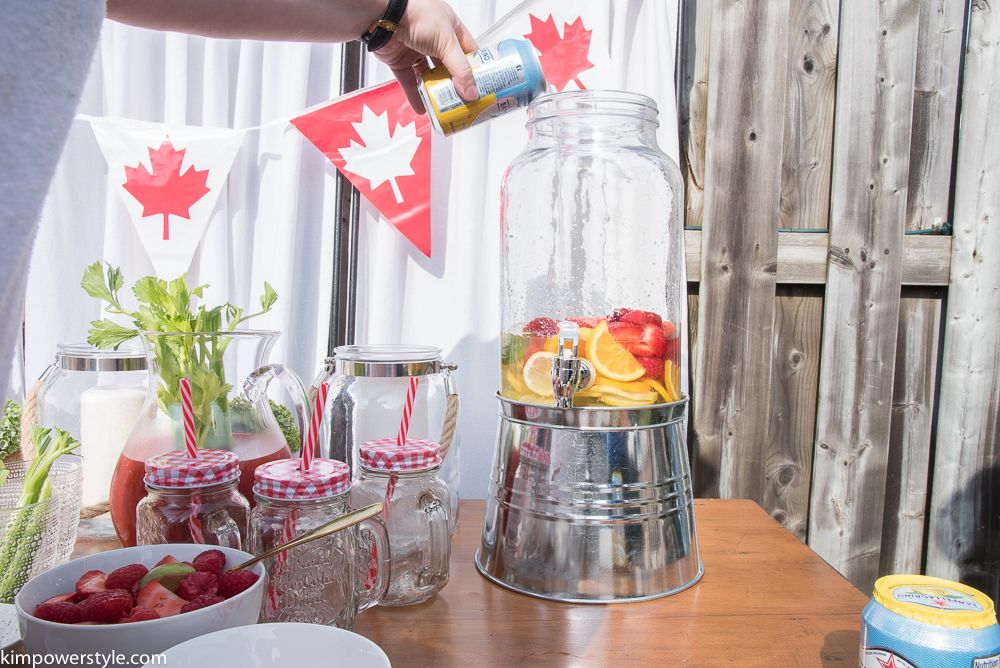 Lastly, you add your lemon drink. You can add any sweet bubbly/carbonated drink of your choice here. Including, soda water, ginger ale, fresca etc. This step should be done right before you serve so that your bubbles don't go flat. Sangria is so tasty and just screams summer to me!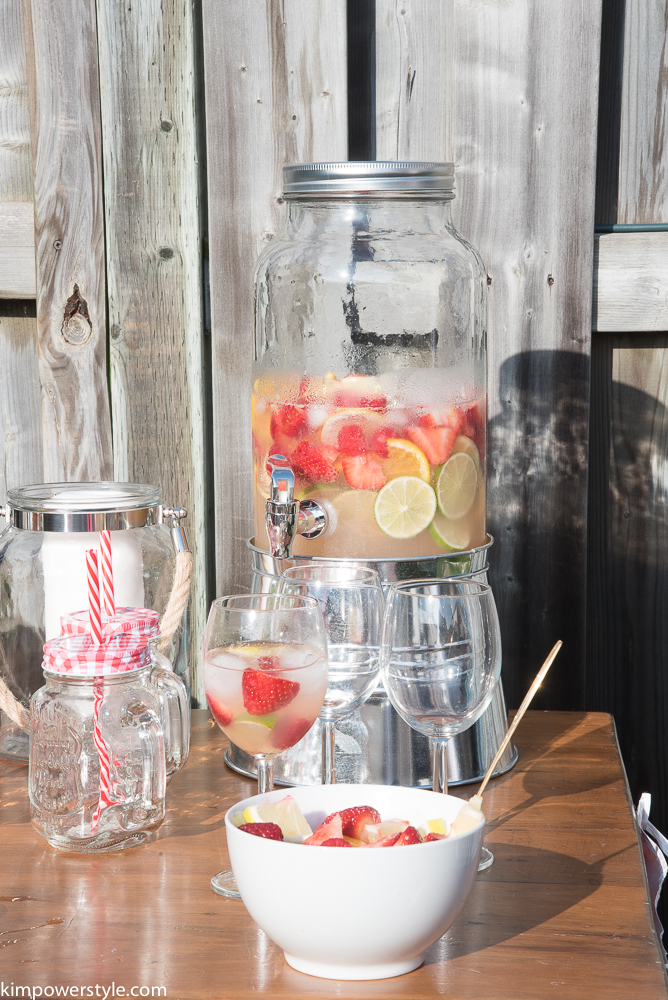 I also cut up a bowl of the fresh fruit and berries so guests can add more to their individual drinks. As you can see, it was hot out and I already started partaking of this tasty refreshing drink! 😉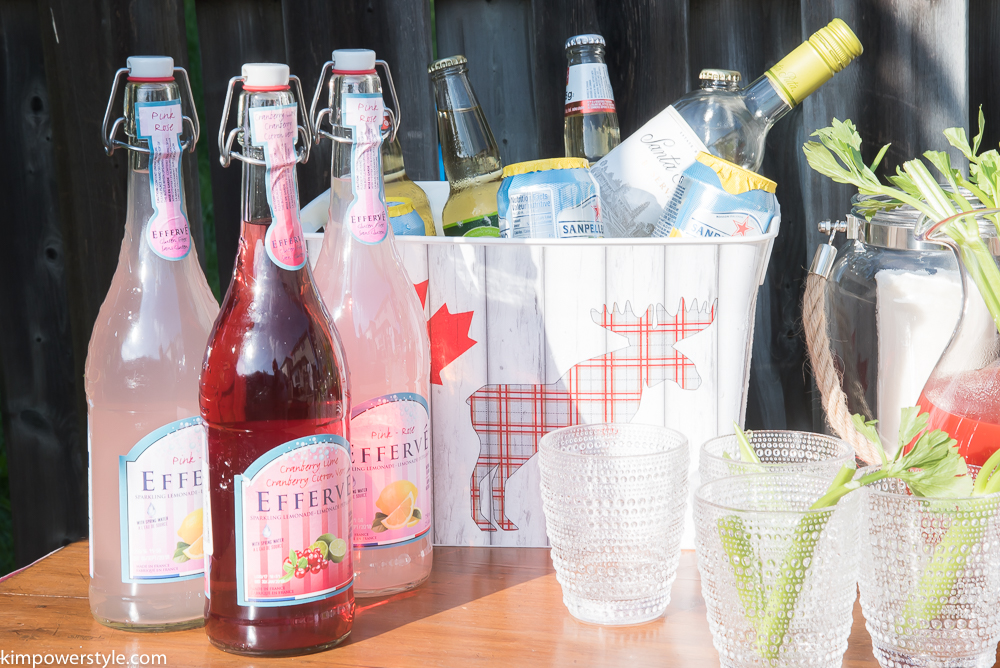 I also had lots of refreshing lemonades for people who wanted a non-alcohol alternative.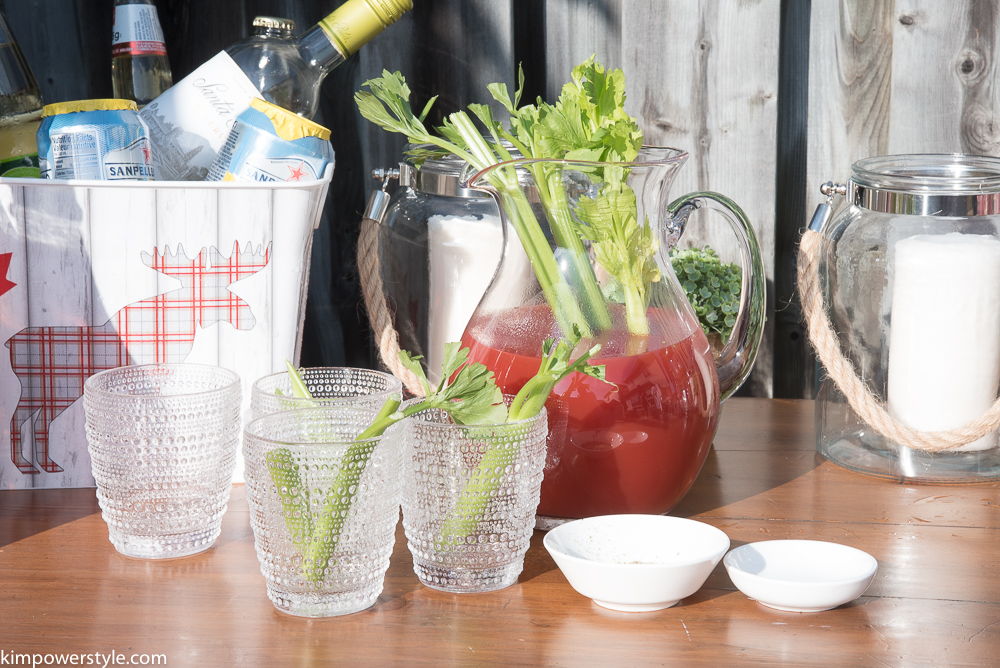 Making a spicy jug of Caesars (or Bloody Marys) is an easy way to make everything ready and available so  your guests have lots of refreshing and tasty options to try.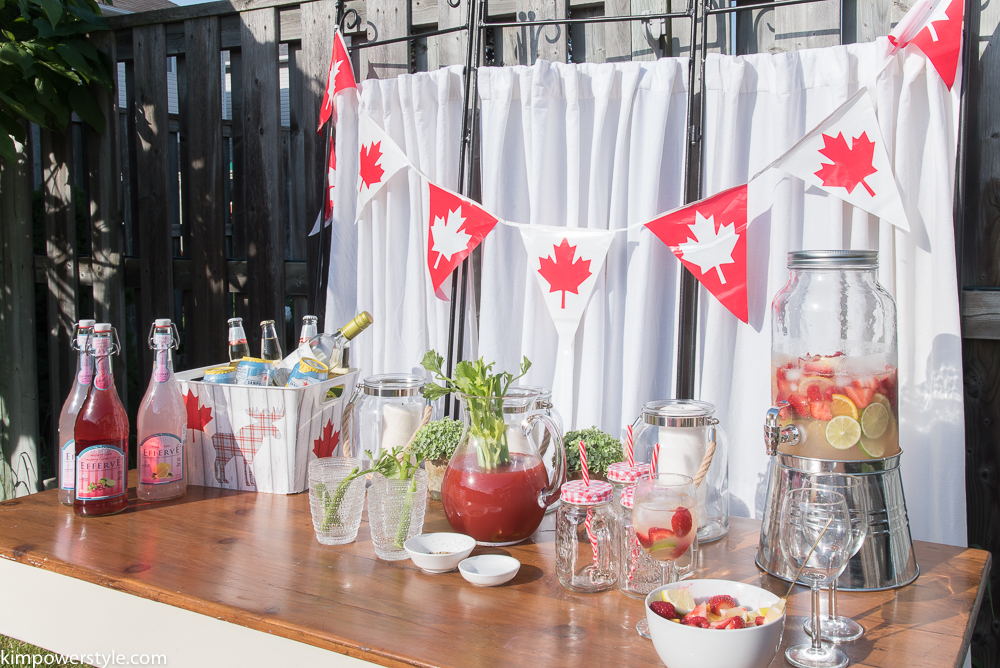 I hope you all get the chance to join with friends and family to celebrate Canada Day or The Fourth of July for my American friends! Whatever excuse you need to celebrate and feast on life together, do it!                 Be sure to check out my friends below for more Canada Day inspiration as they join in on the Canada Day  #YearofFeasting fun.
Blessings,
Kim
Disclosure: This post was sponsored by Giant Tiger. All thoughts, opinions, photography and fun are my own! Thanks for supporting the brands that make KimPowerStyle possible!