Hello everyone!
I'm hoping everyone had a great weekend and a lovely Mother's Day.
My Mother's Day started with a family lunch at my favorite Thai place and finished with my daughters' and I watching Jane Eyre at the theater. A simply wonderful day with a sweet red velvet cake, even sweeter bracelet bead to add to my collection and pink champagne thrown in for good measure! I am truly blessed.
I wanted to send out a thank you to Mary at Urban Farmgirl for featuring my Kitchen Makeover last week. Mary has such a great blog and nobody looks better in a pair of Hunter wellies than she does lol!
Stay tuned as Mary will be revealing her Cabbage & Roses guest room makeover this week!
I also wanted to send a shout out to Apartment therapy for featuring my Kitchen Makeover as well. Certainly feeling very thankful this week!
Here is a few pics of a wicker basket that I picked up a GW.
I love baskets and this one has such a lovely warm texture to it. It's at the bottom of my bed and I use it to throw my laundry in. I know it sounds corny, but I love to look at it from my ensuite, it reminds me of my Grandaunt hanging laundry on the line.
My Grandaunt had a lovely old homestead in PEI with a laundry line that overlooked the water. It's a view we would all kill for now but back then it was just a backyard that had an inlet from the ocean running behind it. I can still see the clothing and linen blowing with the salt air in the sunshine…
It's amazing how an object can bring to mind so many memories!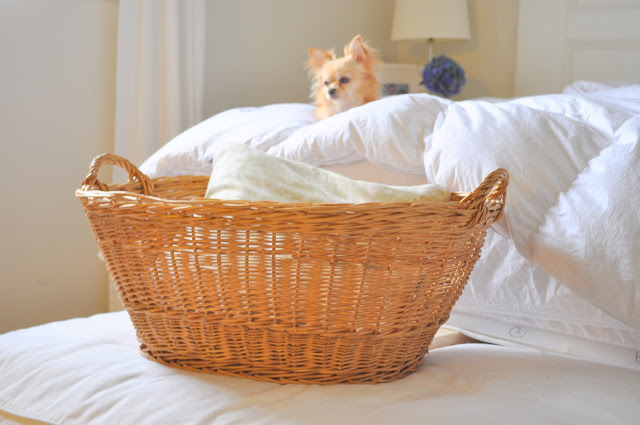 Look at the lovely warmth of color it adds to a sea of white and cream. It also matches Butter's beautiful color as well!
My bed isn't made but Butters doesn't mind.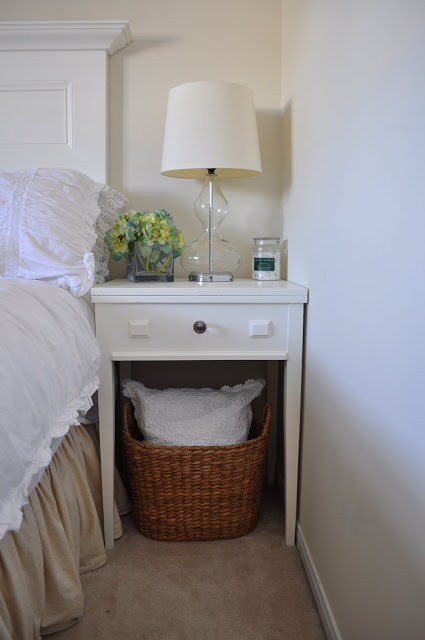 The basket goes well with the other baskets in the room and adds color and texture like the baskets here under my sewing tables turned bedside tables.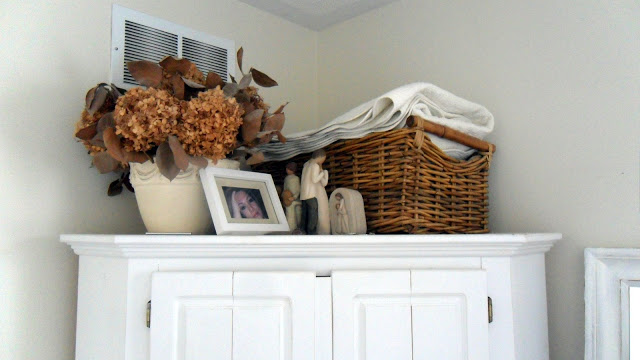 and the basket on top of the armoire.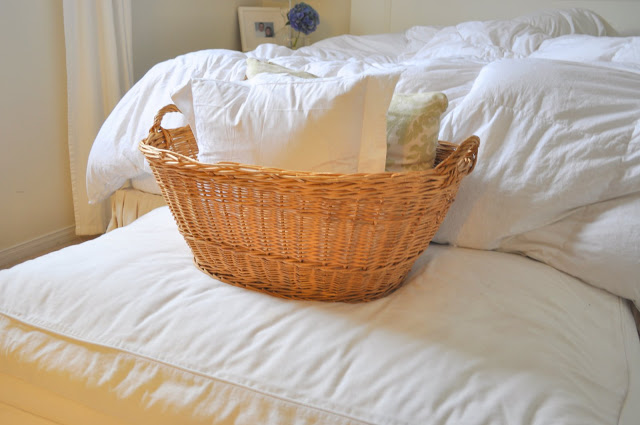 It will eventually go into my closet but for now I'm enjoying it at the end of my bed.