Are you looking for the best Christmas cookie to bake for the holidays? Well look no further! I'm happy to be sharing one of my all-time favourites, the Swiss Mountain Shortbread Christmas Cookie. This is an easy recipe to make and I'm sure it will become one of your favourites to make too!
I'm joining together with friends for a cookie hop hosted by Jo-Anna from A Pretty Life In The Suburbs. So  for an easy 1-stop holiday cookie recipe list, check out the links at the bottom of this post.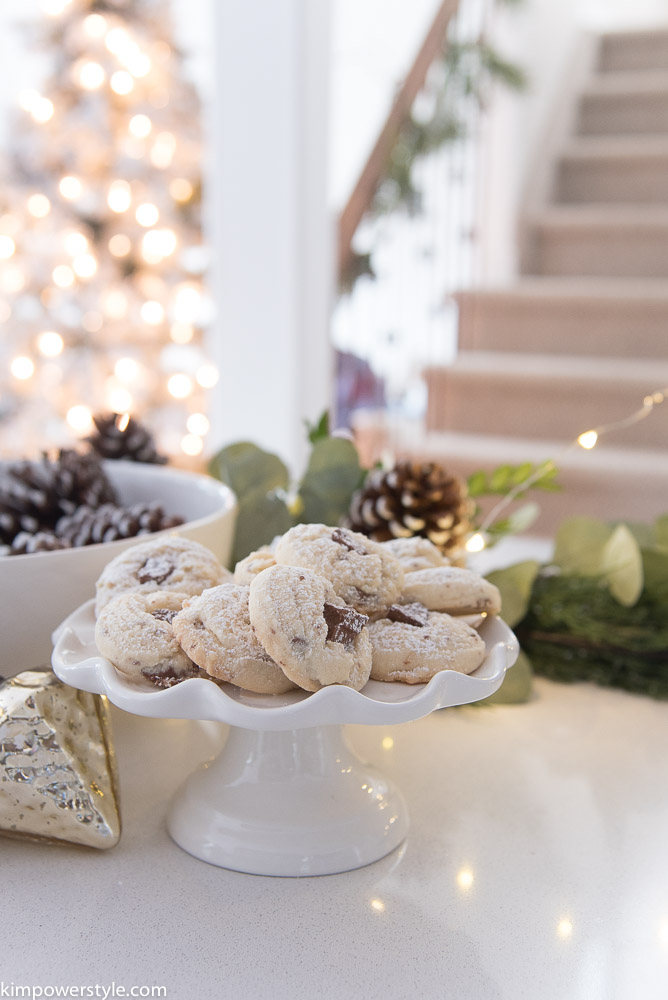 I've hosted a cookie exchange for the past few years and my friend Kate always brought her Swiss Mountain shortbread Christmas cookies. Needless to say they were always a hit and everyone's favourite including mine! They would be the first cookie gone from our immense tray of exchanged cookies and people would always ask for them when they came for a visit.
Since we've moved away to another city (more on that later) I won't be hosting my annual cookie exchange this year but Kate was sweet enough to give me her family recipe so now I can share it with you. Thank you Kate!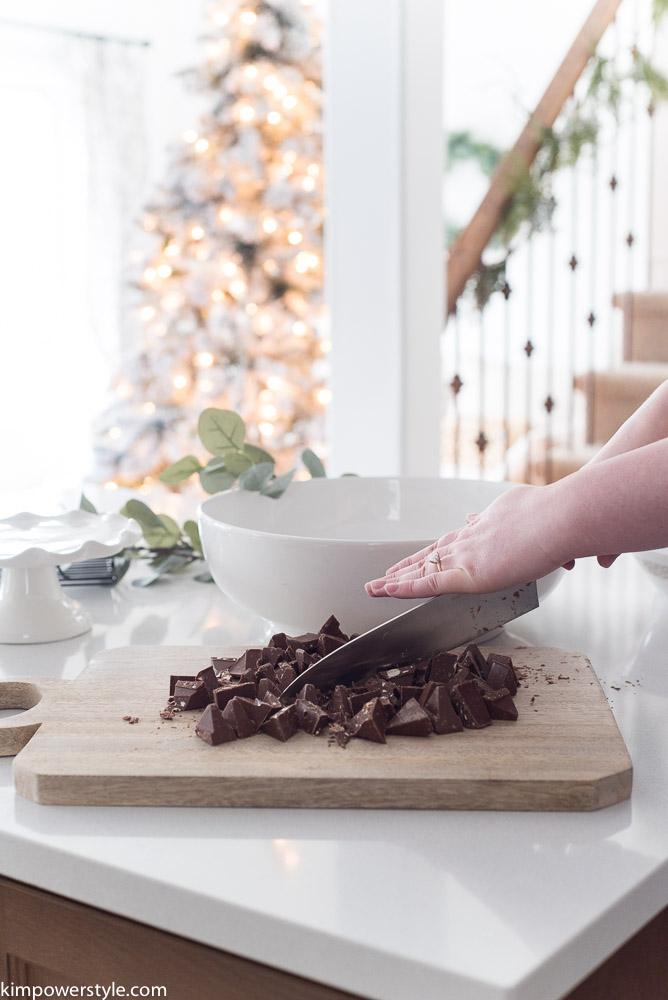 Not only is it a delicious melt-in-your-mouth shortbread cookie, it's also made with amazing milk chocolate Toblerone bars. You won't be able to stop at just one!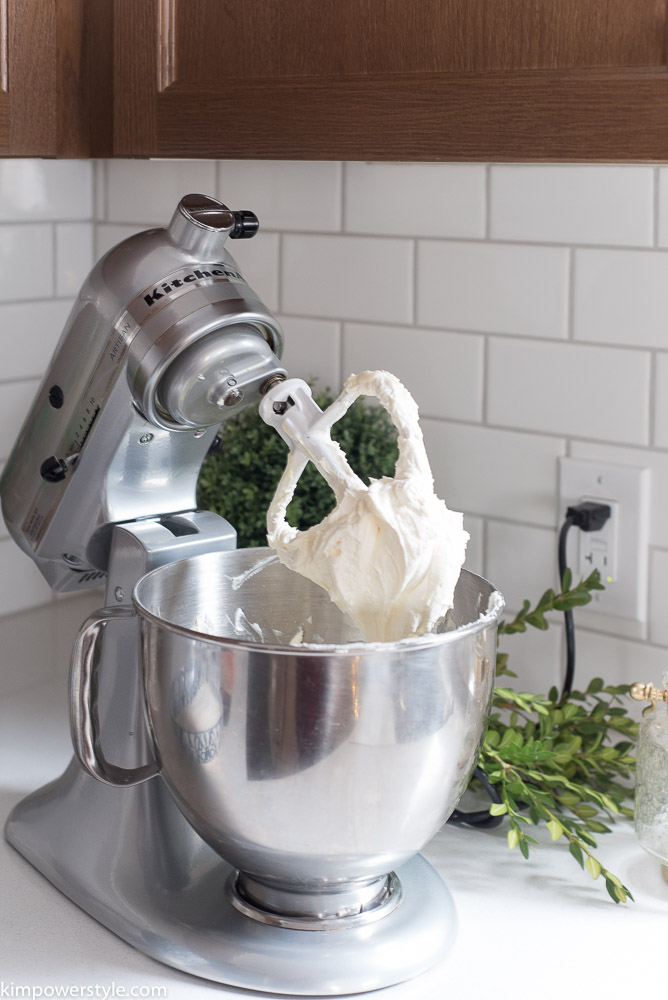 Recipe:
2 cups (500 ml) unsalted butter
1 cup (250 ml) fruit sugar
3 1/4 cups (800 ml) all purpose flour
1/2 cup (125 ml) rice flour
12 oz. (375 g) milk chocolate Toblerone bars
1/4 cup (75 ml) icing sugar
1/2 tsp salt or to taste
Preheat oven to 325°F (160°c)
Beat butter until very light. Gradually beat in sugar and continue beating until sugar is dissolved, about 5 minutes.
Sift flours and salt together. Stir into butter mixture and combine well.
Chop chocolate into 1/2 in. (1 cm) chunks. Save about 50 of the largest chunks and mix the rest into the batter just until combined.
Arrange mounds of batter on baking sheets lined with parchment paper. Press a chunk of chocolate into each cookie.
Bake 20 to 25 minutes in a preheated 325°F (160°c) oven until very lightly browned. Cool in a single layer on racks. Sift icing sugar over cookies.
Fruit sugar is finer than regular, buy it or make it by whizzing regular sugar in a food processor for about 1 minute. Rice flour makes the cookies very tender.
Makes about 50 cookies. Kate says her secret is that once everything is mixed together, she kneads the dough a few times. I used a small 1.5 in. ice-cream  scoop to place the dough on the cookie sheets. It's so easy and makes the cookies have a more uniform appearance.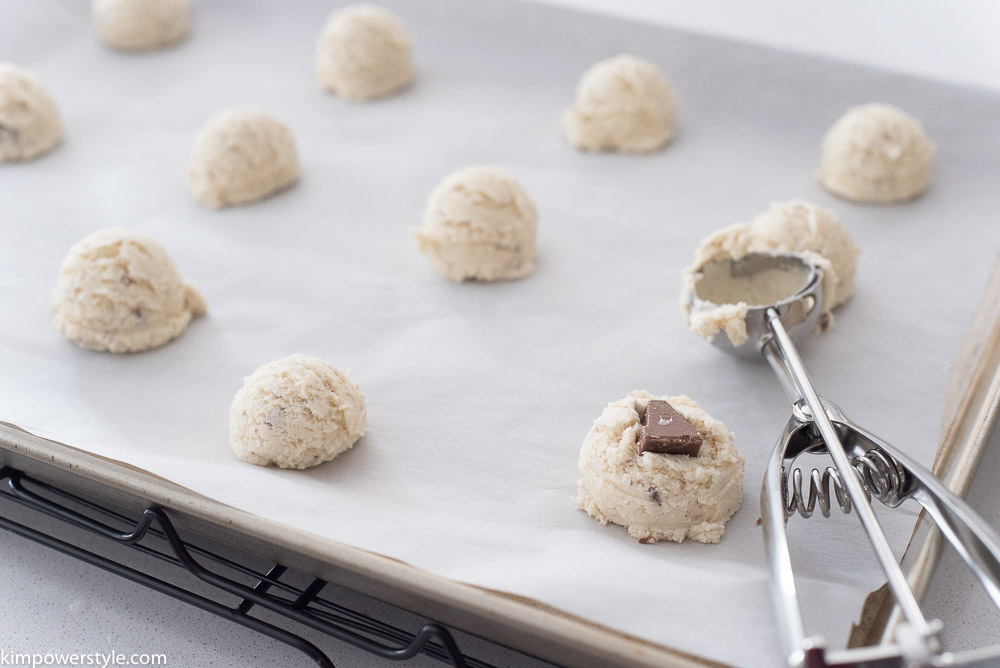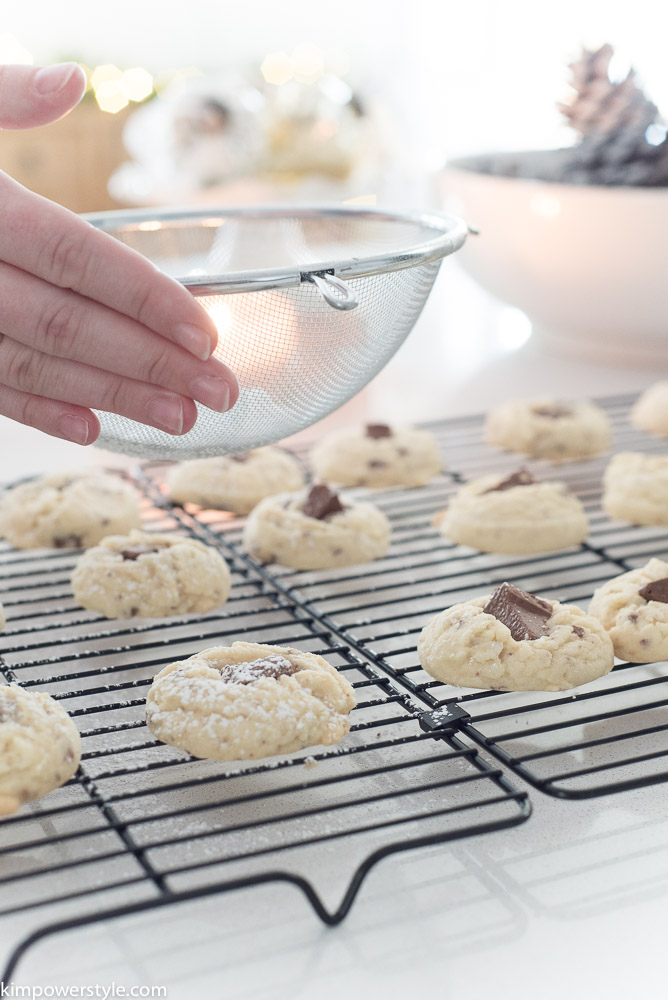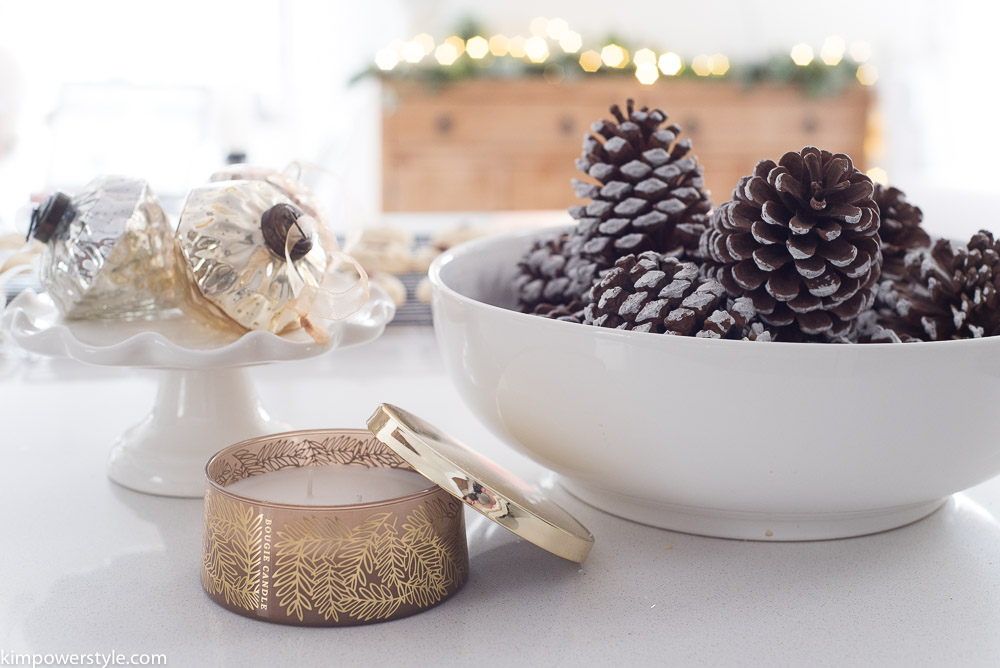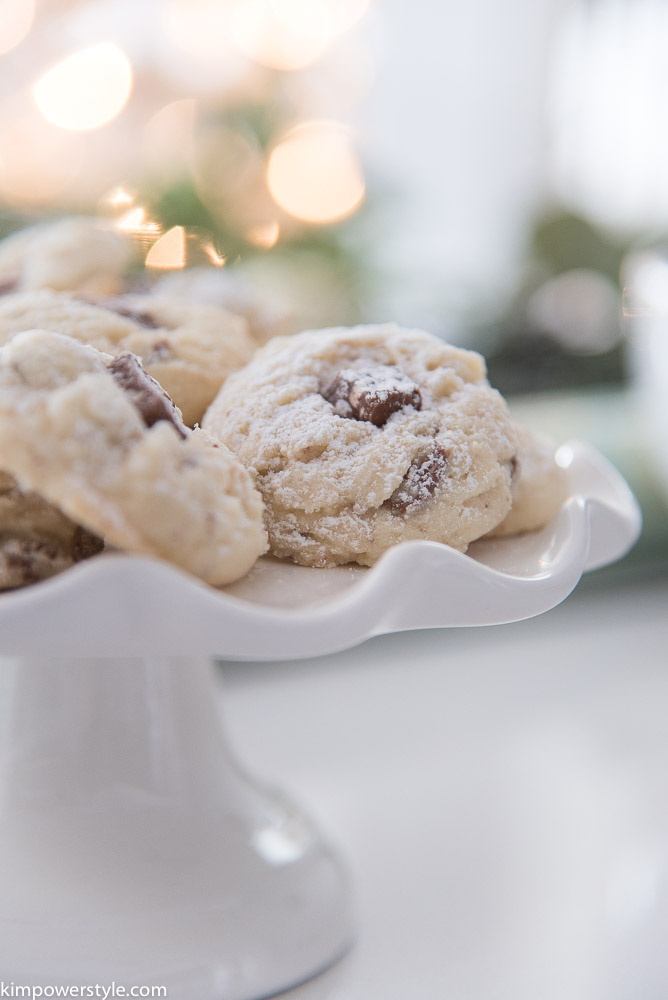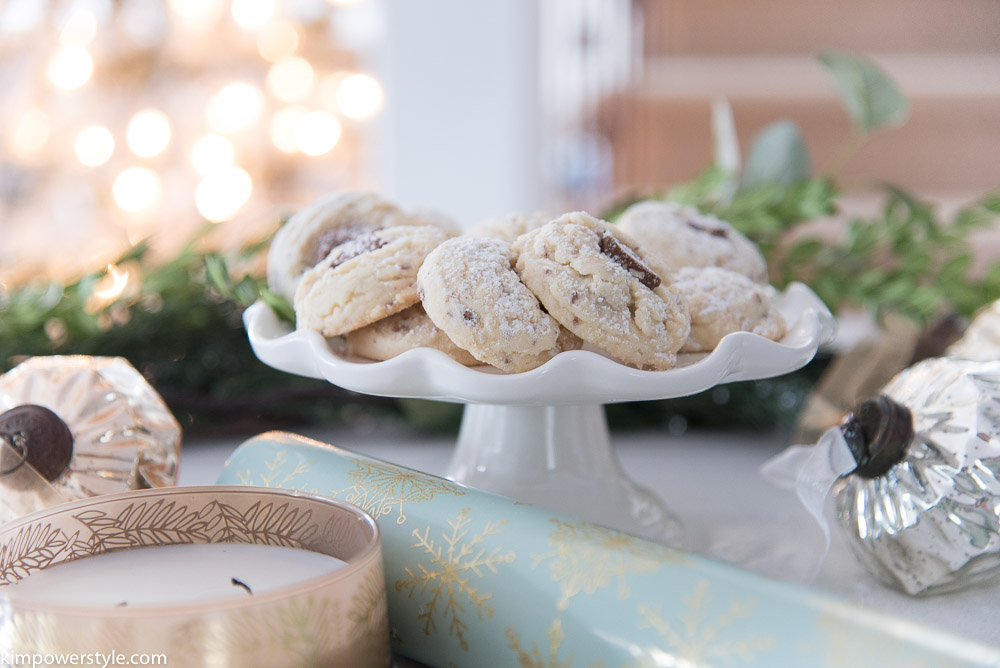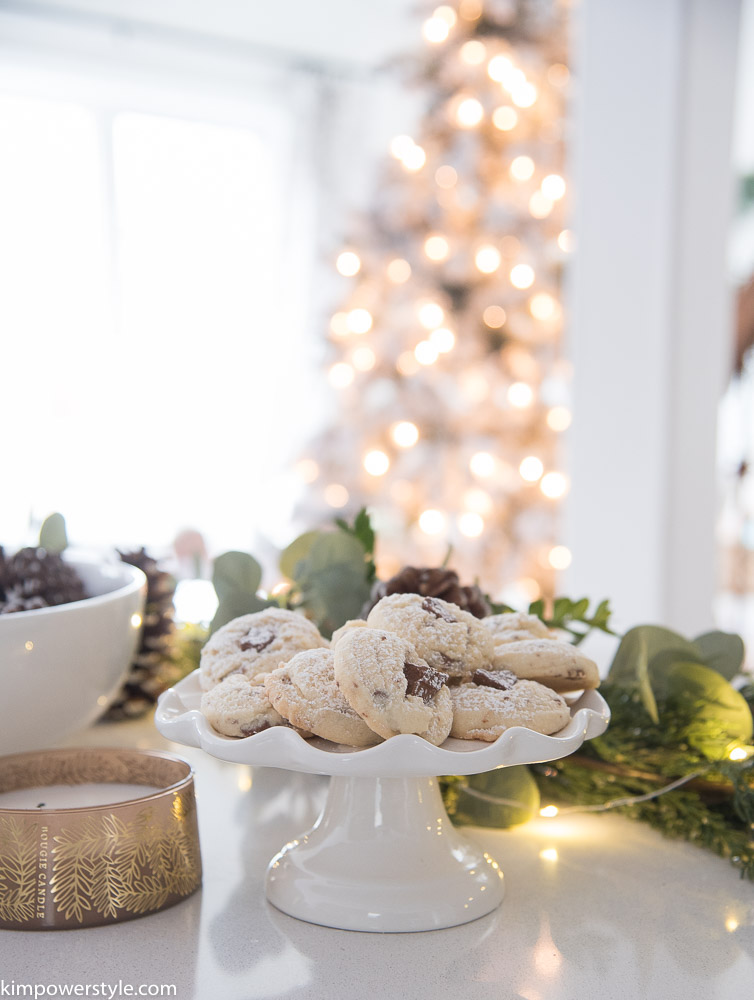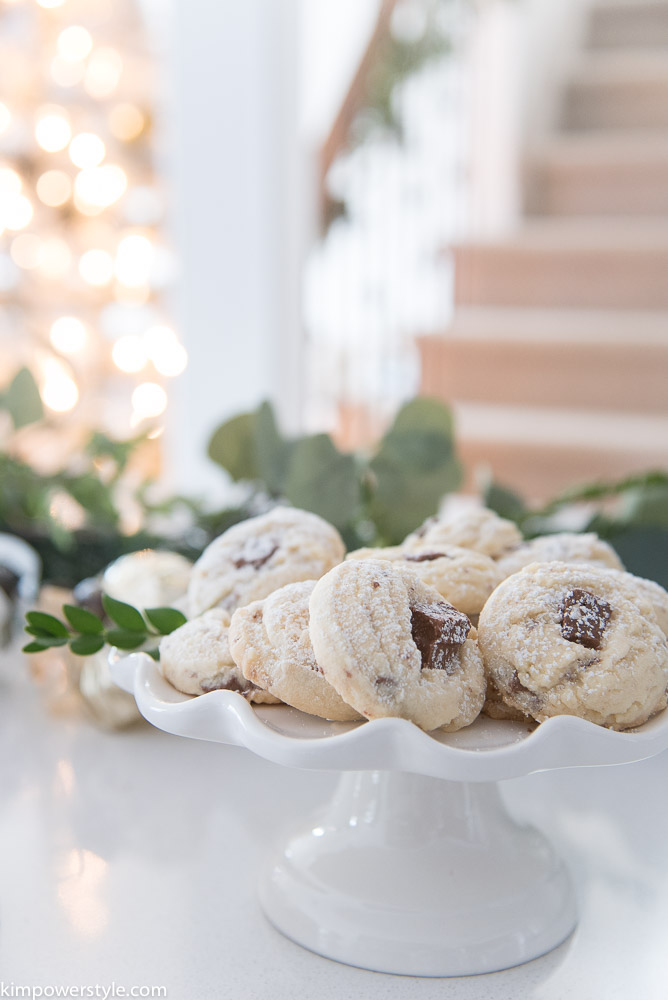 Unless you're not partial to butter or chocolate, I'm sure you'll love these cookies!
Now light some Christmas scented candles,  put on some festive Christmas music or your favourite Hallmark Christmas movie, (we have them on non-stop over here) and start baking!
Don't forget to check out the links below for more great cookie recipes.
Blessings,
Kim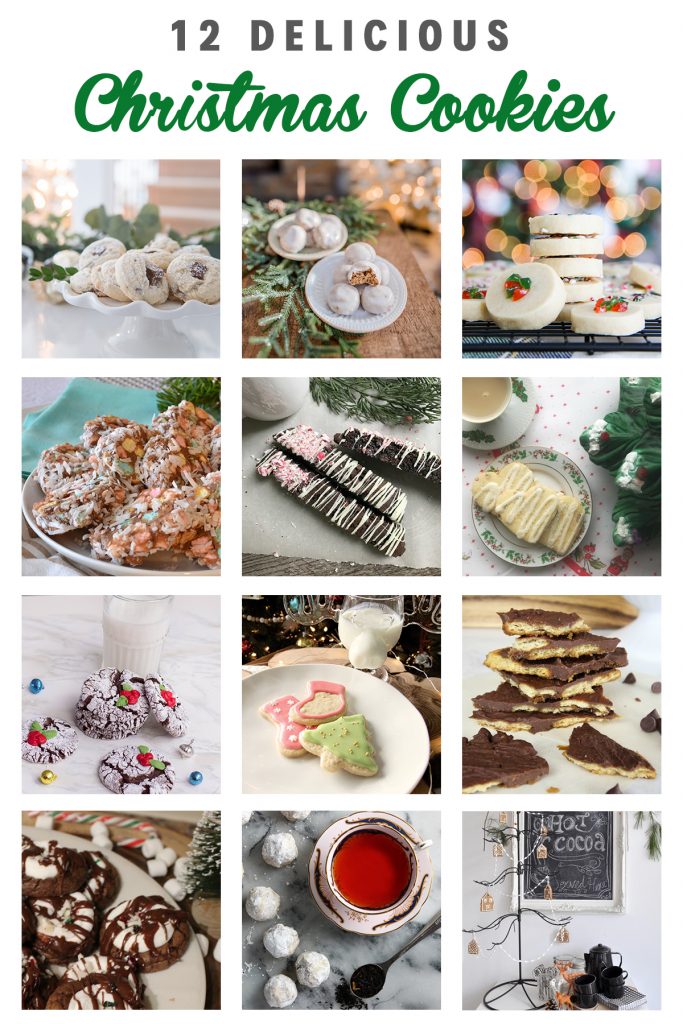 More Delicious Christmas Cookie Recipes:
For more Christmas cookie recipes, make sure you check out the delicious recipes below!
Swiss Mountain Shortbread by Kim of Kim Power Style
German Iced Spice Christmas Cookies by Christina of The DIY Mommy
Slice and Bake Shortbread Cookies by Jo-Anna of A Pretty Life in the Suburbs
Cathedral Window Cookies by Rita of Harbour Breeze Home
Chocolate Peppermint Biscotti by Kendra of Joy In Our Home
Cranberry Orange Shortbread by Jen of Kitchen Counter Chronicles
Holiday Crinkle Cookies by Lisa of Fabulous Habits
Maple Shortbread Snowflakes by Laura of one house 2 barns
Ritz Cracker Bark (aka Crookies) by Courtenay of Creek Line House
Peppermint Hot Cocoa Cookies by Jennifer of Happily Organized Chaos
Earl Grey Snowball Cookies by Tan of Squirrelly Minds
Gingerbread Cookies by Dannyelle of Life is a Party