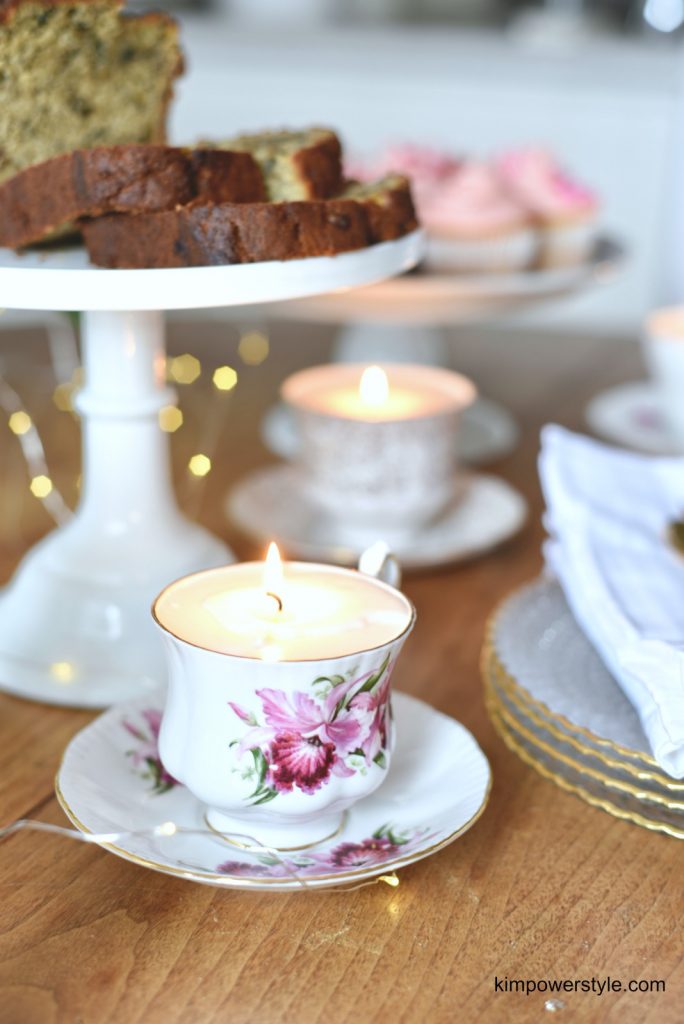 Hi everyone! Just sitting here wondering where the heck January went! I have to admit that the first few weeks of the year I had little energy and it was difficult to get back into the swing of things. However, February always energizes and reminds me that spring is indeed coming. It's also my wedding anniversary month and the hubby and I will be celebrating our 30th this year! Not sure where those thirty years went either! Our anniversary is actually on Valentine's Day, (makes it easy for the hubby to remember!) I thought that these little vintage tea cup candles would make a lovely little addition to a little Valentine's Day desert table I made up for the occasion. I hope you'll try them, they are super easy to do!
DIY Tea Cup Candle Tutorial
Materials:
Tea cups, you can use what you have at home or you can easily find them at a thrift store for a couple of dollars.
Wax, you can buy your own from a craft store, or do what I did and use melt down candles. I used an old candle from IKEA and it was super cheap.
Wax adhesive, you can find this at a craft store like Michael's or you can find it here.
Candle wicks with metal bottom. Also can be found at your local craft store or here.
An empty can large enough to hold your candle and contain the wax.
A pot to place the can inside.
Wooden Skewers, I found mine at the dollar store.
Optional Materials:
Essential oils or wax candle scents. I don't like to use scented candles for the kitchen or around food. I do love using them for other living spaces  though.
Crayons or wax colour melts. Yes! you can use wax crayons if you're looking to tint your candles.
(Material list contains affiliate links for your convenience!)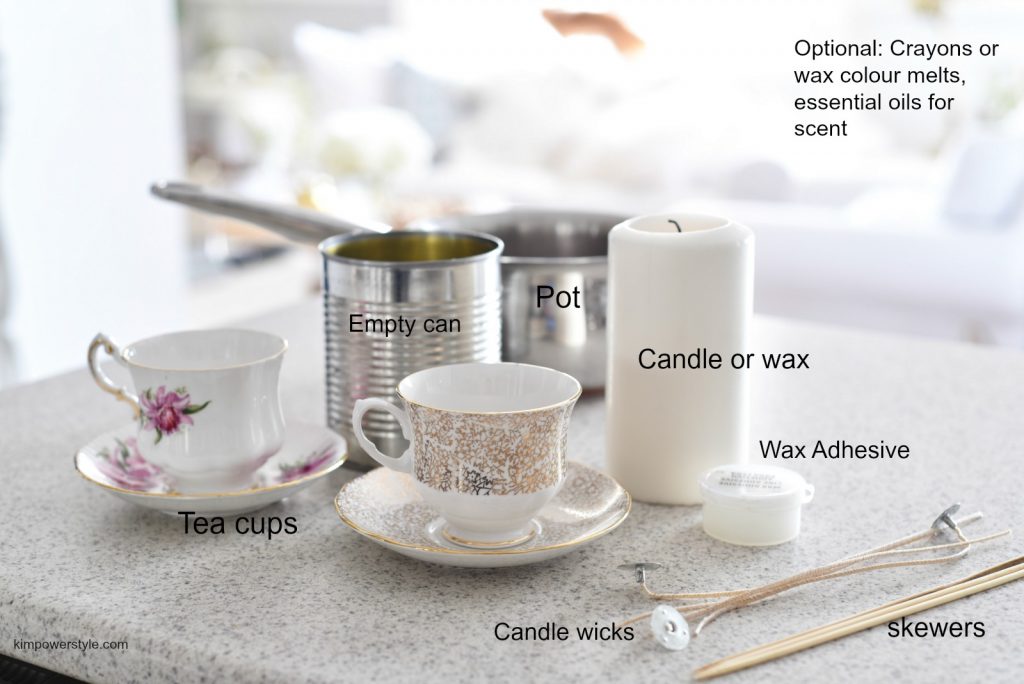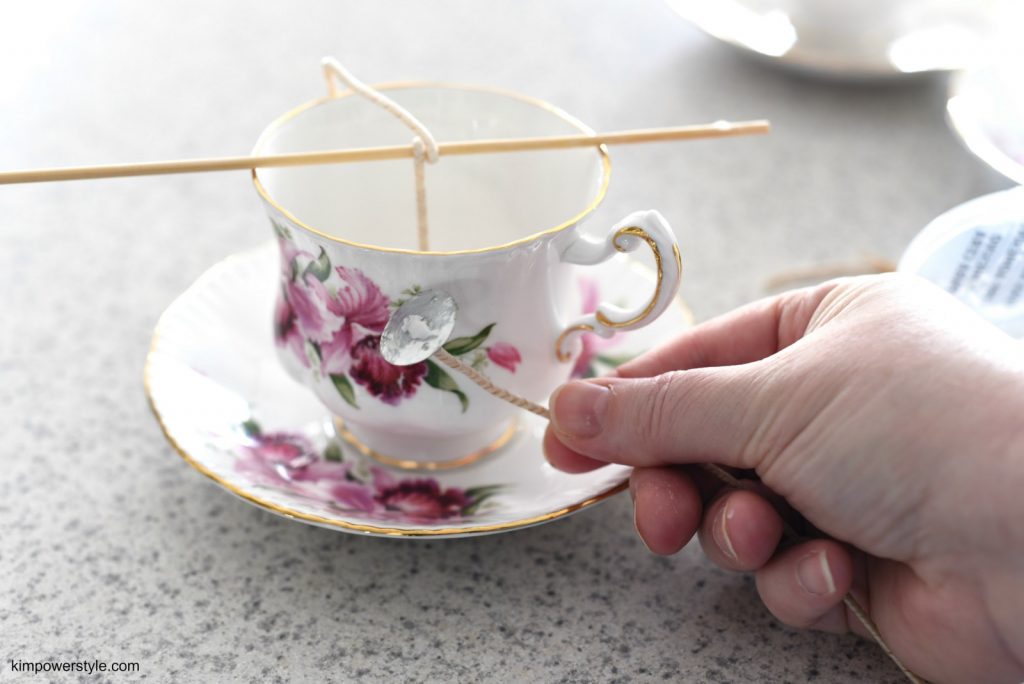 I start off by putting a little bit of wax adhesive on the bottom of the metal end of the wick. These wicks come with the little metal plate and have a thin wax covering that makes them a little stiff so they'll stay in place easier.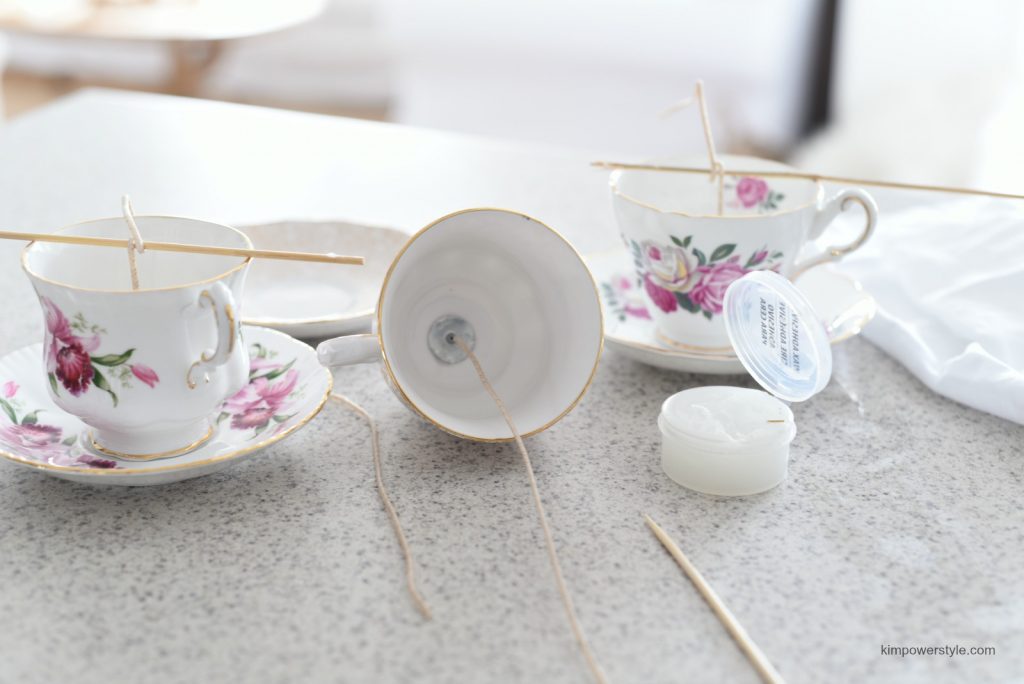 The metal end is then attached to the bottom of the inside of the tea cup. This helps it to stay in place when you pour in the wax. I then wrap the wick around my skewer to help hold it straight and in place.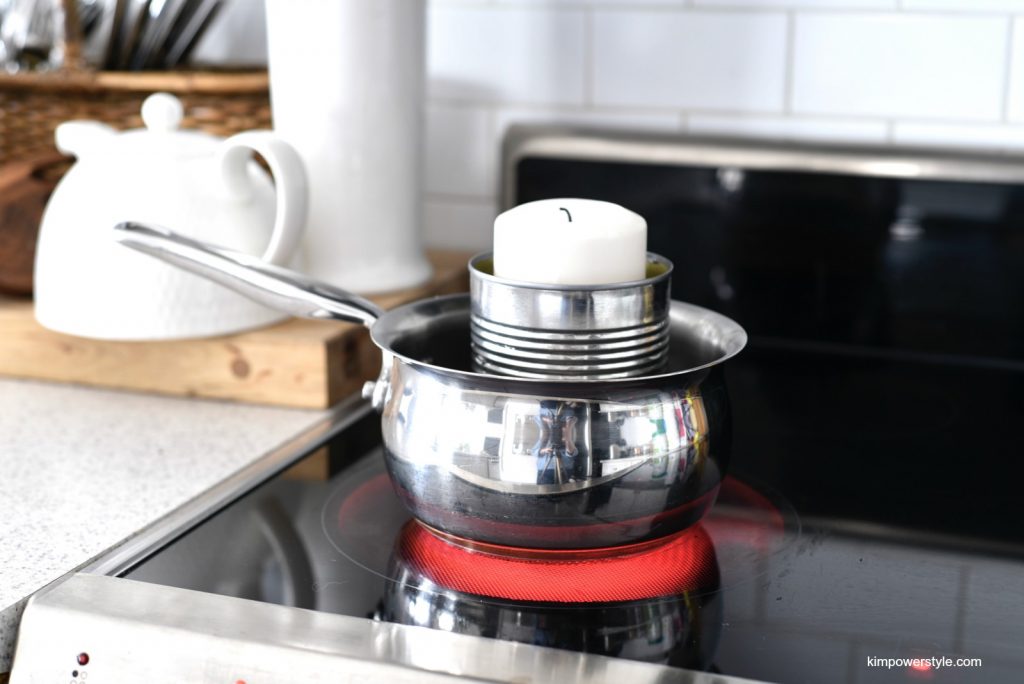 In the meantime, I have my candle sitting inside the tin can. I have the tin can placed in a pot filled half way up with water and the temp set to medium. Once the candle is melted you can use the skewer to remove the old wick. If you wanted to tint your wax you can add a crayon or wax tint melts now. Stir with the skewer. This is also when you can add your scent if you'd like one.
With a bit of aluminum foil under the cup and saucer,  pour the melted wax into the cup until it's as high as you'd like.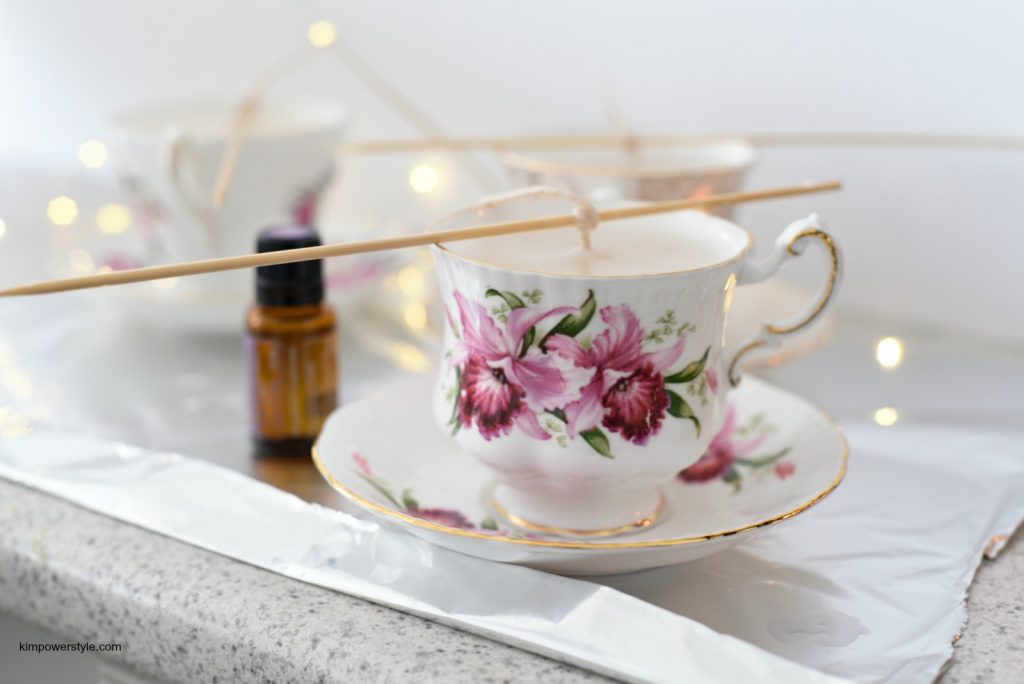 Once the wax is dry, you may notice that it has shrunk a bit. You can pour more melted wax to level it out again.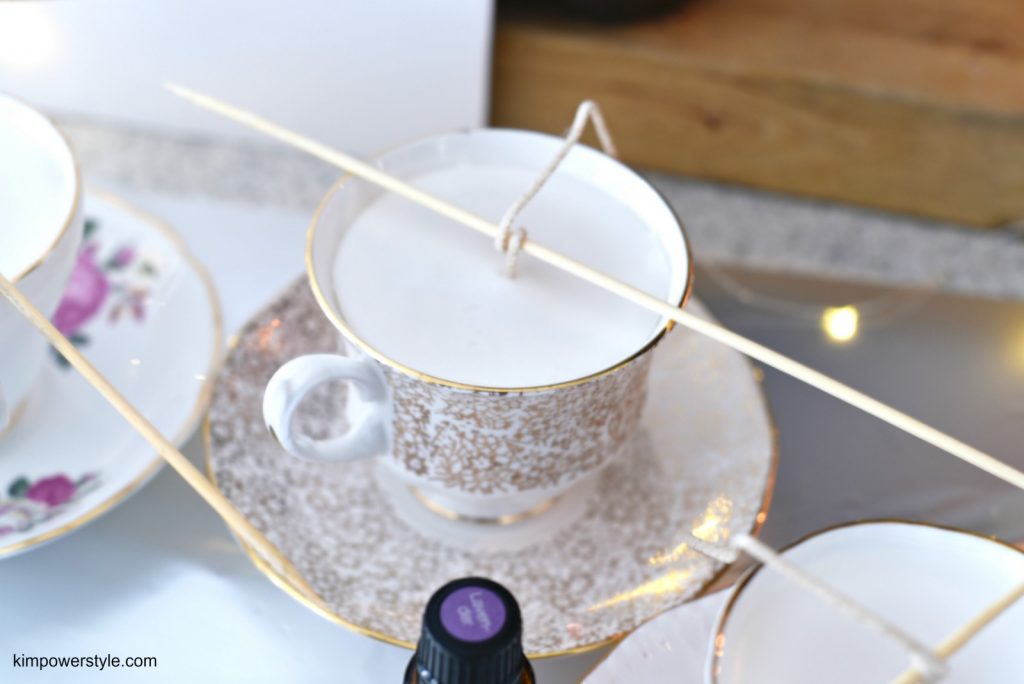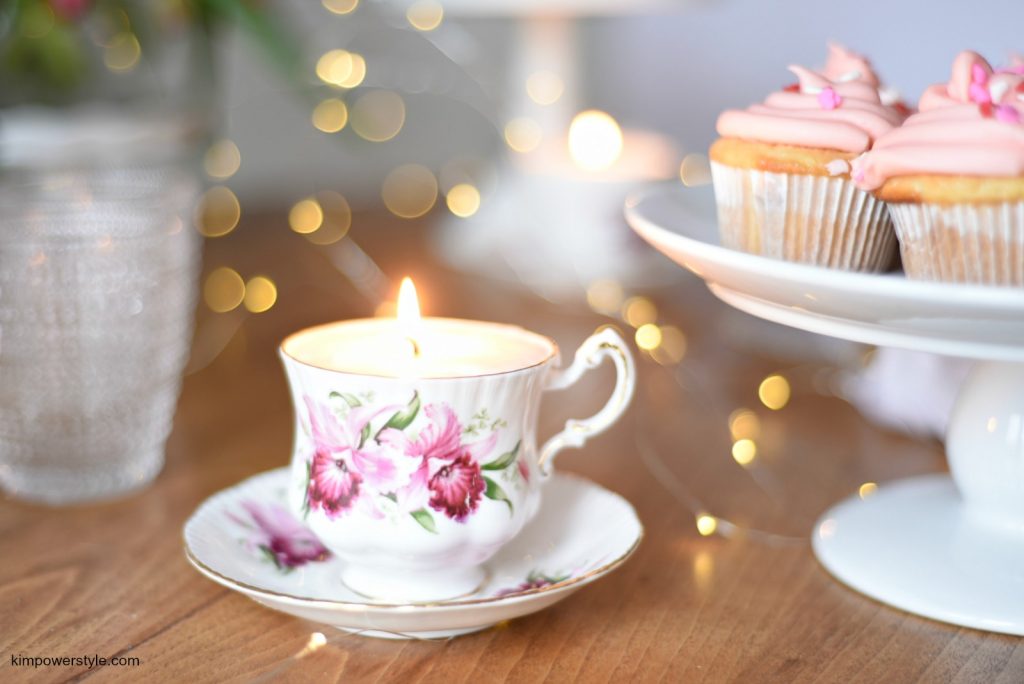 How cute are these? They can be used anywhere! I would use the scented ones on the bedside table or by the tub when you're bathing. They'd make a great little gift as well.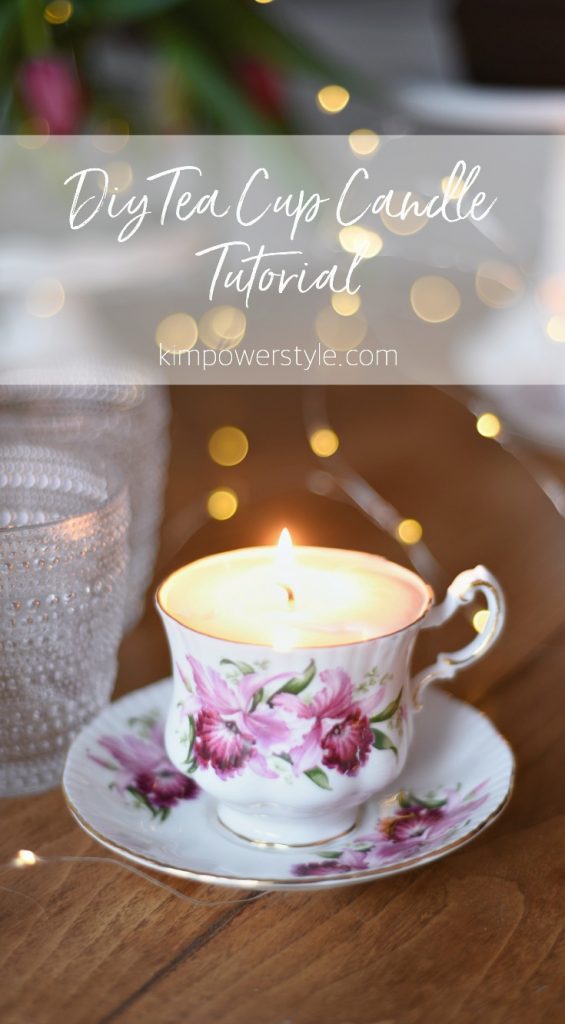 Thanks for dropping by! I'd love to know if you tried these and how they turned out.
-Kim