This week I'm continuing my simple fall decor in our dining room and I've joined another great group of bloggers for our Joyful Home Fall Tour. We want to welcome you into our homes and  share how we celebrate the season, making our homes cozy and welcoming for friends and family alike. There are links to everyone at the bottom of the post so be sure to check them out for some great inspiration!
Simple Fall Decor In Our Dining Room
This year I wanted to make decorating our home for fall to be as simple as possible.  I started by giving this room a good decluttering…it tends to be that one room  that we dump all the little extras into. I think most of us have a room that serves that purpose. At least I hope it's not just me!
I love the look of white and wood with a bit of greens thrown in and incorporated this into my fall scheme. If you've been following along on my home tours this year you'll know that I've kept a lot of my blues and have used blue and sage in my pumpkins too. Finding this faux eaucalyptus garland and faux baby boos on sale from Pottery Barn was a score. It's a bit of an investment but I love using both of them in my decor and they can be difficult to find in my neck of the woods. This way I have them whenever I need and they always look fresh! I've also found some faux eucalyptus at Ikea that was very reasonably priced. If budget  or a lack of time is an issue, you can always use leaves and branches from your yard. They'll look great and the littles can help you forage for some too.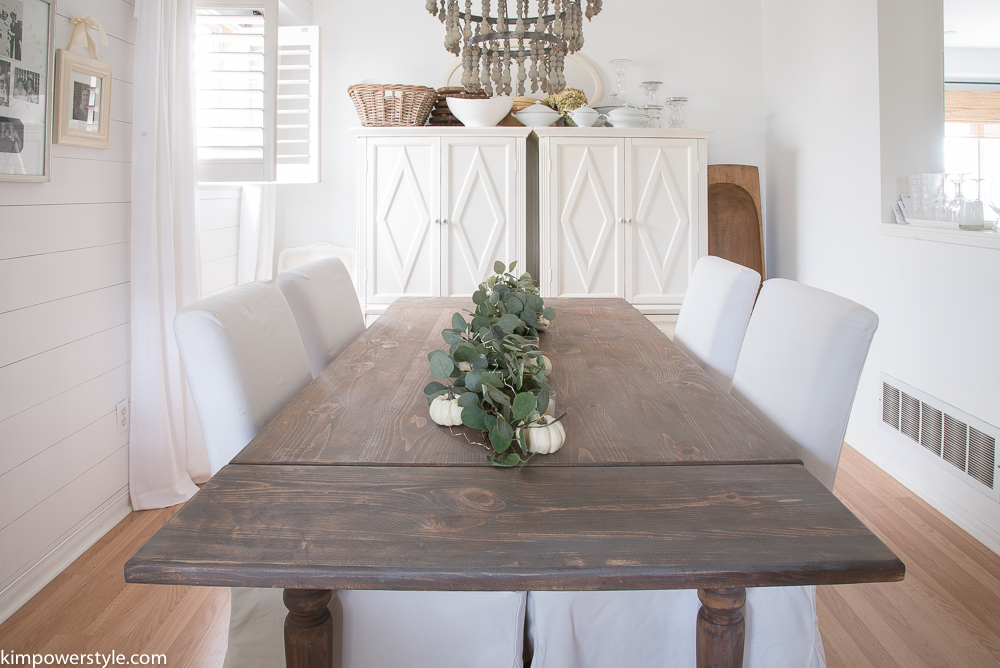 I placed the garland down the centre of the table and interspersed it with the baby boos and a few glass votive tealights. I love fairy lights and use them all year round, they can really make something simple into something special. We all need a little sparkle! That's it for the table, It can stay up until the season is over and I'll use it for Thanksgiving dinner as well. We Canadians have our Thanksgiving in early October, so I'll be sharing my simple Thanksgiving tablescape next week.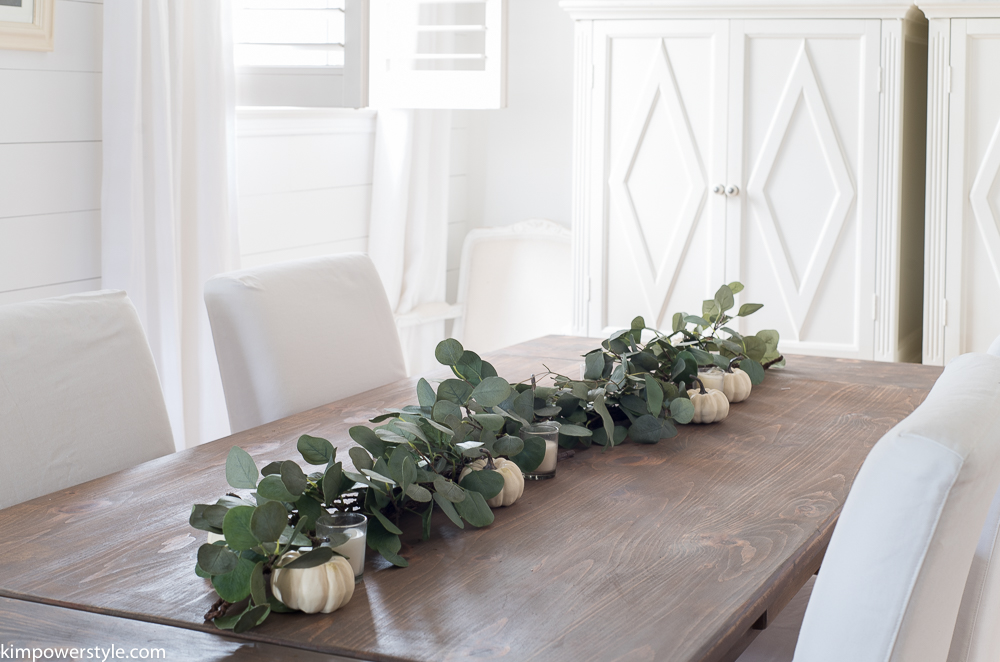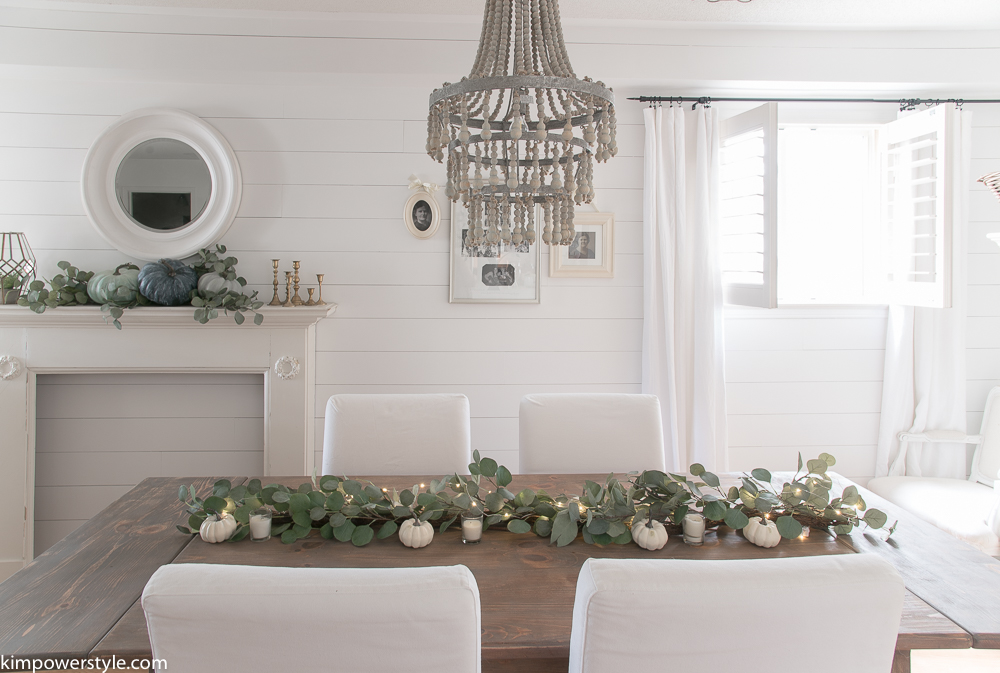 If you've been following along on my home tours this year you'll know that I've kept a lot of my blue decor and have used blue and sage in my pumpkins as well. You can find my previous tours here and here. On the mantel I added those faux pumpkins along with some faux eucalyptus. The brass terrarium and thrift store candlesticks were already there and look so pretty with the the lovely sage and navy pumpkins. It's quick and  simple but makes a lovely festive statement.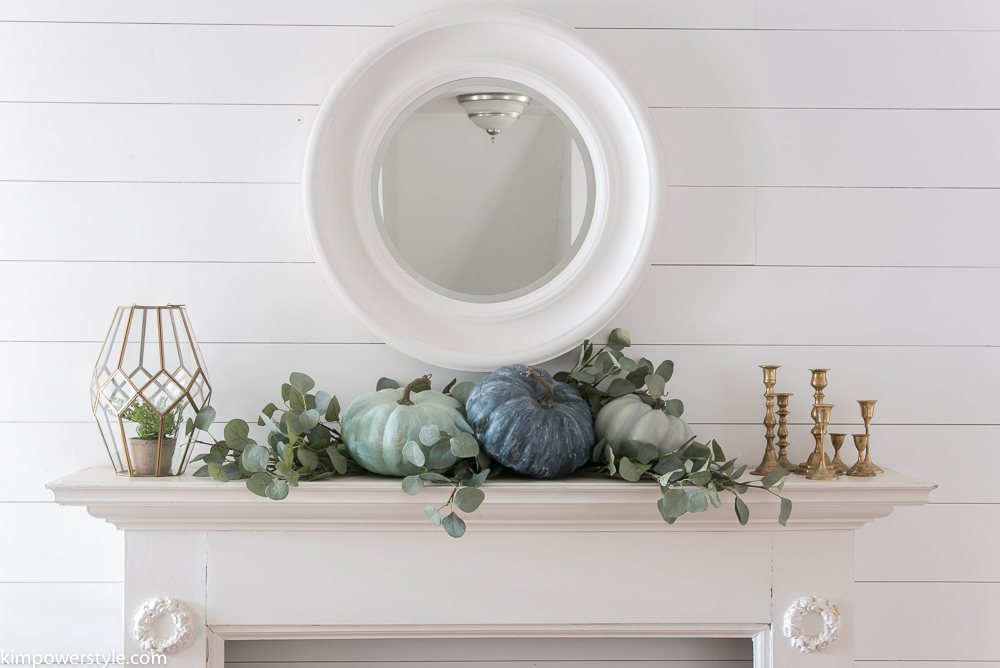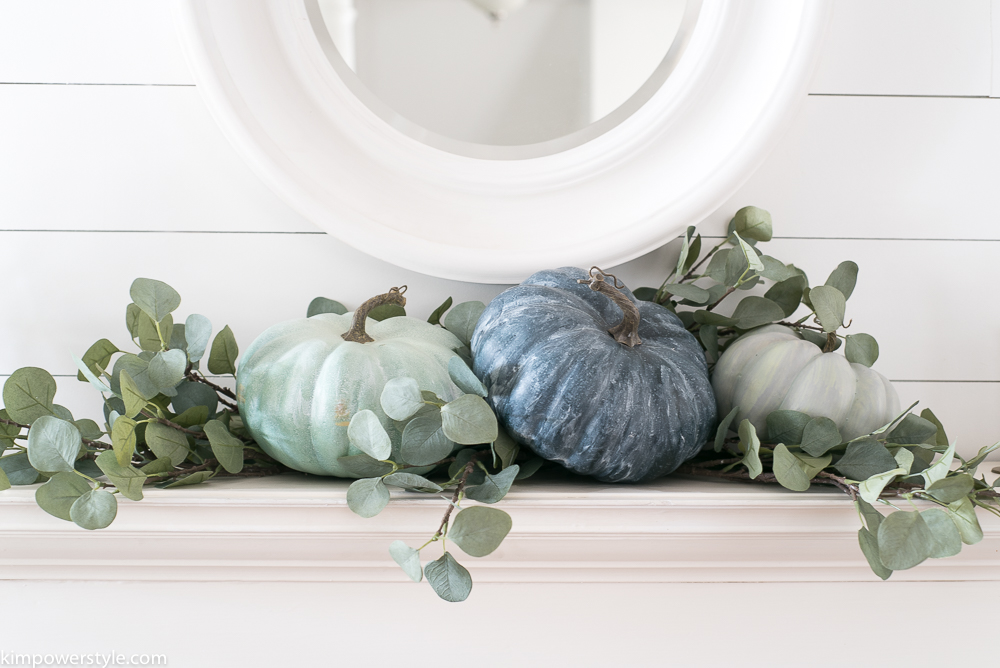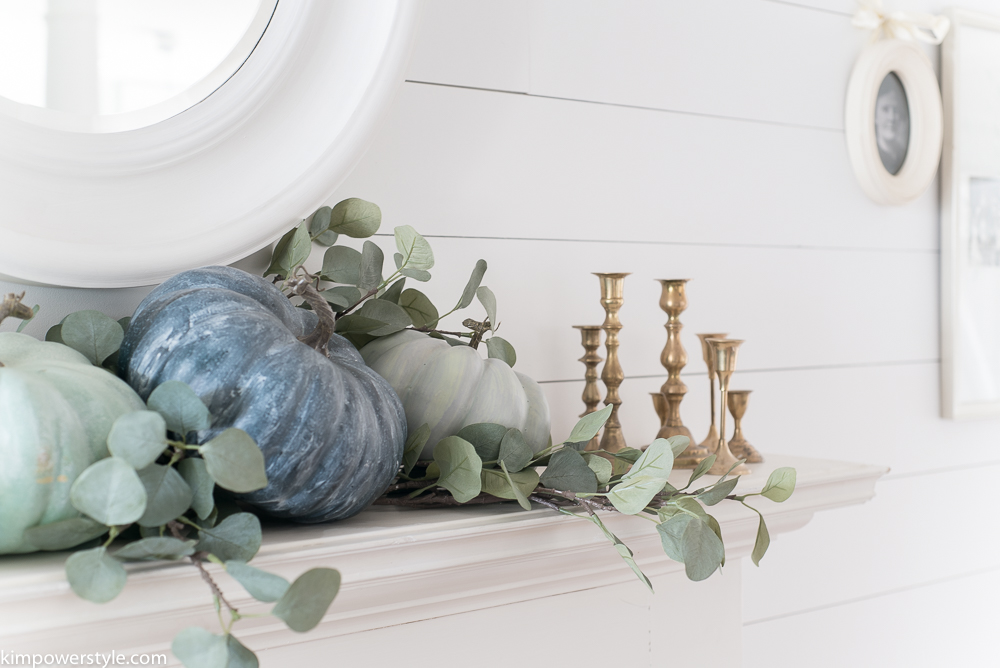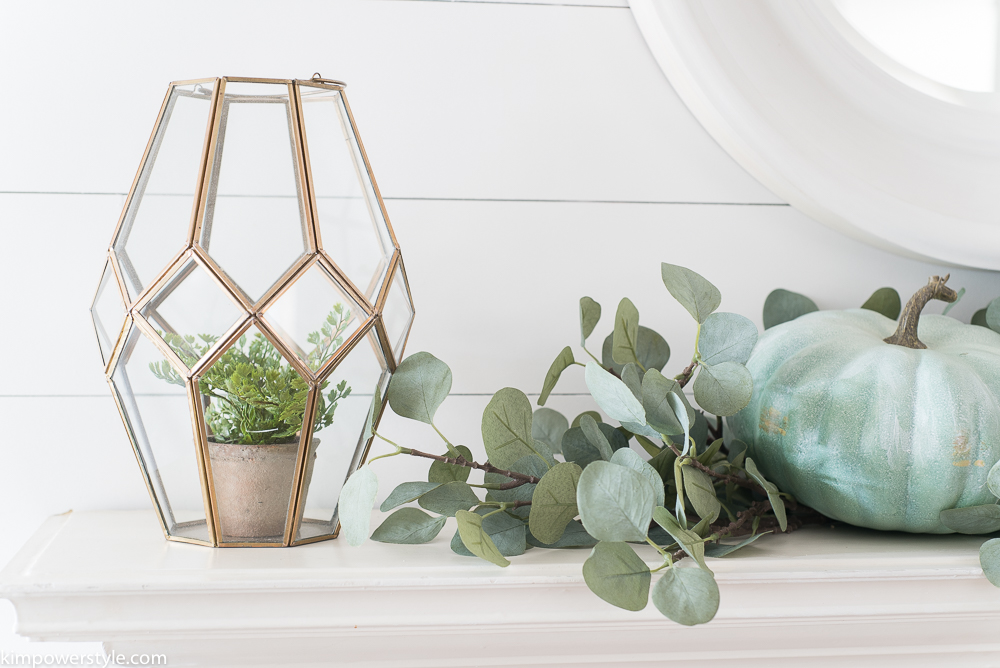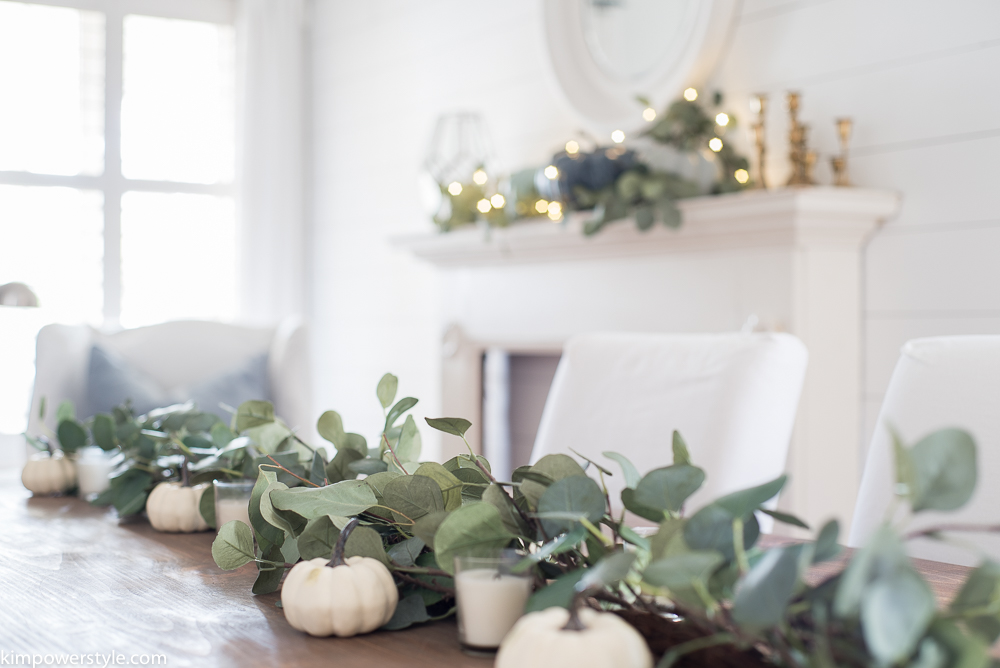 I added a few fairy lights on the mantel as well. You can never have too many fairy lights. 🙂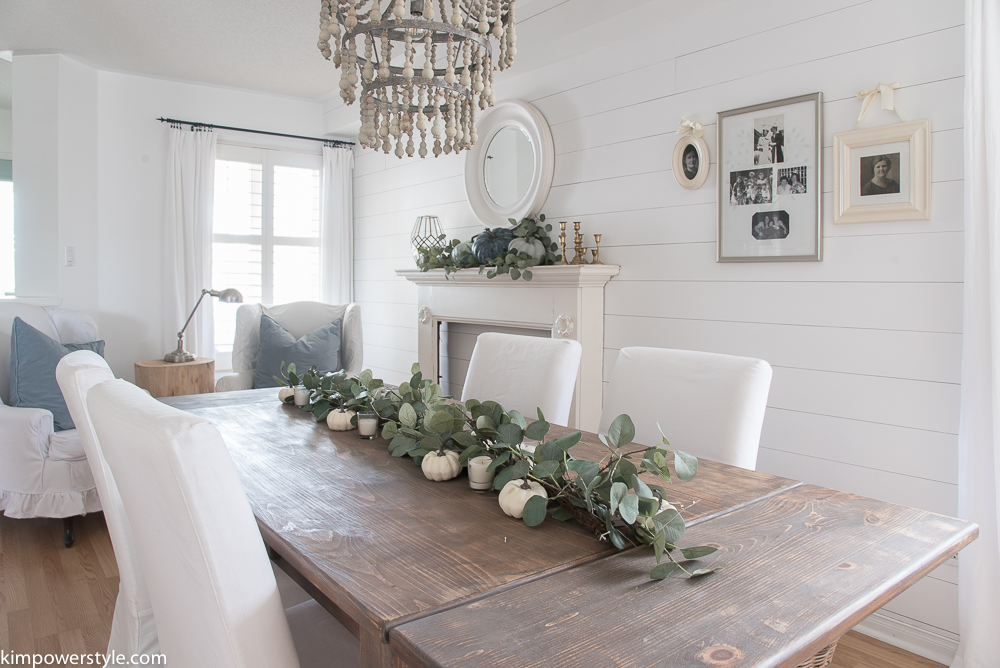 I kept my blue velvet pillows from the summer and they fit right in.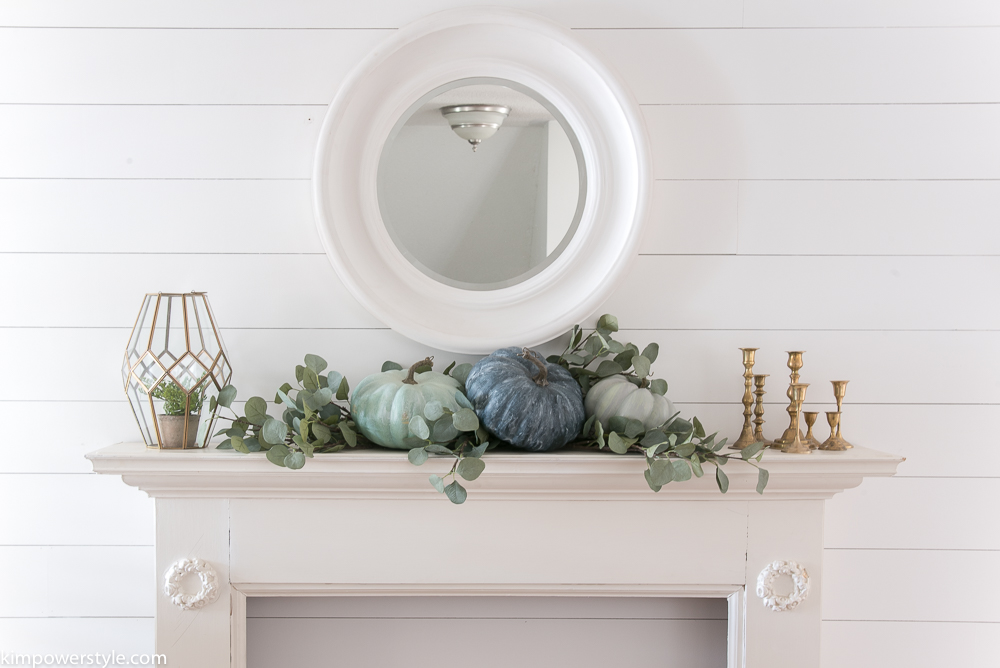 My hope in sharing these tours is to inspire you. I love showing people that it only takes a few little simple touches to change out your decor. It doesn't have to be elaborate or expensive to make your home cozy and inviting.
Thanks for stopping by and don't forget to check out all the great inspiration below!
Blessings,
Kim
Maison de Pax | White Lane Decor | Farmhouse on Boone | Lemons to Lovelys
My Vintage Porch | Meaningful Spaces | A House With Books | Delightfully Noted
Kim Power Style | Tidbits | Belle Amour Designs | The Mountain View Cottage